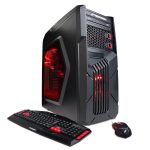 The CyberpowerPC Gamer Ultra GUA3400A gaming desktop is one of the top sellers on Amazon right now so I figured it was time to write up a review of it.
As always, it's a better idea to build your own computer since you get the most bang for your buck – meaning that you actually get the right amount of power behind each dollar that you invest in it.
I get it, some people think that they wouldn't be able to put a build of their own together and I'm not saying that's a totally bad thing, some people just want to upgrade the graphics card as well as not having to worry about actually putting it together.
9/10 times pre-built PCs aren't a good idea and that's exactly why I always preach for people to build their own. You save so much more money for what you get out of building your own.
With that, let's get to the review. Continue reading