Last Updated on April 2, 2017
In 2017 you have multiple choices when you're on the look out for the best PC speakers for under $50 and that's what I'd like to share with you today!
Sound is obviously a big part of your PC. Whether you're wanting to bump to some tunes you've just downloaded or if you're wanting to hear all of the crisp sounds in the games you're playing – you'll want to make sure that you get the best for what you're paying for.


These Aren't In Any Specific Order
---
Although these are the top picks, keep in mind that this is not a "top 5" where the top speakers are the best choice. This is simply a list and a comparison between them all and it'll come down to you as to which kind of speakers you think will best suit you.
These five picks are the ones that I found to provide the most value for what you pay for them. All speakers are different in sound, style and material which I will go over with each set of speakers. Hopefully it'll help you get an idea of what you're looking to get!
With that, let's get to the top picks!
Cyber Acoustics Speakers
---
When you're looking for something that's around the $40 range that still packs a bunch with bass and mids then you've got to make sure that you take a look at these speakers from Cyber Acoustics!
These speakers were the only ones I could find within this budget points that have the design on the subwoofer with speakers also on the sides. This design is so that it is as acoustically tuned as they can get.
It's a three piece stereo set that has a 62 watt power peak and it can handle an on-going average of about 30 watts. There is plenty of power to be used without the speakers being blown, the usage isn't too bad and the amount of sound you can get out of them is great.
This amount is more than enough to fill up a room with sound and bass, you'd also be able to hear them outside of a room if you had them turned up loud enough.
What I like most about these speakers is that it comes with a desktop control pod which allows you to control the bass/volume, it has a headphone jack and you're able to turn the speakers on and off with it as well.
The overall design is so that you'd be able to get the bass levels just right from adjusting it with the control pod and through the playback options on your desktop. Overall not a bad choice at all for just around $40, comes with everything you'd need and then some!
Creative A250 Speakers
---
I had used these speakers for a good while myself, I switched over to other speakers as I gave these to a friend as a gift, they're great speakers especially since they're usually around $30! Not bad for good speakers that provide excellent bass on top of that.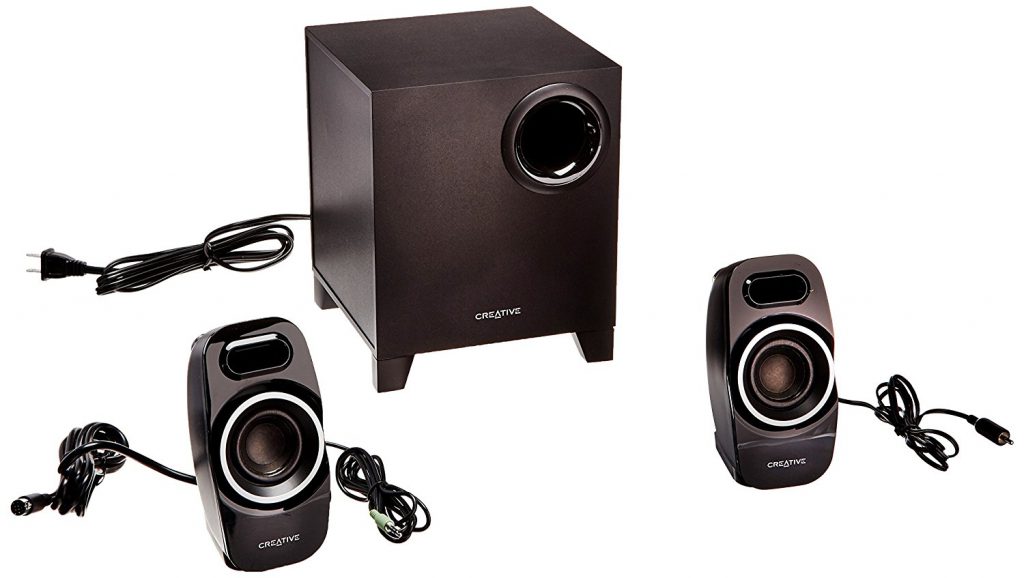 As I stated above, I had used these speakers for a good while. Sure, they're missing the extra speakers that most speakers for under $50 seem to include but don't let having single regular speakers fool you. These can get pretty loud.
All of the speakers connect together, power comes from the subwoofer and then the other speakers plug into the subwoofer as well as the 3.5mm jack that you are using with the speakers to your computer.
There is a lot less wattage usage than I had thought with these speakers but that's fine, less wattage while still being able to have a louder system that has a high quality, crisp sound coming out is what you want and that's exactly what you get out of these ones.
These speakers can easily be heard outside of a room meaning that they're loud enough to hear throughout an apartment for sure. You'll want to adjust playback settings on your desktop to make sure that the bass is set right which won't take long, that's a common thing to do with speakers that come with a subwoofer.
You're able to turn the speakers on/off through the knob, it'll click on and off indicating so. The only downfall I saw with these is that there is no headphone jack, though most are probably using USB headsets at this point anyway.
If you're looking for something right at $30 that provides a high quality sound then these are it. I don't think there are better ones on the market for this price!
Logitech Z323 Speakers
---
Recall when I said I switched to different speakers after gifting the Creative A250's to a friend? These Logitech Z323 speakers are the set that I got to replace them and for a bit over $40, they're well worth getting.
I've been using these for a few months now and they're a wonderful set of speakers to use. Logitech is well known for making quality products all across the board, these speakers are definitely apart of that quality product lineup.
These are pretty similar to the Creative A250 speakers with the main differences being a slightly bigger subwoofer, a third speaker at the back of each of the main speakers and they can get a bit louder without losing the crisp quality.
That's what you get for paying the extra bit with these, you can get the sound pretty loud without losing out on the sound quality that comes with.
They're simple to setup, there is a "VGA" type of cable that plugs the speakers into the sub and then there is another cable that connects the other one. It's all plug and play and like the other speakers mentioned so far, you're going to need to adjust some levels in the playback device settings to optimize the sound.
Right off the bat there was a bit too much bass for my liking but after messing around with some of the settings I was able to get them to a sweet spot. I usually have these at half volume and I'm able to hear the music playing just fine throughout my apartment.
If you're looking for the top notch choice for under $50 then these are it. Sure, they're a bit more pricey than the others here but you definitely get what you pay for with these. Also, I decided not to get it, but you can also include a bluetooth audio adapter to come with if you'd want to!
Logitech Z130 Speakers
---
Now on to some speakers that are completely different from the ones above. This set from Logitech doesn't come with a subwoofer but at less than $20 they get the job done when you're looking for a low priced solution.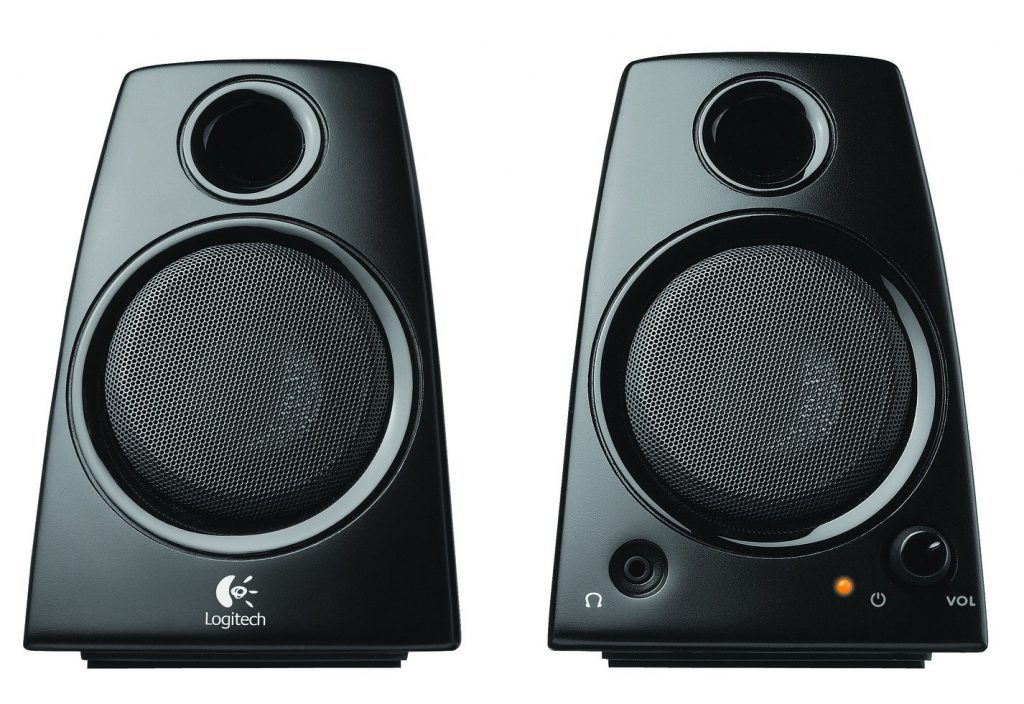 You'd think that paying anything less than $20 for speakers would lead to having a crappy product, something that isn't durable and wouldn't last long… but that's not true when it comes to this set.
Logitech created the Z130 speakers to provide a cheaper solution to having decent quality sound without breaking the bank. You're missing out on having quality bass by not having a subwoofer here but that doesn't mean that these speakers don't provide loud, crisp sound.
These wouldn't be ideal if you're looking to really feel the bass in music or games but they're still loud enough to hear throughout other rooms if need be. These speakers have the same average wattage usage as the speakers with the Creative A250's.
As a bonus, these also come with a headphone jack right on the front of the right speaker. You can adjust the volume and turn them on/off with the knob and they're also plug and play.
You probably won't have to adjust much if any settings with these since the bass isn't a significant source but I suppose it wouldn't hurt to at least see what they'd sound like with some settings enabled/disabled.
When you're in the market for the lowest priced possible speakers that still have quality in mind then these are the speakers you've been looking for!
GOgroove BassPULSE Speakers
---
Last but not least we have some speakers from GOgroove. These ones light up, come in different colors and have a fantastic quality when it comes to sound. However, they're usually priced right at $50 though sometimes I've seen them priced at around $45 so I figured it wouldn't be a bad idea to include them in this list.
These speakers are by far the most unique set. You're able to adjust the lighting to pulse with the sound, to stay on/off, adjust the volume and the bass all on the subwoofer speakers.
They come in blue, red and green so you're sure to find a color that suits your style. Though I have noticed that when the main supplier runs out of stock they seem to jack up the price significantly. I'd only pick these up if they're right at that $50 price range or lower.
A friend of mine picked these speakers up in blue and they totally pack a punch. The bass is heavy, the other speakers can get very loud and the light up effects are very cool!
This isn't one of those off-brands that have crappy materials and/or they won't last long. My friend has had and used these speakers for over a year now without them getting worse in time.
These peak at 40 watts of power, the two speakers have 5 watts of power with 10 watts worth with the side firing subwoofer. They're plug and play, once you get them all connected they work right off the bat.
This is another set that you'd easily be able to turn up and hear around your living space. Again, I know that they're not less than $50 but at times they are listed at less than $50. If you're wanting to step out of your budget a tad bit then these should definitely be considered.
Which Ones Suit You Best?
---
These are the top picks for the best PC speakers for under $50 that I could find on the market. Each set is unique in its own way and it really comes down to what you're looking for.
I've personally used the Creative A250 speakers, the Logitech Z323 set and I've experienced the GOgroove ones first hand. The other speakers simply have very high ratings and there are plenty of people that have used them and considered them to be of high quality!
So, which speakers have you decided to go with?
What do you like most about the speakers you're wanting?
Let me know in the comments below! 😀
Hey there! 👋 I'm Colton, founder of PC Builds On A Budget.
Whether you need help putting your PC together, finding a great pre-built rig, or want some help finding awesome peripherals – I've got you covered!
I share my experiences of anything and everything related to gaming PCs with you here. 👍