Last Updated on January 8, 2018
I'd like to review the CM Storm Devastator. It's the top selling gaming keyboard on Amazon's marketplace and I must say that's it's pretty amazing, especially for the price point that it is set at.
If you're looking for an entry level keyboard and mouse then this is definitely going to be the right combination for you. Cooler Master has developed an awesome keyboard and it comes with a mouse… it doesn't get better than that!
With that, let's get to the review.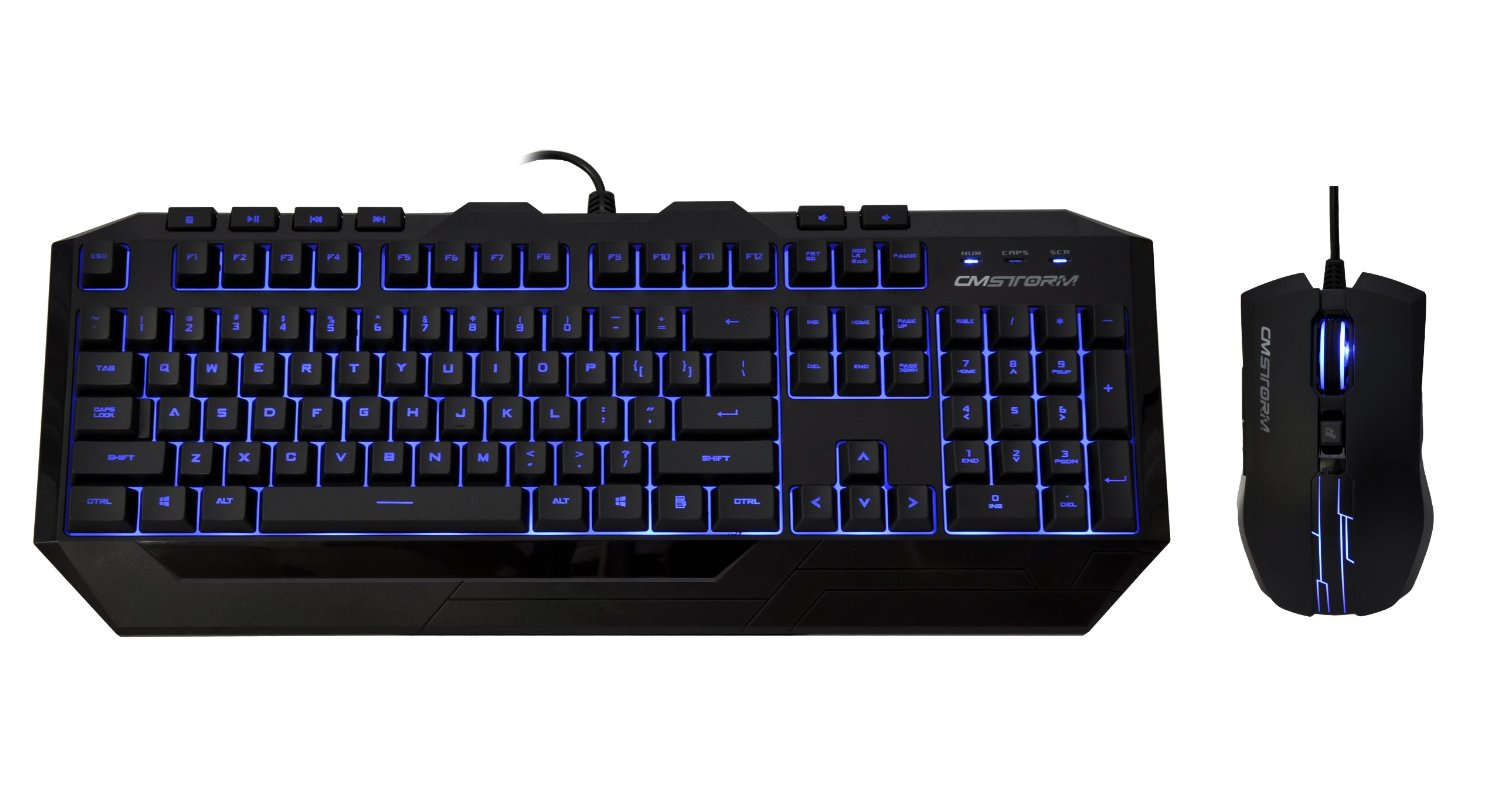 Product: CM Storm Devastator – LED Gaming Keyboard and Mouse Combo Bundle
Price: $27.87
Cheapest Place To Buy: Amazon.com
Warranty: 2 Year for around $2
My Rating: 6.5 out of 10
As I said above, this is the best keyboard choice if you're looking for something that'll get the job done, and then some.
The Cooler Master Devastator
---
The first noticeable cool feature is the illumination of the keyboard and mouse. They are also available in green and red giving it more value through the variety of different looks that you can get.
Illumination helps a lot if you ever play in the dark, which I prefer to do because that way the screen is nice and bright and I'm able to see what's going on in my games much easier that way. The lights are pretty bright and give off the perfect amount of ambience.
Both the mouse and keyboard are ergonomically designed, basically meaning that it's "one size fits all" if you will.
Cooler Master definitely kept the comfort level in mind when they designed this combo and the customer ratings over on Amazon prove that they did. There have been over 1,000 reviews done on this exact keyboard and mouse and they are rated 4/5 stars.
That's an extremely good rating especially given with the amount of people that have reviewed it. That's why it's the #1 selling gaming keyboard on Amazon's market!
The keys on the keyboard are grip coated and the letters/numbers are laser-etched into the keys so you can be ensured that you won't be slipping around when you need to swipe different keys depending on the action that you're involved in with your PC games.
There are side rubber pads as well to maintain stability while using it making it one of the best keyboards to put with your PC build.
Another great feature of the keyboard is that is comes with all of the main multimedia buttons. You can pause, play, fast forward, rewind and stop any sort of media with the click of a button. This is a must have feature when it comes to keyboards. There are also volume adjustment buttons conveniently placed in the top right corner of the keyboard.
The Cooler Master Storm
---
The CM Storm mouse is the most optimal mouse to go with this keyboard. It matches the exact design of the keyboard and it also comes in the different colors that are available with the keyboard.
Its also got a maximum DPI setting of 2000 so if you're gaming on a 1080p monitor then this would be a great mouse to have in order to keep your accuracy at an optimal level when you're going for those head shots.
Being ergonomically designed like The Devastator, you can also know that you'll have ultimate comfort while using this mouse for anything. Gaming, regular use, however you may use it, it's just a great overall mouse. Whether you have bigger hands or smaller hands it won't matter. Gotta love it when companies take the time to make sure that they have a high quality product!
DPI on-the-fly is probably the best feature of this mouse. This is a very popular and needed feature when it comes to PC gamers world wide. Switching DPI is totally personal preference but some gamers like to have a lower DPI setting when playing real-time strategy games that way the mouse moves slower, making it easier to know where your pointer is at all times while executing the next move.
Higher DPI settings make high sensitivity players super happy because it makes it more accurate when moving the mouse fast when your flanking enemies and need to look round quickly.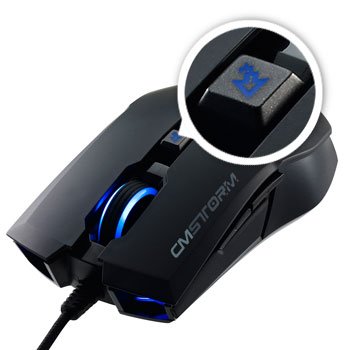 The CM Storm can switch between the DPI settings of 1000, 1600 and 2000 with one click of the DPI button.
DPI is extremely important when it comes to PC gaming, especially for FPS games.
DPI stands for dots per inch and this setting effects how many dots the mouse pointer moves for every single inch of the screen that it passes.
If you're gaming at a 1080p resolution then 2000 DPI will do just fine for any game that you might play.
If you have a monitor that is past 1080p then I'd suggest grabbing a mouse with higher DPI settings. Industry standard for now is 1080p resolution but as we slowly move towards a 4K res standard then companies that manufacture PC gaming mice are going to have to make sure that their hardware has not only several multiple DPI settings but much higher maximums as well.
This mouse has two thumb buttons on the right side of the mouse. This is an awesome feature that they've included because it makes many actions such as med packs or switching weapon modes a piece of cake. I currently have a gaming mouse that has the two thumb buttons and it's great having access to the flashlight or a grenade launcher ready at the click of my thumb. Certainly beats accidentally hitting other keys on the keyboard when trying to perform an action in-game.
To Conclude
---
All in all, this is a GREAT keyboard/mouse combo! 😀
The reason why this got a high 8.5 rating from me is because it's full of incredible value because of where its currently priced. Many other keyboard mouse combos are more expensive and most don't have illumination.
The only reasons why this isn't a 10 out of 10 is because the keyboard could have been designed with macro keys in mind and the mouse could have had a higher DPI setting and more buttons, but as I said, for this price? It's practically a steal. The keyboard alone is worth $30 easily!
I hope you all enjoyed my CM Storm Devastator review!
Are you going to be getting this keyboard, or maybe you have used it before?
Let me know in the comments below! 🙂
Hey there! 👋 I'm Colton, founder of PC Builds On A Budget.
Whether you need help putting your PC together, finding a great pre-built rig, or want some help finding awesome peripherals – I've got you covered!
I share my experiences of anything and everything related to gaming PCs with you here. 👍