It's about time for a Redragon M601 review. This mouse has some pretty awesome features such as adjustable weight, good DPI settings and an ergonomic design for a price that makes sense.
If those types of features suit your play style then this is definitely going to be worth taking a look at. Even in 2019, it's an overall great mouse to use with your PC.
With that, let's get to the review!

Product: Redragon M601 CENTROPHORUS
Price: $13.99
Cheapest Place To Buy: Amazon.com
Warranty: Year and a half
My Rating: 6.5/10
A Great Choice For Those on A Tight Budget
---

This mouse is for those that are basically looking for an adjustable weight system for the lowest price point possible.
Also if you have a 1080p monitor for your PC then this mouse is going to be pretty optimal for that kind of specific monitor. the maximum DPI setting is great for 1080p resolution monitors.
There are some pretty cool features that come with this mouse and for its price point, depending on your own personal opinion, it may or may not be worth making a purchase of.
Up To 3200 DPI
---
This mouse has a DPI setting of up to 3200 DPI.
It can switch between different settings but 3200 is most likely where you are going to want to stick at because that is going to be the most optimal setting, especially for today's choices of monitors.
If you have a higher resolution monitor then a higher DPI setting is going to be key if you're looking for an accurate mouse. This is extremely important with anything PC gaming, especially when it comes to first person shooter games.
If you have a higher resolution than 1080p then you're going to need a higher DPI setting in order to get optimal results with a PC gaming mouse.
So basically, this mouse is absolutely perfect for 1080p monitors, but anything with a higher resolution than that then you're going to want to look for a different mouse.
Adjustable Weights Are Cool
---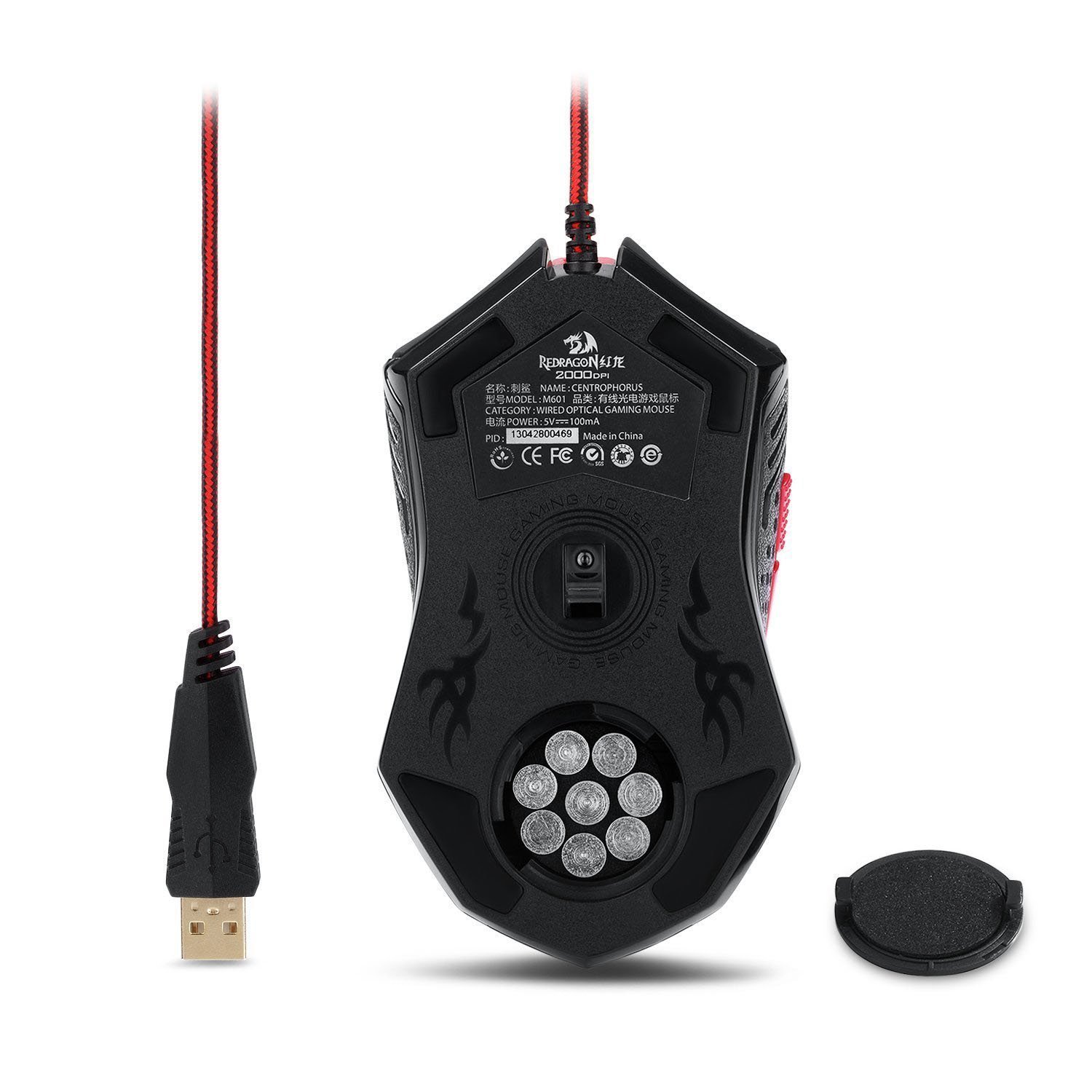 Now to me this is more of a personal preference but having adjustable weights could definitely improve your gaming potential.
Why?
Because if you want a certain weight for certain games then maybe you'll want to switch to just that. Typically, if you have a heavier mouse then it is going to be easier to control the accuracy of those head shots that you plan to execute in those first persona shooter games.
If you have a lighter weight mouse then you're going to be able to obviously move it faster, this comes in handy when you are playing a strategy game because you'll want to be able to move across your battlefield in the fastest way possible.
But, like I said, this is mainly a personal preference and it is also a completely optional thing if you don;t want to mess around with the weight system at all.
If that is the case then I suggest looking for a different mouse because you might be able to go even cheaper on the price, even though this mouse is at a great price point for its many features.
The Perfect Amount of Buttons
---

The buttons on a mouse are probably the most important aspect of the mouse when it comes to virtually any given mouse on the market.
This particular mouse has 6 optimized buttons and 2 programmable buttons.
The two programmable buttons are the thumb buttons, these are extremely helpful for pretty much any game out there because it is much more convenient to use a hard to reach key to map to the thumb button instead because it is just right there.
Then there are the scroll wheel button, the two main mouse button used with your pointer and middle finger and then there is the DPI button which can also be used for a specific action on a game if you so chose for it to do so.
I'm not entirely sure how many DPI settings that are officially with the mouse but I do know that the max setting is at 3200 DPI, so you'll be able to switch between that and the other settings with that button.
The Software
---
Redragon has a software out for this mouse where you'll be able to change the different settings of the mouse and you'll also be able to set up the different macros of the mouse in the software as well.
You'll have to go to the official Redragon website for the software download if the mouse doesn't already come with the software by default, it wouldn't be much of a hassle if you ended up having to do that anyway.
The software is a very nice part of this mouse and it is kind of rare to see a nice dedicated software to go with a mouse at this cheap price point, Redragon is going great things.
Basically, you're going to want to download the software, it is optional but if you want the most out of your mouse then you'll have to get the software some how some way!
To Conclude
---
All in all, if you have a 1080p resolution monitor or less and you're looking for a cheaper solution for a mouse then this is probably going to be the mouse for you.
It is some great features for its price and is definitely worth picking up if you have that little bit of room in your budget.
Pros:
Adjustable weights.
Ergonomic design.
Mouse software directly from Redragon.
Cons:
Some of you may prefer more mouse buttons.
You're locked at a limit of DPI.
Only the one design is available.

So, what do you guys think of this Redragon mouse?
Do you enjoy having adjustable weights on your mouse?
Let me know in the comments below! 😀