Last Updated on October 2, 2015
Today's post is going to be a review of the Sentey gaming mouse. The Nebulus is actually a great mouse, especially for gaming!
There are plenty of features that come with this mouse and for its current price point, it's basically a steal. Most mice that are around this price point aren't filled with as many features as it should, they don't have as much value per dollar spent but this mouse is a completely different story.
With that, let's get to the review!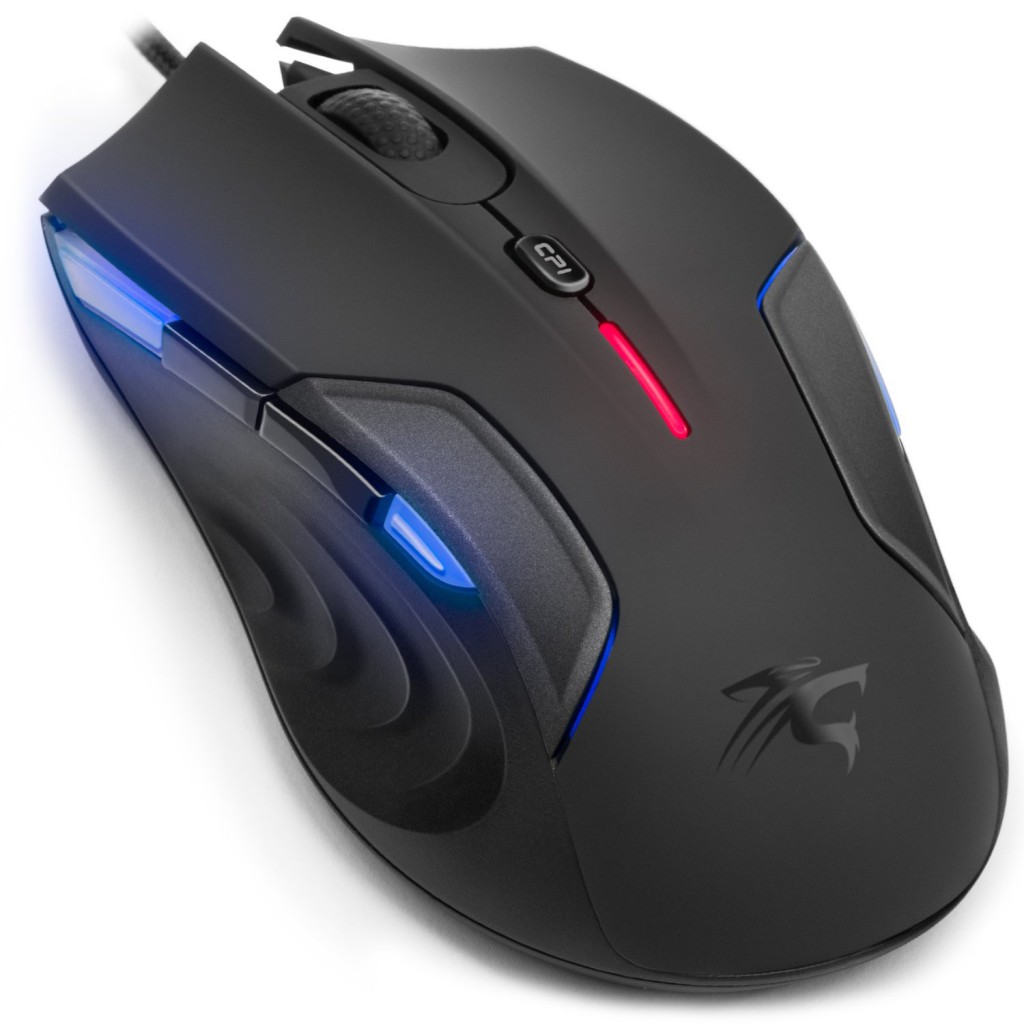 Product: Sentey® Nebulus Ergonomic Gaming Mouse
Price: $15.99
Cheapest Place To Buy: Amazon.com
Warranty: 1 Year
My Rating: 10 out of 10
Some Awesome Value Per Dollar Spent
---
The thing that surprised me most about this mouse was the fact that it has a max DPI setting of 3200 DPI.
This is a very good max setting for less than $20. This'll be a great mouse not only for 1080p gaming but beyond that resolution going into 1440p as well. As far as 4K resolution is concerned, you may want to consider getting a mouse with a little higher max DPI but 4K isn't really the norm as of today.
What's really cool about this mouse and the DPI is the DPI button located at the top of the mouse. You'll be able to switch between different DPI settings so that you'll be able to switch to whichever is most optimal for whatever game you may be playing.
Some people don't want to move so many dots per inch when they are playing FPS games where as those people may want to change their DPI for when they are playing a strategic game. It really depends on the player, but having options is nice. The picture to the right will explain what the button does.
So Sentey really did it right with the Nebulus. It not only has the perfect DPI settings, it also has the two thumb buttons on the side for maximum potential when it comes to your favorite games.
I have a mouse that has the two thumb buttons and I have to say, it really gives me a distinct advantage in my games because I set it for either alternate attacks or med packs, depending on which game I am playing.
You can easily execute any sort of action with those buttons and it's actually pretty important to have those buttons especially for the recent games coming out.
So you'll have accurate aiming especially if you're playing at 1080p or 1440p resolution and you'll also have quite an advantage by being able to use the two thumb buttons on the mouse as well. Most mice around this price point that have two thumb buttons actually don't have a great DPI setting, so that is where the value comes from with the Nebulus.
Comparing With The Other Guys
---
I did some research on some other mice that are around this price point and I really like what the Nebulus delivers on within this price range.
A while ago I wrote a post about the Redragon M601 which is a couple bucks cheaper than this mouse, but its max DPI setting is lower than the Nebulus's.
I also took a look at the Etekcity Scroll X1, and although it looks pretty cool, it also doesn't have the max DPI setting that the Nebulus has.
Sentey really set the bar pretty high for those that are in the market for a cheaper gaming mouse that still provides value. I'd really have to say that the Nebulus is most likely the best mouse you can get if you are on a tight budget. It is at a great price point and as compared to the other guys in the market, Nebulus is the champ for sure.
Some Other Awesome Nebulus Features
---
So, now that you know that this mouse is more than capable for today's gaming standards as far as resolution goes and that it beats the competition when you take a look at the value per dollar spent, lets talk about some of the other features which come with the Nebulus.
The USB connection is gold plated, which in my opinion doesn't really make a difference but many people say that gold plated USB connectors actually last a lot longer. To me, it's just a cool aesthetic.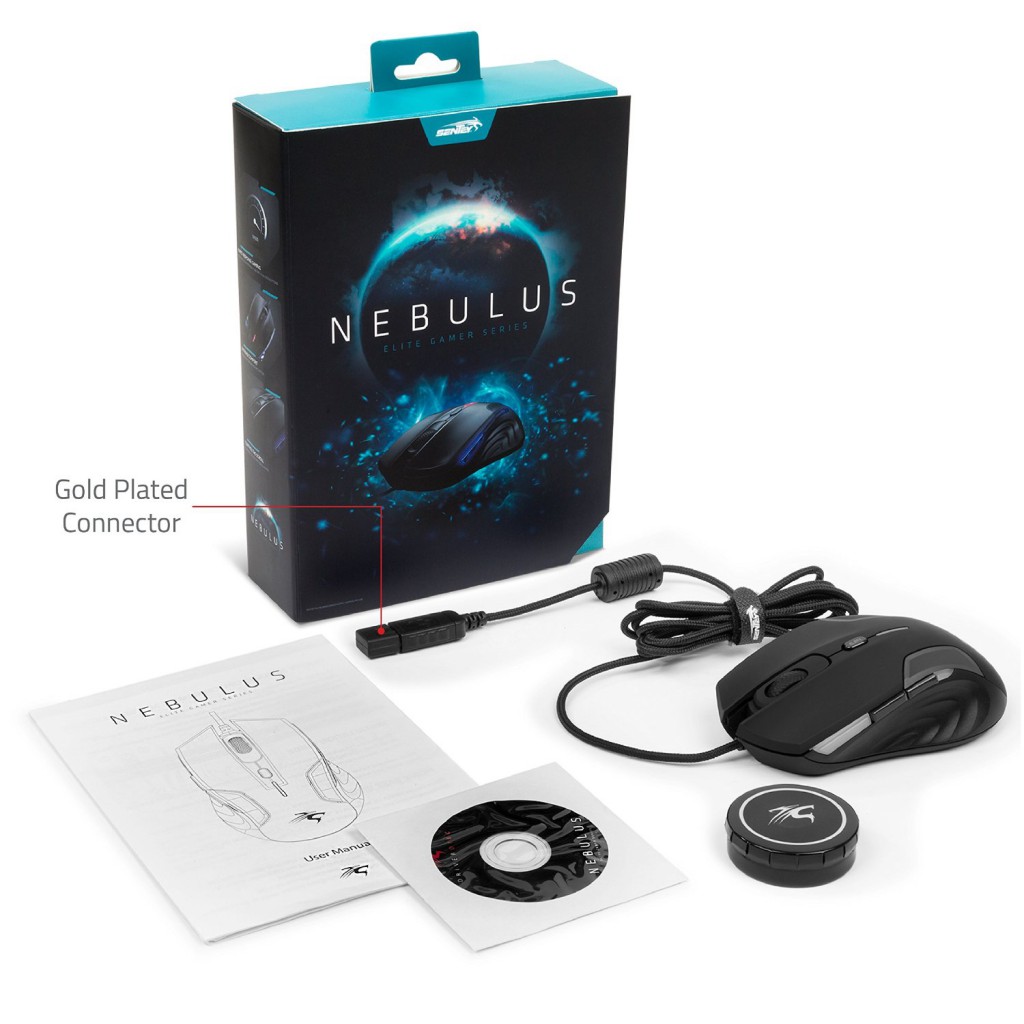 "I'm plugging in some gold into my PC, WOOT!"
The cable is also a heavy duty braided cable which honestly you rarely see with the cheaper gaming mice that are on the market. Most mice around this price point have your "average joe" cable which can easily get ruined if someone is care free about their mouse.
But this cable is heavy duty, you'll know what I'm talking about once you've got a Nebulus of your own. You can also get an idea of what the texture is like in the photo to the right.
But that's not the only extra feature, this mouse also allows for weight tuning.
You'll be able to change the weight settings on the bottom of the mouse with different weights that it will come with. This is also really nice because you'll be able to further optimize your experience!
Every PC gamer is different. Some gamers want to have a light weight mouse that moves around everywhere with ease for faster responses whereas some other gamers may want a heavy duty mouse so that they can slowly move their sniper scope to the faces of their enemies.
This is 100% personal preference. Not everyone is going to mess around with this feature but as I said, it's really nice to have the extra options to do so.
The Nebulus will also come with its own software.
Software is nice with gaming mice because it allows you to customize your experience how you see fit. I don't personally have separate profiles for my mouse but you'll be able to set up different profiles with this one if you deem it necessary.
Some people like to set up different profiles for different games so that their sensitivity fits their experience they want to but I never really change my settings, personally. I keep my sensitivity really high, I barely have to move my mouse to get around. I just adjust to it for every game that I play.
To Conclude
---
All in all, if you're in the market for a gaming mouse and you're on a tighter budget, go with the Nebulus.
It is packed with features that you mainly find with more expensive mice so this mouse is practically a steal at its price point.
So, what do you guys like about this mouse?
Are you going to use this for your PC?
Let me know in the comments below! 😀
Hey there! 👋 I'm Colton, founder of PC Builds On A Budget.
Whether you need help putting your PC together, finding a great pre-built rig, or want some help finding awesome peripherals – I've got you covered!
I share my experiences of anything and everything related to gaming PCs with you here. 👍