Last Updated on January 23, 2016
Lately I've been checking out some different PC mice to see which ones would fit the criteria of being the best affordable gaming mouse.
If you've been around the site for a good bit then you probably know that I'm all about getting the best bang for the buck. Sure, sometimes I'll dish out a little extra dough to get something that I really deem necessary to have (even if it isn't necessary) but for the most part, I'm all about seeking out the best deals!
When it comes for looking for a good deal though… it's not all about getting the absolute lowest price.
Maybe for some industries that'd be true but when it comes to a gaming mouse, you've got to make sure that the mouse lives up to the quality needed for accuracy and for the test of time.
With that, let's get to the review.
What Matters Most?
---
For some people it's about how cool the mouse looks. There are some pretty awesome looking mice out there but sometimes you're going to find mice that look cool for $10 that are a complete ripoff.
Some mice are made in low quality factories in China which don't take a focus on the detail and the overall durability of the material.
For me, what matters most is that the details need to be there in an optimal yet affordable way. This includes the max DPI setting, how it's made, what features it comes with, how many buttons it has and other users' experience of the mouse.
Those five factors are what I mainly look at when it comes to gaming mice, especially when I am keeping an affordable price point in mind.
Oh yeah, that too.
The price matters almost the most.
Because as I said above, some mice will be available for a super low price which is nice but then you'll sometimes end up with a crap shoot of a mouse so trust me when I say that you're going to want to spend a bit more than $10 in order to get something that is worth getting.
What's a good price point for you with affordability in mind?
A little over $10? $15? $20? $25? $30? $40?
Well, the mouse that I'm going to share with you is actually within the $10-$15 range. Maybe you've got a little more room in your budget and so I'll have a part towards the end of this post with some honorable mentions but the following mouse is going to be the best bang for your buck if you're looking for something at a super low price point.
The Redragon M601 Is Awesome
---
For its price, there's almost no other mouse that beats it on the market.
I've already written a review of it in the past so if you want even further details on it then you should definitely check it out!
Long story short though, this mouse has a max DPI setting of 2000, the material is very similar to that of a Logitech mouse being a little textured and rough (high quality), it comes with adjustable weights and there are A LOT of people that are using it and most have shared good reviews for it.
2000 DPI is more than enough for those of you that game at 1080p resolution or lower which is more than likely most of you. I game at 1080p and I have my mouse set to 1600 DPI and it seems to be a good spot for me for most games.
This mouse meets the above criteria that I look for and then some. It's a steal at its current price point being a little over $10 – I think that most could agree that this is probably the best affordable gaming mouse that is on the market right now.
It also comes with your standard two thumb buttons, there's a DPI switch and it glows a really solid and cool red color. I really don't think it gets better than this if you're in the market for a new, low priced mouse. Again, if you want all of the details of it then you should check out the review!
The only reason that I could see why someone wouldn't want to pick this mouse up while in the market for this price range is that they wouldn't want the red color and that the theme of their build as a whole matters to them.
With that in mind I'd like to list some honorable mentions which are at various price points but they're still good for getting a good bang out of your buck!
Some Honorable Mentions
---
The following mice were also some that I was looking at as good options for affordability and quality.
The Redragon M601 beats these one's mainly based on the fact that it's at such a low price to include all of the features that it includes but if you've got a little extra room in your budget then these one's might interest you as well.
For About $25? The Combaterwing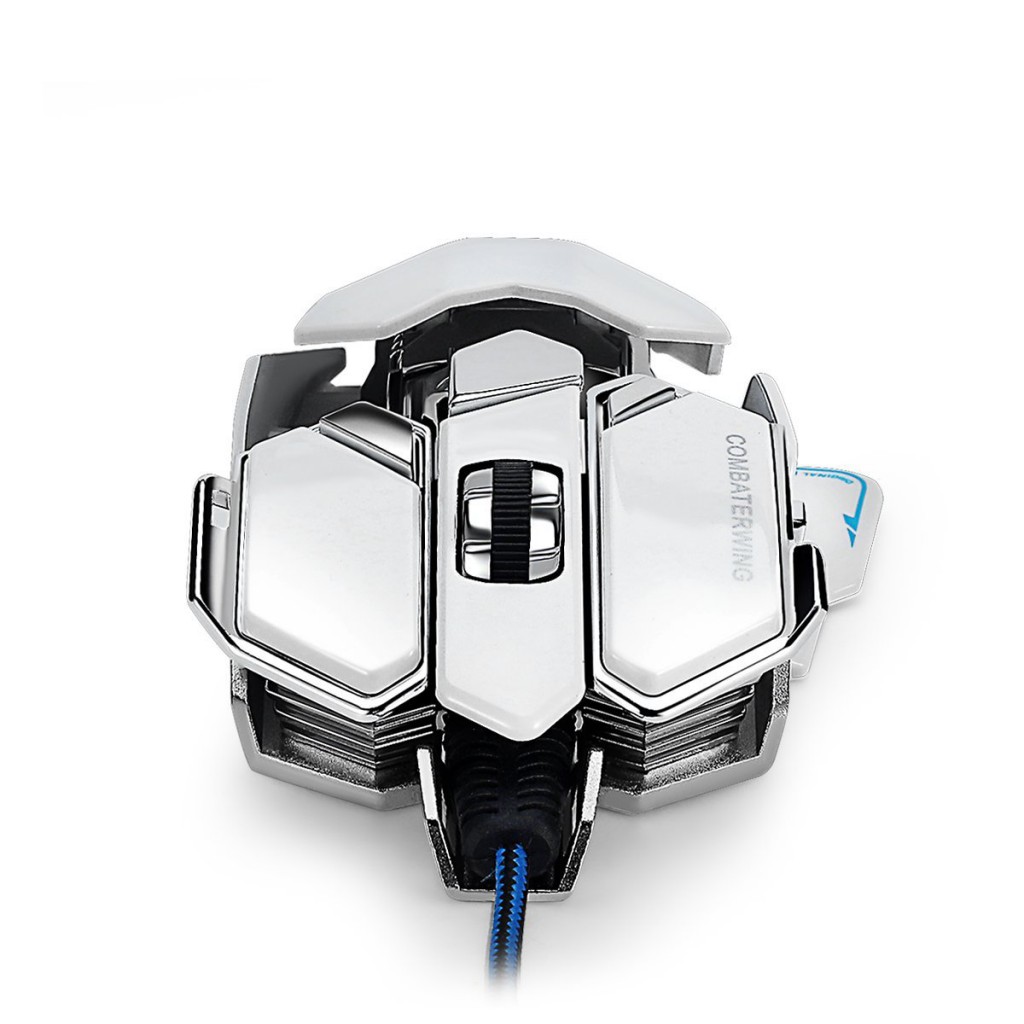 This mouse is pretty awesome looking, it's got great reviews on it and it's able to light up a bunch of different colors internally.
I chose this mouse for around the $25 range more so because of how cool it looks! It looks like it is something that came straight out of the future.
It also has 10 programmable buttons with its own software, it has a max DPI setting of 4800 and some of the reviewers have even taken some good pictures of it so that others could get an idea of the size and the material quality that it provides.
It might not have adjustable weights but it has pretty much everything else. There's also a black and red version available as well.
It'd also be the more ideal budget mouse to go with if you're gaming with a screen that has a higher resolution than 1080p.
For $30? Anker Has Your Back
Anker is one of those companies that has a complete line of some pretty high quality products that came out of nowhere. You've probably never heard of this company but there are a high amount of people that use their products, especially this gaming mouse that they made.
The big seller on this one is the overall customization that it offers as well as including some other good features such as a max DPI setting of 8200 and being able to tune to different weight settings.
8200 DPI is a bit overkill but having that high of a max setting will be useful if you plan on jumping into 4K in the future. The higher resolution your display is then the higher DPI you're going to need.
My favorite part about this one is the fact that there are literally over 16 million color options that you can pick out of a color wheel for the mouse to light up as.
For $30, that feature is awesome. Razer Chroma devices cost double if not more for being able to have a similar feature.
If you want some more in-depth information about this one then you should check out the review that I wrote up for it a while ago, it's an awesome mouse!
For About $40? Go With Venus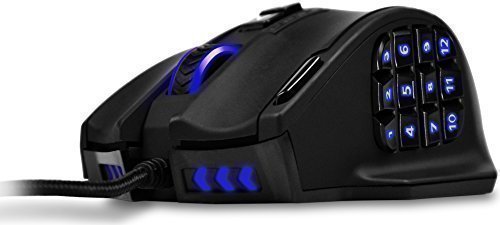 This mouse would mainly be for those of you that are into the MMOs, this mouse has some insane value for its price when thinking of MMOers.
All of those side buttons are going to come in handy, it will for sure give you the upper hand when you need to time your skills perfectly. Those buttons would also come in handy for some RTS games for setting up hot keys for easier access.
A max DPI setting of 16400 is absolutely overkill, at that point it really just becomes a marketing play. Sure, it really is able to hit that level of DPI but it's definitely not needed, even with 4K in mind. Maybe if people started getting into 8K, which is a thing, then those higher levels would be needed.
But it's going to be a very long time until screens like that become a norm, if it ever even does become a norm like what 1080p is today.
This mouse also has a bunch of lighting options and a dedicated software to really ensure that you're able to get exactly what you want out of it. If you're a MMO/strategy game kind of a person and you want to throw down 40 bucks then this is the mouse you'll want to add to your arsenal.
I Hope This Guide Helps You!
---
There are plenty other mice on the market but the ones that I've listed above are definitely the top picks for me. They all meet up to my expectations for quality and the quantity of features and they'll all definitely stand the test of time for years to come.
The M601 is the clear winner when it comes to the best of the best in affordable gaming mice.
So, are you going to be picking up the M601?
Or do you have some room in your budget for the other mice?
Let me know in the comments below! 😀
Hey there! 👋 I'm Colton, founder of PC Builds On A Budget.
Whether you need help putting your PC together, finding a great pre-built rig, or want some help finding awesome peripherals – I've got you covered!
I share my experiences of anything and everything related to gaming PCs with you here. 👍