Last Updated on October 2, 2015
Looking for a wireless gaming keyboard mouse combo that not only performs great but looks the part as well? Well then you've got to see this gaming dynamic duo.
E-More has done a great job creating a wireless keyboard and mouse combo. A slick keyboard and mouse layout combined with a modern look makes this pair one of the best, especially for its price point. There are many other keyboard and mouse combinations out there that are a lot more expensive than this!
With that said, let's get to the review.
Product: E-More® High Quality Waterproof 2.4G Wireless Gaming Keyboard with Mouse
Price: $36.00
Cheapest Place To Buy: Amazon.com
Product Dimensions: 22.8 x 6.5 x 2 inches
My Rating: 8 out of 10
The 2.4GHz frequency will allow you to be about 10 meters away from the receiver before the keyboard and mouse loses connection which is a pretty good distance. Both the keyboard and the mouse share the same wireless receiver so that makes things a lot more convenient and you'll have more USB slots to use for your other computer accessories as well.
The mouse can switch between four different DPI settings which include 800 DPI, 1200 DPI and 1600 DPI which is a pretty decent amount. If you're gaming on a monitor that has a higher resolution than 1080p then you should consider grabbing a different mouse that way it is completely optimal for your gaming experience but if you are gaming at 1080p then 1600 DPI will do just fine for you as far as gaming goes.
This keyboard/mouse combo also comes in different color schemes such as red and black and white, blue and black. It's entirely up to you to choose which color scheme you'd like but for me personally I really like the blue color scheme! Super slick and it's really easy to see which buttons I need to use while gaming.
The black and blue color scheme will go great with any build with blue LED fans inside of the case. Being wireless it would also be nice to be able to sit wherever you see fit to use your computer. I'd really enjoy lounging on my bed whilst using this keyboard and mouse! 😛
Both the keyboard and the mouse takes two AAA batteries which are not included in the bundle. There isn't any software to install and they both have an auto sleep mode therefore ensuring longer battery life while you're not using them.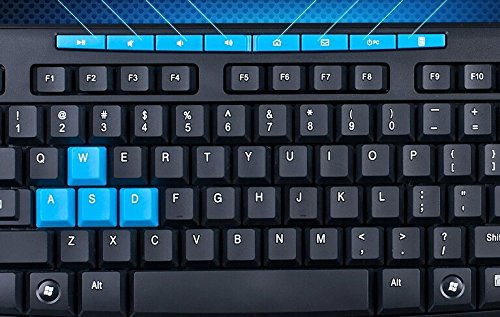 This combo is compatible not only with desktop computers but also laptops and Android TV's as well so this combination is an all-around great buy. It's ergonomic design will ensure complete comfortableness while using both the keyboard and the mouse. The keyboard has 8 multi-media keys as well that way you'll be able to access all of your different means of media with the click of a button.
I really like how the WASD keys and the arrows keys are painted a bright blue. Although the keyboard is not backlit you'll still be able to tell which keys you will need to use when you're playing your favorite games. This is crucial because you don't want to accidentally have your fingers in the wrong positions of the keyboard right when you start in a new match especially in multiplayer games when your team is depending on you as well!
Other wireless keyboard/mouse combos like the Logitech MK710 Wireless Desktop Mouse and Keyboard Combo or the HAWKPECK 2.4Ghz Wireless Combo are just over priced or lower in quality. This combo that I'm reviewing gives you the most bang for your buck when it comes to this wireless category.
All in all this is a great wireless gaming keyboard mouse combo and your money is very well spent with this combination.
What do you guys think?
Is wireless the way to go or do you prefer wired?
Let me know in the comments below! 😀
Hey there! 👋 I'm Colton, founder of PC Builds On A Budget.
Whether you need help putting your PC together, finding a great pre-built rig, or want some help finding awesome peripherals – I've got you covered!
I share my experiences of anything and everything related to gaming PCs with you here. 👍