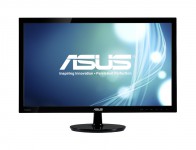 I'd like to post an ASUS VS228H review because I have used this monitor for about seven years and it's still one of the best cheap 1080p monitors on the market.
Also, if you're looking for a good monitor to do dual screens or more with then this should absolutely be on your radar.
This monitor's maximum resolution is 1920 x 1080. 1080p is the standard resolution for high definition quality and the VS228H LED model has a higher picture quality than other monitors out there that are similar.
With that, let's get to the review.