Last Updated on January 9, 2015
So you're surfing the web for an Asus GTX 780 review, right? Well look no further because I'm going to be explaining all of the benefits of adding this card to your PC build.
Imagine being able to run Grand Theft Auto V at a super high resolution with all of the graphics set to max while using the new first-person mode…
Well with this card you're going to be able to do just that.
This card packs quite a powerful punch and it's a steal at its current price. Be prepared to being able to run all of your favorite games at 2560 x 1440 resolution with no problems at all.
Let's get to the review.
Product: Asus ROG Poseidon GTX 780 Graphics Card
Price: $464.76
Cheapest Place To Buy: Amazon.com
Warranty: 3 Year
My Rating: 10 out of 10
This is an amazing graphics card. If you're at all interested in a super high performing premium card that is also fully compatible with water cooling then this is most certainly the video card for you. If you're not planning on water cooling your system then you can just enjoy the benefits of having an extremely powerful card. The fans do just fine in cooling the card at its stock power level, which is insanely powerful.
This card has a 1006MHz Boost Clock. A Boost Clock basically replaces the core clock so that the card can reach optimal levels of performance while doing tasks that require a lot of graphical power. This combined with the 2304 shader processing units along with the 3GB of video memory makes this card a beast video card.
The Asus Poseidon is 140% cooler and 3X quiete than similar card because of the ASUS exclusive Direct CU H2O thermal solution inside of the card. Direct CU H2O technology evokes a combined air and water channel to provide 100% flexibility for the user. A custom vapor chamber is in direct contact with the cards' GPUs for faster heat dispersal, while copper heat-pipes and extended cooling fins further transfer heat out and away from the cards to keep them running cool. This ensures stellar performance with this card.
Manufactured in Japan, this card is made of black metallic capacitors which also gives 20% better temperature ratings and 5X longer lifetime usage. They really went all-in on this card to make sure is was one of the best For a GeForce GTX 780. This is a very high-end version for a smaller cost than most.
Asus GPU Tweak software allows you to tune graphics card performance and check card status via an easy-to-use interface. This allows you to see the temperature and the core speeds that are presently running with your card. This software allows you to change these depending on what you prefer to have out of your card. This makes overclocking a lot easier to do with this card. If you have/ plan to use a water cooling system with your PC then you're going to be able to overclock this card to make it unstoppable.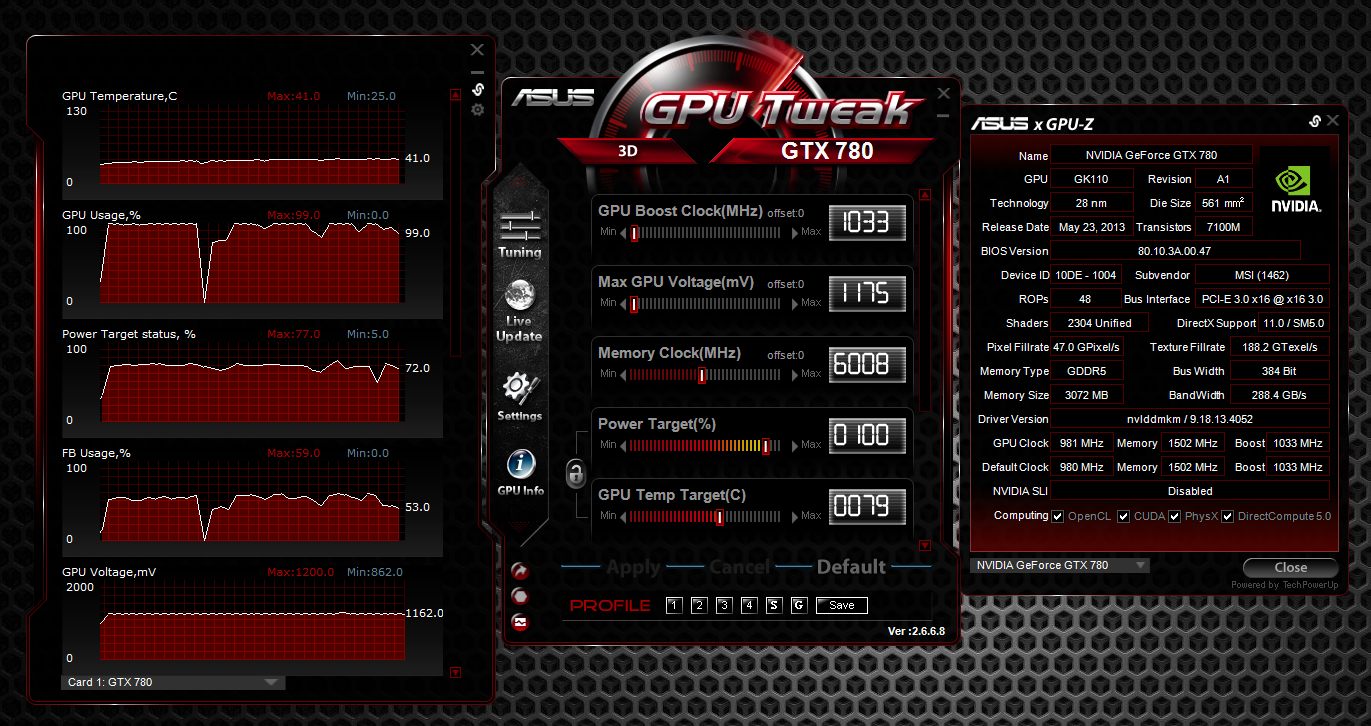 Now if you're really feeling like you need to go all out with your build then you should know that this card is capable of SLI/Crossfire meaning that you could use two of these on the same build AT THE SAME TIME. Just one of these cards is going to allow you to run your games on high/max at a screen resolution of 2560 x 1440. In my opinion I think just 1920 x 1080 resolution can be jaw dropping. I can't imagine what my favorite games would look like at max graphic settings and a higher res…
All in all, if you're looking for a premium card that's going to allow you to not only run today's games on max but also all of next years games on max settings then I highly suggest that you consider getting this card for your build. By getting this card you'll also be setting yourself up perfectly for when Oculus Rift (virtual reality) decides to take its course in the gaming industry. The future of gaming is coming very soon and this card is totally going to allow you to get the best experience out of it.
So what do you guys think of my Asus GTX 780 review? Are you going to be purchasing this card for your present/future build?
I know for certain that you wouldn't regret it! 😀
Let me know in the comments below!
Hey there! 👋 I'm Colton, founder of PC Builds On A Budget.
Whether you need help putting your PC together, finding a great pre-built rig, or want some help finding awesome peripherals – I've got you covered!
I share my experiences of anything and everything related to gaming PCs with you here. 👍