Last Updated on October 30, 2015
Searching the internet for the best computer keyboard for carpal tunnel? Well search no further because your solution is right here!
This ergonomic keyboard by Microsoft has a plush hand rest that is extremely comfortable to rest your hands on. The keyboard below here is also designed with an ergonomic curvature to give you a better experience while trying to type with carpal tunnel.
The amount of features that this keyboard provides for its price point is pretty awesome and you won't regret picking this one up over the other keyboards in this market.
With that, let's get to the review.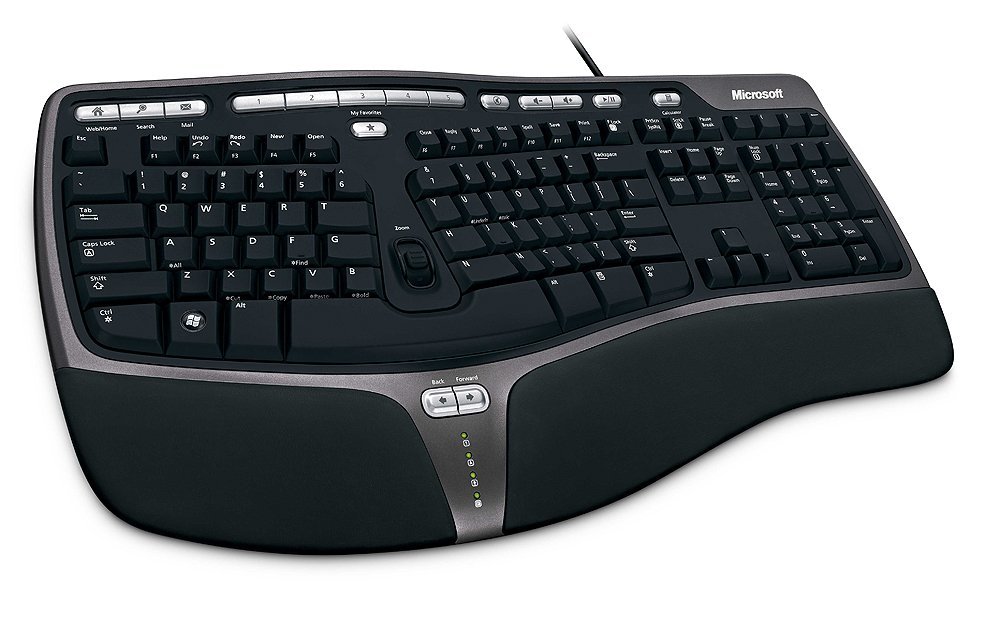 Product: Microsoft Natural Ergonomic Keyboard
Price: $29.95
Cheapest Place To Buy: Amazon.com
Warranty: 1 Year
My Rating: 7.5 out of 10
This keyboard is a great keyboard especially for those with carpal tunnel. The split design with this keyboard allows for a more natural wrist, hand and forearm position. The new curved key layout makes it easier to know which buttons are where versus your standard every day keyboard.
Key Features:
---
Zoom Slider – Get a closer look quicker and more accurately with the innovative Zoom Slider which is smack dab in the middle of the keyboard.
Customizable Keys – Perform common tasks, like opening documents and replying to email messages, with the touch of a button.
Improved Number Pad – Quickly reach for commonly used symbols, such as the equal sign, parentheses, and the backspace key. They are now located just above the number pad.
Ergonomic Design – Typing in total comfort. The ergonomic design of this Microsoft keyboard encourages natural wrist and arm alignment so you can work without discomfort.
According to some studies that have been done it is said that ergonomic keyboards can help reduce the symptoms of carpal tunnel. What I like best about this keyboard is how the buttons are placed for super easy access to basically anything that you'll need with every day computer use.

The customizable keys are going to allow you to set up the keyboard how you see fit. Need a button to access Skype more quickly so that you can talk with your family and friends with the click of a button? Done.
Need access to your e-mail in a split second? Also done.
This keyboard is great not only for its customizable options but also for it amazingly comfortable feel. The plush hand rest is something you'll have to feel for yourself to get exactly what I'm saying here! 😛
Another feature that I really like about this specific keyboard is the zoom function located right in the middle of the keyboard. IF something is looking a bit small and you're having a hard time reading it then zooming in on that is just a swipe away with this keyboard. Microsoft has done an excellent job creating an ergonomic keyboard that looks and feels great especially for those with carpal tunnel!
When you compare this to other ergonomic keyboards such as the Perixx ergonomic split keyboard or the Fellowes microban split design keyboard you'll quickly notice that there aren't nearly as many features and you'll actually pay more money for them! Microsoft did a great job creating a great ergonomic, split keyboard and you get the most bang for your buck if you decide t ogo with this keyboard versus the others in the market.
To Conclude
---
All in all, if you're struggling with carpal tunnel then this is definitely going to be the most comfortable keyboard solution that you'll be able to get your hands on in the market today.
Even as compared to other solutions, Microsoft comes out on top as the best choice. Click the button below to read more as to why you'll need this keyboard going forward!
So what do you guys think of Microsoft's ergonomic keyboard design?
Is this the best computer keyboard for carpal tunnel? 
Share your opinion in the comments below!
Hey there! 👋 I'm Colton, founder of PC Builds On A Budget.
Whether you need help putting your PC together, finding a great pre-built rig, or want some help finding awesome peripherals – I've got you covered!
I share my experiences of anything and everything related to gaming PCs with you here. 👍