Last Updated on August 30, 2020

Attempting to put together the best gaming PC build for under $500 in 2020? We show you which parts to use in order to have a $500 dollar gaming build that OWNS!
That's really what any and all PC builders need to keep in mind when they're trying to piece together the best gaming build for the amount of money they're willing to spend on it.
If your goal is to spend roughly $500 on hardware to use in order to put your own gaming PC together then you need to know what to look out for! You need to know which pieces of hardware are going to give you the best possible levels of performance per dollar spent.
That's why I believe 9 times out of 10 that custom builds are better than pre-built PCs – you are able to fully optimize the level of performance for the amount of money spent.
With that said, let's go ahead and get onto the build itself and the levels of gaming performance you can expect out of a $500 gaming build.
Best Gaming PC Build For Under $500
---
Last Updated: August 12th, 2020
I have found the following parts to be of the best value to build an epic gaming rig for under $500.
Each link will take you to Amazon's listing for the certain part. Amazon has the world's greatest customer service team and you are guaranteed a perfect transaction when doing business with Amazon.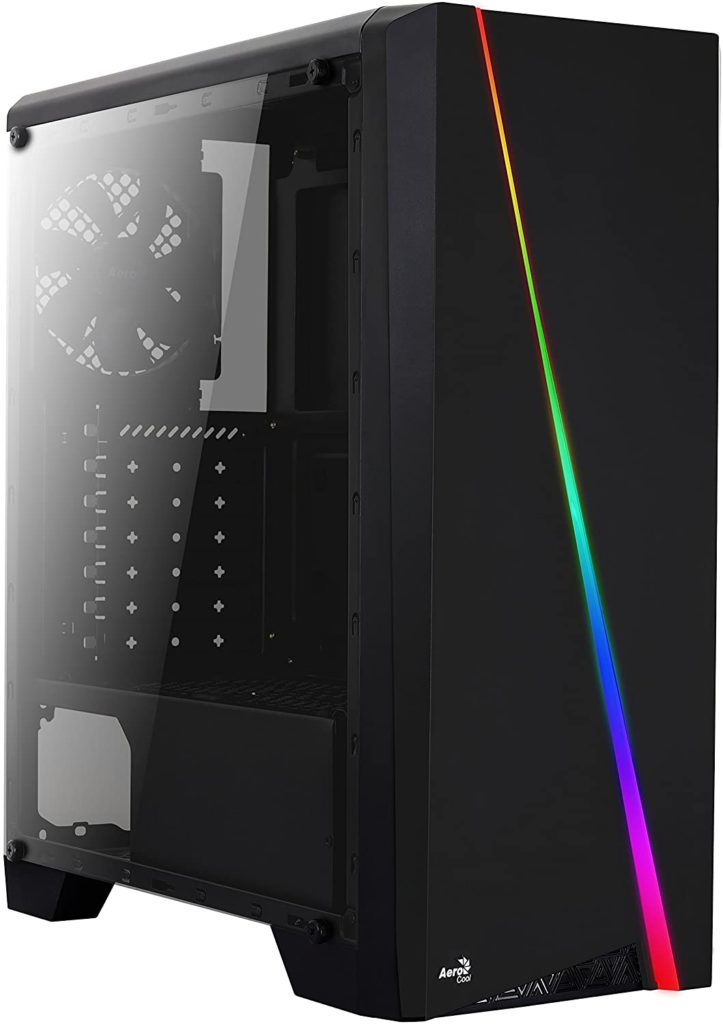 Case – AeroCool Cylon Mid Tower Case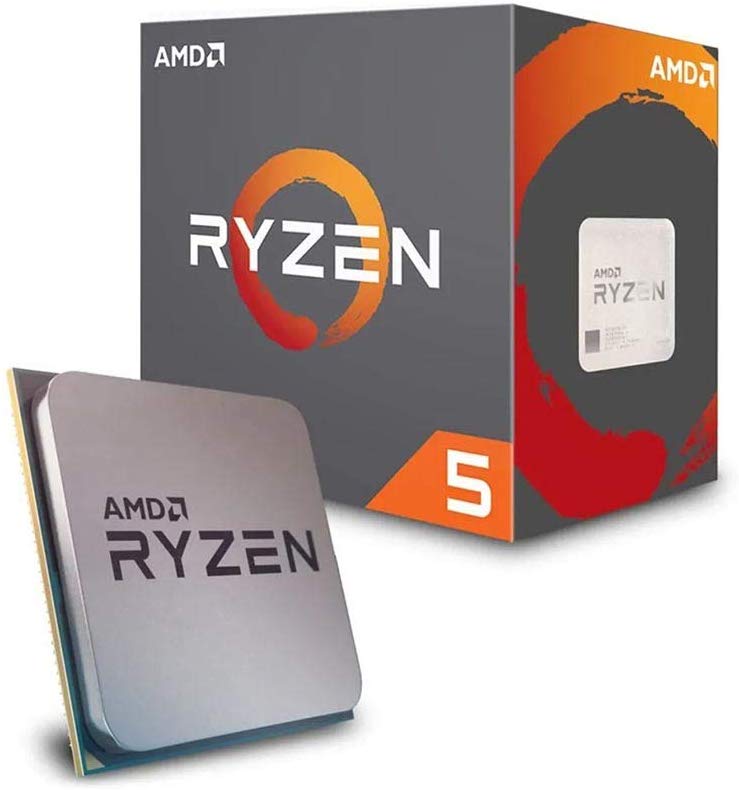 CPU – Ryzen 5 2600
 GPU – XFX Radeon RX 570 4GB XXX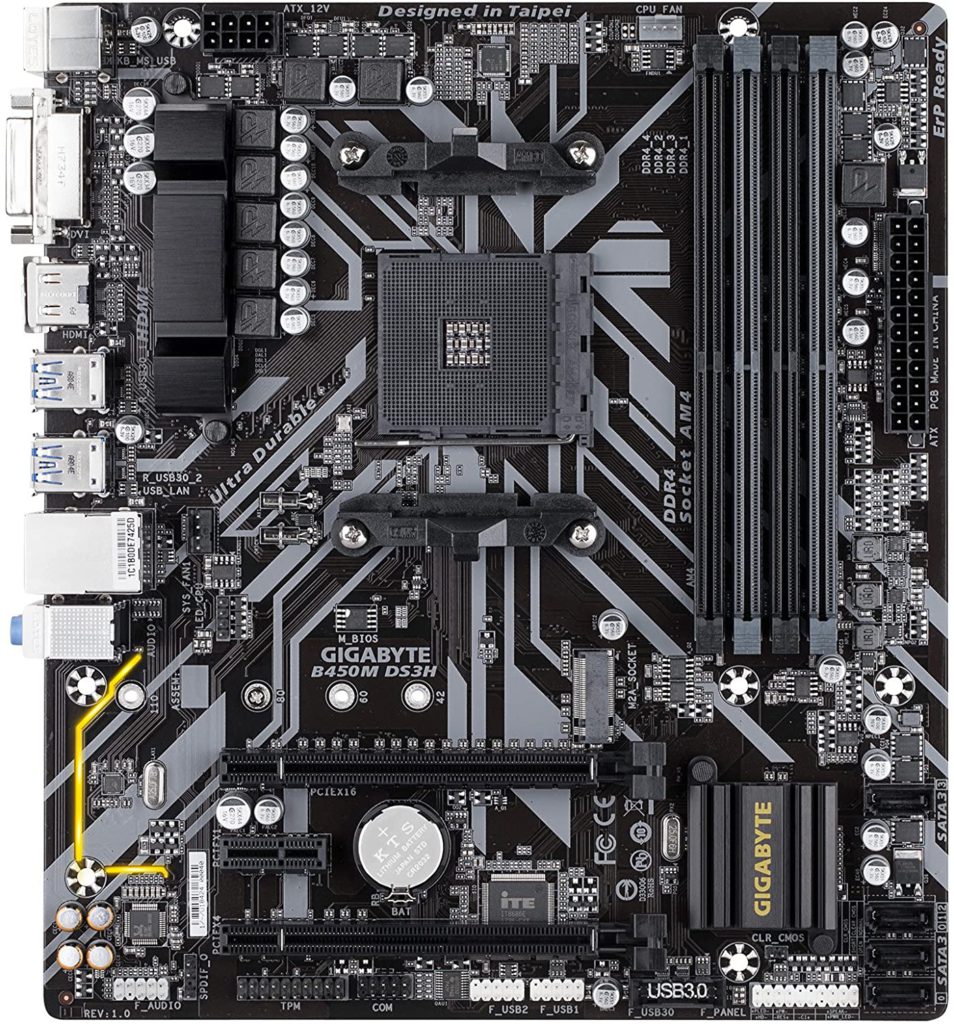 Motherboard – Gigabyte B450M DS3H

 RAM – G.Skill Aegis 8GB DDR4-3000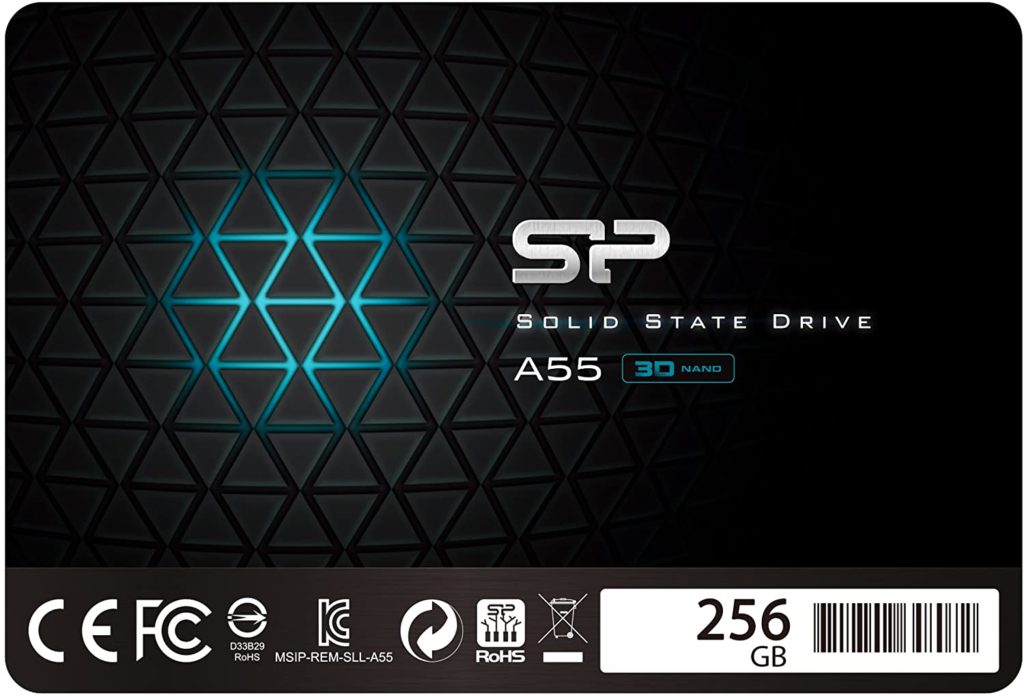 Solid State Drive – Silicon Power 256GB SSD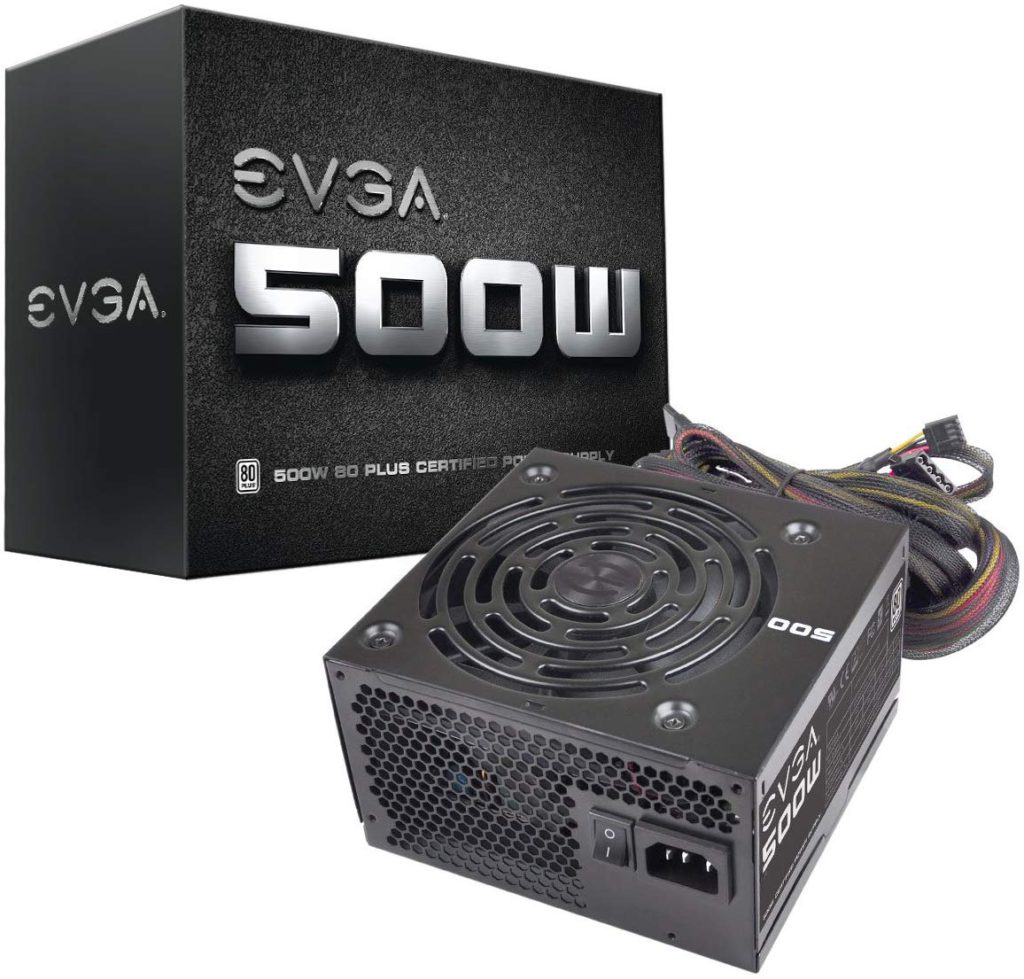 Power Supply – EVGA 500W W1 80+
Estimated Final Price: Around $530
How To Build A Computer
---
There are plenty of guides out there on the steps required to putting together your PC.
Newegg has a great video series that goes over in detail on how to put a build together. I highly suggest that you watch through their videos and learn how it's done!
Be sure to go through the video step by step as you're building this one as well. It'll help tremendously, especially if you've already watched through it before getting your parts delivered.
Build Rundown
---
Price Point
$500 for a gaming PC means being able to have a moderately good rig that is able to handle 1080p gaming at a tweaked medium/high setting for most games that are out today.
I say most games because performance also comes down to overall game optimization.
With this build specifically, there is a bit of a sacrifice on video card power in order to have high levels of performance everywhere else.
We're using a RX 570 video card paired with a Ryzen 5 2600 processor.
If there was more room in our budget we'd have went with a higher performing video card but the RX 570 isn't a bad card by any means.
If high FPS is less important for you then you'll be able to crank up the graphics settings and enjoy great visuals with a card like this.
The opposite is also true! If you are wanting those higher FPS rates then you'll be able to tweak the settings to a balanced medium/high setting to gain a huge boost in FPS.
This is what I'd recommend doing for most games because small tweaks are usually not that noticeable but the frame rate increases are very noticeable.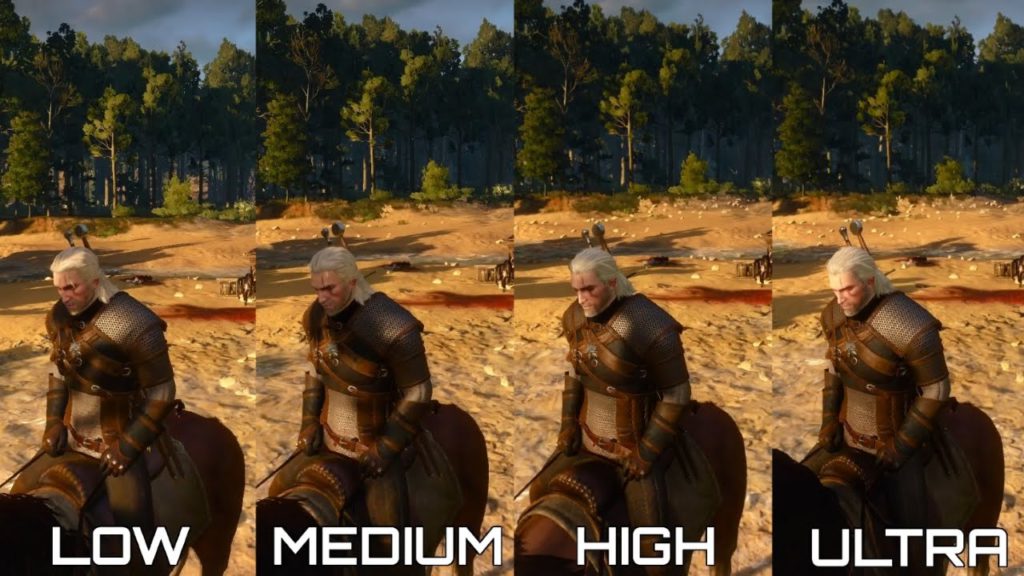 A $500 build is sort of the "sweet spot" for someone that's getting started with PC gaming.
Upgrades are always possible for down the road so whenever you deemed it necessary to have better performance you'll be able to do so.
Some upgrades that I'd recommend would be to get a higher performing 3000 series CPU such as the Ryzen 5 3600 (given that you also pick a motherboard that's compatible out of the gate) and a GTX 2070 would be a significant upgrade to go with it.
Although with those couple of upgrades you will also want to get a power supply that can provide more wattage.
Gaming Performance
Overall performance mainly comes down to the processor and video card combination with any PC.
The processor helps to handle when a bunch of different elements are going on at once in a game and the video card helps to render in textures and general graphics.
The combination of the Ryzen 5 2600 and the RX 570 allows for high quality 1080p performance to be possible.
I have to emphasize that 1080p/60 FPS is what this rig is able to do for "most" titles because of overall game optimizations and specification requirements.
Game optimization is a huge factor when it comes to how well a certain PC is able to handle a specific game.
There are some games where even if you spent $2,000+ on a PC build you'd still experience some lag because of the poor optimizations involved with the game.
If you plan on using this build then tweaking different settings will yield to getting those higher frame rates but these specs are definitely capable of running games on ultra settings.
Before you start ordering your parts you need to do some research on the minimum and required hardware specifications for whatever game(s) you plan in playing.
After that you can come back here and see if the performance of the different parts will match up with your favorite games! 🙂
For some examples we'll go over a couple games and their system requirements to show exactly what kind of performance it would have.
Assassin's Creed Odyssey is a popular title and it's a great game to push the boundaries of any video card.
Assassin's Creed Odyssey doesn't have the greatest overall optimization but the combination of the Ryzen 5 2600 and the RX 570 surpass the recommended system requirements.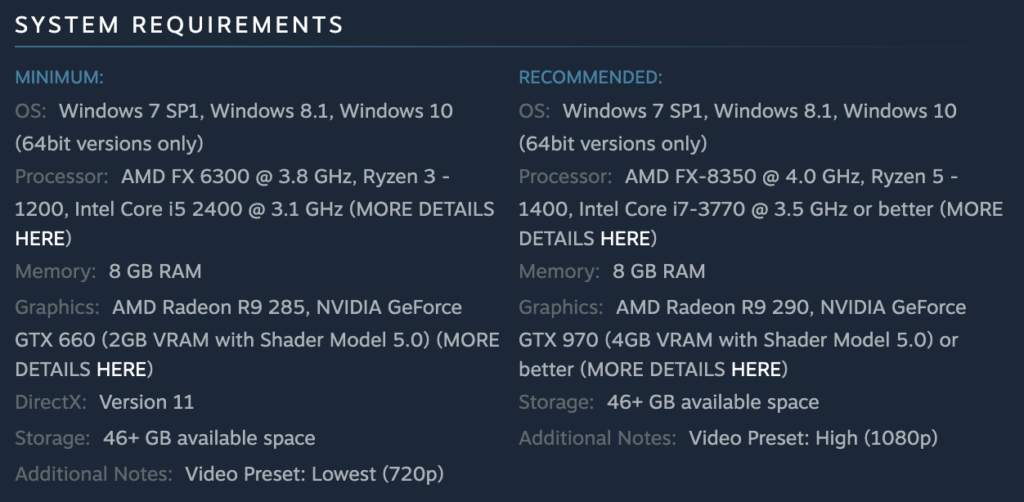 The RX 570 is a newer video card than the recommended R9 290 listed under the requirements and the same go for the Ryzen 5 2600.
They're more than capable of running it well! If you ran it on ultra settings you could expect a solid 30 FPS rate across the board.
If you wish to research more as to the details on why these build specifications are better than the recommended then go right ahead!
It's the mere fact that they are the newest hardware and perform better than the ones that are listed as recommended.
Read Dead Redemption 2 is an obvious choice for hardware performance due to how popular and demanding it is when it comes to hardware requirements.
Read Dead Redemption 2 is one of those games where if you adjust a few minor graphical settings you won't be compromising many differences in textures and visuals but you're easily able to boost FPS by a decent margin.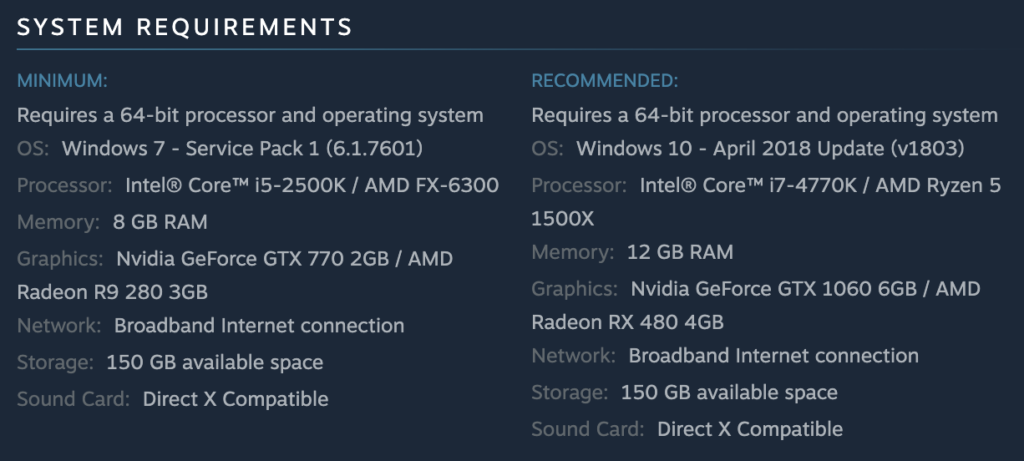 The Ryzen 5 2600 is an obvious step up from the recommended Ryzen 5 1500X so there aren't any worries there.
As for the video card, the RX 570 surpasses the minimum requirement by quite a lot but the recommended video card requirement is right on the line.
Thankfully Read Dead Redemption 2 has some good optimizations for AMD cards specifically so performance is great!
All in all, the combination of CPU and GPU power with the other hardware spec with 16GB of RAM is right on par with what you need for a solid 1080p experience.
Now let's go over some more details on each part and why they're the best for the money when it comes to a $500 budget.
Build Details
---
Case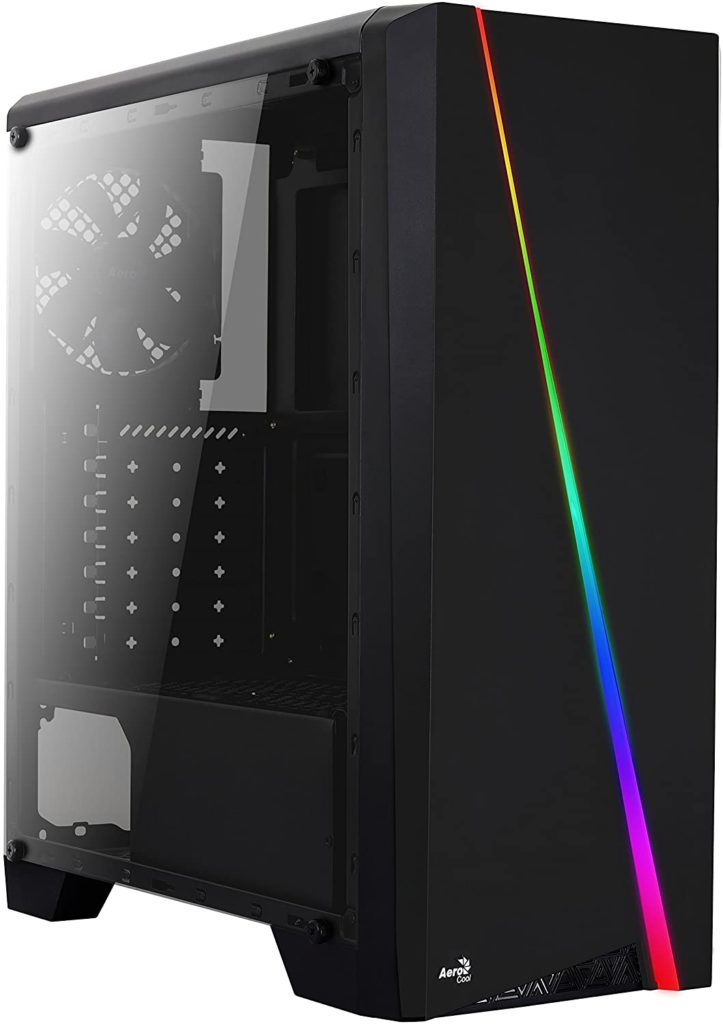 This case is a compact, affordable mid tower ATX case that is completely compatible with the build.
Not a fan of this design? Then be sure to look over the other mid tower cases on Amazon to find something that you like.
If/when you do find something more your style then you can link it to me in the comments below and I'll be able to let you know if it'd work or not!
This case has a microphone jack, a headphone jack, one USB 3.0 port and two USB 2.0 ports on the front. It also supports SD or micro SD cards with the slots at the top if you ever decided to add that compatibility.
It can fit a video card up to 346mm with drive cages and 371mm without drive cages. It can have up to 5 system fans mounted. One 120mm fan will come with the case in the back of the case.
There are two internal 2.5″ drive bays and two internal 3.5″ drive bays.
This means that you'll be able to have two SSDs and two traditional HDDs.
The side window panel is an acrylic side panel which shows everything going on in the PC in a clear way. This is a great case for those that want to show off their build!
---
CPU

The Ryzen 5 2600 processor is one of the if not the most versatile, budget friendly processor on the market.
It comes with a great stock cooler and will absolutely stand the test of time.
Having 6 cores and 12 threads at a base speed of 3.4GHz, it's more than enough for what today's games demand as far as processing power performance goes.
The base clock speed is more than enough but it can also be boosted to 3.9GHz if you wanted to do so.
It's a great CPU that was designed with gamers in mind while also being able to handle heavy processing tasks. It's the perfect CPU for this budget build.
---
GPU
XFX's XXX Edition Radeon RX 570 4GB card is known across the board as the all-rounder when it comes to budget friendly video cards.
High quality 1080p performance for a fair price… That's where the RX 570 comes around.
This specific RX 570 has a core clock speed of 1168MHz which can be boosted to 1284MHz. These clock speeds are great when you have a high quality 1080p gaming experience in mind.
I wouldn't expect to run something like Red Dead Redemption 2 on ultra settings with 60 FPS with this card… You should more so expect a solid 30-40 FPS for RDR2 maxed out.
A $500 budget PC isn't going to be great for ultra settings in mind with the higher demanding titles but it'll absolutely get higher FPS when you tweak graphical settings a bit with a balance between medium and high!
The RX 570 isn't the most powerful card on the market but it'll get the job done for 1080p gaming.
---
Motherboard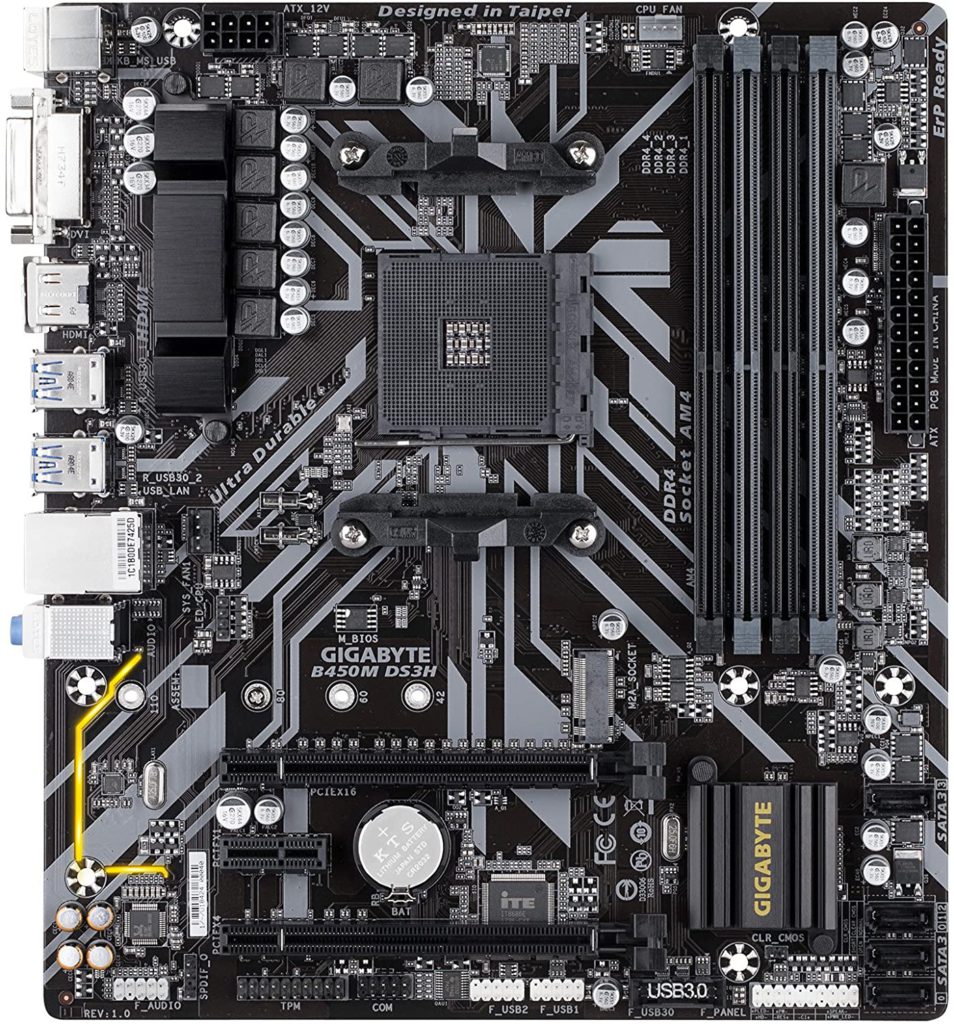 A Gigabyte B450M MicroATX motherboard is great for a smaller build like this. It's an AM4 Ryzen socket board that will be compatible with future processor upgrades (3000 series) after a BIOS update.
It's not a big board with a lot of room to work with and you only have the two PCIe x16 slots for extra accessories but it's one of the lowest priced boards on the market that doesn't have horror stories behind the quality of the board.
Having four total RAM slots means that you will have no troubles adding more memory to your build. It can have up to 64GB RAM total which is more than enough room for those of you that need to use CAD programs or high demanding video editing softwares.
Overall, gaming performance isn't affected by the motherboard but having certain features can ease the building process and allow you to add in more hardware such as a network adapter.
To sum the board up, it's a nice little board that has the compatibility and uses you'll need for everything else with the build.
Sure, a bigger board would be nice to work with but when it comes to a tight budget like this… we don't have much wiggle room to get a high end board. But as far as budget boards go, it's hard to beat this one.
---
RAM

G.Skill has always been one of the top brands when it comes to high quality, affordable RAM. They've always been reliable and they have many choices when it comes to different RAM sticks.
It would have been nice to be able to fit two 8GB sticks to the build but a single 8GB stick will have to be used for now. You can easily add in another one of these sticks down the road to add up to 16GB total whenever you deem it necessary.
This 8GB stick is 3000MHz speed RAM which is great since Ryzen CPUs work better with faster RAM. There is no other single 8GB stick at this speed and price, right now is a great time to be buying RAM!
---
Storage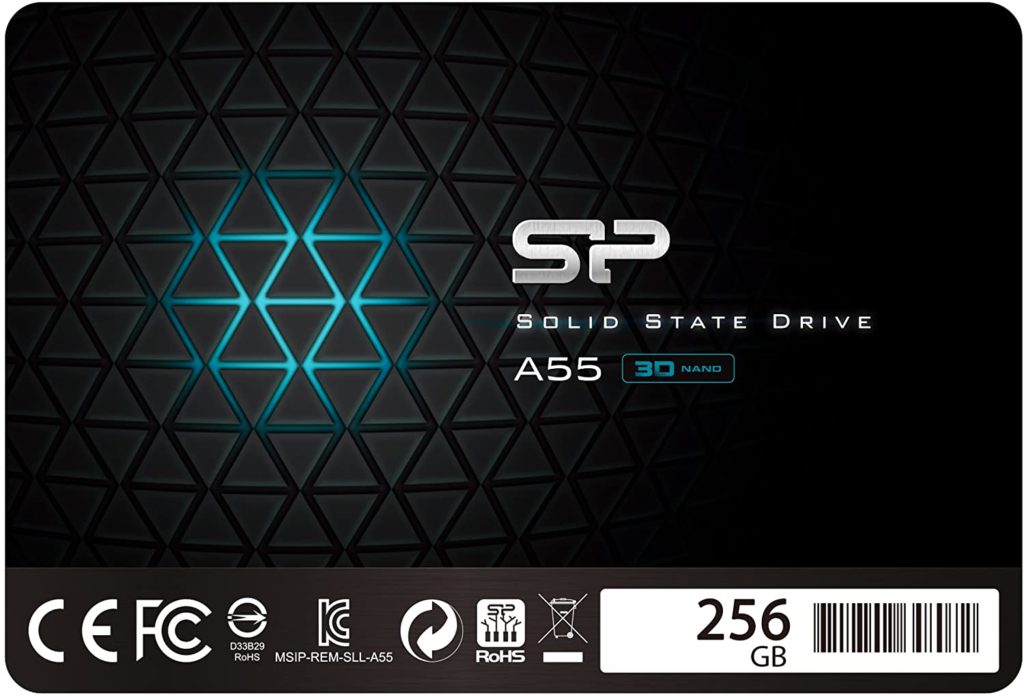 A solid state drive has become an essential part of building a gaming PC. It's inevitable that you'll need to add more storage down the road but it's easy to do that by simply adding a traditional hard drive later on.
Starting with a solid state drive that has enough room for your operating system and the first most used programs and most played games is the most ideal route.
SSDs are much faster than HDDs to where if you haven't felt the difference then you're in for a big surprise.
If you wanted to you could start out with a 1TB HDD instead if more storage space is more important than speed to you at the beginning but I strongly encourage you to wait and add a HDD to your PC down the road when you absolutely need it.
---
Power Supply
EVGA power supply units are some of the most reliable on the market. I've always used EVGA for the multiple builds I've put together over the past 5+ years and none of them have failed on me.
They're fairly priced and they usually stay that way. This PSU isn't modular meaning that you aren't going to be able to add or remove any cables with this unit.
If semi modular or fully modular power supplies are a must for you then be prepared to spend a little more. We'd be using a semi-modular PSU if it didn't mean going over the target budget range.
500 watts of power is going to be more than enough power to keep things running with this rig and even with some upgrades in mind 500W of power will still be enough.
However, if you plan on getting significant upgrades at some point then you're also going to need to upgrade the power supply to a higher wattage one so keep that in mind.
Recommended Peripherals
---
Keyboard/Mouse
Choosing the right keyboard and mouse is important when it comes to finalizing your build.
Keyboards are easier to pick out because you don't need a keyboard "designed" for gaming. Sure, the mechanical keyboards do have faster input but it's only by milliseconds.
Those milliseconds are important for eSports and highly competitive gameplay but otherwise there aren't many essential features when it comes to a keyboard. You should go with one that you think you'd like to use.
However, mice are different. There is a clear difference between gaming with a basic office mouse and using a mouse that was designed with gaming in mind.
Cooler Master has a combination of a keyboard and mouse that is very budget friendly. They not only perform well but they look awesome as well! Be sure to check them out, we have an in-depth review of them!
Monitor
A monitor is even more important than what you choose to go with your keyboard and mouse.
Since this build is based on a lower budget then it only makes sense to go with a monitor that can help fit within the budget range, right?
If that's what you'd like to do then the VS228H model monitor from ASUS will be perfect for this build. I've been using it for over 5+ years now and it's still working the same as the day I got it.
It's a 60Hz monitor which is ideal for a PC that is meant for running games at 60 FPS. If a monitor has a 60Hz refresh rate then it is able to display the full 60 frames per second.
Speakers
What are you going to do if you don't have sound?
There are plenty of speaker choices on the market, some of which are going to be cheaper than the speaker system I'll be recommending.
You'll want a rich sound and a bold bass. It really brings games more to life and creates a nice impact.
I've used this Logitech Z323 speaker system for a few years now and they're still going strong! It's a system that has a subwoofer speaker that doesn't cost a bunch of money.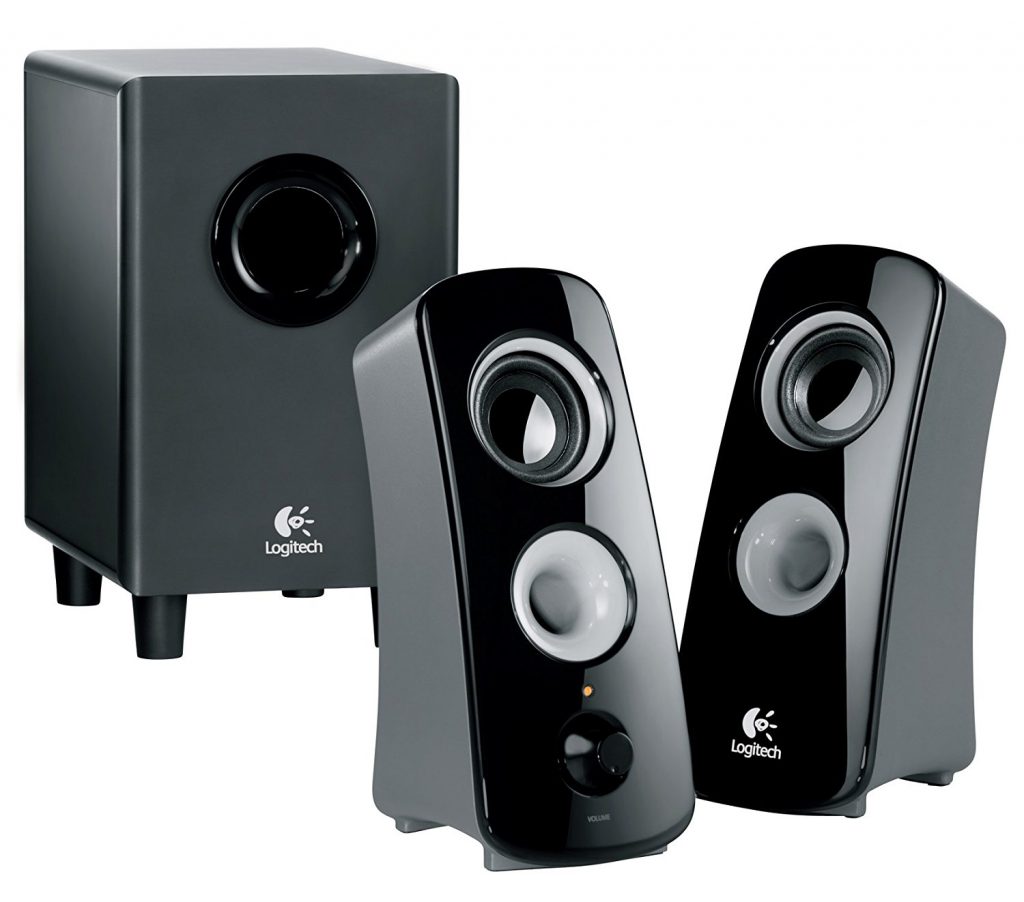 Peripherals are an equally important part with your overall build.
There are plenty of choices and we have plenty of other reviews on monitors, keyboards and gaming mice so do your research and if you have any questions feel free to ask in the comments!
Operating System
---
Getting an operating system installed on your PC build is relatively easy to do. You can choose between Windows 10 or a Linux based operating system depending on what your taste is and what you plan on using the build for.
Windows 10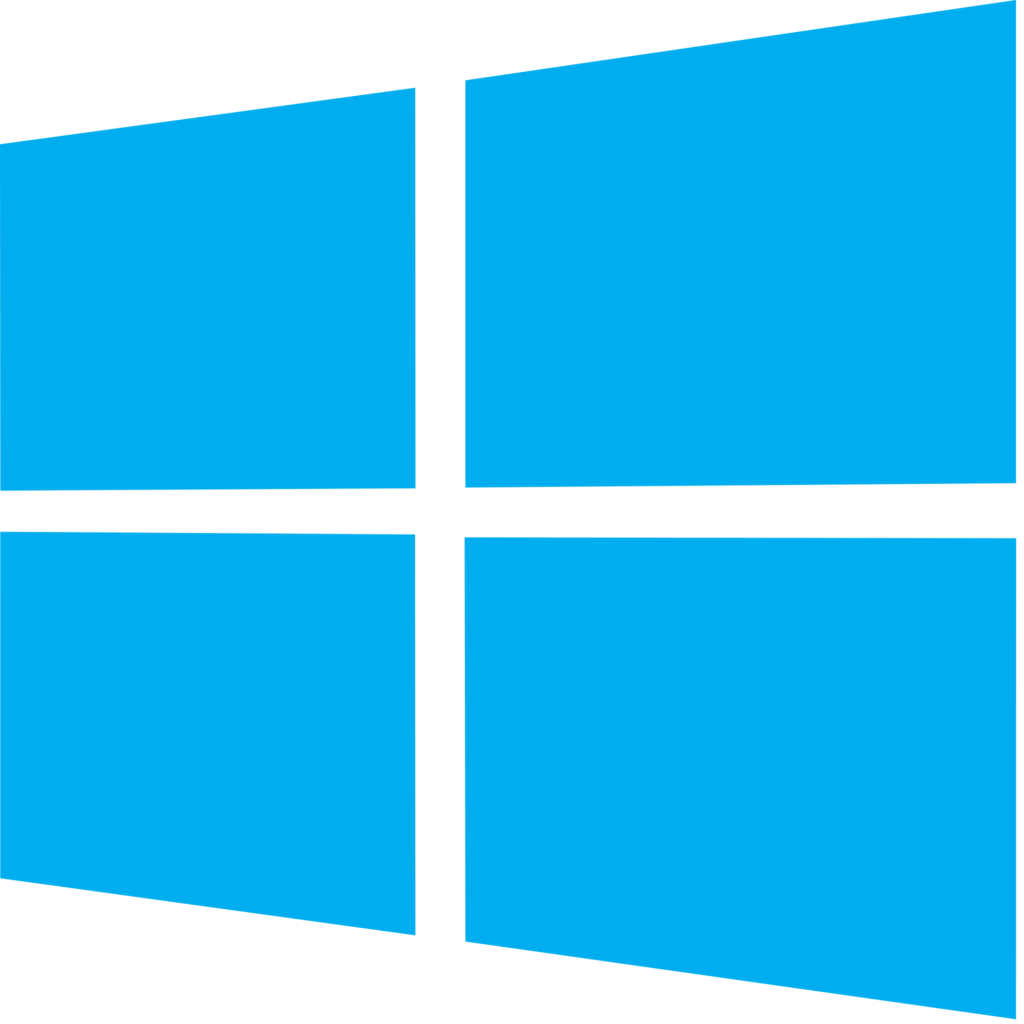 Microsoft has created a tool to create a bootable USB drive to install Windows 10 to your PC.
It will not come with an activation key but you will not need one right away as you'll be able to have full freedom of your PC after you install it.
You'll be able to have full access to all of Windows 10's features for a month before they give you mild restrictions and constant notifications about activating your operating system.
The most annoying part is the notifications. As for the mild restrictions, one of them is not being able to customize your Windows desktop colors which isn't a big deal.
By going to Microsoft's official installation media page you'll be able to download it to a USB drive and get going to getting Windows 10 on your PC in no time.
Make sure you go with 64-bit otherwise you will not be able to utilize all of your RAM.
Linux
An alternative operating system you could go with is a Linux based OS. More specifically, Ubuntu.
Ubuntu is the most popular Linux OS and it's completely free to use without any restrictions at all.
Matter of fact, it's completely open source so there are a lot of different things that you can do with it!
However, gaming compatibilities aren't nearly as optimized as Windows 10 and most games that are out and most games that are coming out soon are only compatible on Windows 10.
Be sure to research on about the games you plan on playing if you choose to go the Linux route as I'm sure 99% of you reading this are planning on playing some of the top AAA titles out there and, unfortunately, hardly any of them are compatible with Linux.
Visit the official download page of Ubuntu to get started with getting Linux on your rig!
Getting Connected Online
---
Ethernet
I'll always recommend going with a direct connection via Ethernet cable when it comes to getting connected online with your build.
Ethernet provides the most solid connection and it's the easiest to setup.
I'd go with a simple 25ft Ethernet cable since that length should be more than enough to connect it to your modem/router.
There are plenty of other length options available as well, be sure to measure out how long of a cable you'll need before you get one.
Wifi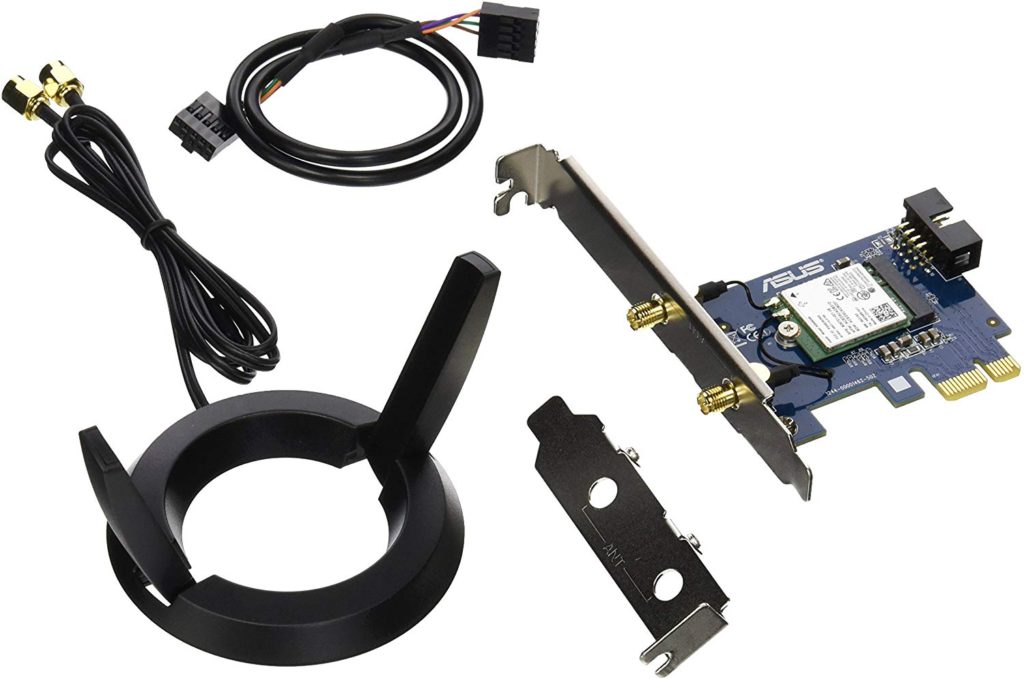 If that is not an option for you then there are plenty of Wifi adapter solutions that will get you connected.
If Wifi is your only choice then you need to make sure that you go with a solid network adapter otherwise your connection is going to cause some lag when you are playing online games.
The network adapter that has served me well would be this one from Gigabyte. It has Bluetooth capabilities as well so you'll be able to connect it to other Bluetooth devices as well.
It has a more solid connection than other adapters because you're able to move the antennas around and for the price range it's worth getting.
Keep in mind that you should try and have it as close to your modem/router as possible to ensure that you have the best connection possible.
Again, I highly recommend using a direct connection with an Ethernet cable since it is the best solution to having and keeping a great connection to the internet.
To Conclude
---
A $500 build can actually perform pretty well with today's games due to the recent changes in the market. PC hardware keeps on getting cheaper as time goes on which makes these lower budget builds more viable in the long-run.
Especially at the $500 range, this is a no-brainer when you see the performance difference with consoles and all of the freedoms that come with it.
Before you indulge yourself into ordering all of the hardware you should understand what kind of performance power you should expect out of a $500 build.
If it sounds like your ideal level of performance then I'd say you can definitely move forward to ordering the parts!
Today you're able to have hardware that would have otherwise cost $650+ a year ago if you combine everything you'd need for the build.
A $500 build today will be able to handle every single title that is out right now and it'd also be able to handle the bigger upcoming titles.
With this in mind, you shouldn't expect to have the highest possible level of performance at this price range.
Although you'll have a great experience with 60 FPS, 1080p gaming… you need to know that it's not going to be the absolute craziest level of performance.
Look into other budget builds and see if there are any other builds that you might want to go for!
That sums up the best gaming PC build for under $500.
Are you going to be going with this build?
Are you interested in using any other parts?
Let me know in the comments below! 😀
Hey there! 👋 I'm Colton, founder of PC Builds On A Budget.
Whether you need help putting your PC together, finding a great pre-built rig, or want some help finding awesome peripherals – I've got you covered!
I share my experiences of anything and everything related to gaming PCs with you here. 👍