Last Updated on September 27, 2021
With this post, I'd like to help you figure out how to get internet on your PC. Whether it is a wireless or a direct internet connection, this post will help!
I will go over some of the hardware that is necessary to get connected online as well as how you can go about getting some of the required internet drivers for your PC.
It doesn't matter if you've got a freshly built PC, a pre-built desktop, or a laptop – these guidelines are what you should follow if you want any type of internet connection with your computer.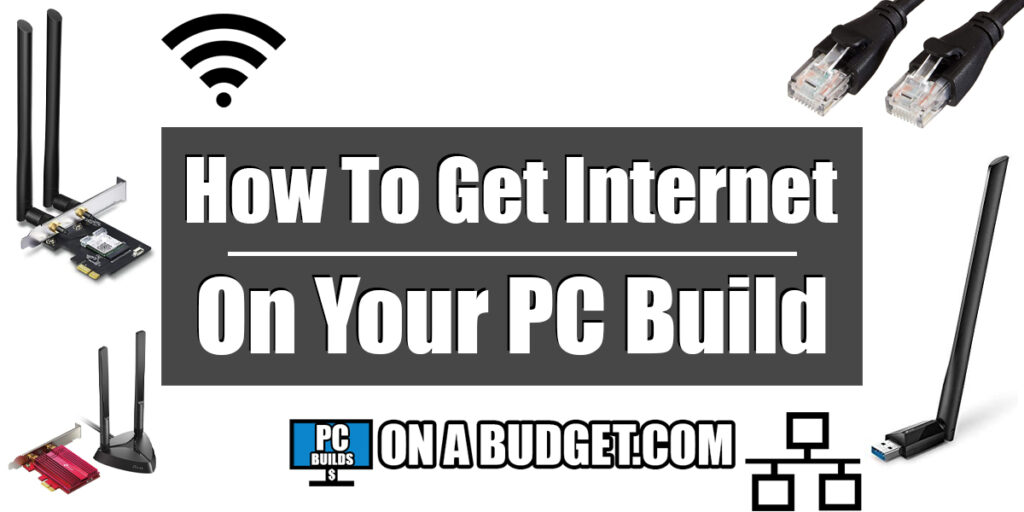 What Type Of Internet Connection Do You Need?
---
Before you start the process of getting internet on your PC, you need to be certain of the type of internet connection that will work best for your PC.
If you've just built your PC or if you need to get internet on a current pre-built desktop then a direct connection with an Ethernet cable will be the best option.
If you aren't able to get a direct connection due to your router/modem being too far away or if you'd simply prefer a wireless connection then you need to understand the hardware involved in making that happen.
A direct connection is always the best option as it gives you a solid, direct connection to the internet which will help with general lag or disconnection issues.
But if you know what to look for when it comes to wireless adapters for getting connected online then you can have a solid wireless connection as well.
That's the goal with this post – to help you get connected online no matter what type of PC you are needing internet on.
Getting Your PC Connected Directly via Ethernet
---
Again, a direct connection with Ethernet is the best way to go… in most cases. Using an Ethernet cable with your PC will give you the most direct and fastest connection available with your ISP (internet service provider).
You can find Ethernet cables at many different lengths depending on how long of a cable you need to connect your PC to your router/modem and they're available for a pretty low price as well.
I'd recommend going with these cables from Amazon because they are made well and they're available for multiple lengths.
I use a couple of different lengths of Ethernet for my PC. Sometimes I take it into a bigger room for VR for example, so I went with the 50 ft. cable for when I need it in another room.
Otherwise, 14 ft. should be enough length if your router/modem is in the same room as your PC.
After you get a cable, you will simply need to plug it into your router/modem and plug the other end into the Ethernet port that is on your motherboard.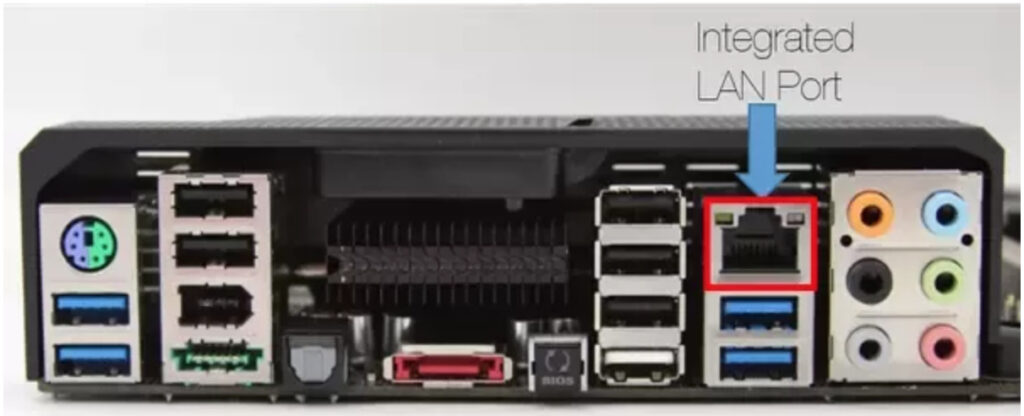 I have always used an Ethernet cable with my PC, but I also have a wireless adapter installed just in case I need it.
For example, if I go anywhere and I'm bringing my PC along with me, it's nice to have the option of being able to connect wirelessly.
There are plenty of options when it comes to adding a wireless adapter, so let's go over those options.
Getting Your PC Connected With Wi-Fi
---
A wireless connection will not give you the most solid connection, especially in terms of gaming, but it might be necessary for you while you use your PC.
I will go over a few of the best options to go with when it comes to knowing how to get wireless internet on your PC.
If you have a desktop PC, you can install an internal wireless network adapter with a PCI-E slot on your motherboard.
If you'd rather not install an adapter in the PCI-E slot or if you don't have one available then you can go with a USB wireless network adapter.
A USB adapter is also going to be the best option for you if you are wanting wireless internet on your laptop.
Using A PCI-E Wireless Network Adapter
If you decided to build your own PC and you need Wi-Fi for your rig then you might want to consider adding a PCI-E wireless network adapter to your build.
You will first need to make sure that your computer's motherboard has the right kind of slot for this type of network adapter, otherwise, you will not be able to install one at all.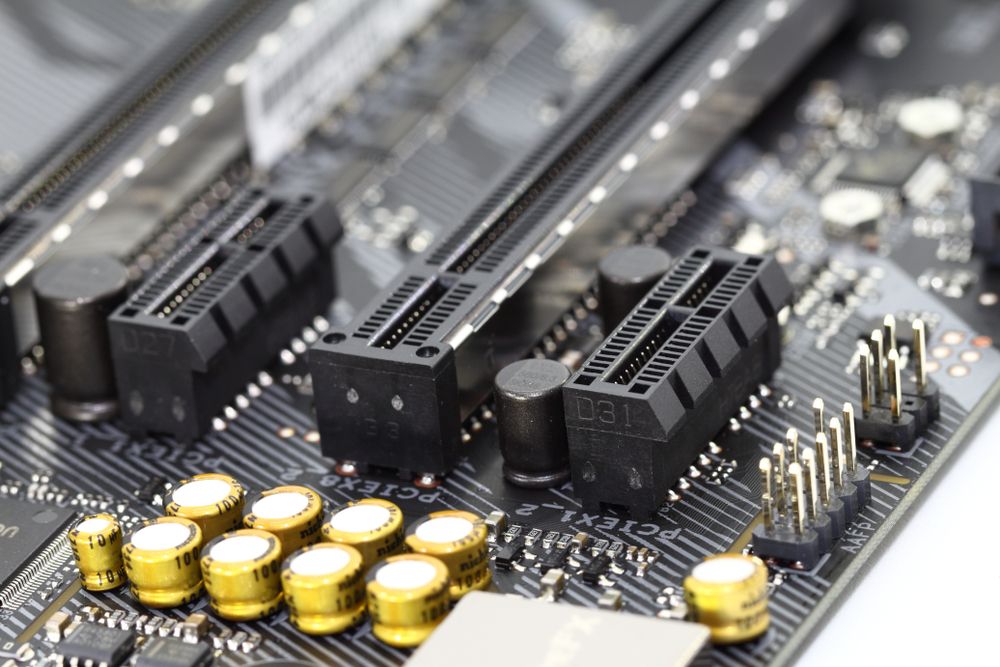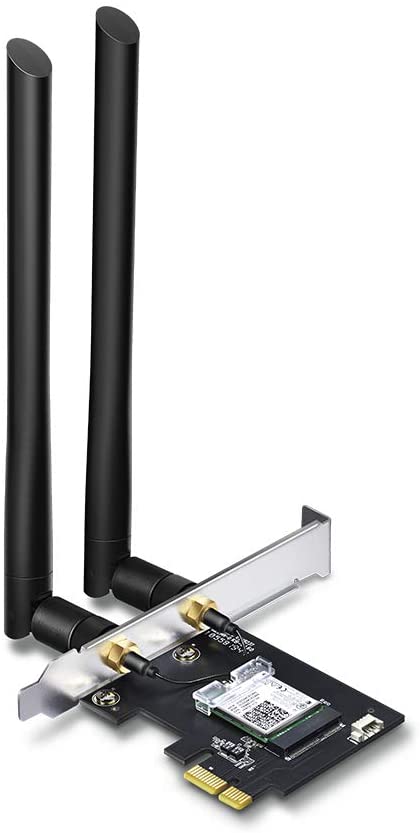 After making sure that your PC has a free PCI-E x1 slot then you will want to look for some adequate network adapters.
You get what you pay for when it comes to these adapters and sometimes it can be hard to understand what type of adapter will best suit you and your PC.
For example, you will need to have an adapter that can reach through walls / a farther distance if you have your PC in a completely different room.
You can gauge how far and how well an adapter will connect online by looking into their AC network levels. As an example, some of them will be labeled "AC1200" which indicates a specific level of connectivity.
If you want more specifics then you should look into the different AC labels for yourself to measure what type of adapter you'd need depending on where your PC is in regards to your router/modem.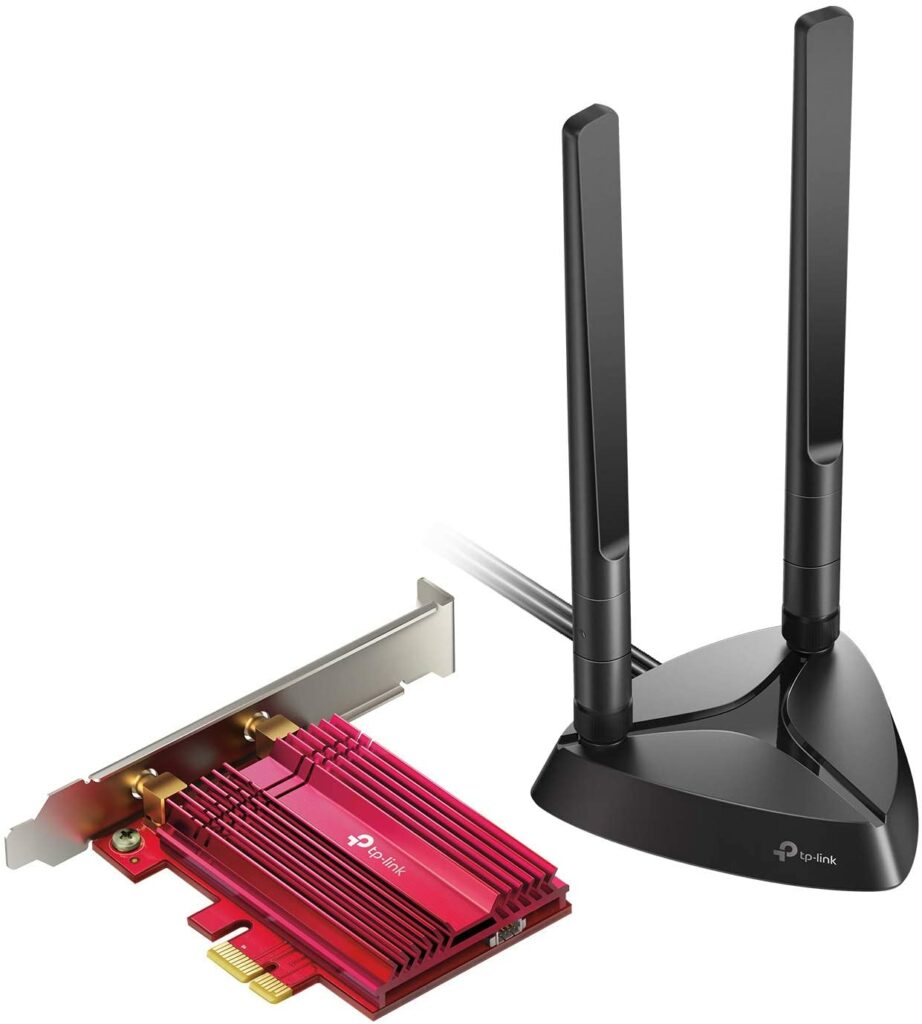 I'd recommend checking out this adapter from TP-LINK if you want something that is able to have a solid connection with Wi-Fi as well as be able to connect different devices with Bluetooth.
That adapter is from a previous generation and is available for a fair price.
But if you are looking for something with an even better connection and something that takes advantage of Bluetooth 5.0 or Wi-Fi 6 then you'll want to take a look at this newer adapter from TP-LINK instead.
There are plenty of other companies that make these adapters as well. I've always used TP-LINK and I've never had any issues and they always seem to be available for the best price ranges.
You should do your own research as far as what type of adapter you should be using for your PC. There are different levels of connectivity with different brands/models and it's good to understand what is best for where your PC is located at before you buy one.
If you don't want to spend as much money on a Wi-Fi connection or if you don't have any PCI-E x1 slots available then you could also look into a USB wireless network adapter.
Using A USB Wireless Network Adapter
USB network adapters are nice for portability as well as being available for a lower price point.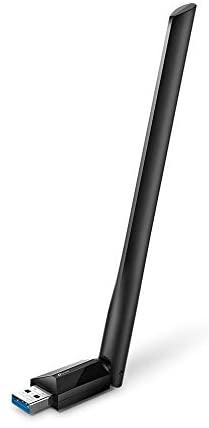 There are plenty of USB network adapters that are able to sustain a good wireless connection. With that and their simplicity of installation, it's hard not to at least take a gander into using a USB adapter instead of a PCI-E adapter.
Or if you are using a laptop computer, you will definitely be looking into USB network adapters as there wouldn't be any other way of adding Wi-Fi to your PC.
When you are looking at USB adapters, like the PCI-E adapters, you will want to gauge their AC connection level. This will help determine whether or not it would have a good connection and if it'd be worth the price point.
If you are near your router/modem then I'd recommend looking into AC1300 adapters like this one from TP-LINK because it provides a decent connection without breaking the bank.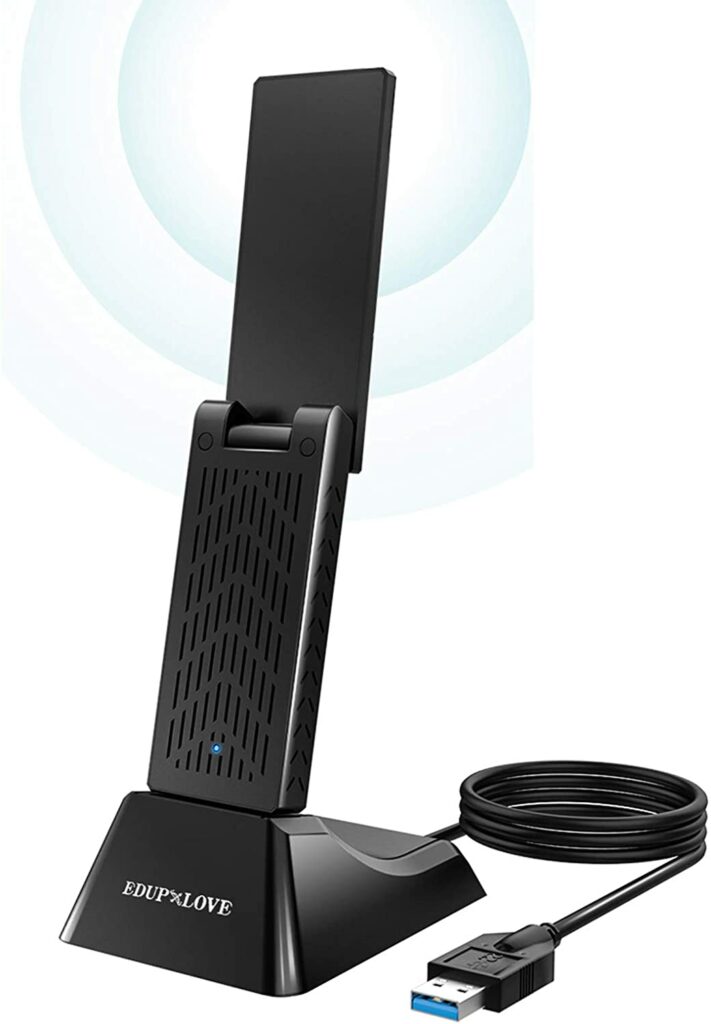 If you are further away from your router/modem or simply want the faster speeds and connectivity with a USB adapter then this one from EDUP LOVE is what I would recommend going with. It has some of the best connectivity for the lowest price point right now.
There are some USB adapters that also have Bluetooth included as well, so be sure to look into those ones if Bluetooth is important for your PC to have.
In a nutshell, USB wireless network adapters are good for portability or if you simply don't want to install a PCI-E adapter into your PC.
Making Sure You Have The Right Drivers
---
After you get whatever type of network adapter chosen and installed to your PC then you will need to make sure that you have the right drivers installed in order for it to work and get you connected online.
9 times out of 10, Windows 10 is going to automatically find and install the right network drivers for you.
To make sure that Windows 10 is able to do so, you will need to make sure that you have the latest version of Windows 10 installed.
If you have the latest version then odds are that you are good to go! If not, then continue reading to learn how to find the right network drivers.
Using Windows 10 To Find LAN/Network Drivers
There have been times where I have built a computer using an older version of Windows and my LAN/network drivers simply wouldn't work… so it's important to ensure that the latest version of Windows 10 is installed.
Otherwise, you can type in "Device Manager" into your Windows 10 start menu and go through the Device Manager window to find your drivers.
You will want to find "Network adapters" listed in Device Manager, right-click your adapter and then click "Update driver".
Searching Online For Network Drivers
If for whatever reason Windows 10 was not able to automatically find and install your internet drivers then you will be able to find them online.
When you go to look online for the correct drivers, simply Google the brand and model of your network adapter and put "drivers" afterwards.
For example, if you were looking for a TP-LINK driver on a specific adapter, you'd search for "TP-LINK Archer TX3000E Drivers".
Then you'll want to make sure that you are on the official website of the company and then continue to download the drivers from there.
To Conclude
---
Whether you're using a PCI-E x1 wireless network adapter, a USB one, or connecting directly with an Ethernet cable… I hope that this post has helped you in figuring out how to get internet on your PC.
Get a network adapter that best suits your needs (or the desired length of an Ethernet cable), ensure that you have the right drivers installed, and then enjoy the internet with ease!
A direct connection is always the best way to go. You will have a LOT less lag and buffering issues, if any at all, using an Ethernet cable with your PC.
If you aren't able to use a direct connection then there are plenty of wireless network adapters out there that will work just fine.
However, it's good to note that when you are using any wireless network adapters, you will want to make sure that you are using the 5GHz connection from your Wi-Fi. Most ISPs have the choice between 5GHz and 2.4GHz connections.
If you don't use the 5GHz Wi-Fi then you will not have as good of a connection and you will likely see more lag in streaming and gaming.
So, are you going to be going with an Ethernet cable with your PC?
Or have you opted into using a wireless network adapter of sorts?
Let me know in the comments below! 😀
Hey there! 👋 I'm Colton, founder of PC Builds On A Budget.
Whether you need help putting your PC together, finding a great pre-built rig, or want some help finding awesome peripherals – I've got you covered!
I share my experiences of anything and everything related to gaming PCs with you here. 👍