Last Updated on March 23, 2023
Let's review the No Compromise Gaming website and find out if it's worth your time to rent a gaming PC and whether or not they're a legit service. No Compromise Gaming is all about being able to set up a monthly payment structure to get a gaming PC build shipped to you without the expensive upfront cost.
When I first came across No Compromise Gaming I saw that there were plenty of good customer reviews and the website was easy enough to use, it doesn't seem like a bad idea – especially for those that are low on credit.
My biggest concern is how much power you're getting per dollar spent which will be the main point we go over.
In 2021 and beyond it is very important to understand the performance-power ratio in terms of how much you're spending on the actual hardware inside of a PC.
PC gaming hardware is at the highest levels of performance that it has ever been at in history so it's important to not miss out on deals and the actual performance value that is out on the market today.
With that, let's get to the review.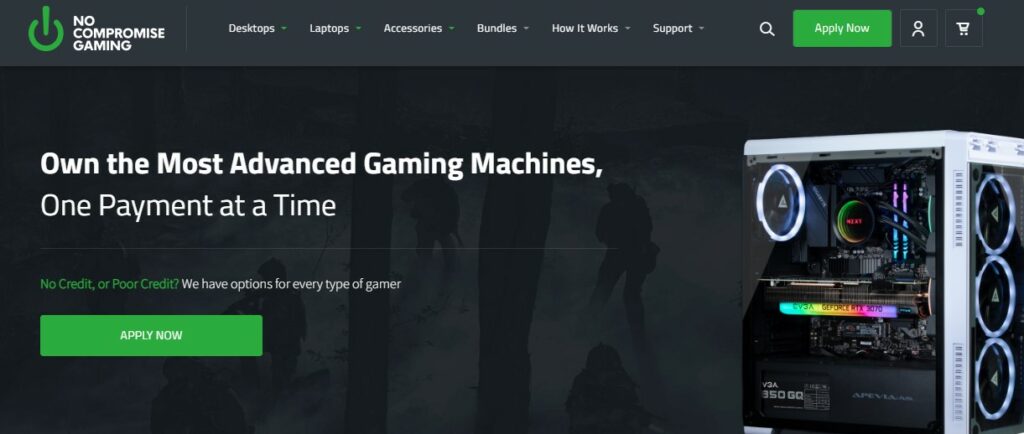 No Compromise Gaming's Mission
---
The overall premise of No Compromise Gaming is that no matter what your credit score is, you can get a rent-to-own gaming rig. Sure, if your credit is absolutely horrible then just like any other rent-to-own business out there you shouldn't expect to get approved. They use credit reporting information during the application process and accept most applications.
This is actually a pretty cool idea for those that don't have the upfront money for a nice build and would rather do monthly installments to pay for it and have it right away.
You can either pay a rental fee for a 9-month period and then own the PC 100% or you can buy it out early on to save a little bit. You can return the PC whenever you want only after the initial 5-month term is complete. If you want to read up more about how they do things you can visit their FAQ page for more details.
The builds might be built with quality in mind and having the option of paying monthly is nice for those looking to do that but how many others have tried to use the service?
What kind of power can you expect per dollar spent? I feel like those are the more important aspects to consider before jumping into a contract here so let's take a look at what the builds look like performance-wise as well as their reputation with real customers.
No Compromise Gaming PC Builds
---
It doesn't make sense to overpay a crazy amount when getting a PC but that's to be expected when you bind yourself to a contract for monthly payments. The company obviously needs to make money in order to keep providing the service.
Right away they give you the option of going with an Intel processor or an AMD processor for the build. From there you're able to customize the rest of the build piece by piece.
You can also browse their desktops depending on your planned usage. This is by game, for VR specifically or some of their featured builds for example.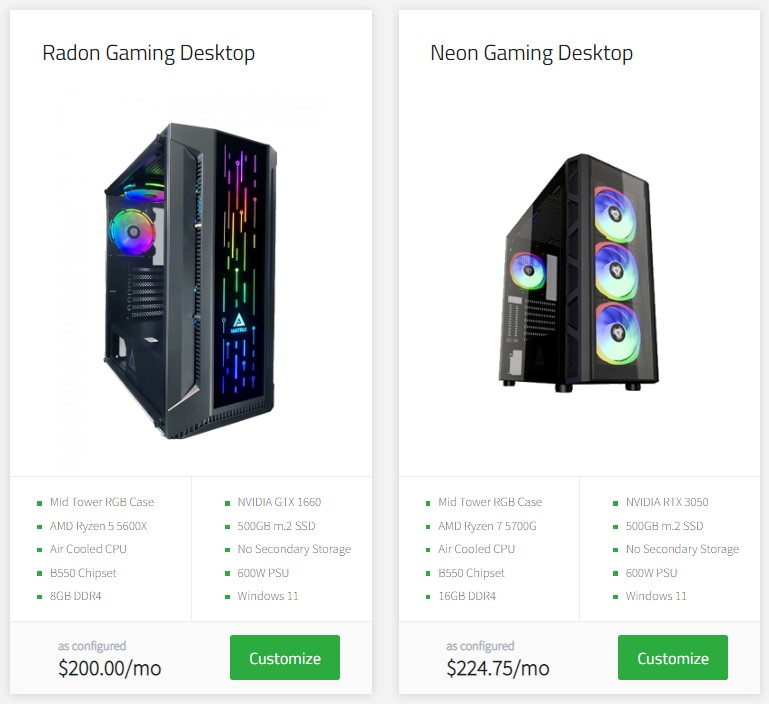 For the sake of simply looking at what kind of builds they have to offer, we'll go through and look at some of the desktop choices for an AMD-based computer.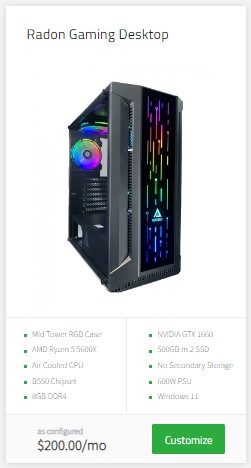 The base AMD desktop, the Radon gaming desktop, includes an AMD Ryzen 5 5600X, an NVIDIA GTX 1660, a 500GB SSD, 8GB of DDR4 RAM, a B550 motherboard, a 600W PSU, and Windows 11 pre-installed.
The cash price comes to around ~$1,800. The monthly payment is around ~$200 for around 9 months where you'd be paying around the ~$1,800 mark.
For these types of specs inside of the PC, you're going to be paying more than triple, almost quadruple the price if you went ahead and built it yourself…
You can see for yourself if you'd like, check out this $500 build – take a look at the specs. They are actually much better specs compared to this PC that you'd get for even over $1,000…
If you did a $1,000 PC build on your own then you'd have a much higher level of performance overall. At $2,000 for a build of your own, you'd have an insurmountable amount of gaming performance in comparison to this PC.
With this Radon desktop, you could expect to game at a tweaked medium setting at 1080p with most titles today.
I understand that the whole premise of No Compromise Gaming is that you don't have to pay the upfront costs of an expensive gaming PC but this price point is outrageous…
A custom PC that you'd put together yourself that costs $500 has a higher level of performance compared to this $2,000 PC once the payments are all set and done.
You should also take a look at a bunch of the pre-built PCs on the market which are also marked up in price compared to what it'd be with a custom build but it's not nearly as high of a markup compared to this. Pre-built PCs on the market today are usually priced ~$300-$400 more than what it'd cost to build it yourself.
Maybe the higher-level desktops make more sense so let's go ahead and take a look at the Argon Gaming Desktop within the AMD customization.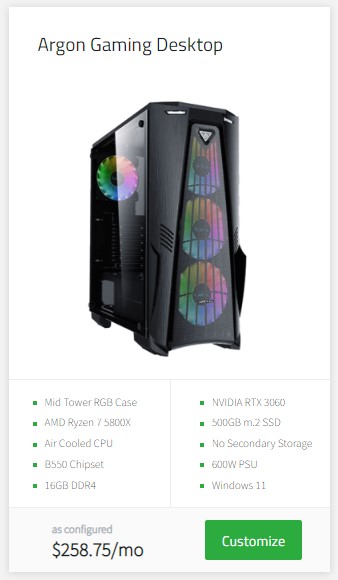 The Argon desktop uses an AMD Ryzen 7 5800X, an NVIDIA RTX 3060, 16GB of DDR4 RAM, a 500GB SSD, a 600W PSU, a B550 motherboard, and it has Windows 11 pre-installed.
Taking a look at the price… the cash price for the base configuration is around $~2,300… or you'd be paying around ~$258 for 9 months where you'll be paying over $2,000 total.
This configuration is no different than the Radon Gaming Desktop in terms of how high the markup is for what you get.
Sure, an AMD Ryzen 5800X is a top-of-the-line processor right now but you're spending around $2k on an AMD system then you could have an even better CPU or use that money for an even better GPU…
But taking a look at everything else, there's still only 16GB of RAM, a 500GB hard drive, and an RTX 3060…
If you were to put together a $2,000 PC build today you'd be able to have double the amount of RAM, an RTX 3080 (whenever it becomes available again, or equivalent), and at least 1TB SSD.
A PC with a GTX 3060 is ideal for high-quality 1080p gaming whereas something like an RTX 3080 could handle all levels of virtual reality gaming as well as higher resolution gaming at 4K.
When you compare these builds to how much the actual hardware costs to put it together you're paying an extremely high premium to get it done.
Again, most pre-built PCs on the market markup the desktops a few hundred dollars up to compensate for the time put in to put the build together, marketing costs, etc.
After your monthly payments are finished you're putting in a lot more money than what the PC is worth which is the whole purpose of rent-to-own but does it make sense to spend that much?
There are plenty of people who have pulled the trigger and gone ahead with their services and for the most part, there are good things said about the service behind No Compromise Gaming.
No Compromise Gaming Customer Reviews
---
Before making any purchase, a customer wants to know about others' experiences with a service and that's where these real customer reviews come in.
As far as quality and ease of service, No Compromise Gaming seems to keep their customers happy. You can take a look at the reviews yourself right here if you'd like.
I went through and read a bunch of the reviews. I went through the most recent, the 5-star reviews, the 3-star reviews, and the few 1-star reviews to get an idea of what types of experiences have been going on.
Almost all of the reviews are rated 5 stars. Most people seem to get their PC faster than they expected, customer service was on point with any issues that would pop up and the PCs themselves work flawlessly.
Most of the lower ratings come from those with concerns about the price and a couple mentioned that the PC didn't get shipped out when it was supposed to. 
Overall, almost everyone that went through the process of renting a PC through No Compromise Gaming had an awesome experience with delivery, quality of the build, and being helped over the phone with any issues that would come up.
Should You Rent-To-Own A PC?
---
I love the idea behind No Compromise Gaming. There are plenty of people who don't have the money upfront for a high-quality gaming rig so the idea of being able to pay monthly to own a build down the road can be appealing.
But I just can't recommend going through NCG for this type of process. The customer service is very well done and the PCs aren't bad quality, they're put together nicely!
But having to pay over $4,000 after your payment contract is up for a PC that should only cost a bit over $1,000 for the hardware… that's a hard pill to swallow.
If you don't mind paying that high of a price in the end and you want to rent-to-own a PC then No Compromise Gaming seems like a very viable option. I'm not sure of other companies that do something similar, there might be a company that does it for a lower cost…
If you do go with NCG just be sure that leasing a PC through them is allowed in your state, some states don't allow this process.
I highly encourage you to look into building a PC of your own if optimizing your power per dollar spent is important to you. Sure, you'd have to pay a higher upfront cost but you'd be getting a lot more power for what you're spending overall.
So, are you going to lease a computer through No Compromise Gaming?
Or are you going to be looking into putting a build of your own together?
If so, I'm more than happy to help you out here on the site!
Let me know in the comments below! 😀
Hey there! 👋 I'm Colton, founder of PC Builds On A Budget.
Whether you need help putting your PC together, finding a great pre-built rig, or want some help finding awesome peripherals – I've got you covered!
I share my experiences of anything and everything related to gaming PCs with you here. 👍