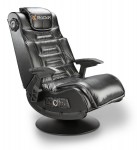 The X Rocker gaming chair is the best video gaming chair in 2014 and there is no other gaming chair out there like it.
When it comes to chairs like this, you've got to look at the quality because you don't want to short spend and in return get the same amount in low value. High quality sound + a comfortable sitting area + good audio options. That's what you've got to look at when reviewing gaming chairs.
This X Rocker model delivers high value at its price point. Designed to fit any user and made to immerse you with the highest quality audio frequencies. This is the best of the best.
With that said, let's get to the review.