Last Updated on March 21, 2023
I've been using the Fifine AM8 RGB mic for a while now and figured it was time to give it a proper review. Let's see if it really is a budget mic worth getting.
I've been waiting to come across a decent studio mic to replace the mic that came with my wireless headset and decided to give this mic from Fifine a whirl.
Hearing a higher-quality sound from friends while gaming together in Discord has always given me the itch to get something higher quality, but I also didn't want to break the bank on a "super" studio mic.
After using this for a while… a few things have surprised me about the mic which is why I wanted to give this a full lookover and share it with all of you.
With that, let's get to the review.
Product: Fifine AM8 RGB Microphone
Recommended Price: Under $65
Cheapest Place To Buy: Amazon.com
Warranty: 2-Year warranty with product registration (More Info)
My Rating: See below!
Fifine Is Well Trusted, And They Make All Sorts of Mics
---
This AM8 microphone is one of their newest releases (released November 2022) but Fifine is no stranger to creating different variations of microphones. They were established in 2009 and found a lot of success going into 2017 even entering different retailers such as Walmart with some of their releases.
They've made a lot of noise in the mic market and for good reason – they've been coming out with awesome mics at a fair, lower-budget price point.
Now, I'm not a full-fledged audiophile, but I know quality when I hear it and have become sort of envious hearing some of my friend's mics while we're in comms in-game and wanted to find something that isn't too expensive, but I also didn't want to waste money on something that's on the lower end…
While researching the company and some of their other popular mics such as the K688, K669B, or the AmpliGame series mics… I wanted something that was sort of the "sweet spot" for mic quality per dollar spent… And I've got to say, at least for now, this AM8 mic has been exactly that.
Let's get into some of the nitty-gritty behind the mic and the build quality as there are some points I'd like to go over and could maybe see slight improvements on, coming from someone that just wanted something to bump up voice quality while gaming with the squad.
This mic caught me off-guard when I started using it, so this review will go over my full experience so far with it.
AM8 Main Features
---
When using this microphone specifically for having a higher quality voice while communicating strategies, call-outs in-game, or just discussions in general… The most important aspects for me have been the ease of use and overall functionality of the mic while using it.
Sure, you can sound great in-game and in Discord, but what about the day-to-day use?
What about different possible future use cases… For podcasting or being able to fully utilize the mic with studio-grade equipment/mixers?
That's exactly what I'd like to share within these next sections. The mic is mostly good, with some caveats that I feel might just come naturally with a more affordable price point.
Build Quality
Starting off with the build quality… The microphone itself does have a more noticeable, "plastic" feel if you will. Compared to other similar mics on the market, there are no metal materials being used on the microphone itself.
As for the base that comes with it, it has metal threads that don't feel like they'd strip easily and the side ar,s of the microphone, where you adjust the angle of how it's facing towards you, is made of a thicker metal that feels sturdy enough to get the job done.
The most noticeable part about a lower-quality feel while using the mic is the adjustment knobs for gain and headset volume from the 3.5mm jack on the mic.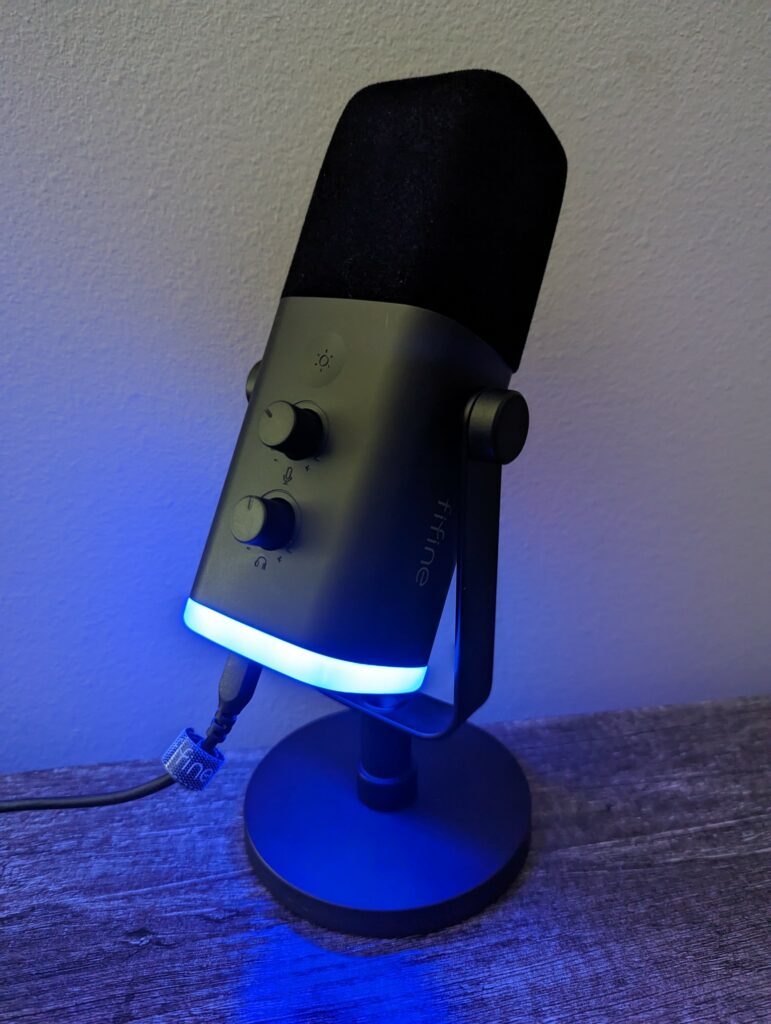 These adjustment knobs really do feel flimsy, cheaper, and on the loose side of things. I don't see myself messing with the knobs after finding the sweet spot of mic gain… but it's a noticeable level of quality used here. However, the knob quality is probably one of the better sacrifices to make on the overall build to reach a better price point.
Overall, the only thing with build quality that I feel I'd be worried about is whether or not a microphone at this price point would not just sound good, but also stand the test of time of being used and moved around a lot.
Although it's not made of a higher quality or metal material, it does feel like a high enough quality to where I'm not worried about anything breaking anytime soon – if ever.
A positive side of the materials used here is that the microphone is very lightweight! I find myself picking the mic up when I'm hanging out in Discord leaning back… and, because of the lightweight, it feels very natural.
And although at the time of this writing, I am not using this mic with a boom arm, I have no worries about the weight of the mic being even close to being too much for whichever boom arm I'd want to use with it.
Speaking of boom arms, the threads used here are the basic 3/8'' & 5/8'' threads which are used on almost anything out there, so it's able to be used with almost any boom arm that you'd want to use. It's very easy to screw/unscrew the base to attach it to a boom arm.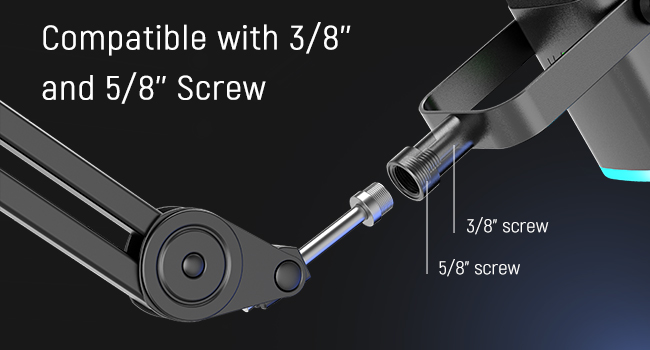 Then, whether it's used on the stand that comes with or on a boom arm, it's easy to tighten/loosen the side arm adjustments to be able to change the angle at how the mic faces you.
It's best to be between 2″-6″ from the mic for the best sound quality, and if you speak up a bit folks will still be able to hear you while you're standing up quickly away from the mic (depending on how you adjust the sound levels of the mic and the gain).
In all, it would have been nice to see higher-quality materials used for the mic itself and the knob adjustments for mic gain and headphone volume… but that likely would have meant a higher price point as well.
The mic arms are made of metal, and the mic build seems up to par considering everything else that comes packed with it!
USB Type-C & XLR Connections
I wanted to touch upon the two different types of connections that you can use on this mic because, at least in my initial research, there aren't too many mics on the market that are around this price range and quality that include an XLR and USB Type-C connection!
With it having a USB Type-C connection, it can also be used on PS4/PS5 but it is NOT compatible with Xbox. Although the focus is using this on PC, I figured it was worth mentioning before thinking that it would be able to use with whatever console.
As of now, I'm using the Type-C connection straight to one of my USB 3.0 slots at the top of my PC case. This came with a 6.5ft Fifine branded Type-C cable, which is plenty long enough to use the stand that comes with in front of me.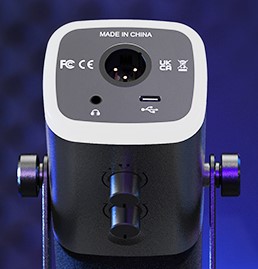 With that said, I do plan on snagging a boom arm that way I have more freedom to move my keyboard around where I need it, but I've gotten used to where I had to move the keyboard in order to properly use the stand that comes with it.
I think it would be fun to play around with an audio mixer with this mic, but for now, I don't have any direct plans or reasons to use professional recording equipment with the mic.
I have a friend that has a mixer, and if I end up getting the opportunity to use it or get one of my own, I'll be sure to update this review to share my experiences with it!
If you're like me and are looking into this mic as a simple upgrade from a stock mic or from a mic used with your headset, then you'll be using the Type-C port and once you plug it in, it's useable right away.

Within the Recording tab from the sound panel, you can right-click the Fifine mic and set it as the default recording device, adjust sound levels, and listen to it through your default playback device to see how it sounds for yourself.
I personally didn't change anything else other than the base sound level within the sound control panel and also using the gain knob on the mic. It's suggested to have the gain knob at around the 30% mark, then adjust accordingly within the sound control panel.
Although it would have been nice to have a dedicated Fifine software for the mic… it's not necessary for base adjustments. For further fine-tuning and adjusting… that's where a dedicated mixer/sound card comes in.
Simple Functionality
When it comes to functionality and day-to-day use, this mic checks every mark for what I've been looking for! It's easy to adjust on the fly, and it feels good to use.
There is a simple tap-to-mute button on the back of the mic and it has a LED indicator to let you know whether or not you're muted. Green LED shows that you're unmuted, and the red LED indicates being fully muted.
I put this mute to the test and there is absolutely no sound that comes through while muted. I've had experiences with mics before where mute doesn't actually mean being fully muted, so I was happy to see that all sound is fully canceled with the mute.
Although it sounds like a small feature of the mic… it really does feel high-end with how sensitive the tap button is for muting and unmuting! A quick, slick press just feels better than a toggleable button.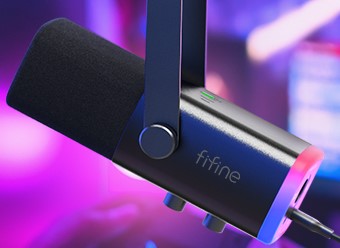 The RGB lighting is adjusted with the same type of tap button, it feels good to tap through and change the colors and modes.
I switch them often as I use wallpaper engine which changes my desktop wallpaper and the lighting of my other peripherals, so it's a simple tap to match up with the rest of the color scheme I've got going on with the peripherals.
Even though I mentioned the knobs feeling loose and of lower quality, they still work as intended. On the fly, I can adjust the gain of the mic and it's very noticeable and easy to adjust.
The headphone volume knob isn't something I'll use often if ever because I use a wireless headset that has its own dedicated volume adjustment…
But for those of you that will use this for recording and throwing in some pods to utilize the 3.5mm headphone jack, you can change your default playback device to the Fifine microphone within the sound control panel and you'll be able to adjust playback volume on the fly with the volume knob.
Adjusting the side arms is easy to twist and adjust the angle of the mic, I've found that it's best to just keep them at the tightest point as the mic is able to swivel smoothly even at the tightest point.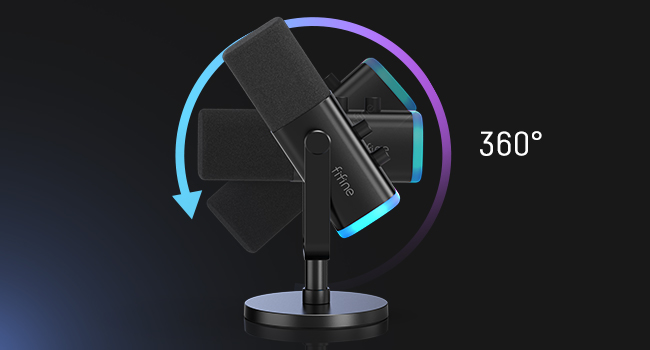 When it's used with a boom arm, it'll be easy to get on and adjust the angle because of the side arm adjustments. They're tight enough to keep the mic at the exact angle, but not so loose that it becomes hard to adjust.
So, when it comes to functionality and general use, the AM8 pulls through on everything I was looking for. Easy to use, easy to adjust, and feels good to use on the daily.
RGB Light Modes
I appreciate simple, sleek RGB lighting with all of my peripherals so when I saw that the lighting could be adjusted and that it wasn't too much, I was excited to have it part of my rig.
There are 3 different lighting modes and 8 different static colors to choose from through the lighting tap button.
You can change between a full RGB flow mode, a breathing full RGB gradient mode, and the static mode that can switch between the 8 different lighting options.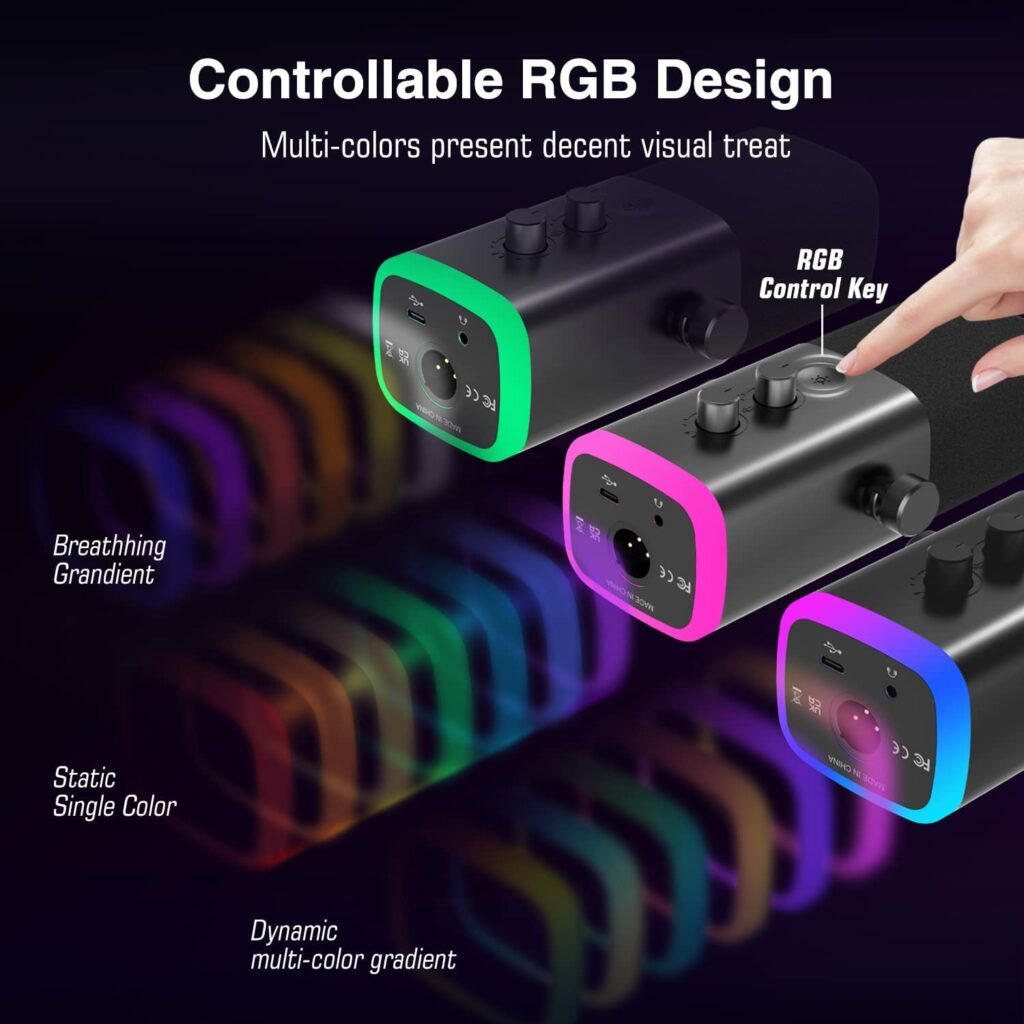 You can cycle between red, orange, yellow, green, cyan, blue, purple, and white on the static lighting.
I would've liked to see an option to slowly cycle through the breathing gradient mode to stick to a "somewhere in-between" color but there are more than enough options for me to match color schemes with everything else.
You can turn off the lighting by pressing and holding on to the tap button for the lighting, and it'll remember which color or mode you had the mic on when you toggle the lighting back on even if you unplug the mic and plug it back in.
The tap button is sensitive which makes it easy to cycle through all of the modes and find the lighting you enjoy most. Sure, it's got some basic modes and color options, but it's a nice touch when you want sleek and simple RGB lighting with a mic.
AM8 Mic Performance
---
As I mentioned earlier, I'm not a full-fledged audiophile and this review isn't going to fully reflect the capabilities of the mic on a professional recording level.
I decided to give this mic a go because it was right at the price point I was after and it seemed like it would be a big step up in overall audio quality where my teammates in-game and friends in VOIP would be able to hear me more clearly.
With that said, I did spend some time comparing this to the mic I used with my wireless headset and want to share how it works while using a VOIP software such as Discord, how it sounded in-game to others, and the overall quality for base-level recording.
The AM8 has a range of 50Hz-16KHz, which from initial research isn't the absolute best response range you can get… but it certainly gets the job done when comparing it to others on the market.
I've seen other mics in the $100+ range with a similar frequency response and level of sound quality just from a basic understanding of mic specifications.
I would appreciate hearing from those of you that can explain some of the differences and specs and what you think in the comments below! 👍
Although I can't go more in-depth on impendence, sound sensitivity, or hands-on experience with fully utilizing the XLR connection… I sure can share how well it has done with personal use!
Performance In-Game
I've hopped into multiple games that have in-game voice chat and asked several randoms that I queued up with if it seemed clear and that I could be heard well enough for comms and everything was in the clear. I didn't have to adjust any mic input settings in order for others to hear me clearly.
This will obviously depend on how others have adjusted mic volume in-game and most games are going to have ways to adjust volume and whatnot, but this mic was able to pick up my voice right away without a hiccup.
General communication was loud and clear, and I didn't have to purposely sit up closer to the mic while in-game.
This was a worry of mine, having to constantly adjust my seated position just for others to hear me, but when the mic levels are adjusted right and you take the time to ensure it's picking up your voice, it'll work just as intended!
VOIP Performance
Now with VOIP software such as Discord, there is dedicated noise suppression and it's simple to adjust your input volume and test/tweak it within any voice channel.
Using Discord's automatic input sensitivity and taking some time to adjust the sound level within the sound control panel in Windows, friends in different voice channels didn't have to change the volume of where they already had me when I had been using my previous mic.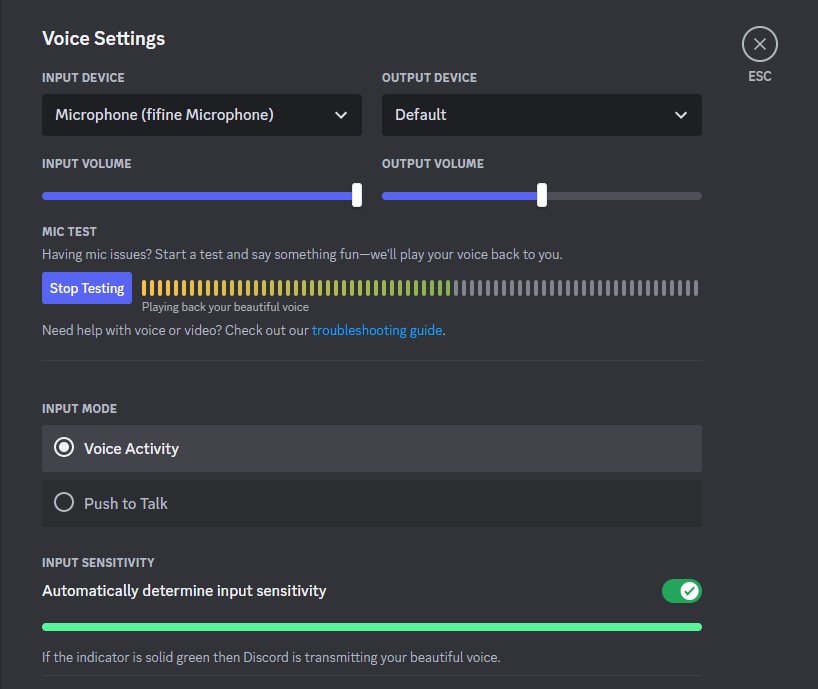 There were comments within different servers that I frequent that it was an immediate change, a crispier input, and much closer to how I'd sound in person which is exactly what I was after with an upgrade!
After messing around with the gain knob on the mic and general sound levels in the control panel, it sounds great. Within VOIP software and in-game, having the gain at around 30% is what Fifine suggested and it's exactly the right spot for my experience.
Recording Performance
The first thing I did with this mic was open up the Voice Recorder app that is native to Windows and I did several different recordings with my previous mic and compared it to the AM8.
This helped me to find the right spot when adjusting the sound levels and the gain on the mic itself without having to get direct feedback and spend time tuning it with others.
I did notice that, only within the Voice Recorder app, there was some slight feedback and it was very sensitive. I could hear the clicking of my mouse, small noises from my chair from small movements, and very clear noise from my mechanical keyboard while typing.
Although this sensitivity is automatically adjusted with most voice settings in-game and especially with something like Discord, it makes me wonder how it'd do with other apps…
I'm certain that it has a wide range of adjustability for sensitivity and whatnot, especially when using professional equipment and recording software… Unfortunately, at least at the time of this writing, I'm not able to go deeper into how it does with professional recording.
Comparisons To Other Mics
---
Even comparing this to other Fifine mics such as the K688, K658, A6V, or the A8 – the AM8 stands out as a balanced "all-around", high-quality sounding option.
While researching the other Fifine mics, I've read from several others' reviews that the AM8 stood out even compared to something that is a higher-priced mic like the K688. Some even mentioned using this as a budget replacement for a Blue Yeti mic.
From what I personally upgraded from, which was the microphone that comes built-in with my SteelSeries Arctic headset, I went from a distorted, static sound to a crisp and clear input that can easily be compared to many studio-grade mics on the market.
There are absolutely better microphones that are made for different use cases such as for serious, professional audio recording for vocals, different frequency responses are better for recording instrumentals, etc.
And like I've been saying, I'm certainly no audiophile, but I don't need to be one to understand that the AM8 is a high-quality sounding upgrade, especially at the price that it's at.
From the pop filter being made out of nice material and actually being useful, to the sleek design and general ease-of-use for functionality… it's a nice upgrade for the price. I look forward to having it on a boom arm and using it for the foreseeable future.
If I'm able to, I'll try to figure out a simple way to record my voice and compare it to what I was using before. Once I figure out a solid way to do it and post it here on the site, I'll update this section ASAP!
Conclusion
---
All in all, Fifine did a great job with their AM8 microphone. It's a very fairly priced microphone that provides a crisp sound and is a solid upgrade for anyone that wants something that can seriously be compared to studio-level quality without breaking the bank.
It shines most with the overall functionality, it's able to be used in a variety of ways and it feels good to use however you're using it. Being able to make adjustments on the fly, it is fast and easy to plug it in and use right away and has a sleek design to boot.
The only real cons with this mic are that there isn't any dedicated software for it, the knobs feel loose and the plastic used on the mic doesn't feel super high-end, but because of that, it's able to be more lightweight.
Dedicated software wasn't necessary with how easy it was to set this mic up, it's just something I've gotten used to with other peripherals I use with my PC.
And although the material quality isn't super-premium, it still feels nice to use especially with the touchless sensors going on with the tap buttons and adjusting the lighting.
The pros far outweigh the small cons that I've noticed so far with it, and it's a great choice if you're in the market for a solid, budget RGB mic to upgrade your sound.
Don't just take it from me – there are also plenty of other reviews over on Amazon that share how well this mic performs! Be sure to read through them as well!
So, are you going to get the Fifine AM8 RGB mic?
What are your favorite parts about it?
What do you think could be better about it?
How do you think it compares to other mics on the market?
Let me know in the comments below! 😀
Fifine AM8 RGB Microphone
Around $60
Pros
True, high-quality studio sound
Simple to use functionality, feels good to use
Touchless sensor tap buttons are super satisfying
Easy to attach to a boom arm and adjust
Plug-in and forget it, easy setup
Cons
Mic build quality is plastic, gain/volume knobs feel loose
Can't use RGB cycle mode for infinite color choices
Although easy to set up, does not have dedicated software
Hey there! 👋 I'm Colton, founder of PC Builds On A Budget.
Whether you need help putting your PC together, finding a great pre-built rig, or want some help finding awesome peripherals – I've got you covered!
I share my experiences of anything and everything related to gaming PCs with you here. 👍