Last Updated on May 16, 2023
After using the Fifine H6 headset for a while, I figured it was time to give it a full review. In this review, I'll go over its value as a daily gaming headset.
The main selling points of this headset are the price for the type of audio quality, how comfortable it is to use, and that it has a mic that's actually clear.
There are a few things I've noticed while using this headset and comparing it to others – some good things, some not so good…
Which is why I decided to share it here and go over everything that it has to offer. Whether or not it's a viable headset for you is going to depend on your overall use case, as I don't think this headset is for everyone.
With that, let's get to the review.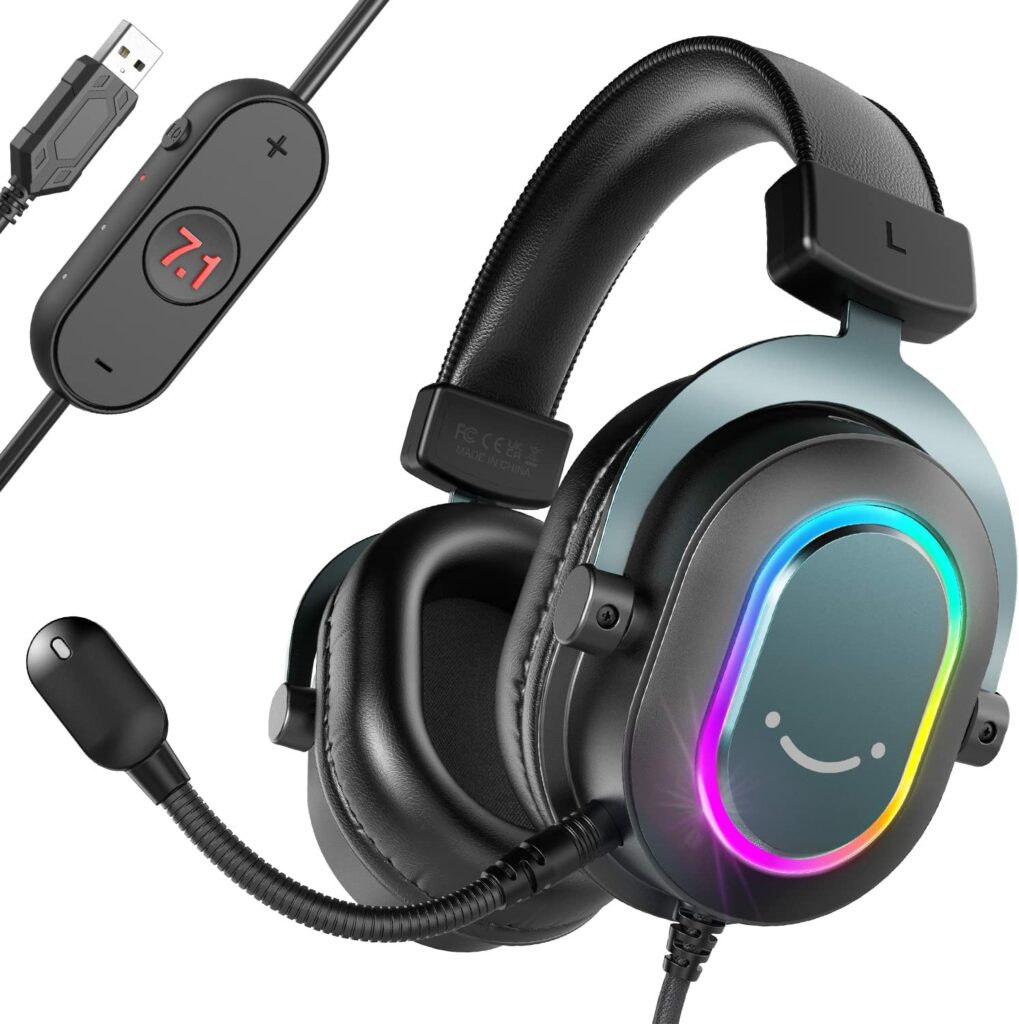 Product: Fifine AmpliGame H6 Gaming Headset
Recommended Price: Around $40
Cheapest Place To Buy: Amazon.com
Warranty: 2-Year warranty after product registration (More Info)
My Rating: See below!
Fifine Understands Audio
---

After reviewing the Fifine AM8 microphone a while back, I mentioned Fifine as a company and what Fifine is all about. Established in 2009, Fifine has been creating products for years in the audio space for gaming and studio use. Their H6 headset came out in 2022 to make some noise in the budget gaming headset market.
In a nutshell, Fifine nailed the microphone quality for this headset. It surpassed my expectations of what I figured another gaming headset at this price range would sound like.
After using this headset on and off with gaming and listening to music while working, there are a few things I'd change about the headset and there's something about these speakers that I'm not 100% sure of… But I'll explain those few hiccups later on.
Initial impressions with this headset are that the microphone is probably one of the best microphones to come with a gaming headset at this price where it seems obvious that is where a lot of focus went with designing this headset. The audio is decent and does an awesome job at noise-canceling.
It's very comfortable, doesn't feel top heavy and the materials are great. Just from using the headset and feeling them out, you can tell they are going to stand the test of time.
So, let's dive deeper into the different features and the overall audio experience. There are a few flaws that I'd change about the headset which may or may not be a deal breaker for some…
H6 Headset Main Features
---
Before getting into the nitty gritty of audio performance, I want to highlight all of the features of this headset as I feel like some folks would not know about some of these features just from a product page.
From the controls, build quality and how comfortable they are to wear – the main features of this headset are some of the best parts of the headset giving it tons of value on top of the audio quality.
Although all of the included features are more than welcome, there are some design choices that I was slightly confused about and I would have liked to see some of these features expanded upon…
Build Quality & Design
The overall build of the headset feels top-notch. A metal alloy material is used for the headband which = high durability! Since it's a metal alloy used, it's not too heavy. It's certainly not one of the lighter headsets on the market, weighing 330g total, but it isn't a burden to move your head around while wearing it.
Another thing with the metal alloy is that you aren't going to be bending the headband and twisting it just for the sake of it… But with regular use, it's flexible and highly durable, no worries about the materials themselves wearing out. As long as you aren't purposely bending the headset, there's no way it'll lose its shape/grip.
It's easy to adjust the headset as the headband is length adjustable and locks into many different notch points within the band. Not much resistance to it, it's easy to adjust on the fly. Combine that with the padded top of the band and the cushioned earmuffs, it's a comfortable headset to use!
The braided cable is 6.6ft long and it's thick. So far, I'm not running into any issues with the wire bending and losing any sort of connection, and because of its thickness, I am confident that it won't have any connectivity issues going forward.
A different material is used for the microphone connection where you can bend it to whatever angle you feel is necessary. This was something I wasn't expecting, and it's really a big deal to be able to move the mic closer to your mouth or away whenever you need to.
You can also unplug the mic completely if you don't want it in the way while playing single-player, watching videos, etc.
As for aesthetics, it comes in a black or white style. The sides of the headset feature the Fifine smile logo with a gradient RGB ring light surrounding it that constantly cycles around the ring. You can't adjust the RGB lighting, it stays on the full RGB gradient flow.
All in all, the build of the headset as a whole is nice! High-quality materials were used here and you can tell that Fifine took their time and did their due diligence on ensuring that the headset is built to last and easy to use.
In-Line Controls
Along the cable is a set of in-line controls that lets you control the volume, mute/unmute the microphone, activate the "7.1 surround sound", and toggle between the movie/game/music EQ modes that are built-in.
The volume buttons are huge and are great for on-the-fly adjustment. The volume control adjusts the sound level directly to the Windows sound volume bar, adjusting up/down 2 levels per click. You can also click and hold to quickly bump up the volume or get things quiet.
I would have preferred to have the volume be adjusted to the speakers themselves rather than adjusting the volume from Windows, but it works all the same. I prefer to have my Windows speaker level at 100 at all times and then adjust the volume accordingly for the speakers – but again, that's just my personal preference.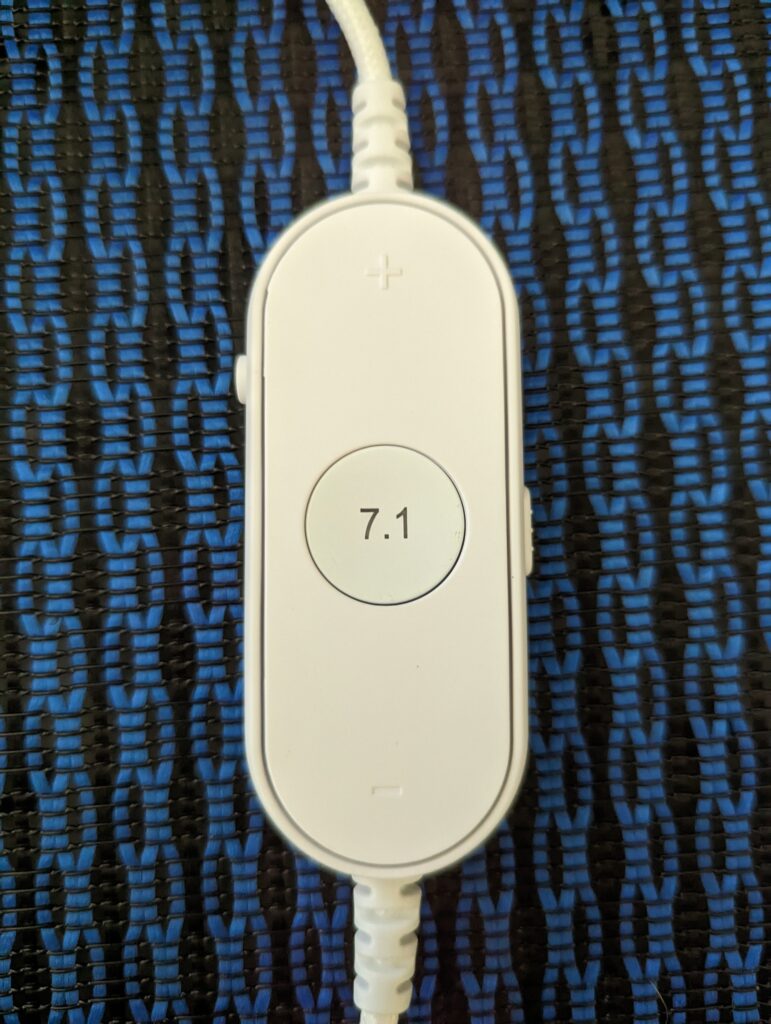 Another design decision I disagree with is how the mute toggle works. It works fine and completely mutes the microphone, but the LED indicator for being muted or unmuted is on the outside of the microphone itself…
It would have made more sense to have the LED indicator on the control itself to make it clear if you're muted or not, and there's no reason to have the LED indicator on the outside of the microphone… You're completely unable to see the LED indicator this way and it just doesn't make sense to have it there.
There are 3 built-in equalization modes for movies/gaming/music. There is a clear difference between these modes, but I struggled to see the true benefit of switching them between each mode for different uses… I'll touch up on that more in the audio section.
When it comes to having a convenient volume control and simple toggles for muting/unmuting your mic and switching between the modes to what you prefer – it does exactly that! It's a simple control design that gets the job done.
Comfortability
When you're on the hunt for a good gaming headset, regardless of audio levels or how well it's built… It had better be comfortable to wear, especially for those of us on the grind for hours at a time.
Comfort for the long haul of a gaming session takes soft padding, both for your ears and the top of the noggin', and not having to make adjustments every 10 minutes.
It's easy to recommend this headset for comfort. The earmuff cushioned padding breathes nicely which helps to avoid sweat build-up. They're easy to clean off as well because of the material. I've used headsets that have used similar padding and most of them really don't breathe as easily as these do!
Adjusting the headset is simple to do and should accommodate all head sizes. I'd say I have an "average" head size and it fits snugly right at the middle point of headband adjustment and seems that there are 10 different adjustment points to set it to.
At first, I was worried about the size of the cushion pads for the ears… I'd be interested to see how comfortable (or how uncomfortable) this headset would be for someone with very large ears… But I'd say that the earmuff size is right at an average shape so any average ear size or smaller ears and it's perfectly sized.
I've used the headset with and without my glasses on, and it feels exactly the same either way. The cushion fits snugly against any glasses and can be used for long periods of time. For all of us glasses wearers – you'll be fine using these for lengthy sessions without having to constantly adjust.
With the 6.6ft long cable, there is plenty of length to stand up move around a bit and stretch without the headset pulling off of your head.
It's a good length for basic movements sliding your chair over for something and whatnot. No complaints about movement whether head movement or needing to get up for a quick stretch, there's plenty of cable length where the headset isn't going to get unplugged or snag up while moving.
For design choices made for comfort, Fifine nailed it. It breathes well, can be used for hours, and I've hardly had to make adjustments while using it.
H6 Headset Audio Performance
---
Audio quality, and testing the audio quality in different ways, has been interesting to mess around with. For me, it has been more about finding the "sweet spot" of an EQ mode that I think sounds good and enjoying different types of media.
From overall use, I feel like most folks would mess around with the headset in a similar way to figure out what they prefer most depending on what they're listening to.
As I mentioned with the in-line controls, there are 3 different EQ modes to switch between and honestly, I've preferred to keep it on the music mode for almost everything because I feel that's where all frequencies shine for almost all media.
There are some gripes I have about the audio and I've compared it to other headsets, and although the quality is good enough, I've just been… Almost a bit confused about the best way to use the headset for audio levels. Sure, it comes down to personal preference, and I'll explain my experience so far.
Noise-Canceling Audio
My favorite part about the audio quality of this headset has been how well it does for noise-canceling. Even at half volume, any noise from tapping on my mechanical keyboard to any other noise going on around me is almost entirely canceled out!
It's a combination of how punchy the speakers can get and how the earmuff cushions wrap around your ears.
It's really the main highlight, for me anyway, for how well the audio is presented. It has a clear sound and I'm free of any noise distractions that are going on around me, and I don't have to have the volume on full blast in order to have noise-canceling.
If noise-canceling is an important factor for you in a headset, the H6 does a great job at it. Compared to other headsets around this price point, you really aren't going to find this level of noise-canceling and quality.
The H6 is competitively priced being around $10-$20 cheaper than some of the big-name brands of headsets while still providing this level of quality, whereas if you went with headsets even cheaper than this you aren't going to find this same level of noise-canceling audio.
Noise-canceling is great and all… But now let's get into how the audio actually sounds. I'm not a super audiophile, but I've used many different headsets and want to shine some light on my experience in comparison to other levels of audio and how this headset is different.
Does The H6 Really Have 7.1 Surround Sound?
I've messed around with the 7.1 surround sound toggle with this headset with all forms of media – in games to gauge how much better I can dictate footsteps, in movies to see how accurate the audio moves around, and in music to see if there is any clear difference in the experience of some of my favorite songs.
I did some further research on headsets that use 7.1 surround sound and I've come across many different perspectives on it. Some folks believe that 7.1 surround sound is just a marketing gimmick because some game engines for audio, especially for competitive games, are designed for studio headsets specifically.
Another reason why 7.1 surround sound just isn't the same with a headset is that it isn't true surround sound. It's adding more speakers which can help to make sounds in-game more clear, but it isn't completely indicative of improving your ability to hear footsteps better in-game or where gunshots are being fired.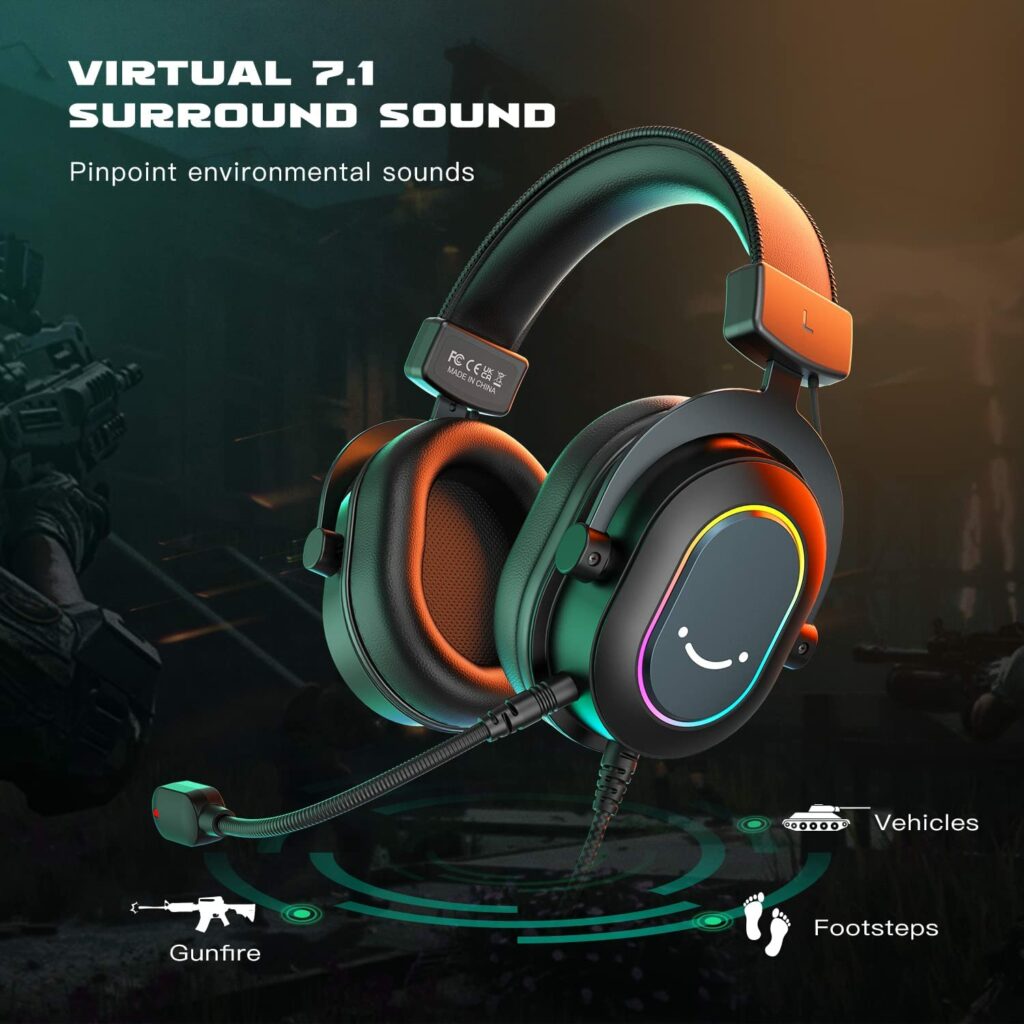 I played a bunch of different games both with the 7.1 toggled on and off, and I've got to say that I prefer to have the 7.1 surround sound mode toggled off.
It just sounds like more speakers are activated with this toggle on, and it changes the bass frequency so much and seems to bump up the overall volume while removing most bass levels.
Again, I'm not an expert on audio and I do prefer to have punchier bass levels, regardless of being in-game or listening to some other form of media, but the toggle just didn't seem to have much of a real impact in terms of helping me pinpoint certain sounds in-game.
There is a clear difference with this mode activated and more speakers are surely used… But I have preferred the higher quality sounding audio levels with it toggled off. With the 7.1 surround sound mode toggled on, overall audio quality is lessened because of activating more speakers and drowning out bass levels.
EQ Modes
Movie/game/music modes – you can toggle between these three modes and they do have different levels of audio manipulation.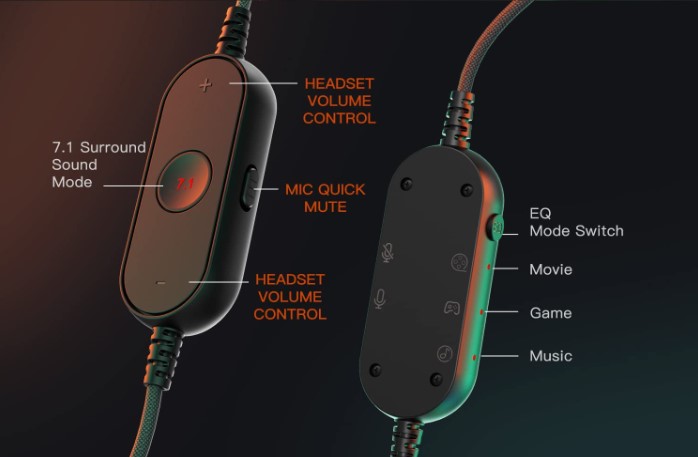 Movie mode seems to draw out dialogue and higher frequency audio parts more with a small bit of bass to focus more on the action happening on-screen. I watched a few different UE5 short film demos using this mode and would prefer to have this mode for film because of how it focuses more on those higher frequencies.
Gaming mode adds quite a bit of bass and makes everything "punchier" while playing. I used this mode while playing MK11, where fatalities have a lot of crunch and huge blows and it certainly made a difference for extra "grit" on those sounds. But it's almost too much bass for me for music or movies
Music mode is the lowest volume level out of the three modes that focuses on mid frequencies and bass. It's just right for the music I listen to while working and purposely switch to it for a softer focus on the music itself.
The three modes do have noticeable differences, the downside is not being able to adjust these and customize them for your preference. It comes down to personal preference, for example, if you're wanting constant bass then I could see someone using the game EQ mode 24/7 because of how much more focus there is on bass.
It's nice to see these modes and it's giving you a choice on what you prefer for different types of media. They focus on different frequency levels and I do switch between gaming/music modes respectively because of how much of a difference the manipulation to audio is.
A Clear, Durable Microphone
The recording quality for this mic is no joke – it has better quality than the mic on the SteelSeries Arctis 1 headset, which just isn't as clear cut. It's clear, crisp, and easy to adjust from the material used on the removable mic cable.
I wasn't expecting this mic to do as well as it does but I suppose I should have expected it since Fifine sort of specializes in microphones… 😅
No, it's not a full-fledged studio-quality level of recording but it does a great job for general use. I don't sound like a static robot on Discord with this mic and it doesn't draw in extra noise which is something you can't say for headsets that are priced just a bit cheaper than this is.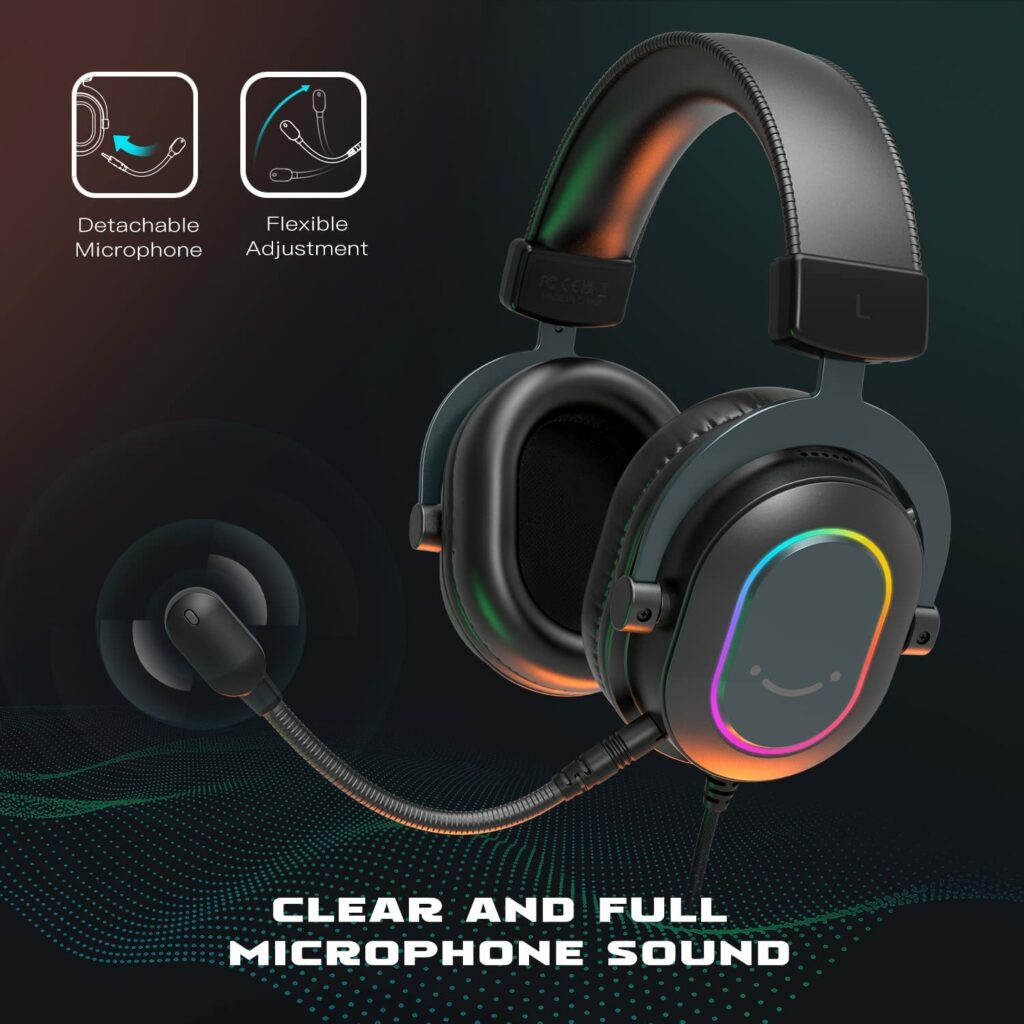 When it comes to a headset that has a built-in mic at this price range… It's top-notch. It's worth bumping up just a level higher on budget compared to all of the super cheap headsets on the market when you want something that actually sounds good.
Sure, the mic could go without having the mute indicator on the outside of it… But everything else with the mic works better than you'd expect for this price.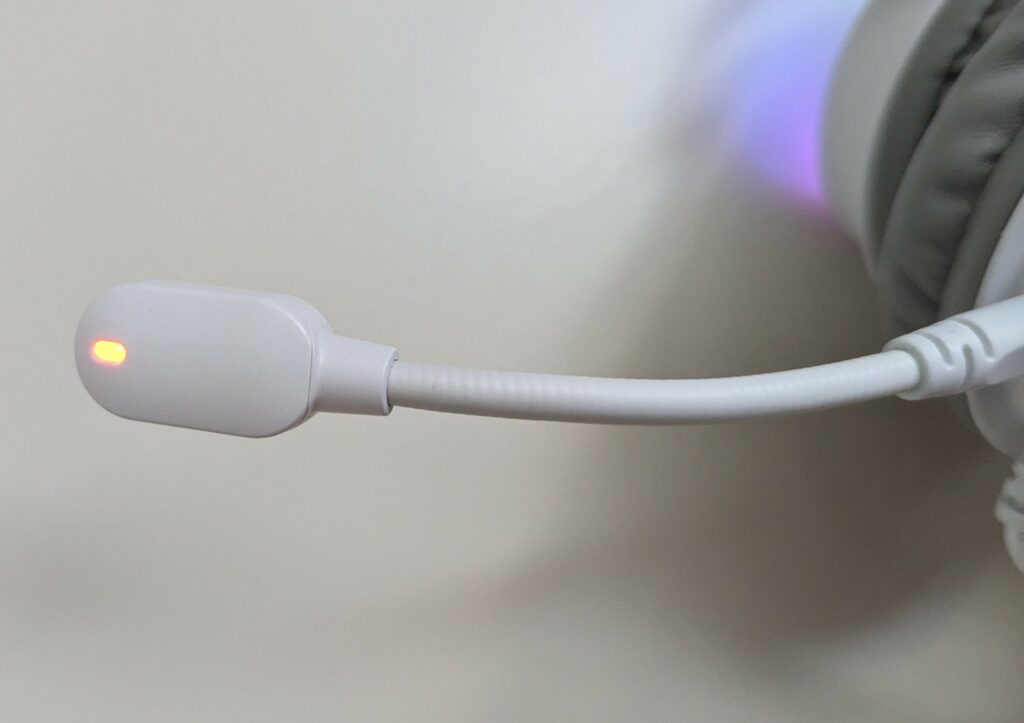 I didn't have to mess around too much with volume levels in the Windows control panel either – it worked and sounded great right out of the box and I'm impressed with it!
Summing up the mic, it has a good, clear sound and the cable it uses is very flexible and stays put right where you adjust it.
Clear comms and really nothing to complain about!
Conclusion
---
This marks the end of the Fifine H6 gaming headset review.
For around the $40 range, it does a great job on comfortability, noise-canceling, not being made out of crap materials, simple in-line controls, and clear comms.
It doesn't have the absolute best audio quality in the world, and I don't see myself utilizing the "7.1 surround sound" mode because of how it drowns out the overall audio quality… But I mean, it has good enough quality without it – the good bass levels, noise-canceling, and comfort – I can just avoid it altogether and be happy with it.
There are better options out there when it comes to having the highest level of audio quality out there, but you're going to be paying a whole lot more for it…
If you're in the market for a gaming headset that doesn't break the bank, has a great mic, and does an excellent job at noise-canceling – then you should consider getting the H6.
Don't just take my word for it, be sure to check out the Amazon reviews as well!
So, are you going to be getting this headset?
What is your opinion on headsets that use "7.1 surround sound" modes?
Let me know in the comments below! 😀
Fifine H6 Gaming Headset
Around $40
Pros
Does an excellent job at noise-canceling
Simple in-line controls that are easy to use
Microphone quality is very clear and full
Cons
An odd design choice with muted mic indicator being outside of the mic instead of on the control
"7.1 surround sound" mode doesn't really do much
Can't finetune the EQ modes, no dedicated software
Hey there! 👋 I'm Colton, founder of PC Builds On A Budget.
Whether you need help putting your PC together, finding a great pre-built rig, or want some help finding awesome peripherals – I've got you covered!
I share my experiences of anything and everything related to gaming PCs with you here. 👍