Last Updated on November 5, 2015
Today I'd like to do a Plantronics GameCom 780 review. I currently use these headphones today and I gotta say that they are the best headphones I have ever used. Combined with easy to use controls and an immerse surround sound technology makes these headphones one of the best.
I have been using these exact headphones for about 2 years now. They are very well made and also very comfortable to wear, even with a pair of glasses on.
With that, let's get to the review.
Product: Plantronics GameCom 780 Gaming Headset
Price: $49.99
Cheapest Place To Buy: Amazon.com
Warranty: 1 Year
My Rating: 10 out of 10
Surround Sound = YES
---
These headphones deliver a surround sound quality that you just have to hear for yourself. The experience is quite remarkable and that alone makes this headset worth the current price tag. The other features included with this headset is just the bread and butter.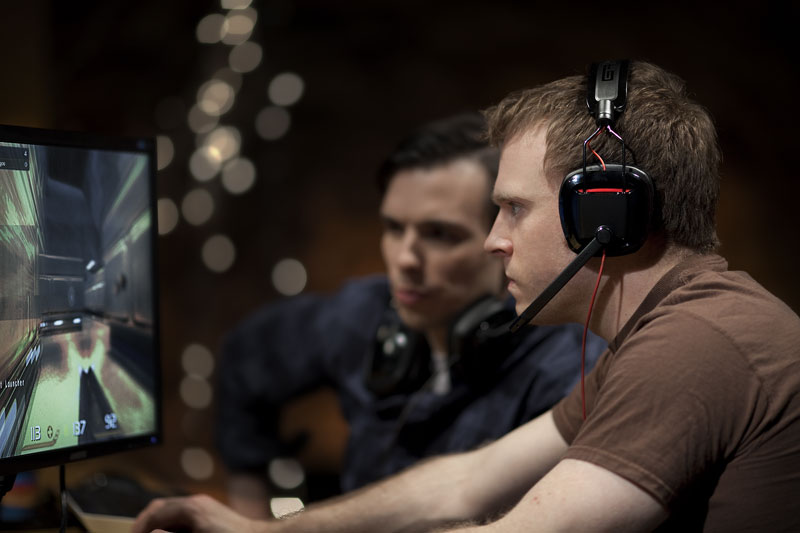 The Plantronics GameCom 780 headset has Dolby headphone and pro logic IIx technologies evolving standard audio into an amazing 7.1 surround sound experience.
There is a button on the front of the headphones that allow the user to switch the Dolby surround sound on and off.
The software that this headset comes with also allows you to switch your Dolby surround sound for either movie mode or gaming mode.
The surround sound has this echoing effect that makes all of the sounds seem like they are real and I so have to say I'm able to hear enemies sooner than most simply because I'm able to pin point footsteps due to the surround sound.
It's pretty awesome! 🙂
These headphones have a nice deep bass that doesn't actually distort during crazy scenes like most headphones do. If you have them at a good volume level then it'll cancel the noise from outside the headphones and you'll be able to tune in 100% into your movie/game that you're using them with.
The headphones are able to fold in giving users an easy way to store the headphones.
These were designed to ensure that any user would be able to use them for a long time. The wires and overall material is made out of a high quality material that would be very hard to break. The headphones are held in place by a metal bar and there is high quality plastic that covers most of the wires inside.
The Mic Works Very Well
---
The mic is noise-cancelling and is a great mic for recording yourself or if you use Skype or in-game chat with your friends. It gives out a crystal clear sound to your friends while making sure that all other background noises don't interfere.
The volume for these is very easy to control.
On the back there are two switches that allow you to either mute your mic or to adjust the volume of the headphones. When you install the software that this headset comes with then when you go to adjust the volume it will actually change the system volume on your PC which I thought was pretty cool.
One little con of this headset is that it has a shorter wire for USB connection. If you have USB slots on the front of your PC then the cord will reach those just fine. That's what I use with these is the front USB port. There is no headphone or mic plugin that is separate from the USB plug in. Just plug it into the USB port and install the drivers then you're good to go!
The best part of this headset would have to be the ear cushions that are used for the headphones. These cushions give a very comfortable feel and for those of you that wear glasses then don't worry about a thing, I wear glasses a lot while I use my computer and I have never had an uncomfortable feeling while wearing my glasses and these at the same time.
To Conclude
---
I have used Turtle Beach headphones before and these headphones are 10x better not only with audio quality but also comfortableness. These headphones are a 10 out of 10 and you wouldn't regret investing into this Dolby surround sound technology for yourself!
So what do you guys think?
Have you ever used this headset? Will you be giving them a try?
Let me know in the comments below! 😀
Hey there! 👋 I'm Colton, founder of PC Builds On A Budget.
Whether you need help putting your PC together, finding a great pre-built rig, or want some help finding awesome peripherals – I've got you covered!
I share my experiences of anything and everything related to gaming PCs with you here. 👍