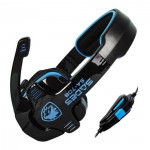 Today I wanted to share a SADES gaming headset review to get my point of view across on it. It's a great headset to pick up if you're on a tight budget!
SADES have created many different headsets but this one is by far their most popular and for good reason. For less than $20 you can get a pretty decent quality headset which actually competes with some of the more expensive ones out there on the market.
With that, let's get to the review.