Last Updated on May 5, 2017
It's time to review the ENHANCE Scoria PC gaming headset. I've recently picked this up from Amazon and it's honestly the best headset I've used so far!
I had used a generic headset for a while and figured it was time to get an upgrade. I didn't want to spend hundreds of dollars… I wanted a headset that was high quality that didn't break the bank.
I'm happy with the ENHANCE Scoria headset so far, it has all of the features that I really wanted out of a headset.
With that, let's get to the review.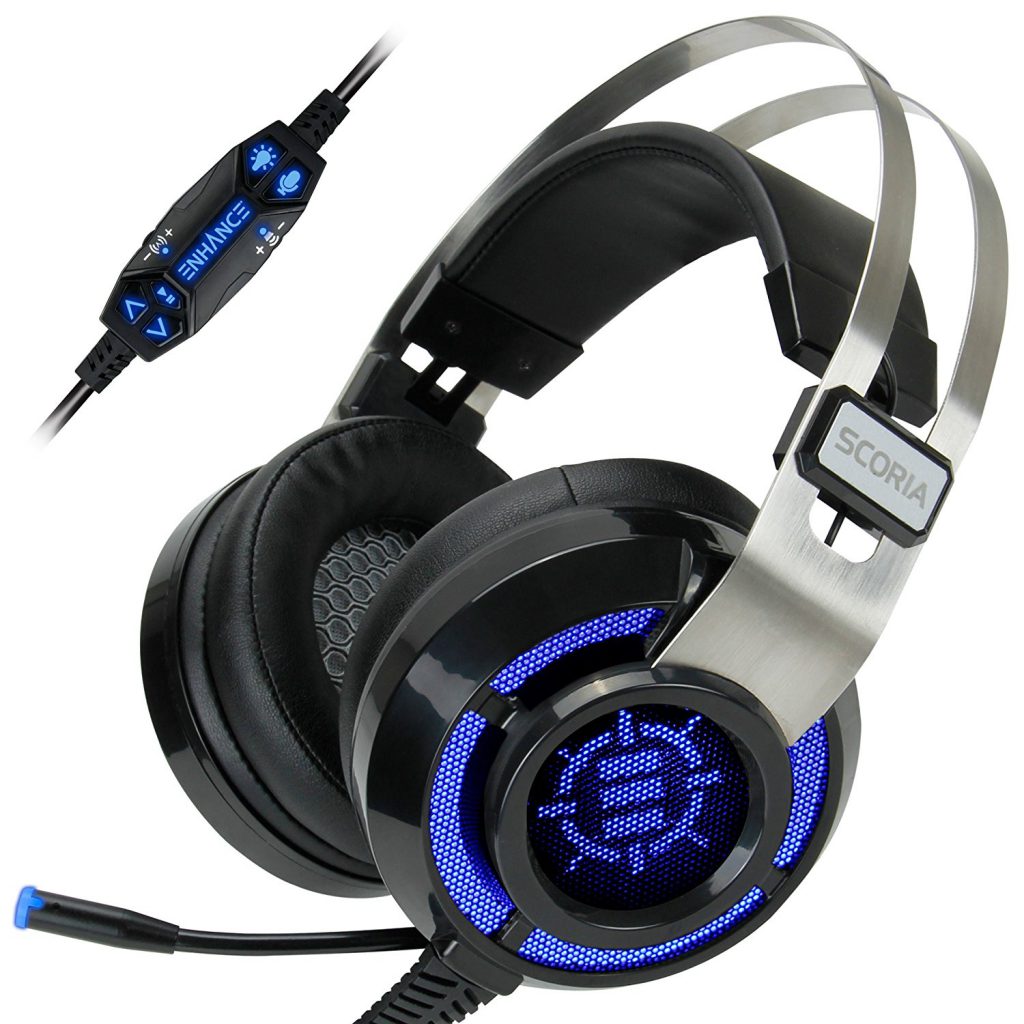 Product: ENHANCE Scoria PC Gaming Headset
Price: $49.99
Cheapest Place To Buy: Amazon.com
Warranty: 1 Year
My Rating: 9 out of 10
ENHANCE Is A Great Brand
---
From headsets, mice, keyboards and mouse pads – ENHANCE (www.enhancegaming.com) makes high quality PC gaming gear across the board. I have never used one of their products since before getting this headset and I've got to say, I'll be buying gear from them in the future.
Some of their gear is actually used by eSports contenders which shows that it's of a high enough quality for competitive play, yet most of their products are priced at a regular consumer level.
That's what I appreciate the most about ENHANCE. You get high quality peripherals that are up there with the likes of the top PC gaming brands yet it's not costing an arm and a leg to get.
Check out the video below – these are some testimonials from CES 2017 which also shows some of the features of the headset.
What they're saying is true too, you can adjust the bass vibration and the 7.1 surround sound really immerses you and gives you an idea of where enemies are lurking around.
7.1 Surround Sound Is Awesome
---
I've been using the headset for a little over a week now and compared to the generic headset I was using, I'm actually able to dictate where shots are coming from. I hear every bit of the audio and they're at just the right sound level to not blow my ear drums out even while maxing out the volume.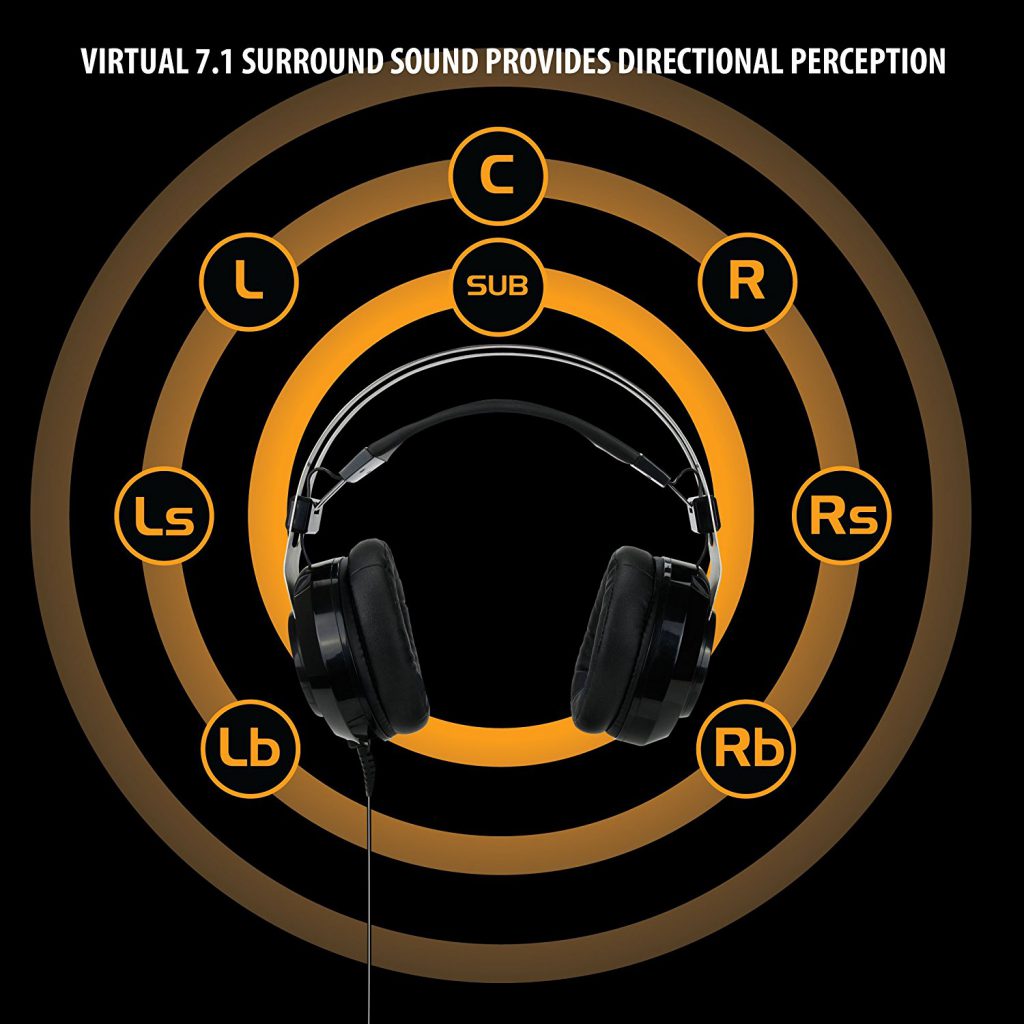 Have you played PlayerUknown's Battlegrounds yet? It's a multiplayer shooter game that is all about survival and let me tell you… being able to tell where footsteps and shots are coming from is almost crucial in that game.
I hopped in a solo match when the headset came in to test and compare the sound with my other headset. My other headset doesn't have adjustable bass or 7.1 surround sound.
I actually managed to place 2nd through the first match and I downed 4 enemies, 3 of which I was able to hear coming towards my area. I was able to take advantage of that.
I'm not saying that this headset is guaranteed to help you win in Battlegrounds or other multiplayer shooter games but there was definitely a difference in using surround sound versus not using it.
I spent a lot of time in a building when the force field was closing in on the map and I had to keep hold of it since it was smack dab in the middle, a great position to be in.
A couple of guys came in and being able to hear which doors they were opening allowed me to flank them optimally to get the upper hand, downing them was a walk in the park because of that.
If you're used to using a headset that doesn't utilize 7.1 surround sound technology then the difference is very noticeable, it's entirely worth getting a headset that has this technology. The Scoria specifically not only has that… There are other features that sold me on it as well!
Other Features With The Scoria Headset
---
Adjustable bass, different choices for LED lighting, volume control, media control buttons and a retractable mic that sounds good – that's what you also get with the Scoria headset.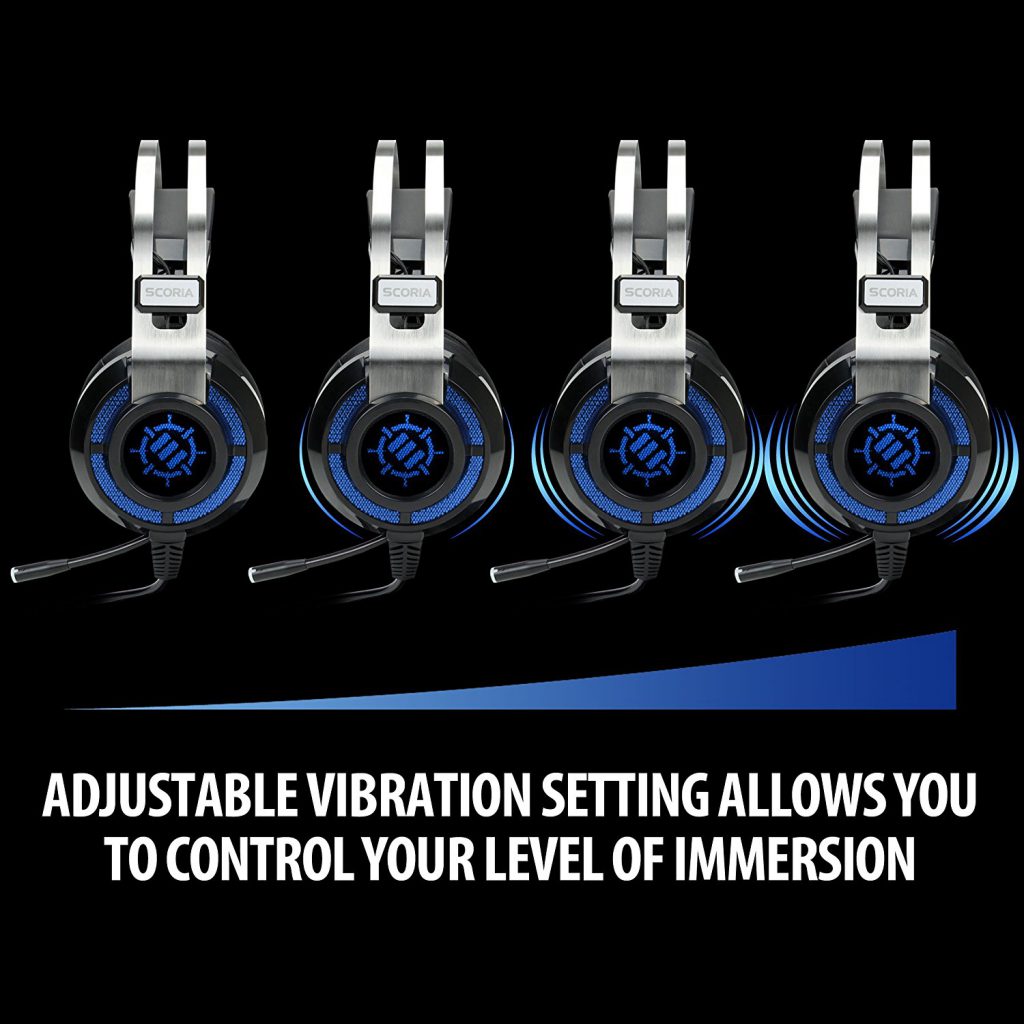 Not every game I play needs to have a heavy bass setting. I don't think it's essential but it sure is nice being able to adjust my bass level depending on if I'm playing a fighting game or listening to music.
Certain music that I'm listening to doesn't need a whole lot of bass, for some of the songs I like to listen to they sound better with less bass.
Same goes for a game where I'm chatting with multiple friends, sometimes the bass can be a bit too heavy to hear friends and so I'll lower it whenever I feel like I need to.
To adjust the bass you use the slider on the headset controls and there's also a slider to adjust the overall volume.
The controller has those sliders, a button for muting your mic and another button to change the LED lighting on the headset. When you mute your mic, the button turns red and your mic turns to a light blue color indicating that it's muted. The mic can retract into the headset when it's not in use, it slides easily and seems durable.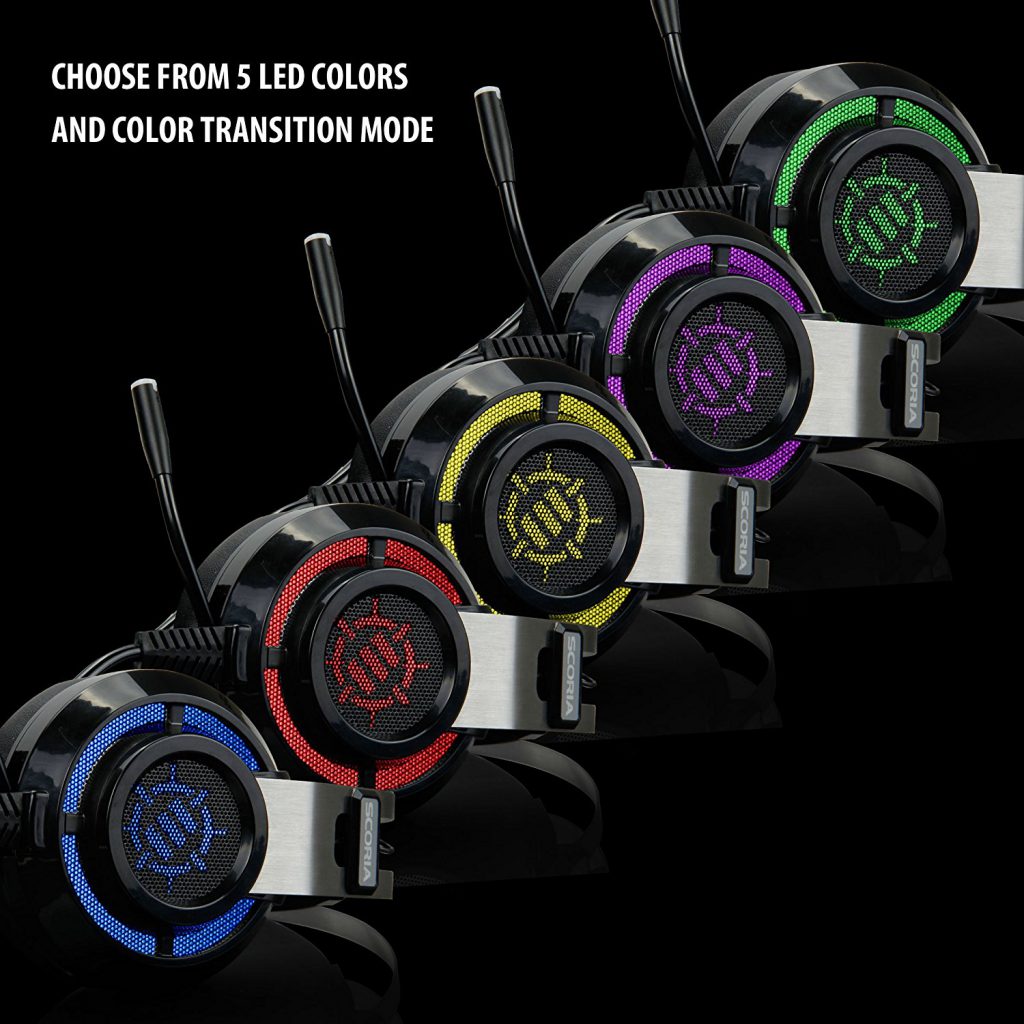 Every click on the LED button switches to the next color. You can choose between red, green, blue, purple and yellow. After clicking a 5th time the headset will do a breathing effect that goes through each color which is usually what I have it set to.
Then there's also buttons for playing/pausing your music as well as going forward/back to a song. This only works when you use a media player, I use Amazon Music sometimes and it works like a charm for it. It'll also work with others such as iTunes – any media player will work.
As far as comfortability, it's pretty nice. I sometimes wear glasses and they feel fine while using the headset. Noise is cancelled even when the volume is put to the middle which was something new for me, noise cancelling wasn't a thing with my old headset.
All in all, I'm happy with all of the extra features. I've always been a fan of LED lighting so being able to change between different colors is awesome, I'm all about the cosmetics of it. With high quality sound and a handy controller added in – it's a great choice for a headset under $100. It feels like it should maybe cost more!
Should You Get An ENHANCE Scoria Headset?
---
If you're in the market for a headset that isn't overpriced but yet still has some sought after features such as 7.1 surround sound, media control, a high quality mic and LED lighting then this should be on your radar.
The material feels like it is going to last a very long time, I don't plan on getting a different headset anytime soon. I wanted a USB wired headset that had more bells and whistles… this was it.
You should also check out some of the reviews over on Amazon, I'm not the only one that's enjoying this headset!
So, what do you like most about the ENHANCE Scoria headset?
Are you going to be picking it up?
Let me know in the comments below! 😀
Hey there! 👋 I'm Colton, founder of PC Builds On A Budget.
Whether you need help putting your PC together, finding a great pre-built rig, or want some help finding awesome peripherals – I've got you covered!
I share my experiences of anything and everything related to gaming PCs with you here. 👍