Last Updated on May 20, 2017
It's time to review the Thermaltake Versa C21 mid tower case! The C21 is all about durability, simplicity while also being able to set an awesome atmosphere.
This is the first case from Thermaltake that I've worked with that has the durability factor down. Although the case I used in the past with an old build was a lot cheaper, you do get what you pay for with cases, but the plastic wasn't all that great.
That's different with the Versa C21. I'm very happy with what it provides, especially for the type of build that I went for with liquid cooling in mind!
With that, let's get to the review.
Product: Thermaltake Versa C21 Mid Tower Case
Price: $69.99 (Price may vary)
Cheapest Place To Buy: Amazon.com
Warranty: 3 Years
My Rating: 9 out of 10
Thermaltake Is A Widely Trusted Brand
---

Thermaltake (www.thermaltake.com) has been around since 1999 making DIY PC products. They make quality cases, power supplies, CPU coolers, headsets, keyboards and mice.
They have an interesting brand story behind what they're doing and many PC enthusiasts have trusted them with many different components to use, myself included. I've used their products since the beginning and I've never had a bad experience using their products!
Thermaltake Versa C21 Specs
---
The actual specifications should be what you're looking into when you're in the market for a case, they tell you what's going to be compatible and what's not which is extremely important.
With that, I'm actually surprised at how much compatibility a case like this has. You can use a standard ATX board, Micro ATX and even Mini ITX if you wanted to.

Usually you don't see a bigger mid tower case like this that's able to utilize a Mini ITX board but the C21 comes through with being able to.
The case dimensions are 22 x 23 x 10 in which leaves a ton of room to work with these types of boards. You're also able to fit a tower CPU cooler because of this, up to 160mm.
In addition to all of the room it has, this is easily the easiest case I've worked with when it comes to mounting and cable management. There are 2 slots for a traditional HDD and 3 slots for a SSD drive.
Most of the time cases will have mounting options for those drives under where you'd put a CD drive but this case is different in that way. All of the drive slots are only accessible through the back of the case.
They're super simple to use and this leaves a ton of room for being able to manage your cables and have ease when mounting your motherboard inside of the case.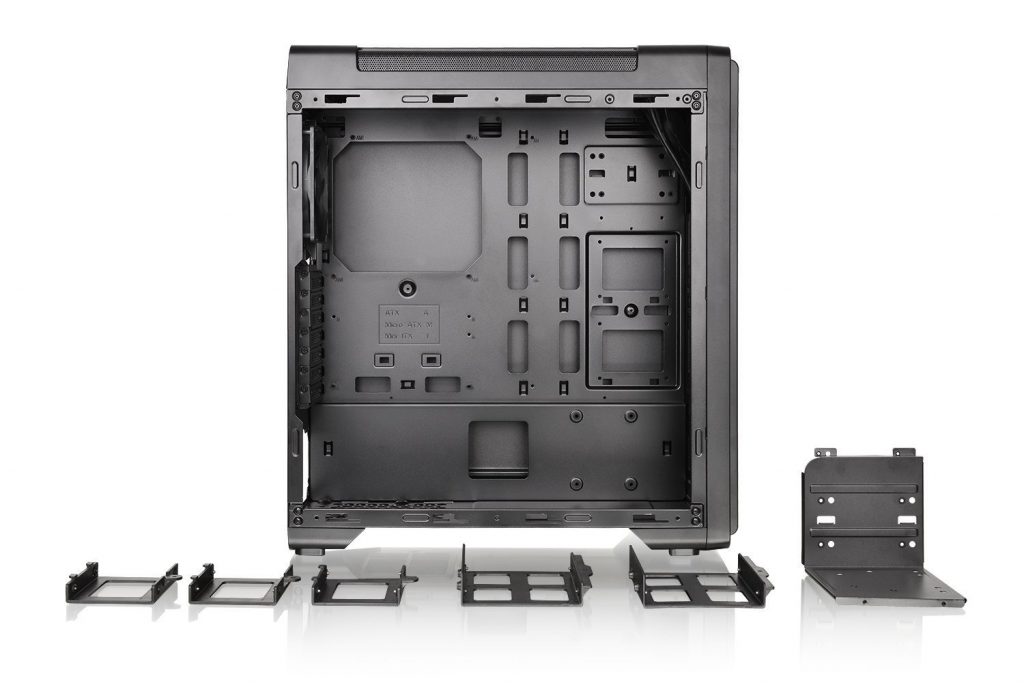 On the top of the case you've got the RGB light switch, power switch, fan speed controllers, a USB 3.0 port and a USB 2.0 port. There is also an extra slot to add in another USB 3.0 port to this.
It's pretty simple to get the RGB and fan speed controllers working. You plug in the connectors from them into the matching cables from your power supply and that's it.
A Thermaltake 120mm fan comes with it in the back then you have the option to add 2x 120mm fans to the top and front. Alternatively, you'd be able to fit 1x 140mm fan to the front.
Cable management is a breeze here, the back has a lot of room and having the hard drive bays placed where they are really helps with that. I've never had an easier time managing my cables than I have with this case.
The only gripe I have when it comes to how it was designed is that the top part of the case when adding in fans or a radiator stays connected to the front IO cables which makes taking the top part off a bit difficult. But you'll still be able to work with it as long as you move slowly.
Thermaltake Versa C21 RGB Lighting
---
One of the coolest features with this case is the lighting options that you're able to have with it. There are RGB light strips that go along the top and front portions of the case.
There is a button at the top on the left side where each click gives you a different color/lighting mode that you can stick with. I usually set mine to breathe through all of the different colors but it's nice being able to set it to a static color if you're feeling it.
There is also a blinking mode which honestly is kind of distracting, but options are options. Someone out there might like to have the case blinking all sorts of colors to show off.

RGB lighting has always been a favorite feature of mine for anything related to my PC. From the case, mouse, keyboard and even the motherboard… the more RGB, the better.
I'm always changing up the mood of the lighting. I don't like to stick with one wallpaper for too long and I always change up all of my lighting options to sort of match the wallpaper/theme of my desktop.
In my opinion, you can never have too much RGB with your rig. 😉
Thermaltake Versa C21 Overview
---
Whether you're looking for a case for a basic build where you can have cool lighting to go with or if you're going for an enthusiast build needing a top notch case to get the job done, the Versa C21 is definitely a case to be looking at.
The pros heavily outweigh the small cons for it, it's great for beginners builders and PC veterans alike. It would've been nice to see the top panel not connected to the front IO cables for a smoother experience installing a radiator/fans to the top but it's still entirely doable.
Using this case was easy, it made putting my build together extremely simple. But don't just take my word for it, you should also check out the reviews over at Amazon as well! There are plenty of people who feel the same way I do about the case.
So, are you going to be using this case for your build?
What is your favorite feature of the Thermaltake Versa C21?
Let me know in the comments below! 😀
Hey there! 👋 I'm Colton, founder of PC Builds On A Budget.
Whether you need help putting your PC together, finding a great pre-built rig, or want some help finding awesome peripherals – I've got you covered!
I share my experiences of anything and everything related to gaming PCs with you here. 👍