Last Updated on October 30, 2015
It's time for an Acer G226HQL review. This is a pretty valuable monitor given the fact that it doesn't come with any HDMI ports.
Although it doesn't use HDMI, it does use a DVI or a VGA hook up and it also comes with both a DVI and a VGA cable which is obviously important for this specific monitor.
However, if you'd still want to use HDMI with this monitor, you still could. You'll just have to pick up a HDMI to DVI cable, which is only about $7.
With that, let's get to the review.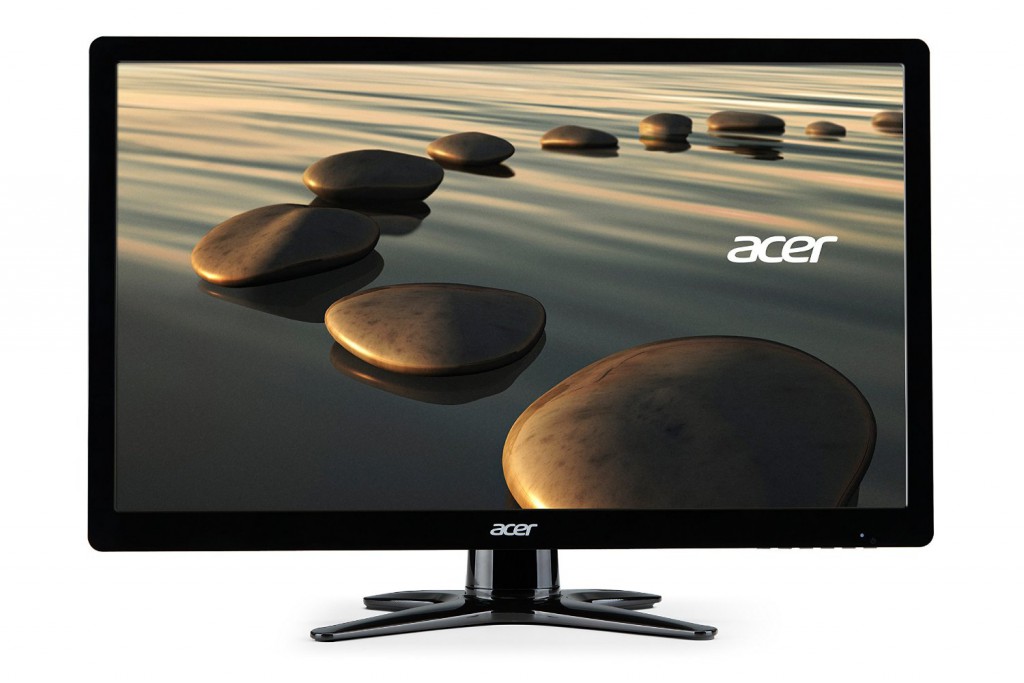 Product: Acer G226HQL Bbd 21.5-inch Full HD Widescreen Display
Price: $99.99
Cheapest Place To Buy: Amazon.com
Warranty: 1 Year
My Rating: 9 out of 10
A Great Price For The HD Experience
---
You don't see many monitor that have a 1080p (1920 x 1080) display for under $100. This is definitely the cheapest 1080p monitor that I've came across and if it wasn't for the fact that it doesn't have an HDMI hook up right off the bat then this would definitely be getting a 10 out of 10 score from me.
As I said above, this screen won't be able to be used with HDMI right away. You'll be able to hook up via DVI or VGA, and it actually comes with the right cables to do so.
I actually use DVI myself with a different monitor and I've compared the visual display with HDMI. There really isn't that much of a difference in my eyes but there are many on the internet that say HDMI has the better picture quality.
I couldn't see a difference at all. I tried playing Skyrim both with a DVI hook up and the HDMI hook up, didn't really strike any noticeable difference.
With that, though, I also feel that this may be a personal preference type of thing. Everyone has their own pair of eyes and everyone has a different perception not only when it comes to screen resolutions and the picture quality that comes with but really life as a whole.
It'd be up to you to decide. As I stated above, for about $7 extra you'll be able to use HDMI with a DVI to HDMI adapter and it's 100% up to you if you'd want to go that route instead.
Personally, I think DVI is high definition, more than enough to get the job done.
Comparing To The Other Guys Out There
---
When you take a look at other similar monitors such as the ASUS VS207D-P you'll notice a subtle difference in resolution. Sure, they aren't the exact same size but they are just about the same price.
You can also compare this monitor with the ASUS VS228H which is the monitor that I currently use, as I stated above with my comparison of DVI vs HDMI.
They are the same screen size. The main differences would be the fact that this monitor does not have a HDMI hook up and the fact that this monitor is at a lower price point.

Both of those points are pretty important when you're in the market for a new monitor. On one hand, you've got the fact that HDMI can't be used right out of the box which is the most popular type of video input that there is today.
But on the other hand, you're going to save about $20 or more by going with this monitor instead of the many others that are out in today's market.
Size Does Matter
---
Don't take that the wrong way now! 😛
In all seriousness, size really does matter.
No, not with that!
With monitors! DUH!
LOL, now that I've cleared the air, keep size in mind when you're looking at getting this monitor.
If you click the link above over to Amazon, you'll see other options for the different sizes that are available.
The bigger the better, but this could also really be considered a personal preference really because you could also maybe not have enough room for some of the bigger screens that are available.

I have a 21.5 inch monitor, the one that I mentioned above. I have a normal desk and it fits perfectly so if you have a normal sized computer desk then I'd say that the exact monitor, the 21.5 inch version, would definitely be the way to go.
To Conclude
---
All in all, the Acer G226HQL is a great monitor, especially if you are on a tight budget.
It doesn't come with HDMI hook ups, but it can be used with DVI and VGA and it comes with the necessary cables to do so. Besides, if you really do prefer HDMI, there is a way to go about making that happen.
So, what are your guy's thoughts on this review?
Would you pick this monitor up?
Let me know in the comments below! 😀
Hey there! 👋 I'm Colton, founder of PC Builds On A Budget.
Whether you need help putting your PC together, finding a great pre-built rig, or want some help finding awesome peripherals – I've got you covered!
I share my experiences of anything and everything related to gaming PCs with you here. 👍