Last Updated on April 25, 2017
I'd like to post an Acer H236HL review because it is one of the most popular monitors on the market right now and many want to know if it's enough for gaming.
I think many people are more so attracted to this monitor because of it not only being at the gorgeous 1080p resolution but also for the overall look and how well it seems to sit on the base that was developed with it.
A similar monitor by ASUS that I wrote a review about had only one very minor issue with it and that was that the screen can easily shake left and right with a nudge on a desk. You're not going to see that with the sturdy base of this Acer monitor.
With that, let's get to the review.
Product: Acer H236HL 23-Inch Widescreen LCD Monitor
Price: $119.99
Cheapest Place To Buy: Amazon.com
Warranty: 3 Year Standard Acer Warranty
My Rating: 9 out of 10
Are You A Fan of A Glossy Screen?
---
Because you're going to have to be if you're wanting to pick up this monitor.
Personally, I prefer a screen that doesn't show much reflection, a matte screen. But that is 100% personal preference and by no means does that mean that this glossy Acer display is of low quality.
If you dig a glossy screen, if you like the look of it, then this is going to be one of the highest quality glossy screens that you could get your hands on.
That's really the only reason that I have a personal rating of 9 out of 10, simply because I'm not a fan of a glossy screen. Many say that a glossy screen provides a better picture quality and maybe that is so, I can totally see how that'd be a solid statement.
With that, the 9 points that this monitor did receive from me is strictly through the fact that it has some awesome features and that is has a very slick look and feel about it.
That and the overall sturdiness of it. The monitor that I currently use is a little bit on the shaky side when you bump into the computer desk a bit, but everything else about it is what I love.
You're not going to have that shaky problem with this monitor because of how sturdy the base is, and that's very nice to have especially if you find yourself bumping into your desk here and there.
Multiple Connections And An Awesome Feature
---
HDMI has basically become the norm for connecting to an HD display but if you have to use a different type of connection then it's worth knowing that this monitor has a HDMI, DVI and a VGA connection ready to use.
This gives you a wider spectrum of choice to use with whatever device you plan on using with the monitor whether that be your PC, notebook or smartphone.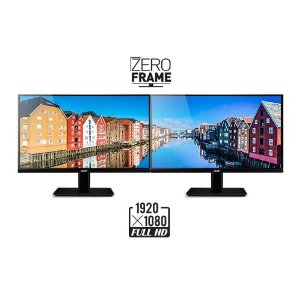 Although there are plenty of features that come with this monitor, the main feature that I'd like to point out is the Zero Frame Design feature.
Video walls are easily done with multiples of this monitor simply because it was created with that in mind. The frame is designed in a way where you can put more than one of these side by side to get an immersive experience of multiple monitors.
Many like the idea of having two or more monitors, especially for you streamers out there, because it allows you to be better organized with your Twitch, Skype and other applications that you'd plan to run simultaneously with your game.
One monitor could be dedicated to Skype and live Twitch chat while the other monitor has a complete focus on the game. That's the beauty of having multiple monitors and this would be a great choice for that.
There are some other features that this monitor includes but I'll leave it to you to check them out for yourself. The link below shows the rest of the features that are built in!
Is It A Good Gaming Monitor?
---
What are the points of a monitor that mark it as a monitor that is worthy of being owned by a PC gamer?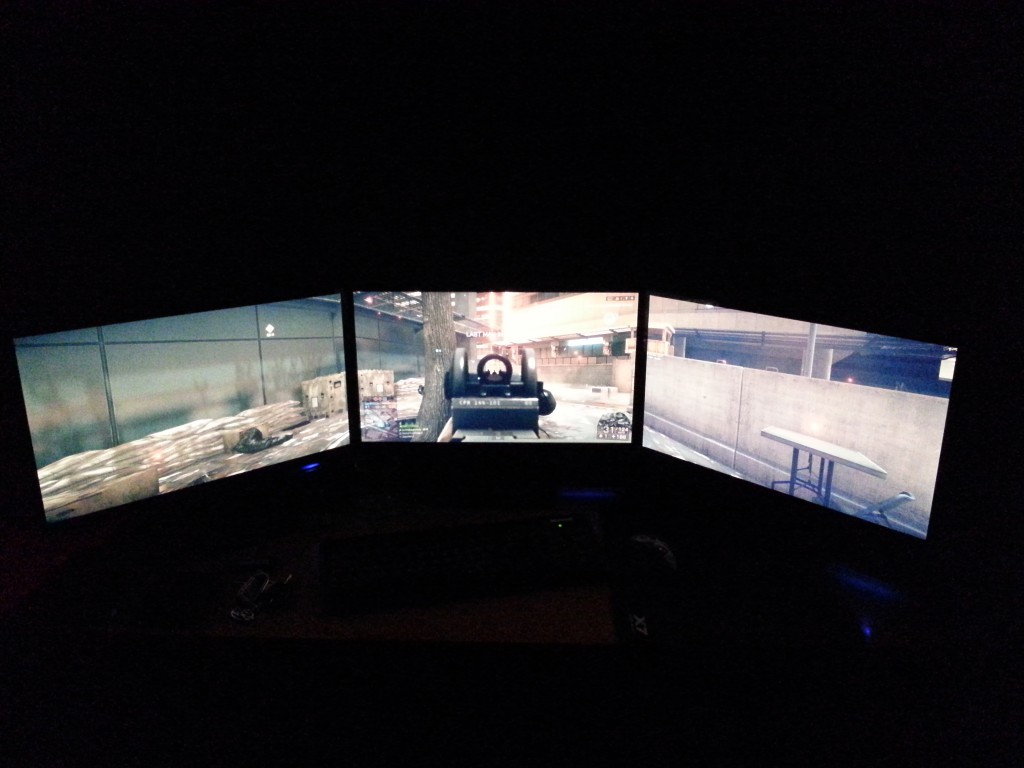 Well, first off, 1080p is a must if you want to have high picture quality. 1080p is basically the standard for a great looking game on a monitor and I believe that it is going to be that way for still many years to come.
So many people talk about 1440p and 4K TVs and monitors becoming the future and that's probably true. However, if you've ever seen the quality of a 1080p monitor then you understand that it is more than enough on the level of quality to enjoy what you're looking at.
I'm sure that 4K is the future simply because 1080p was first looked at as a wow factor for HD pictures but it slowly became the norm. I believe 1440p is going to be over looked and more than likely skipped over and 4K will slowly become the norm but we are many, many years away from that standard.
So this monitor has you covered on how many pixels you're looking at, but what about the refresh rate?
The refresh rate of a monitor is important so that you can have smooth gameplay as you play your favorite games. That's one of the aspects and a reason why people get into PC gaming in the first place – to have smoother gameplay.
This monitor has a refresh rate of 60 Hz which is great for gaming at 60 FPS. Some people argue that having a 120 Hz monitor is better, but honestly, the difference is very slim.
The only time that you're going to see a difference in a 60 Hz monitor and a 120 Hz monitor is if you're able to play a game at 120 FPS. That's when you'll notice a difference in smoothness but again, it's pretty slim.
60 FPS is more than enough frames in a second to bask in the glory of the smoothness that your PC is able to provide and it looks amazing when achieved. This monitor is capable of that.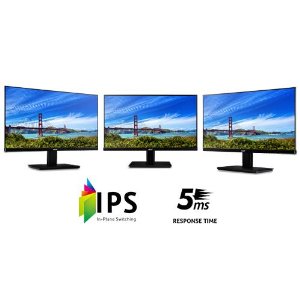 You also need to look at the response rate of a monitor so that you can know how fast your input is when you're clicking your mouse to get that instantaneous headshot.
The response rate for this monitor is 5ms which is good for gaming. Lower response rates mean that the screen updates faster and when it comes to PC gaming, you don't want a response rate that is higher than 8ms.
Otherwise you're going to start seeing a slight lag between your mouse click or the click of a button on the keyboard as compared to what is actually happening on screen.
So yeah, it's a great monitor choice for PC gaming!
To Conclude
---
All in all, the Acer H236HL is not only great for getting a multiple monitor setup but it's also a pretty good monitor with gaming in mind.
If you're looking for a sturdy glossy monitor that delivers on picture quality and smooth gaming then this is definitely a monitor that you should consider picking up.
So, what do you like about this Acer monitor?
Are you a fan of a glossy screen or a matte screen?
Let me know in the comments below! 😀
Hey there! 👋 I'm Colton, founder of PC Builds On A Budget.
Whether you need help putting your PC together, finding a great pre-built rig, or want some help finding awesome peripherals – I've got you covered!
I share my experiences of anything and everything related to gaming PCs with you here. 👍