Last Updated on October 30, 2015
I've actually been using the Afterglow Xbox controller for PC for a few years now. There are some cool features with it that makes it worthy of its current price point!
Like I said, it has been a few years now that I've been using this controller and it's definitely a great controller. When compared to a generic Xbox 360 controller, it is at the same price range but instead it glows with awesomeness! 🙂
I hope you find this post helpful, that's my aim here since I have had a ton of experience using this controller with many different games!
With that, let's get to the review.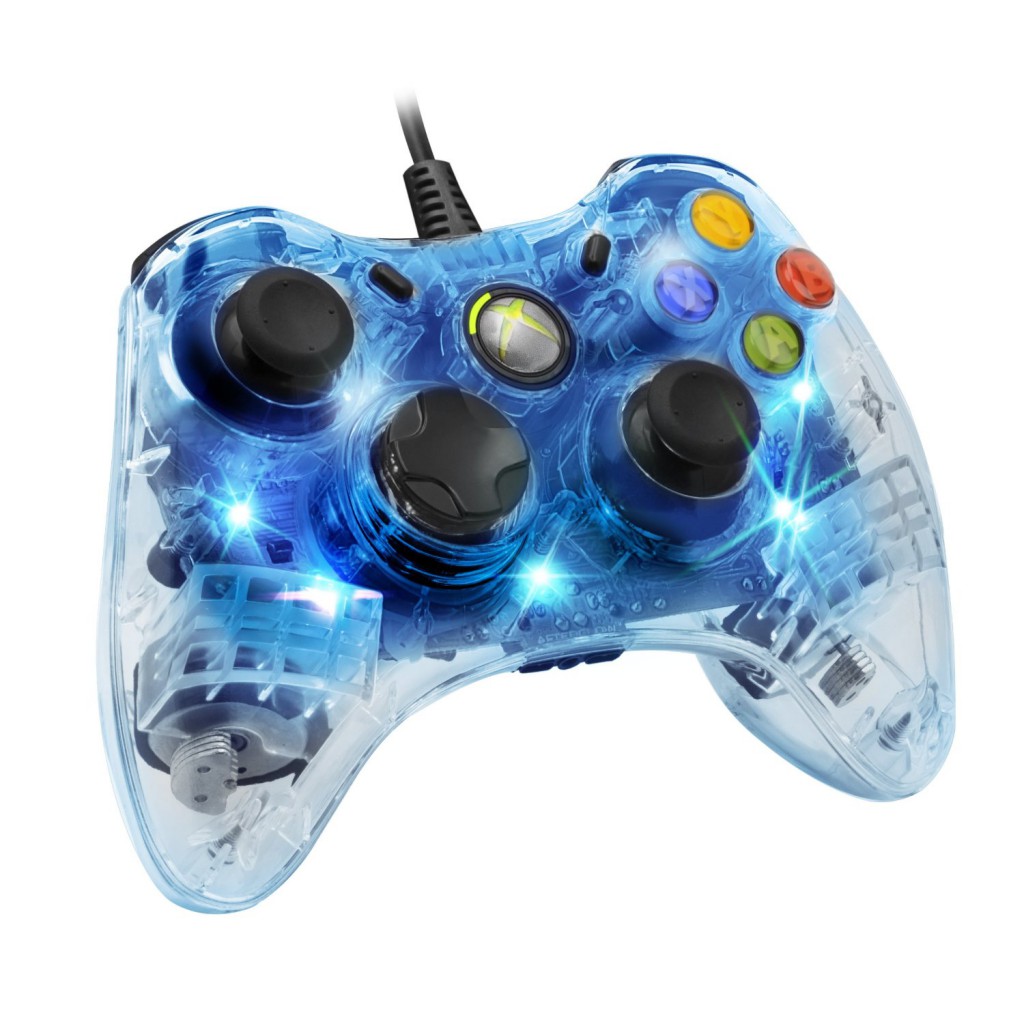 Product: Afterglow Wired Xbox 360 Controller for PC
Price: $27.19
Cheapest Place To Buy: Amazon.com
Warranty: 3 Months
My Rating: 10 out of 10
This Controller Packs A Punch
---
What I mean by this is that it's extremely long lasting, durable, packed with some extra features, cheap and awesome.
I use my Afterglow controller pretty often, especially when it comes to certain third person games and driving games. If I am playing any first person shooter then I be sure that I game with the mouse simply because it is much more precise and accurate with that precision than any Xbox 360 controller out there.
My specific game-pad version of this bad boy is the blue version, just like the one pictured above. Trust me, there would be times where I would die and have to respawn in some games and… well… let's just say that it's got some hard plastic to it, as well as some durable pads. 🙂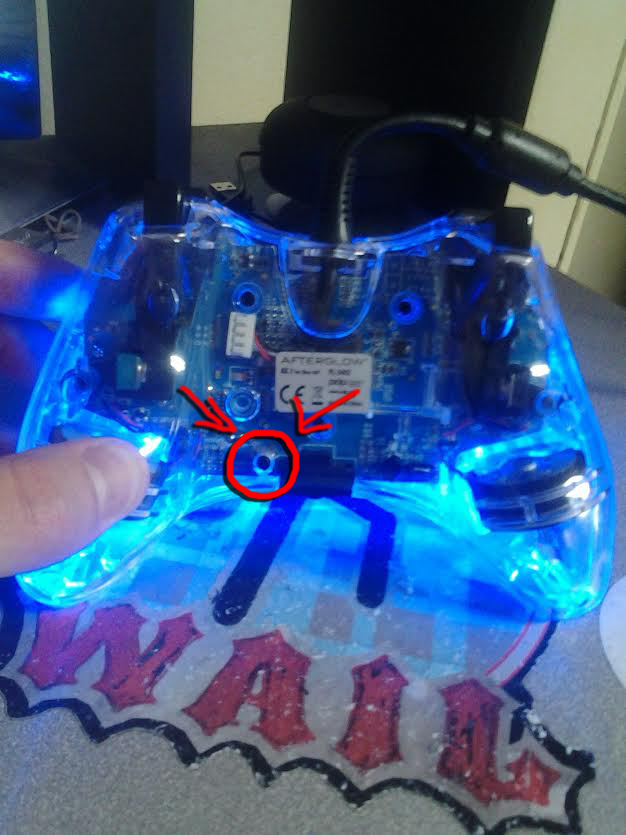 Yes, I sometimes would let anger take me over and yes, I've dropped this controller in times of frustration. Although these days I don't get
nearly
as angry, I just really need to put it out there that it has survived my past temper tantrums towards it and that is proof of its durability!
Not only is it reliable to the angry gamer, but it's got some sweet lights inside of it as well that you can control. There is a button on the backside right behind the right hand holding portion of the controller, I've circled where the button is located on my controller in the picture to the right.
You press it once to keep the LED's, another time to keep them off and then a third time to have them pulse with the vibration of the controller when you are in some action. There's no way to turn off the rumble feature, just to controller whether the lights pulse with them or not.
I personally keep my controller at the rumble lights option because keeping them on is too distracting for me when I am gaming sometimes but I still want to have the atmosphere that the lights give off. The rumble feature delivers that exact experience with the click of a button!
A Controller That Provides Atmosphere
---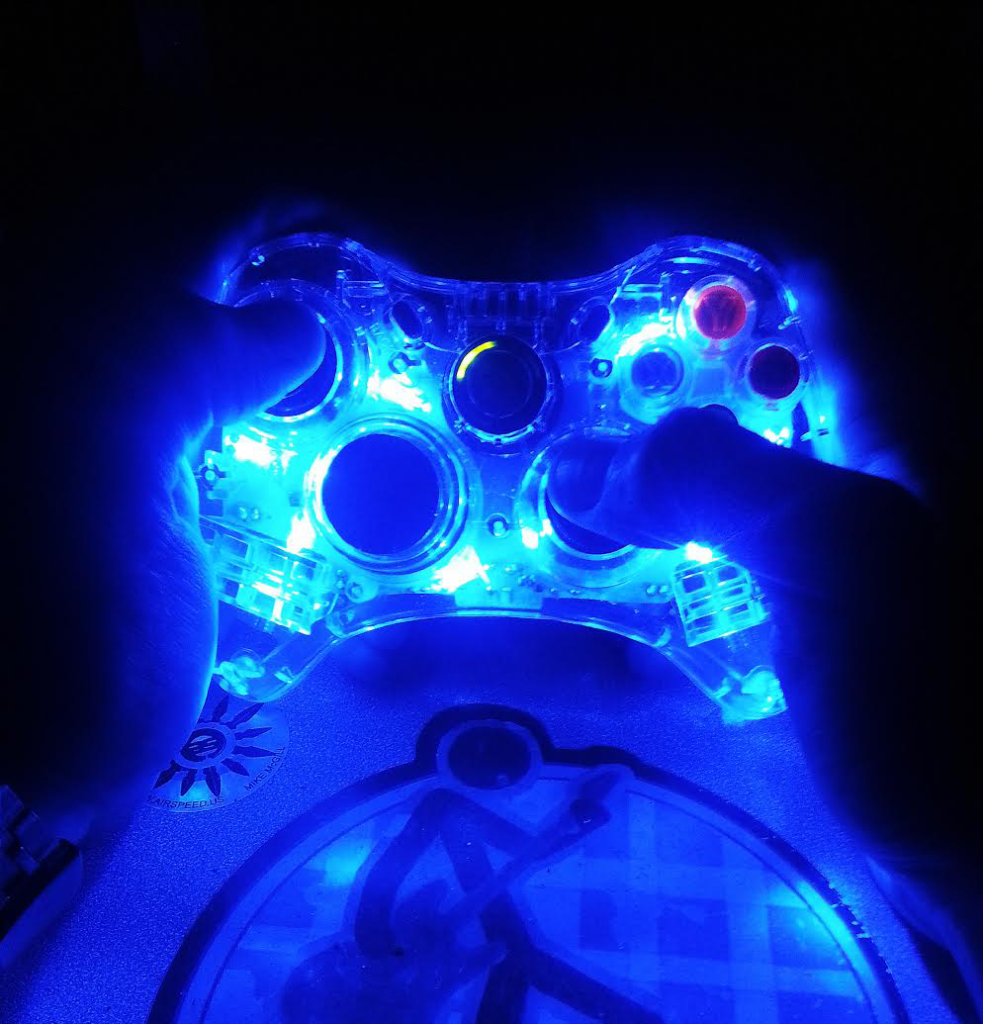 This controller is not only useful for gaming, it's also useful for providing a cool atmosphere.
The lights are actually a lot bright than you think, and they will shine bright, especially in a dark room. I have taken a photo of mine in some dark lighting to show how much it shines off of a surface, it can seriously be used as an ambient small lamp if you so choose to! 😛
Personally, I love my overall atmosphere when I am gaming. A darker room with some extra lighting, especially with the blue color, it's just awesome for me!
I haven't seen the other color options in person but I'm certain that the green and red options are just as ambient as this blue one that I use.
If you can relate with me here, having a cool atmosphere with your gaming accessories, then I'd definitely recommend picking this up for sure! It's perfect for setting a good atmosphere.
Get The Right Drivers Before You Use It
---
This section of the post will be brief. The drivers for this controller are required, they are the same drivers used for the official Microsoft Xbox controllers for Windows.
For the most part, the drivers that need to be installed will be detected when you plug in the controller, but if not then here is a link to download the correct driver for this controller.
Simply go to that link, download the one for your corresponding operating system and enjoy! 🙂 You might also be able to go inside of your device manager in Windows and right-clicking the device to download the driver but as I said, most Windows PCs will be able to detect the hardware automatically and download the driver for you.
This Controller Is King, Hands Down
---
When you compare this controller to the many other Xbox 360 controllers out there for PC, even the unofficial ones, this controller is the big winner, hands down. The only downside to this controller, which is a very minimal one, is that it is not wireless. Personally, I like a wired controller because I won't have to replace any batteries and you never know when down the road your controller dies right in the middle of a game!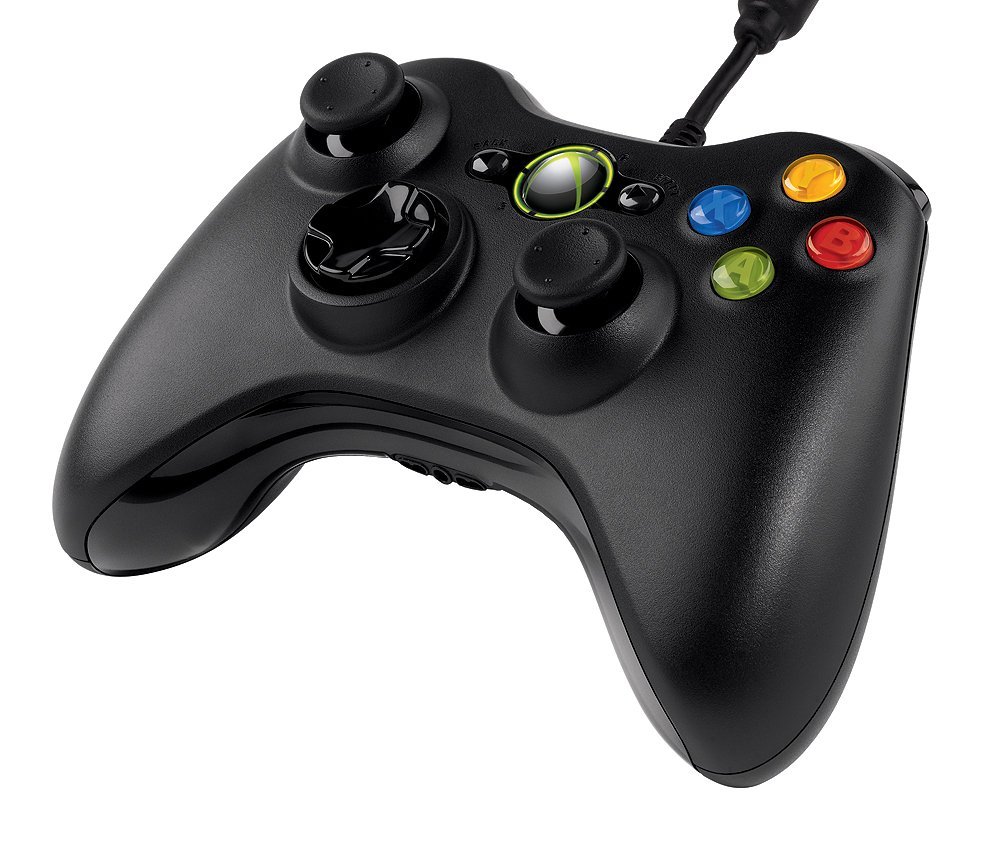 When you compare this to the traditional Xbox 360 controller, it just makes total sense to get one with some sweet lights! The only reason I could see someone not wanting to get a game-pad that has LEDs inside of it is if you just personally don't like the lights or if you are looking to save $1 on your total purchase.
I have also researched other controller that light up and so far I haven't been able to find high quality ones for a great price like what Afterglow controllers deliver on. I found this Tron controller which sells for over $150. I also found this Fus1on Tournament controller that sells for almost $60 and some of the reviews mention that the stick fell out of the controller after using them for mere months!
It makes much more sense to go with Afterglow controllers if you are looking for a light up game-pad at all. I love it, it feels exactly like the official Microsoft controller and it has stood the test of time.
To Conclude
---
All in all, the Afterglow Xbox 360 controllers work great for PC. I have been using this same controller for years now and it's still just as great as when I bought it new.
So, what do you guys think of this controller?
Are you going to be buying one for yourself?
Or do you have one and want to share your personal experience with it?
If you want to share your experience with it or ask me any questions about it, feel free to use the comments area below! 🙂
Hey there! 👋 I'm Colton, founder of PC Builds On A Budget.
Whether you need help putting your PC together, finding a great pre-built rig, or want some help finding awesome peripherals – I've got you covered!
I share my experiences of anything and everything related to gaming PCs with you here. 👍