Last Updated on October 7, 2019
I'd like to post an ASUS VG278Q review because I've been using it for a good while now as a main monitor and for the price, you get a ton of features.
The maximum resolution is 1920 x 1080 pixels. Today, this is the perfect resolution as the picture quality of videos, games and photos look great at this resolution. Combine that with 144hz refresh rate, 1ms response time and other great features and you've got the ASUS VG278Q.
We'll go over the technicals for those of you that don't know what those specs quite mean.
With that, let's get to the review.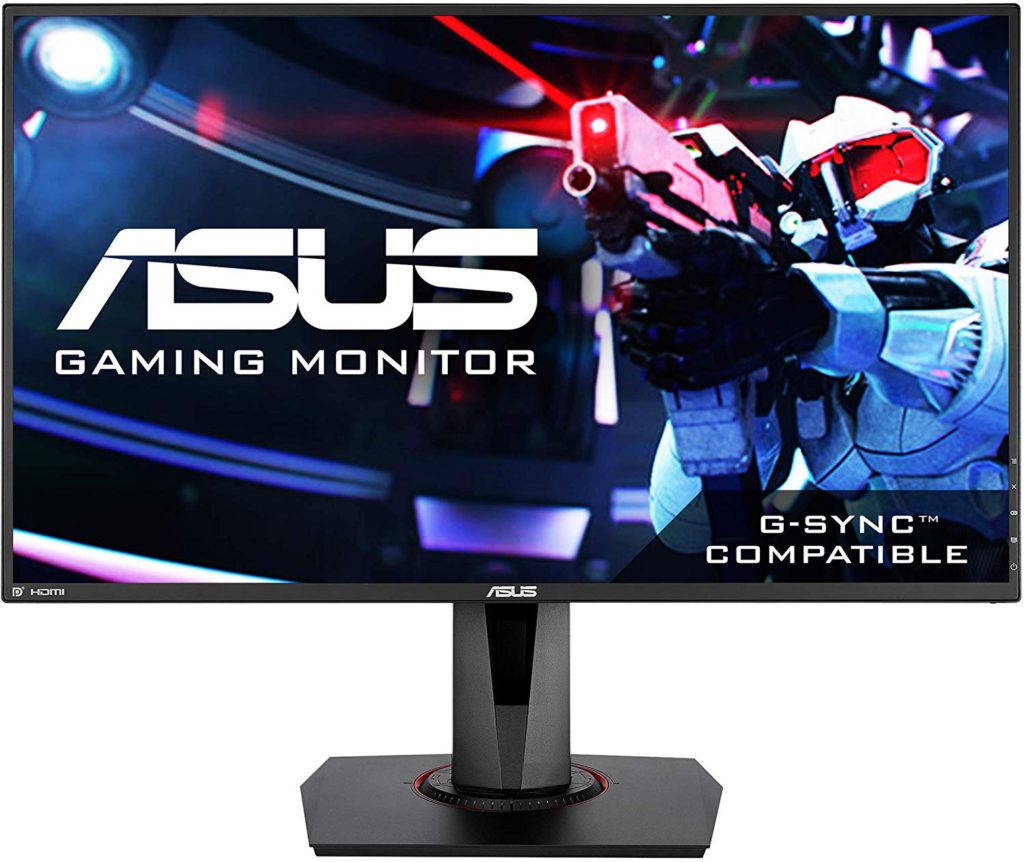 Product: ASUS VG278Q 27″ Monitor
Recommended Price: Under $300
Cheapest Place To Buy: Amazon.com
Warranty: 3 Years Standard (More Info)
My Rating: See below!
ASUS VG278Q Key Features
---
Before explaining everything that the VG278Q has in store let's list all of the features that are most important.
Key Features:
27″ Display
144hz Refresh Rate
1ms Response Time
Full Height / Tilt / Swivel / Pivot Adjustments
1x HDMI port, 1x DVI port & 1x DisplayPort
2W Internal Speakers
16.7M Color Display
FreeSync Technology for AMD Cards
Easy-To-Use Display Interface
27″ of screen space, for me, is the sweet spot of screen size. It doesn't feel like it takes up all of the room of the desk while also providing a large area to get the full picture when in-game.
I used a 21″ screen is my main screen for a long time and I now use it as a second monitor to the VG278Q and the difference is definitely noticeable.
The height, tilting, swivel and pivot adjustments wasn't really necessary for me but it's very intuitive. You can move it however you like.
Sliding it up or down is extremely easy, you simply put the adjustable stand right in place with the base of the monitor and it's ready to be moved however you see fit.
It could work as a monitor for a standing desk with how much it can tilt back, you could have it as a vertical monitor if need be and moving it up and down makes it so that you can have your perfect spot while gaming.
To be honest with you, the internal speakers aren't anything to boast about. If you're serious about wanting high quality sound then you'll want to get some actual external stereo speakers.
They'll be alright for a little while if you plan on saving up to get some speakers but the internal speakers here simply don't cut it. Compared to external speakers, the difference is black and white.
It's nice to see that ASUS included FreeSync with their monitor. For those of you with AMD cards you'll be able to utilize this feature which was created to make sure that there is absolutely no screen tearing in game. It syncs your card up perfectly with the monitor.
I will say that I use a GTX 1070 with this monitor which means that I am not able to utilize the FreeSync feature. However, I personally don't see why I would have to. I do not notice any screen tearing while FreeSync is not being used.
The user interface for the monitor is extremely easy to navigate and use. It's easily the best interface I've personally used on a monitor screen.
There is a directional dial on the back-right side of the monitor which is used to go into all of the different settings.
Here you can adjust a blue light filter, change the preset visuals, adjust color options such as brightness, change the internal speaker sound levels, input select and save settings into a favorites bar.
It's important to note that whatever input type you decide to use you'll need to make sure the monitor is set to it from this menu. If you're using the DisplayPort on the monitor then make sure you dictate that within its menu.
Arguably though, the most important settings about any monitor comes down to its image quality, refresh rate and response time. Let's go ahead and go over those specs in more detail.
Next Level 1080p Performance
---
This monitor is the absolute, ideal choice when you're in the market for high quality 1080p/144hz/1ms monitor.
I like to compare it to the ASUS VS228H monitor because of how much of a difference there is not only in terms of the refresh rate and response time but also with overall features.
I have used and am still using it as a second monitor for over 6 years now which should say plenty about how long ASUS products are able to last.
It's proof for me that ASUS products are made with durability and future-proof in mind. The VG278Q has a lot more going on and it's a completely different monitor but the strive for perfection from ASUS is what should be looked at really with any of their products but monitors especially.
If outdated models can last for over 6 years, odds are that newer models are going to last even longer.
The VS228H model is comparable yet it's not. It's made from the same company but the VG278Q has the higher refresh rate, the lower response time and more options of use.
Let's go over what refresh rate and response time really means and what it means in terms of this monitor for gaming compared to older models that were also awesome in their own way.
Refresh Rate & Response Time In A Nutshell
---
Refresh rate is basically the number of times per second that your monitor will update itself with new information.
For example, a 60hz monitor will be able to show a maximum of 60 frames per second for images, animations and anything else on the monitor because that the number of times per second that the monitor can refresh itself.
So even if you are running a game at over 100 frames per second, if you don't have a monitor that can refresh itself at least 100 times per second then you aren't going to be able to see a real 100 FPS.
Since the VG278Q monitor has a refresh rate of 144hz then it will be able to display up to 144 frames per second for games.
Response time is how fast a pixel on a monitor can display a change from one shade of grey to another or from black to white. This is important for gaming since the amount of motion blur is caused by a lot of moving images which makes pixels do those transitions.
For example, if you have a high response time then certain fast moving objects will leave a noticeable trail behind which is a no go when you're trying to react to an opponent's movements.
Response time is often mistaken as the amount of time it takes a monitor to recognize a key click or a button press but that's actually called input lag.
Compared to older models, such as the VS228H – it had a 60hz refresh rate and a 5ms response time. For the price it actually has great specs, just like the VG278Q. It's hard to find a 27″, 144hz, 1080p and 1ms monitor that costs less than what this one costs.
To Conclude
---
All in all, you've got to ask yourself if this monitor is worth getting for you and your PC.
If you have a rig that is going to be able to run games at around 144 frames per second then this is going to be the lowest priced, high quality 144hz monitor on the market hands down.
If your PC isn't able to go up to 144 FPS on your favorite games then you're not going to be able to fully utilize this display. Be sure to know whether or not if your PC is good enough for a monitor like this and if it is, this is the one to get.
You should also be checking out all of the reviews of this one on Amazon. There are so many people that have this screen and vouch for it.. read for yourself!
Are you looking into getting a PC that'll be able to use this display? Then be sure to also check out this build guide that is more than capable of fully utilizing this monitor!
So, are you going to be getting this monitor?
What is your favorite part about the VG278Q?
Let me know in the comments below! 😀
Pros
Amazing picture quality
A bunch of settings to mess around with
Adjustable stand that moves in multiple ways
High refresh rate and low response time
A great price point for what you get
Cons
Only comes in two sizes
The internal speakers aren't great
Hey there! 👋 I'm Colton, founder of PC Builds On A Budget.
Whether you need help putting your PC together, finding a great pre-built rig, or want some help finding awesome peripherals – I've got you covered!
I share my experiences of anything and everything related to gaming PCs with you here. 👍