Last Updated on July 2, 2018
I'd like to post a Corsair Glaive RGB gaming mouse review because I have been using this mouse for a while now and it is better than I first thought it'd be.
Although the first thing you'll notice about the Corsair Glaive is the high price point, it backs it up with features and build quality that is hard to find in a lot of gaming mice on the market today.
With that, let's get to the review.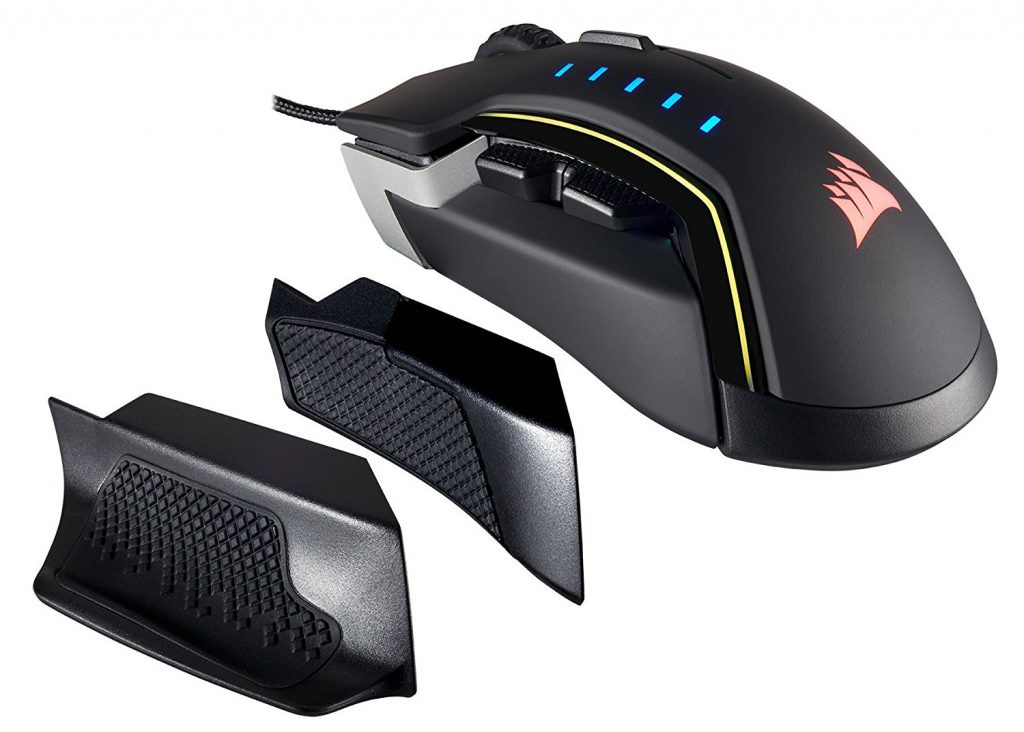 Product: Corsair Glaive RGB Gaming Mouse
Recommended Price: Around $60-$70
Cheapest Place To Buy: Amazon.com
Warranty: 30 Days or 4 Years For Around $4
My Rating: 7.5 out of 10
Corsair Glaive Design
---

Thumb grips on a gaming mouse is extremely important and everyone has their own preferred style of grip. With the Corsair Glaive, you're able to change out between three different styles of thumb grips that way you can have it the exact way that you like.
This is the best thing about this mouse and it's my favorite feature. I personally like the second option that has the grippy texture without the thumb rest though I also find myself switching between the different grips.
The thumb rest grip feels a lot like the grip on the Logitech G502 Proteus Spectrum which was a very high quality grip. They're almost completely identical.
Then there is the basic thumb grip that will come attached to the mouse which doesn't have any grip texture to it but it also makes it to where the mouse is as thin as it can be.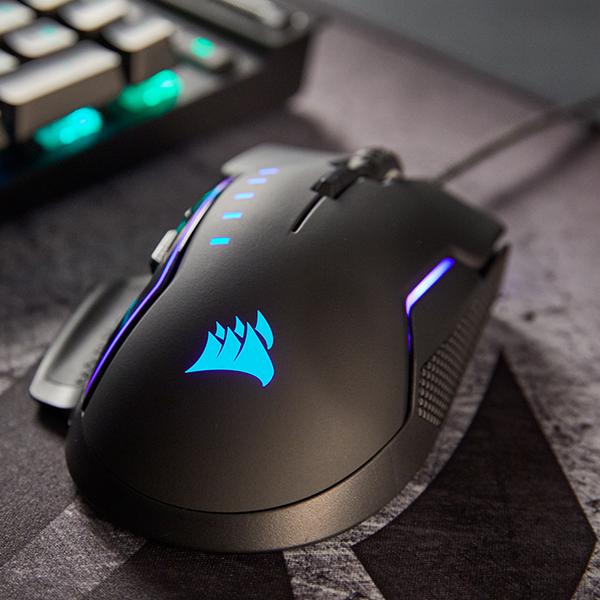 Each grip has a significantly different feel so you'll have to test out each one to get your ideal grip type chosen.
Switching out the grips is extremely easy, it's put together by a magnet. Simply get take it off and slide the grip into position and it'll attach to the mouse right away.
There are two thumb buttons placed right above the grip and they feel good while using them in-game. For example, in Fortnite, I use the thumb buttons for switching to different building types. They're very responsive and feel like they're built to last.
And now for a couple of design flaws… Though for me, these aren't bad enough to say it's downright horrible, but we've got to point them out.
The DPI button only switches going up. This means that you aren't able to switch to different DPI settings going up and down, it can only cycle through each DPI setting through one button.
Then there is also the complaint from many users that the mouse click eventually double-clicks after it has been used for a while. For some, they've never had this issue and I personally haven't gotten it either. If it ends up happening I'll be updating this review for sure.
Now onto overall performance! What is the Corsair Glaive capable of?
Corsair Glaive Performance
---
As far as max DPI, the Corsair Glaive will be able to go up to 16000 DPI. In my opinion, 16000 DPI is completely unnecessary but who knows, maybe some people out there like having higher DPI and having multiple options is never a bad thing.
Angle snapping, enhancing the pointer precision and enabling button response optimization is all possible within Corsairs Cue software.
I'll go over the software in more detail in the next section but I'd like to go over the performance options and what it means while using the Glaive with these different options enabled.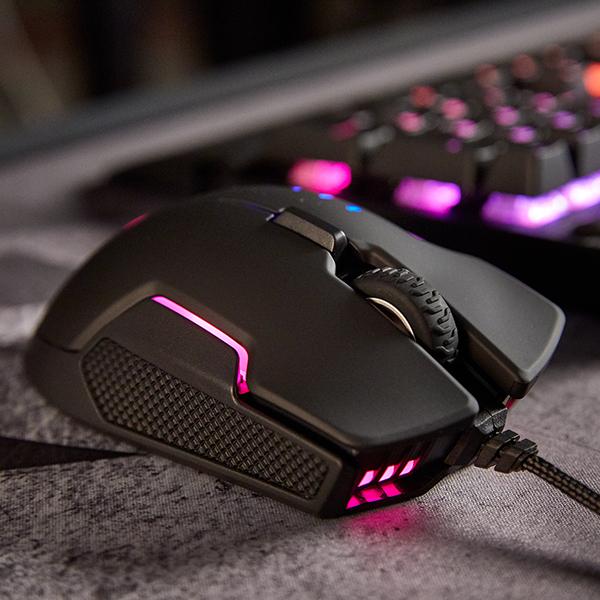 I was so happy to find the angle snapping feature because I hate having my mouse pointer move when I have to lift my mouse for a brief moment to look around in a wider range.
Basically, if angle snapping isn't set to low, you'll be able to move your pointer on your mouse pad even if the mouse isn't all the way on the pad itself.
I play on a bit of a higher DPI, around 1000-1400 so I'm constantly lifting my mouse from my mouse pad to look around. Thanks to low angle snapping, I'm not moving the mouse in ways that I wouldn't actually want to.
Pointer precision helps with being accurate with your mouse pointer by stabilizing how fast it's actually moving across the screen. There is a pretty big different between having it enabled and not. I've always had it enabled, I wouldn't enjoy the overall precision without it.
Lastly, there is button response optimization. You'll be able to optimize how responsive the button clicks are with the mouse. I don't see why anyone would want to have a lower button response time so having it set to extreme is where I live with this option.
It might be placebo, but I can feel a difference in click response between normal and extreme options. I'd suggest keeping it on extreme to have the highest response time.
This is all done within Corsair's software so let's take a deeper look in it and see what else is possible!
Corsair Glaive Cue Software
---
Corsair's Cue (Corsair Utility Engine) software is pretty intuitive and once you know how to use it, it's easy to use.
You'll be able to set whatever type of macros you want within the Actions portion of the software. You can record sequences, set them to a specific button and allow the event/action to play out every type the profile is set up.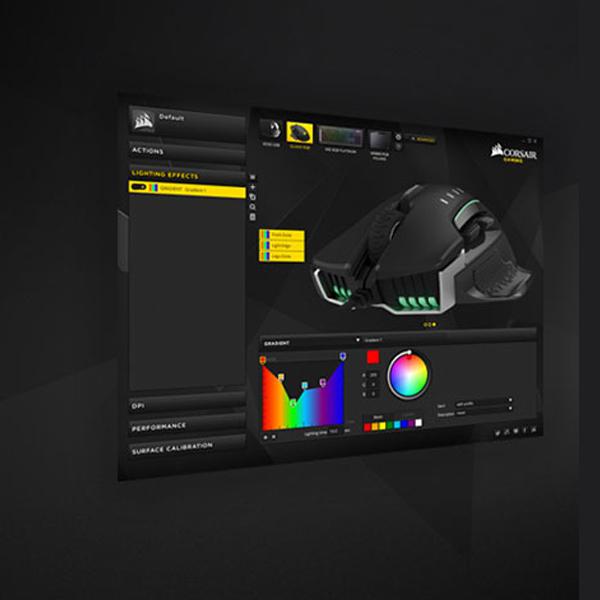 There are a ton of different lighting effects which is to be expected with any good RGB capable mouse on the market today.
You can set specific zones of the mouse to light up different colors and it works in having certain layers that work over others.
For example, if you want the front and logo zones to be a dark blue while having the light edge at a lighter blue then you'll have to set the order to where it'll know which comes first.
Every color imaginable is available to the different color combinations are endless. If you can't choose then there always the full spectrum of rainbow to cycle through.
There are five total DPI slots that you'll be able to change up and set within the software. From 100-16000 you can set it up however you see fit.
We went over all of the performance options in the last section but you can also do surface calibration with your mouse pad within the engine as well. You drag a Corsair coin around a mat on screen and it calibrates pretty quickly.
Is The Corsair Glaive Worth Getting?
---
If you're looking for an ergonomic mouse that you can change up on the fly depending on your preferred grip style, to be able to have a bunch of different lighting options as well as top-notch gaming performance then the Corsair Glaive should be on your radar.
Sure, the price point is pretty high but you really do get what you pay for here. The only reason I've got an overall rating of 7.5 out of 10 is because I'm sort of worried about the "double click" issue that some users have stated having.
Maybe Corsair has started distributing the ones that works great? So far… it seems that they have. Again, I'll update the review if anything goes wrong with the mouse down the road.
You should take a look at the customer reviews yourself, they've given a lot of information as well about the mouse!
So, do you think that you'll be getting the Corsair Glaive?
Which thumb grip do you think you'd be using?
Let me know in the comments below! 😀
Hey there! 👋 I'm Colton, founder of PC Builds On A Budget.
Whether you need help putting your PC together, finding a great pre-built rig, or want some help finding awesome peripherals – I've got you covered!
I share my experiences of anything and everything related to gaming PCs with you here. 👍