Last Updated on January 8, 2020
It's time to review the Glorious Model O mouse from PC Gaming Race. I was in need of a new mouse and decided to try a lightweight mouse, is Model O the best?
I've spent some time in different types of games to put the mouse to the test. Coming from using heavier mice such as the Logitech G502… There's definitely a clear difference between the types of mice while using them in-game.
With that, let's get to the review.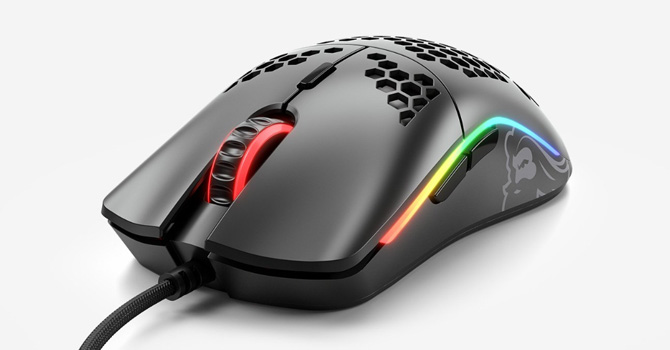 Product: Glorious Model O
Recommended Price: ~$50
Cheapest Place To Buy: www.pcgamingrace.com
Warranty: 1 Year Limited Warranty (read more on their website)
My Rating: 9 out of 10
About PC Gaming Race
---
"May your frame rate be mighty and your draw distance far"
From their branding quote alone I think it's safe to say that PC Gaming Race understands the PC gaming community. They definitely understand their customer base. Check out their about page if you want to read more about them!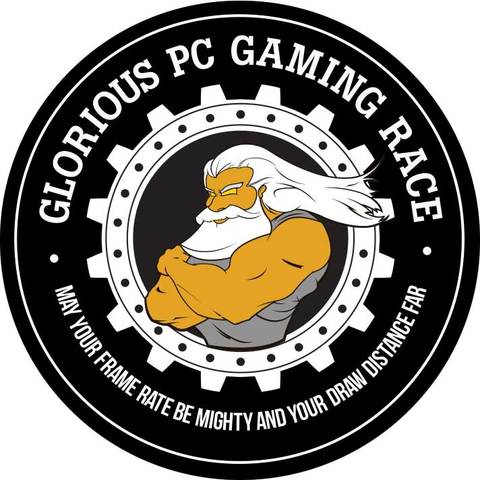 But do they deliver on this epic, god-like level of PC gaming products that we expect from a company that boasts as loud as they do?
We'll get more onto that later when we talk specs, design, experience and overall usage.
PC Gaming Race is a fairly new company, founded in 2014 and starting with a mousepad – they've now created a modular mechanical keyboard and of course, the Model O gaming mouse.
Their headquarters are in Dallas, Texas and it's unclear where they ship from but shipping was faster than expected – at least for when I ordered the Model O.
I had ordered the mouse from their website on a Monday and it was in my mailbox that following Saturday. Following the DHL shipment tracking, it was expected to be delivered on Wednesday the next week!
Sure, this is partially because of the shipment centers that PC Gaming Race decided to work with but it goes to show that they are legitimate. Making the purchase was secure being able to process payment through PayPal, it was a simple process.
I'm not sure how their customer service works but, for the most part, I've heard good things. It seems that if a problem comes up with one of their products they ask for video proof of the problem before they start helping out with exchanges/refunds but once the proof is there they are more than willing to make it right.
Hopefully the few Model O problems I've heard of don't happen with my mouse, I suppose only time will tell. If any problems occur I'll be updating this post with more information. I'll talk more about the problems that have come up with others below.
From Heavyweight To Lightweight
---
Before getting into the mouse itself, I'd like to give a little background of why I got this mouse and what kind of gaming mice I've been used to for years before using the Model O.
I've always used mice that are either manufactured in a way where they're heavy or where the mouse was able to have extra weights put into the mouse to make it heavier.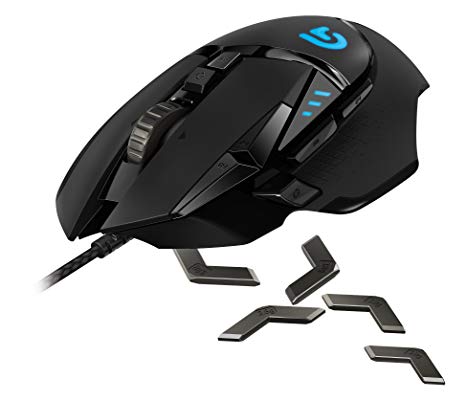 Before using the Model O I was using the Logitech G502 which comes with optional weights. When I got the G502 I instantly put all of the weights into the mouse and never took them out.
So I'm coming from using a mouse that weighed 168 grams to the Model O which weighs about 67 grams.
Trust me, there is a significant difference when you're using a mouse that is 100 grams lighter. Personally, I didn't think there'd be as crazy of a difference as others had said but man was I wrong.
It took a while to get used to and at first… I didn't think I was going to like it. But rather than being rash and jumping into conclusions, I decided to use the mouse for a few days to get used to it and see if it'd be something I grew to enjoy – possibly to even enjoy it more than heavy mice.
I can't lie… the Model O has grown on me. At first, whenever I'd use it I felt like I was going to fling the mouse off my my desk. That's how light it feels! The G-Skate mouse feet pads on the bottom of the mouse are part of that reason as well. Those mouse feet aren't a marketing gimmick, they really make the mouse glide across the mousepad effortlessly. There is a huge difference in moving the mouse around compared to a heavy mouse.
I ended up changing my DPI from 1000 on the G502 to 500 using this mouse. The lower sensitivity is easier to use/manage with a lighter mouse since it's easier to flick around and it feels like my accuracy in FPS titles is a bit more consistent.
I'm not saying that by getting this mouse you're going to become a FPS God. But from my personal experience, FPS does feel smoother but that's all personal opinion and taste.
This type of mouse is something that you have to try out in order to understand why it feels so different. I took the plunge without ever experience a lightweight mouse like this and I grew to like it more than heavier mice. I don't think it's a mouse for everyone as I know some will prefer the heavier mice.
Now that I've shared my experience, let's go ahead and go over specs and what not.
Model O Specs
---
Rather than typing out all of the specs I'll simply share the specs from the PC Gaming Race page for the Model O.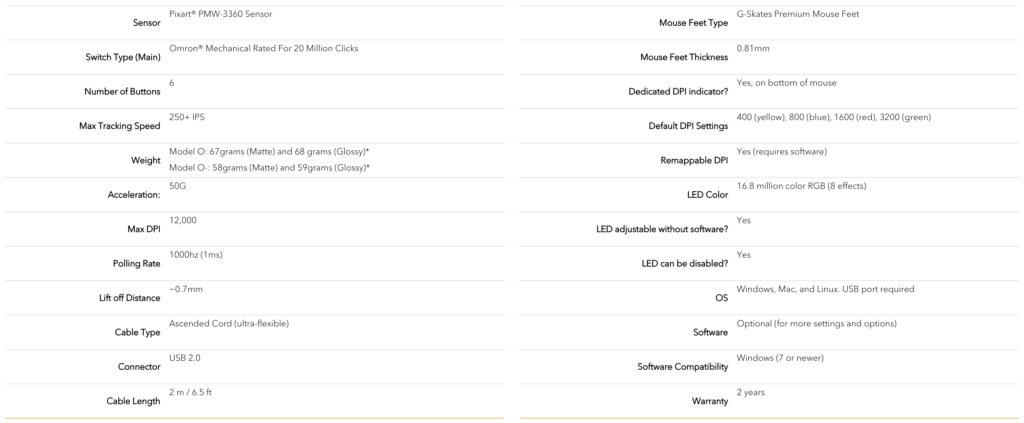 As you can see, it comes with all of the industry standards that you'd expect out of a ~$50 gaming mouse.
A maximum DPI of 12,000 to provide whatever DPI you'd want to use, a sensor with pin-point accuracy, a very short lift off distance and mechanical switches that'll last for an extremely long time.
Using the mouse I can say that the lift off distance and other spec information is correct. It feels and checks out on what PC Gaming Race says it's able to do.
There's not much else to say about these specs… let's move on to the design.
Model O Design
---
In a nutshell, I'm a huge fan of the design and the choices that PC Gaming Race made while designing the mouse.
We'll start with the branding. I suppose it's a "love it or hate it" design based on whether or not you like the PC master race memes and/or simply enjoy the PC gaming God logo that the company decided to put on the mouse.
For me, I love it. The left side of the mouse has the PC Gaming Race God logo and then on the right in a small fashion they put "Glorious". It's not too much and it's not too little as far as the branding goes.
The honeycomb design, which serves the main purpose of making the mouse as light as possible, also has a nice flair to it. It's cool being able to see the lighting going on in and around the mouse.
Speaking of lighting – just like the branding – it's not too much and it's not too little. By default the lighting will cycle through all of the colors as shown above but the software will allow you to customize the lighting however you see fit.
It comes in four different colors/finishes. Matte black/white and a glossy black/white.
When I first decided on getting this mouse I worried about the honeycomb design bothering the palm of my hand but I can't feel it at all, especially while in-game.
A flaw in the design I've noticed is that you don't have to apply much pressure to the top and bottom of the mouse for the material to bend.
I'm talking purposely pushing harder than in general use. For those of you that tend to rage when you miss your clutch flick-shot moment and smash down on your mouse… Be warned. Model O will most likely break easier than most mice if you rage with it.
The cabling is a lightweight piece of fabric that covers the wiring. This makes it so that you can hardly feel the cable and it does exactly that. It almost feels like a wireless mouse, I can hardly notice the cable moving around as I use it.
Clicking the mouse buttons and the middle scroll wheel feels good. I would say it's a comparable feel to how the Razer Deathadder clicks.
Last and certainly not least, the design of the mouse feet is the cherry on top. This mouse glides across the mousepad very smoothly thanks to the combination of the lightweight design and the G-Skate mouse feet.
Model O Software
---
The software for the Model O is optional but I'd highly recommend getting it if you use the Model O. It allows you to customize pretty much every aspect of the mouse to your liking.
You can download the software from their website for free! Be sure to check the read me before trying to use the software.
After downloading and updating the software to the mouse you're able to customize the DPI setting through 6 different DPI indicators, you can customize the lighting with different effects and a 16 million color spectrum, you can set the LOD (lift off distance) between 2mm and 3mm and you can adjust the polling rate from 125Hz to 1000Hz.
Adjusting DPI is easy here, and you can also change up if you want a different DPI for X/Y movements. DPI is changed in intervals of 100, up to the maximum of 12,000.
There are several different lighting modes from the default Glorious mode which cycles through all of the colors in a wave to a single color, breathing between two colors of your choice, a rave mode, a tail mode or simply leaving the LEDs off. You've got almost every option you can think of for lighting.
Then you can adjust the LOD and polling rate to your liking. There's also a macro editor and you can set every button to different actions however you see fit. You can also create many different profiles for different games or actions that you'd want set.
It's a simple software that loads up instantly whenever you launch it and you don't need to have it running in order for the mouse to save your settings. The mouse will be saved on your configurations at all times.
In Conclusion
---
This marks the end of our Model O Mouse Review.
If it wasn't for the slight flaw of durability in the design of the shell then this would easily get a 10 out of 10. It's absolutely durable enough for heavy gaming and daily use but if you smash down at all, it just feels like it'd break with ease.
At this time I can't attest to how their customer service is but if any problems occur in the future then I'll go through that experience and you can be rest assured that I'll share it all in this post.
If you're interested in the Model O then be sure to go directly to the PC Gaming Race website! If you try to find it on Amazon you'll see it listed for sale for upwards of $100+ more than the retail price.
So, what do you like most about the Model O?
Do you think you'll end up getting this mouse?
Let me know in the comments below! 😀
Hey there! 👋 I'm Colton, founder of PC Builds On A Budget.
Whether you need help putting your PC together, finding a great pre-built rig, or want some help finding awesome peripherals – I've got you covered!
I share my experiences of anything and everything related to gaming PCs with you here. 👍