Last Updated on January 16, 2020
Looking to get the Redragon M602 Griffin gaming mouse? Check out our in-depth review of the mouse that we have here before you decide to get it!
This is a popular mouse for its ergonomic design, low price point and it having the ability to be customized to whatever preferences you want. Redragon has made great mice in the past… We'll see if the M602 can hold up as well as previous mice have.
With that, let's get to the review.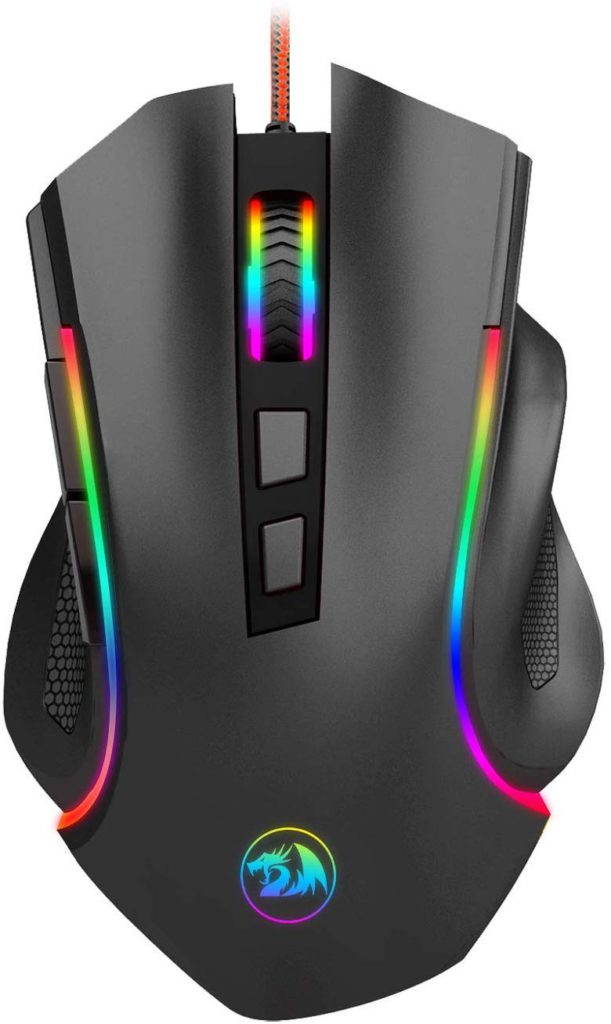 Product: Redragon M602 Griffin
Recommended Price: ~$17
Cheapest Place To Buy: Amazon.com
Warranty: 1 Year
My Rating: 8 out of 10
Redragon Has A Great Track Record
---
We've reviewed other mice from Redragon in the past – such as the Redragon M601 – and they have a plethora of other gaming mice that are widely popular and it's for good reason. These mice seemingly last forever!
Most people get a Redragon mouse as a starter mouse and tell themselves that they'll upgrade to something better in time but I've seen people more often than not that stick with the Redragon mice for the long haul.
Why?
These mice have similar designs to some of the higher end mice that are on the market and they get the job done.
Sure, they aren't made with the world's best switches or have a maximum DPI of 20,000 but most of those features are overrated with gaming mice in the first place…
And when you factor in that this mouse is under $20… it's hard to look away from the type of deal that you can get with this one.
Redragon has also been involved in the PC gaming peripheral industry for around 7 years now and they've had a high quality manufacturing facility since 1996. 2012 is when they first started introducing their peripherals and they haven't looked back.
Being a trusted brand right from the start, odds are that any mouse they end up creating is going to satisfy more than what most would expect.
Redragon M602 Design
---
Ergonomic. It's an important term for a gaming mouse.
You can tell that the M602's design was based around the mouse being able to be used by basically anyone.
This type of design, with a thumb grip and right side grip, is a popular design choice for many companies for good reason. It's probably one of the most comfortable designs to go with.
On the left side however, there is a unique groove that curves with the grip of the mouse. It'll feel nice between your pinky and ring finger. Knowing Redragon, this groove is going to feel great.
It's an averaged sized mouse (124L x 74W x 39H mm to be exact) and weighs 130 grams. Cable length comes out to 1.8m and it has Teflon mouse feet pads.
This size of mouse would be great for those of you with bigger hands. And unless it's the hands of a toddler, smaller hands will be able to use it with ease as well.
Teflon is a popular pick for adding to the bottom of any mouse really, it is to be able to help with gliding the mouse around your mousepad. With them coming with on the mouse, it's a nice plus.
There are 7 buttons in total. Left/right mouse click, middle mouse click, the two DPI buttons on top and the two thumb buttons on the side.
Thumb buttons have become an industry standard at this point. They're all programmable to your liking but we'll talk more about the software later.
Couple all of that with the nice RGB lighting trim around the mouse and the awesome Redragon logo and you've got the Griffin.
Redragon M602 Usage
---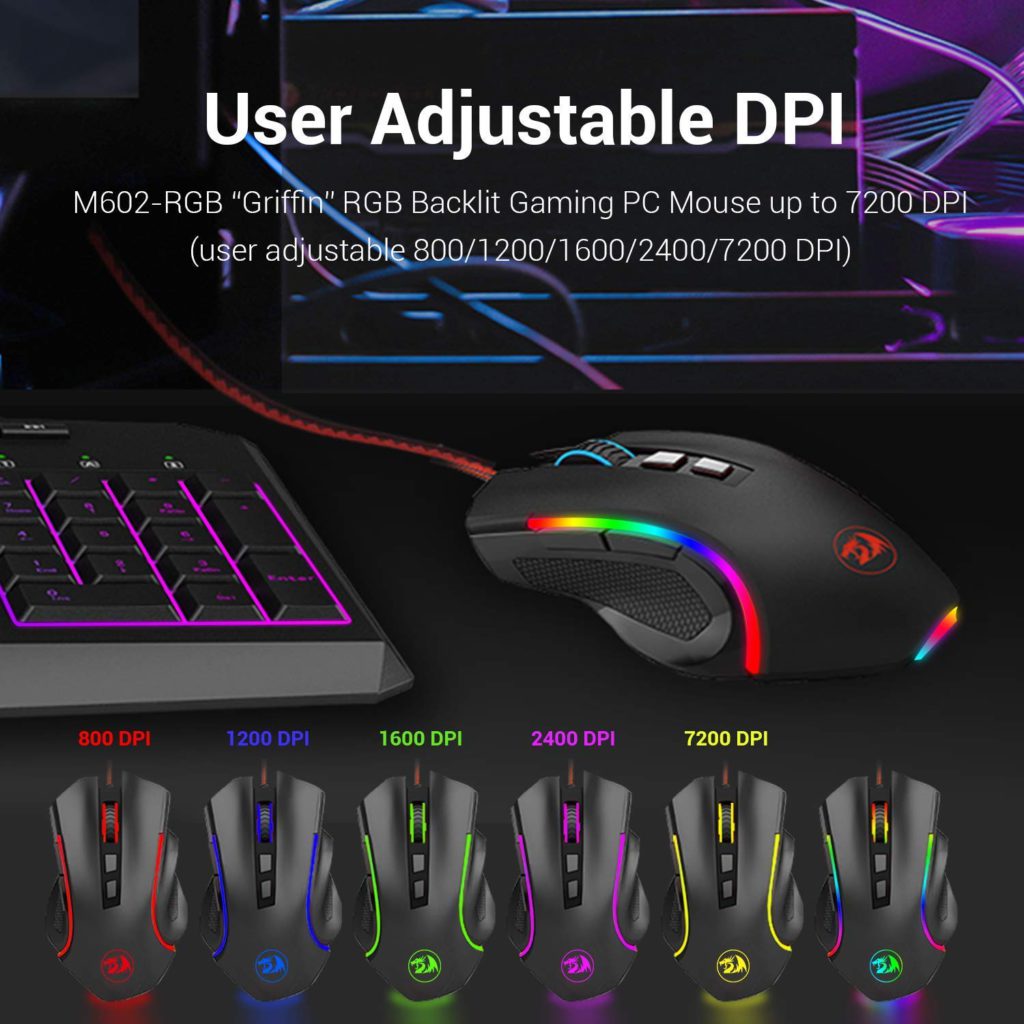 There isn't going to be much to talk about when it comes to the overall usage of the mouse.
It's a generic, ergonomic design that is an attractive choice for its price point and how it looks in general.
The only thing to make a clear note of is the groove that was designed on the right side of the mouse.
If you've never felt a mouse with that type of groove going on before then you may want to reconsider getting it.
It's not that the groove is going to be badly designed or anything like that but it's likely that it's not going to be to everyone's liking.
But as you go through customer reviews you'll also see that it's a bonus addition for most.
Reports have shown the buttons not sticking or being faulty after a long while of using the mouse based on several real buyers.
You'll be able to adjust the DPI to different pre-specified points which are 800/1200/1600/2400/7200 respectively.
It would have been nice to see a mouse that has this design and low price point having the customizable choice in DPI but if you go with any of the first three options at 1080p resolution then you'll be able to adjust in-game sensitivities and it'll work great.
Redragon M602 Software
---
Software is available from Redragon's official website, you will find the M602 software download on their Redragon drivers and manuals page when you scroll down a ways.
The software will allow you to set up to 5 different profiles for different DPI settings, desired lighting colors, programmable buttons, polling rate (125Hz/250Hz/500Hz/1000Hz) and adjusting the speed for double clicking.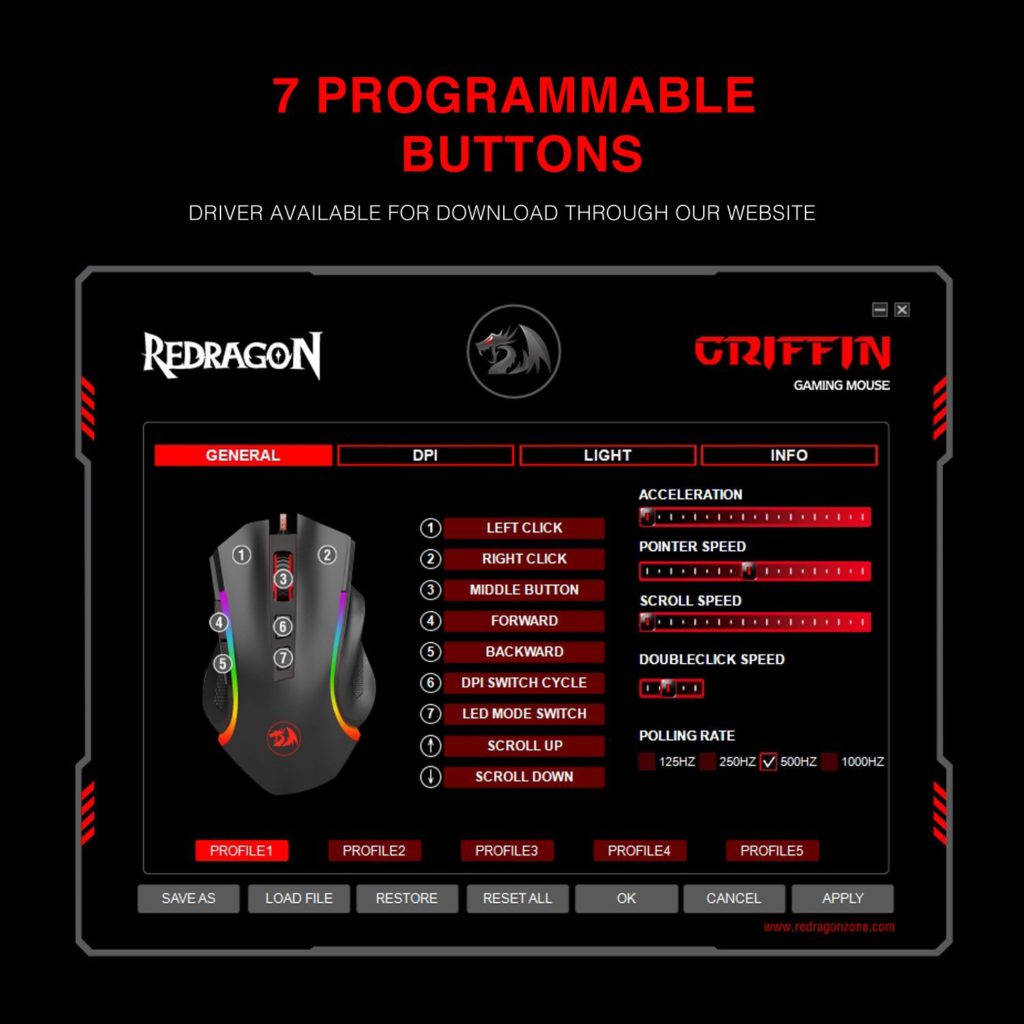 Being able to set the speed for double clicking and having multiple settings for the lighting sort of caught me by surprise for this software. You don't see software that has these kinds of options with most mice that are under that $20 price range.
When you download the software it's an easy installation. You'll have to download the RAR file, extract and install from there.
All of the settings will save after you set them. It's a simple and easy-to-use software.
Pros & Cons
---
Every mouse has its good traits and bad traits.
There isn't much bad to say about the M602, though. All in all, it has all of the essentials that a gaming mouse should have and it's at an excellent price point.
Pros:
Under $20
Comfortable, ergonomic design
Customizable RGB lighting
Software is easy to use and has plenty of options
Cons:
Would have liked to see DPI settings to be more specific/customizable
Having more RGB customizations would have been nice
Is This The Right Mouse For You?
---
To sum things up with the Redragon M602 Griffin – it's an ideal gaming mouse for those of you that want a cheaper mouse that has an ergonomic design and customizable settings.
The preset DPI settings are going to be more than enough for 1080p gaming. You'll have to adjust your in-game sensitivity accordingly but it isn't going to be too much of an issue.
Comfortability is top-notch here for a mouse that is less than $20 and based on the plenty of high rated customer reviews, you can't go wrong here when it comes to a nice low-budget gaming mouse.
What are your favorite features with the Redragon M602 Griffin?
Are you adding this to your peripheral arsenal?
Let me know in the comments below! 😀
Hey there! 👋 I'm Colton, founder of PC Builds On A Budget.
Whether you need help putting your PC together, finding a great pre-built rig, or want some help finding awesome peripherals – I've got you covered!
I share my experiences of anything and everything related to gaming PCs with you here. 👍