Last Updated on September 29, 2020
I'd like to post a review for the Havit HV-KB389L keyboard and mouse combo since it has been a popular pick when it comes to RGB peripherals for a while now.
Havit has produced many peripherals into the market that are both useful and affordable and the HV-KB389L keyboard and mouse combo is no different there.
However, there are a few setbacks you'll want to consider before deciding on this combo. Although this is highly affordable, you need to understand what it's going to be best for.
With that, let's get to the review.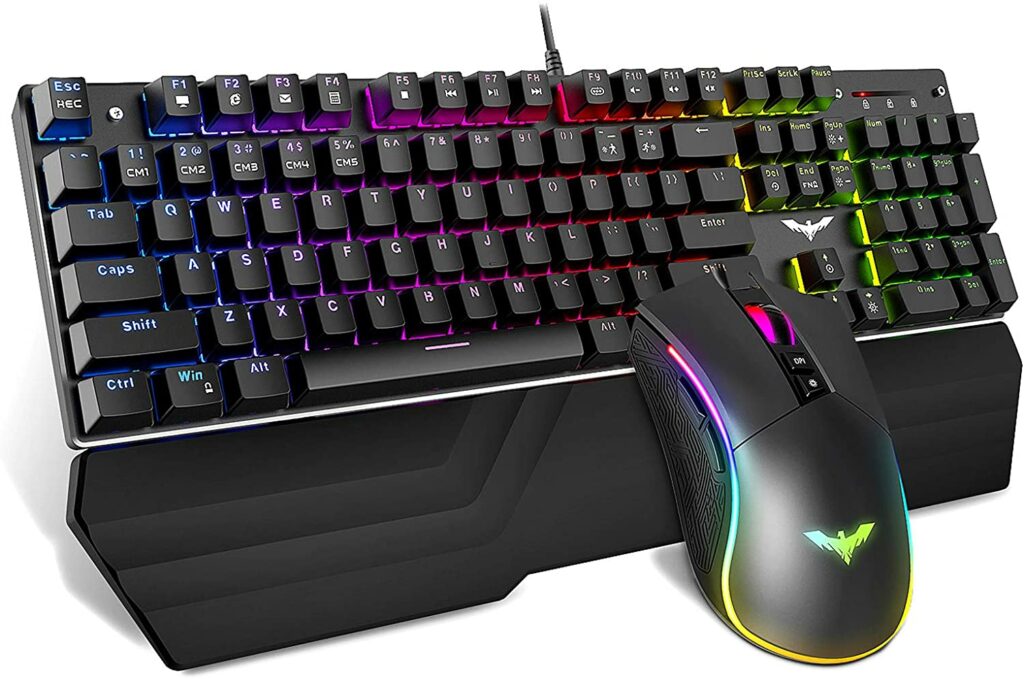 Product: Havit HV-KB389L Keyboard And Mouse Combo
Recommended Price: Under $50
Cheapest Place To Buy: Amazon.com
Warranty: 18 Months
My Rating: Find out below!
Havit = Affordability
---
As I was saying earlier, Havit has a plethora of different peripherals that are all on the affordable side. Although they do have some that are at a higher price point, they're still always much cheaper than the big brands out there.
Don't let the affordability of Havit gear stray you away. It may be cheaper and there may be a couple of quality sacrifices but you need to understand them before you judge it right away.
There are certain peripheral combos, such as this one, where it actually competes with more expensive choices yet is a lot cheaper in comparison.
Let's get into the specifics behind the mouse and the keyboard so that you can know what's good, what's bad and whether or not this would be a good peripheral combo for your rig.
The HV-KB389L Mechanical Keyboard
The keyboard is the main reason you should be looking into this combo in the first place.
Havit uses a mechanical keyboard here with plenty of RGB color options, a decent frame build and blue switches.
Materials Used
When you're using a keyboard for gaming you're going to be clicking on it many, many times. This means that you'll want a keyboard frame build to be of at least decent quality so that it stands the test of time.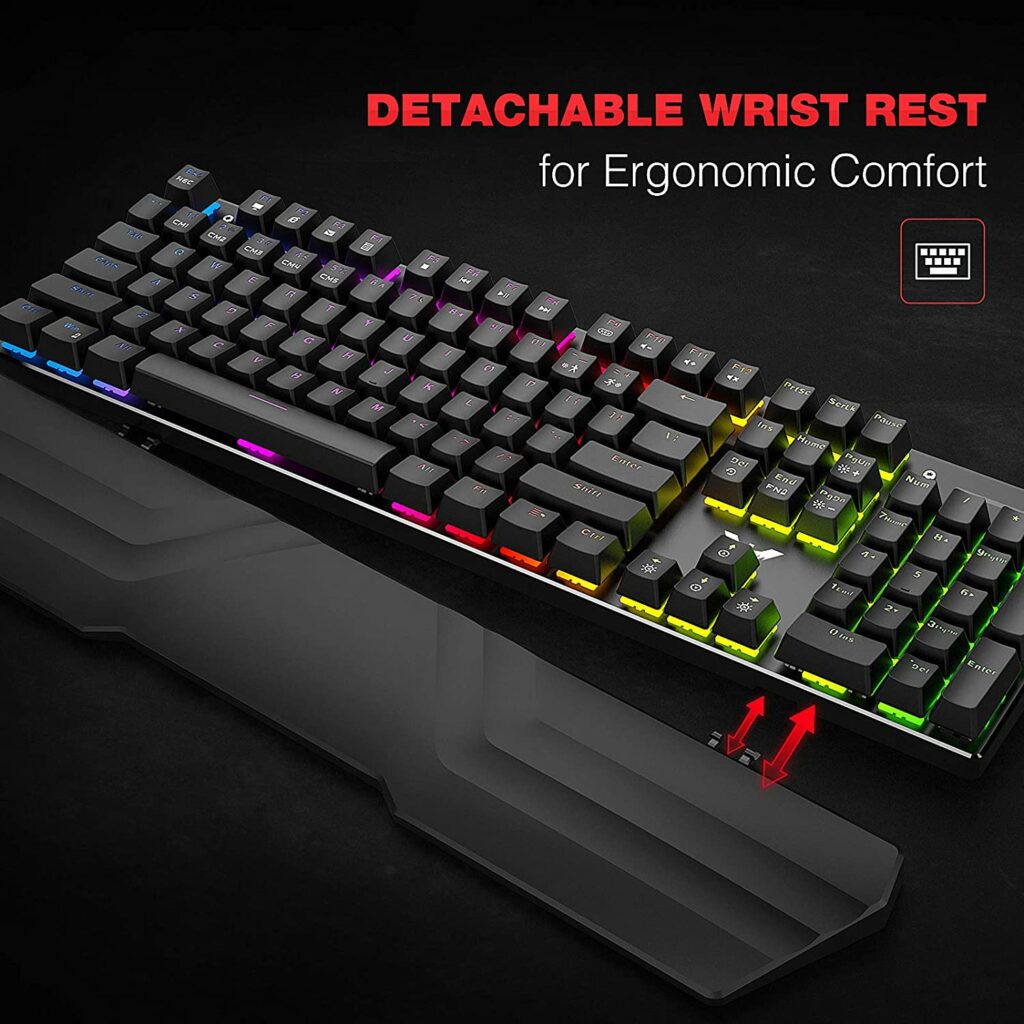 You get more than decent with the keyboard here.
The frame is made out of aluminum and it takes a significant level of force in order to get it to morph in a way that you wouldn't want it to.
What I'm saying here is that it's made out of a material that makes the keyboard look clean while also keeping build quality in mind.
It also has a detachable wrist rest which was nice to see added with it!
A wrist rest isn't going to be for everyone but if you end up getting this combo then you should definitely give it a try.
The wrist rest simply connects to the bottom portion of the keyboard to provide a little bit of elevation while you're using the keyboard.
Key Clicks
Blue switches are used with this keyboard which means that your clicks are going to be nice and loud and the actuation will be pretty quick.
Mechanical keyboards are meant to be loud and clicky while also providing a quick actuation so that you don't miss your click.
They're very satisfying to type on and are made under keycaps that are easy to take out.
The switches are from a generic brand but it shouldn't matter much to you unless you're into super heavy eSports, competitive gaming.
Gaming keyboards are important but you don't need the flashiest switches in order to win…
Typing away with this keyboard feels how you'd expect a good mechanical keyboard. It's loud, highly clicky and responsive to each click.
RGB Lighting
Lighting is important for me as I like to change around the general "theme" of my rig to match up to whatever style I'm feeling when I'm getting ready to play my favorite games.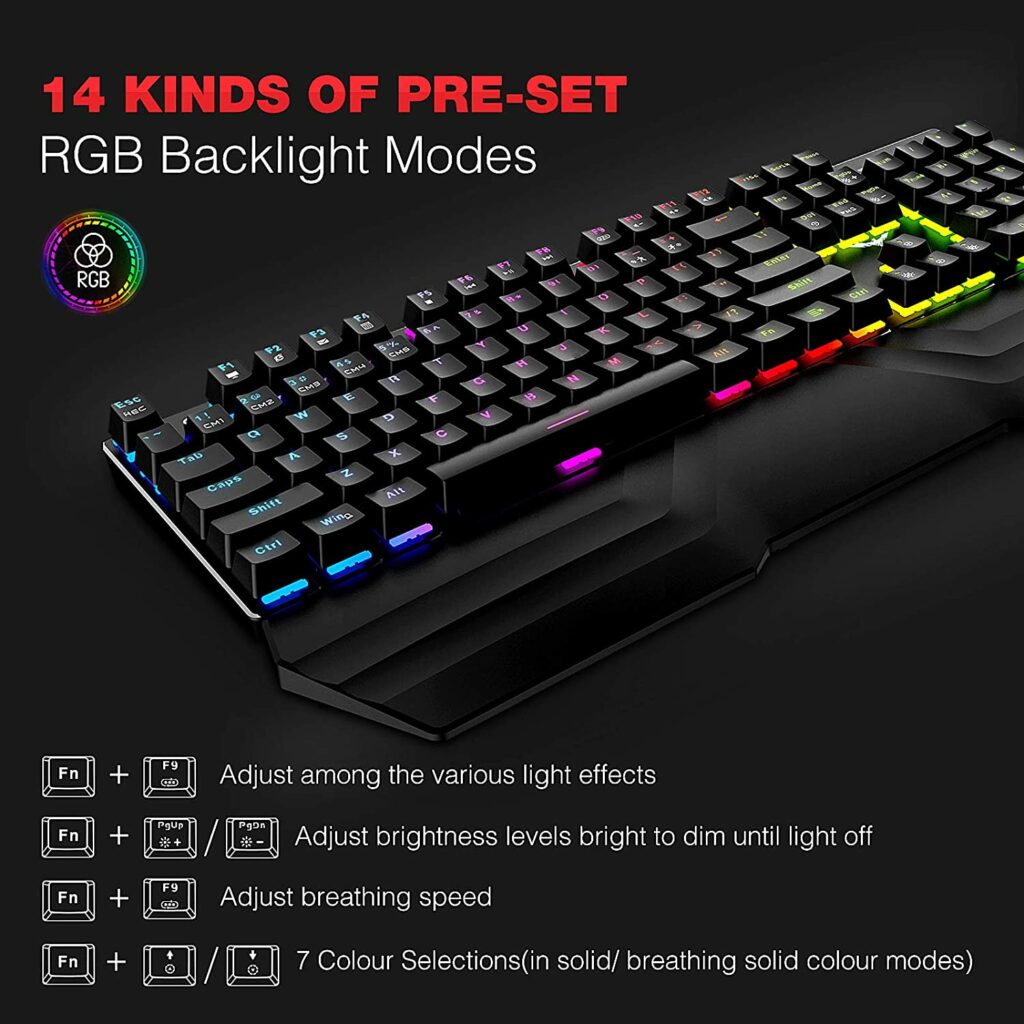 Havit did a great job putting in some fun lighting effects with this keyboard!
There are a ton of lighting effects you can choose from and use right out of the box, software isn't necessary in order to utilize the lighting effects.
In total, there are 14 preset lighting effects that you can choose from.
This varies from static colors, full RGB wave modes, breathing effects, lighting up from every key press and other modes that allows you to choose which specific keys are lit up.
If you like to have plenty of options for RGB lighting then you've got it with this keyboard. Havit definitely delivers on having the options you'd want to have and show off.
Although the Havit HV-KB389L software has minimal utility, you will be able to pick from the affects on the software as well. But you can choose all of the lighting effects right out of the box which is the easier way to do it.
The HV-KB389L Gaming Mouse
To be straight forward, the mouse in this combo isn't anything special. It has plenty of lighting effects and "gets the job done" in a sense but there are much better mice out there.
However, if you like this type of shape design and don't mind not being able to fully customize the mouse settings then you'll get some good use out of it!
As I said earlier, this combo is mainly for the keyboard. You will more than likely be wanting to upgrade the mouse down the road but with that, let's take a look at what this mouse has to offer.
Materials Used
This mouse is mainly made out of a generic plastic with texturized rubber grips on the sides.
There isn't much else to note about the materials used with the mouse here. I do like the texture they went with on the rubber grips for the mouse, it looks cool and feels like a grip should feel like.
The side buttons are a bit on the smaller side even though the mouse itself is a bit bigger than most mice that could be compared to it on the market. The buttons are also made out of the same generic plastic material.
In a nutshell, the materials and overall design here is that of a generic mouse. This combo has the keyboard as the main focus, that's for sure.
Mouse Design
As I said in the previous section, this mouse is a bit bigger than other mice that you could compare it to on the market.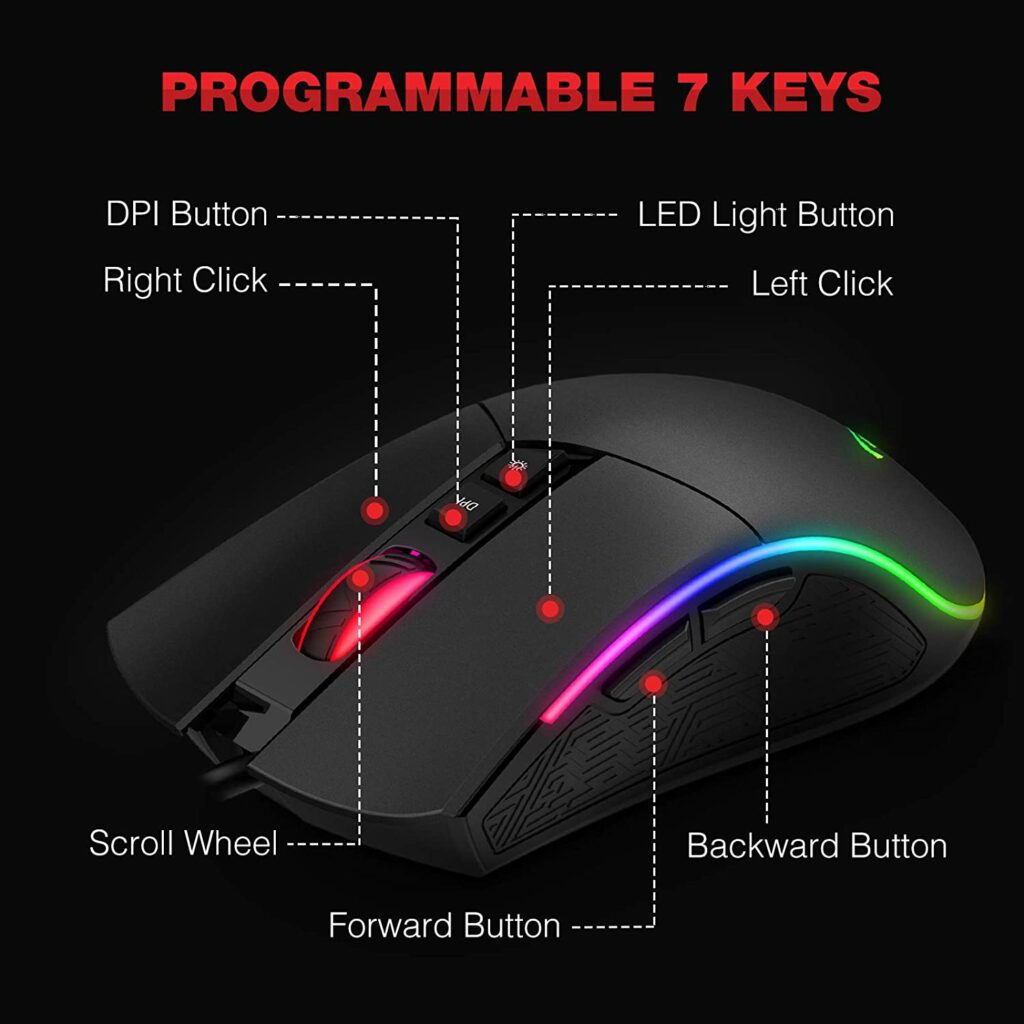 If you have smaller hands then you'll most likely be upgrading the mouse ASAP as it wouldn't feel very comfortable for those of you with a smaller hand size.
But if you have somewhat larger hands then the mouse actually doesn't feel too bad.
It would have been nice to see the main mouse buttons follow the design of most mice where the curve goes downward but to each their own.
There are 7 total buttons on the mouse that can be programmed via the software. There are the two main buttons, the scroll wheel, the DPI switch, the RGB light switch and the forward/back buttons on the side.
This mouse follows the generic design of cheaper mice which makes sense. Most of you are going to want to upgrade the mouse to a higher quality mouse that delivers on being able to fine tune your experience.
With that said, for a mouse that has a very plain design, I'm sure there are some of you that will enjoy it for casual use.
RGB Lighting
Even though the general design and materials of the mouse aren't anything to write home about, the lighting is surprisingly good here.
There are several lighting modes to choose from some of which you can match up with the keyboard.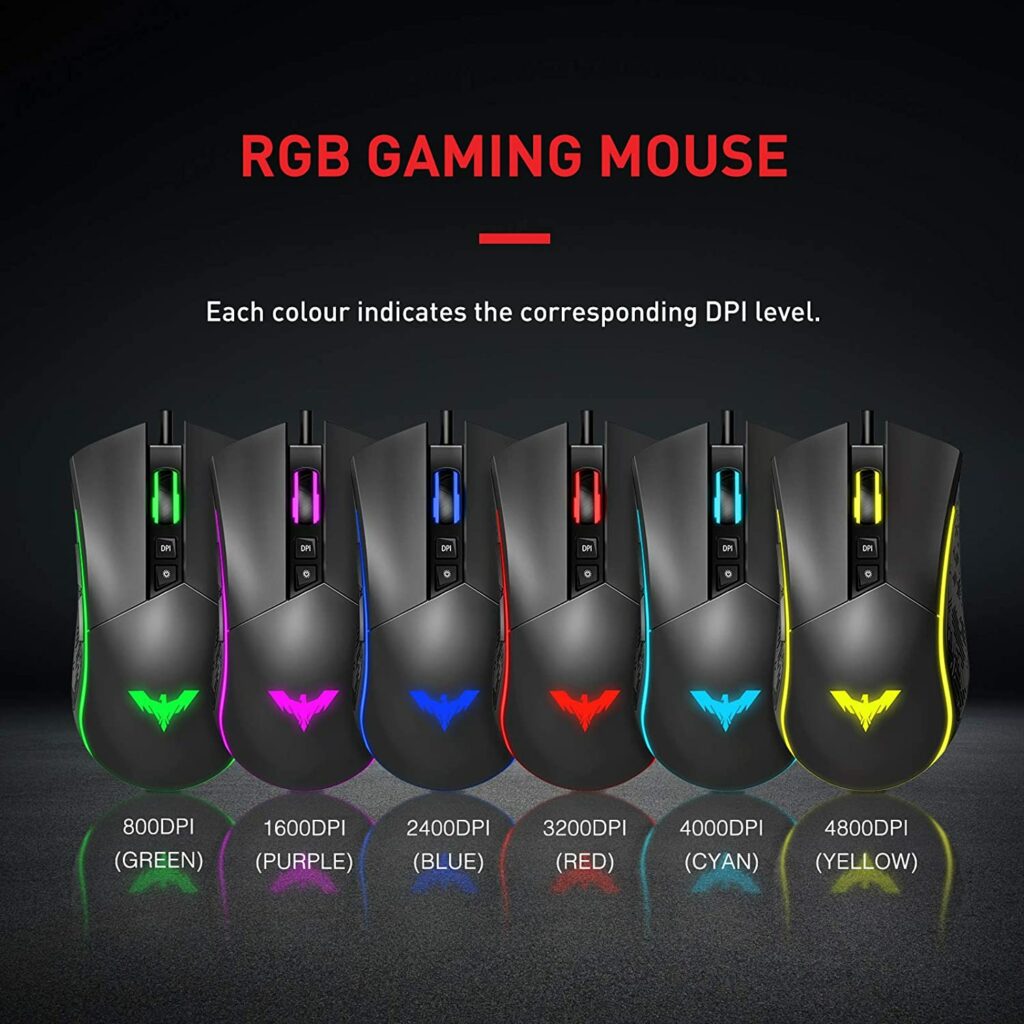 There are different lighting combinations that are built into the mouse so again, you don't need the software to switch between them.
At the base choices for lighting you will be able to switch between green, purple, blue, red, cyan and yellow.
These also indicate which level of DPI you are at which are 800/1600/2400/3200/4000/4800 respectively.
Then you can switch between the other preset lighting modes which create a wave of all of the colors combined or different colors combinations that are preset to the mouse.
Lighting is actually good here. It is easy to match it up with your keyboard's lighting or any other lighting you have going on because of the variety they provide which is all built-in to the mouse.
DPI Settings
DPI settings are important for any mouse and this mouse uses a pre defined set of DPI choices that you can choose from.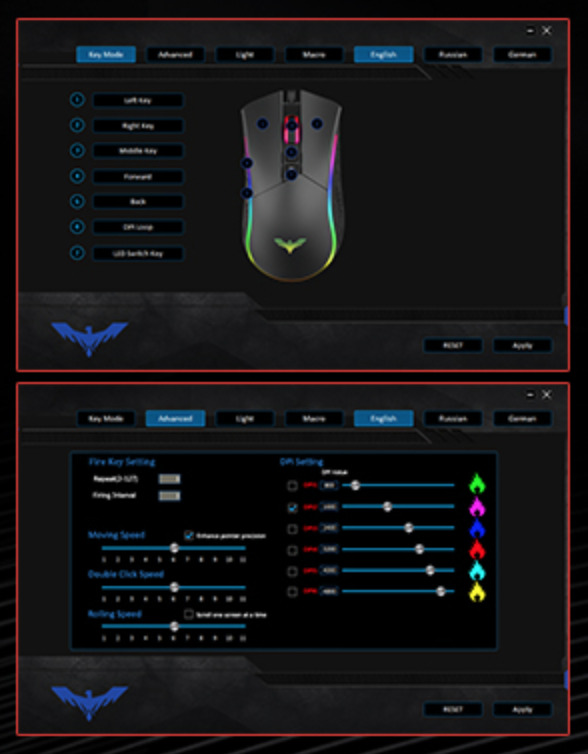 800/1600/2400/3200/4000/4800 are the DPI options available with the mouse.
You will be able to switch between all of them using the DPI switch on the top of the mouse next to the RGB switch.
You can also use the optional software to decide which color will be used for a specific DPI setting that way you can have the DPI that matches best with you along with whatever color you are wanting to use with it.
With mice like this, you will have to fine tune your overall sensitivity in-game rather than using the software to customize the experience and usage of the mouse which is unfortunate.
But at this price point, we can't really complain too much. It's not a super terrible mouse by any means, it's a great mouse for just starting out!
To Conclude
---
In conclusion, the Havit HV-KB389L is a peripheral combination that has a main focus on the quality of the keyboard.
The mouse is not absolutely terrible or unusable, but there are much better choices out there and if you end up going with this combo then you'll most likely be changing the mouse out for something better down the road.
But it's hard to beat having a well-built, cool looking keyboard for right around $50 that comes with a generic RGB mouse to boot!
If you're looking for a decent mechanical keyboard and are just starting out with PC gaming then this combo will be great to go with! It's still not a bad choice if you plan on upgrading the mouse in the first place.
You should also check out the reviews over on Amazon, some of them have videos of the lighting effects that way you can see them all in action.
So, are you planning on getting this combo?
Which mouse do you think you will be switching it out for, or are you happy with how this mouse is designed and will stick with it?
Let me know in the comments below! 😀
Havit HV-KB389L
Around $45
Hey there! 👋 I'm Colton, founder of PC Builds On A Budget.
Whether you need help putting your PC together, finding a great pre-built rig, or want some help finding awesome peripherals – I've got you covered!
I share my experiences of anything and everything related to gaming PCs with you here. 👍