Last Updated on January 9, 2023
I'd like to post about the most expensive PC cases that are out on the market today. From the most high-end to the most unique PC cases, these cases are spendy!
These cases are not ranked from most to least expensive. I simply wanted to share the multiple cases that are available right now that are higher up in the price range.
I'm talking about the cases that cost anywhere from the $200-$1,000+ range (yes, there are cases that cost over $1,000…)
So prepare yourself for an onslaught of crazy, amazing, super high-end, and straight up weird PC cases that are 100% real and ready to build with.
If you have ever heard of any of these cases or have seen any builds that use them, please let me know about them! I'd love to see some of these cases with different PC builds.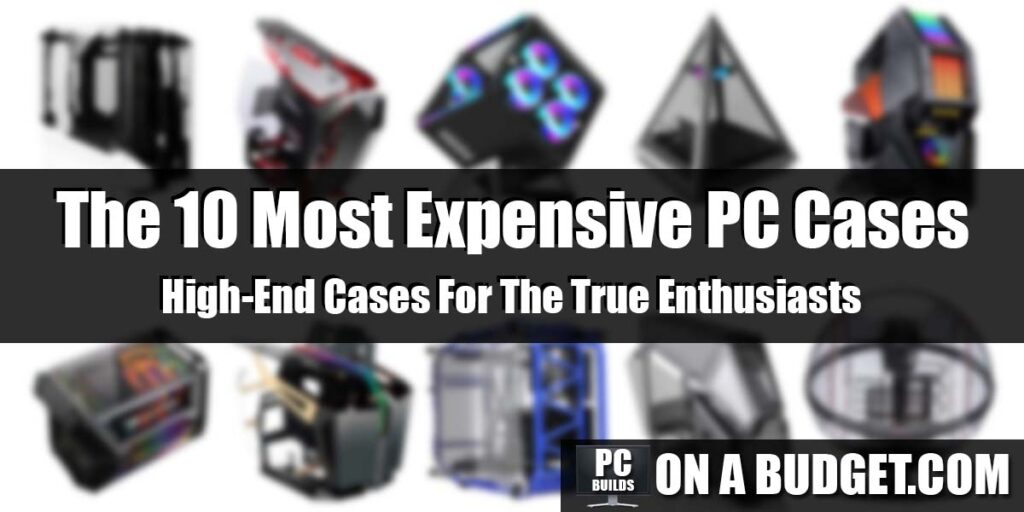 An Expensive PC Case Roundup
---
Sure, it's not hard to find PC cases that are simply expensive. But I've taken other factors into consideration with all of these highly-priced PC cases.
There are a few other things to consider when you're diving into expensive cases. Some of them will seem a bit exorbitant when it comes to their price, but you have to consider what they're capable of as well.
Some of them you can tell exist only for those that are able to afford the wackiest, most unique, and breath taking case designs. Or possibly for a one-off promotion or contest, who knows.
I wanted to share these cases for fun and to share what PC cases can actually be like! Maybe some of you are looking for the flashiest cases anyway, so hopefully, this post will help those of you out.
The 10 Most Costly PC Cases In 2023
---
1. FSP CMT710 PC Case
Price: Around $450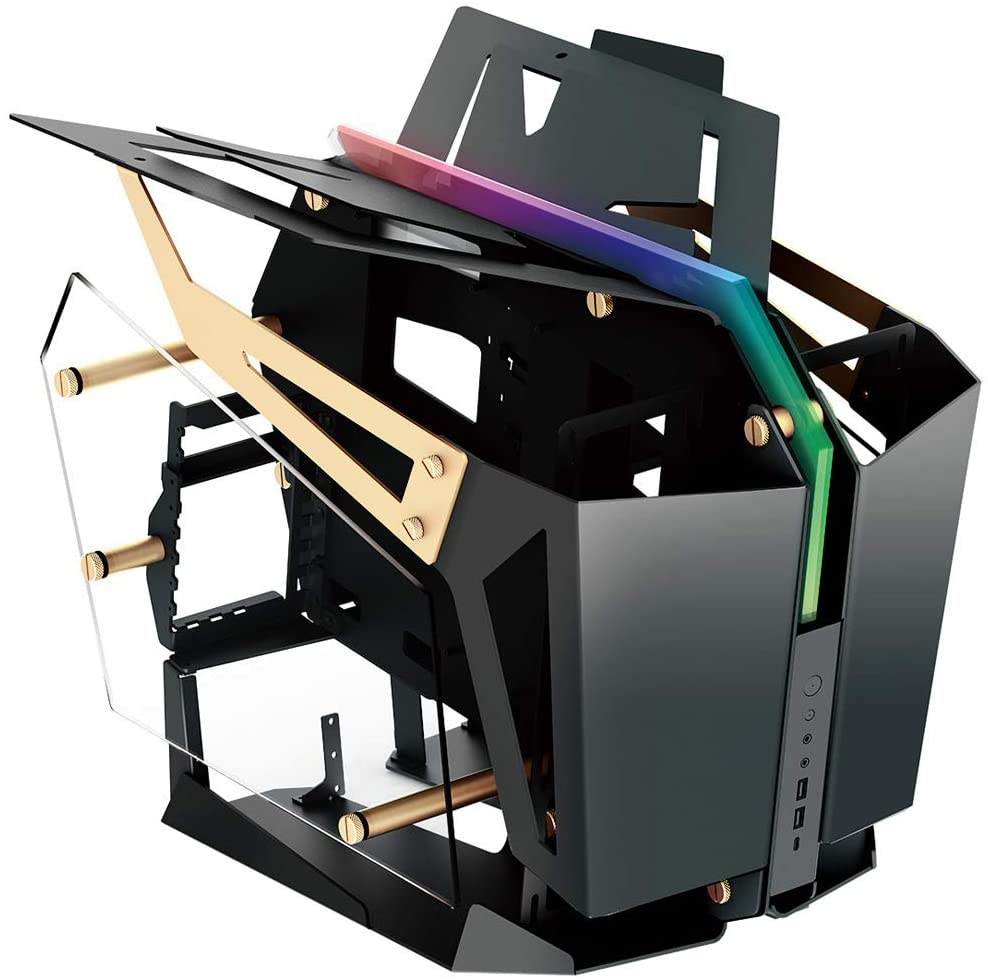 We are going to start off with this futuristic design from FSP. The FSP CMT710 costs around $450 and is meant to be a case for two separate PCs.
This case features an open frame design made of aluminum, dual chambers for dual water-cooling systems, a custom center compartment for cable management, and an ARGB center light strip.
I love open-frame PC cases because they're just fun to look at. This case has a wild design when it comes to an open-frame case. It has a highly futuristic look and feel.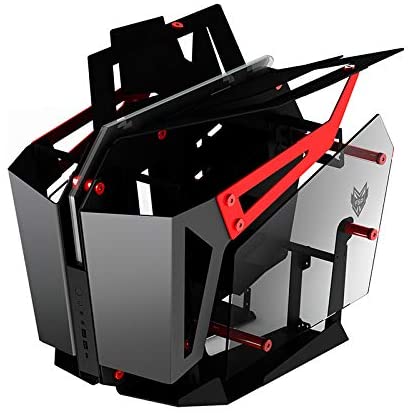 I can't imagine how much time is spent creating one of these cases.
There are still quite a few left in stock and some folks are using it for their build.
The dual chambers for a dual water-cooling system is incredible.
You're able to have two PCs in this one case at the same time which would be awesome if you're wanting to have one PC for gaming and another for general productivity tasks.
This case is obviously for someone that wants to go above and beyond when it comes to water cooling, having two PCs, and wanting to show it off in a surrealistic style.
And then of course the ARGB lighting in the center to match up with the rest of the lighting going on with your build, that'd be the accent cherry on top.
This overall design is a bit much but I also love the design because of that. It's essentially a mini spaceship PC case.
It also comes in a red/black design, however, I personally like the gold/black design better.
2. Azza CSAZ-804V PC Case
Price: Around $300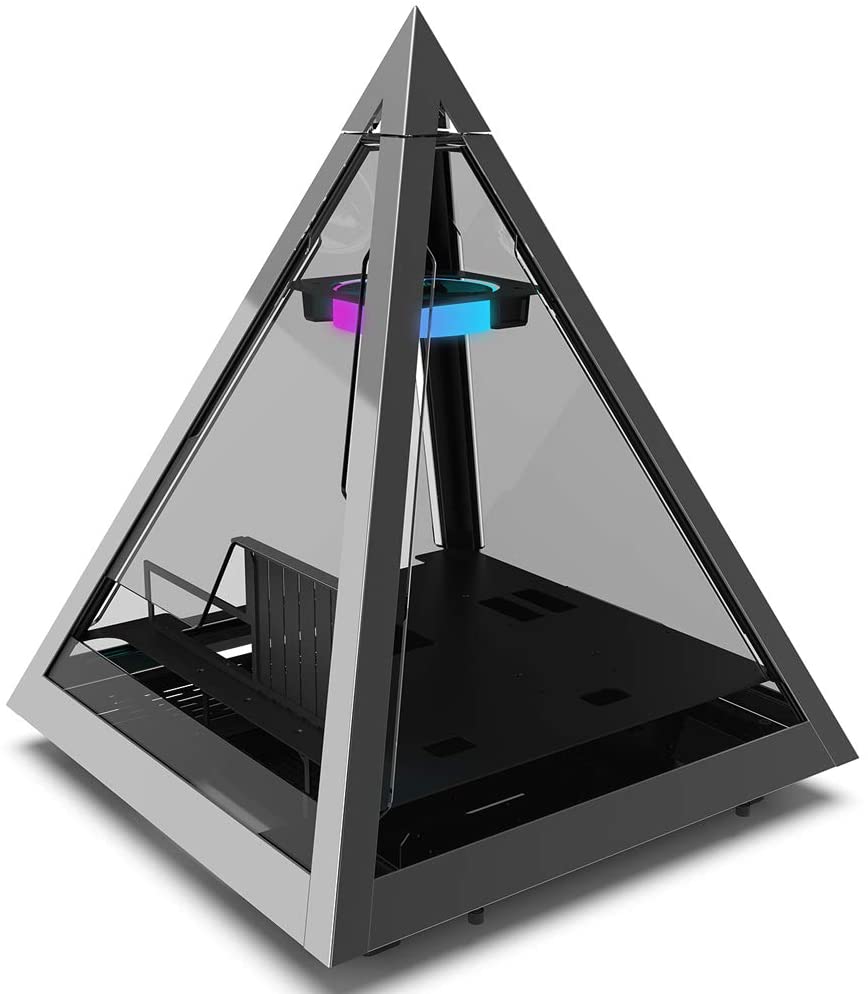 Azza has a few case designs that are higher up on the price and this pyramid case design from them is amongst my favorites that are featured here.
A pyramid case design is bound to get quite a few comments and for the price of around $300 for this one, I think is actually not bad considering what you can do with a case like this!
It supports multiple motherboard types, it supports radiators up to 360mm at the bottom, comes with a 120mm RGB fan at the top of the case, and is probably one of the best-looking expensive cases available.
I have read up that the general airflow isn't the greatest though, so an AIO cooler is a must-have with this case. Otherwise, temps will be on the higher side.
But if you're going for a case like this anyway then it's safe to assume that liquid cooling and other high-end features are a must with this case.
Setting up extra LED light strips on the different pyramid angles would be very cool, I could envision many different lighting configurations with this case.
All in all, when it comes to a pyramid case design, Azza did a great job with this one. It can be used with multiple types of motherboards and everything can be tightly installed into a very cool-looking case.
3. Azza CSAZ-802F PC Case
Price: Around $270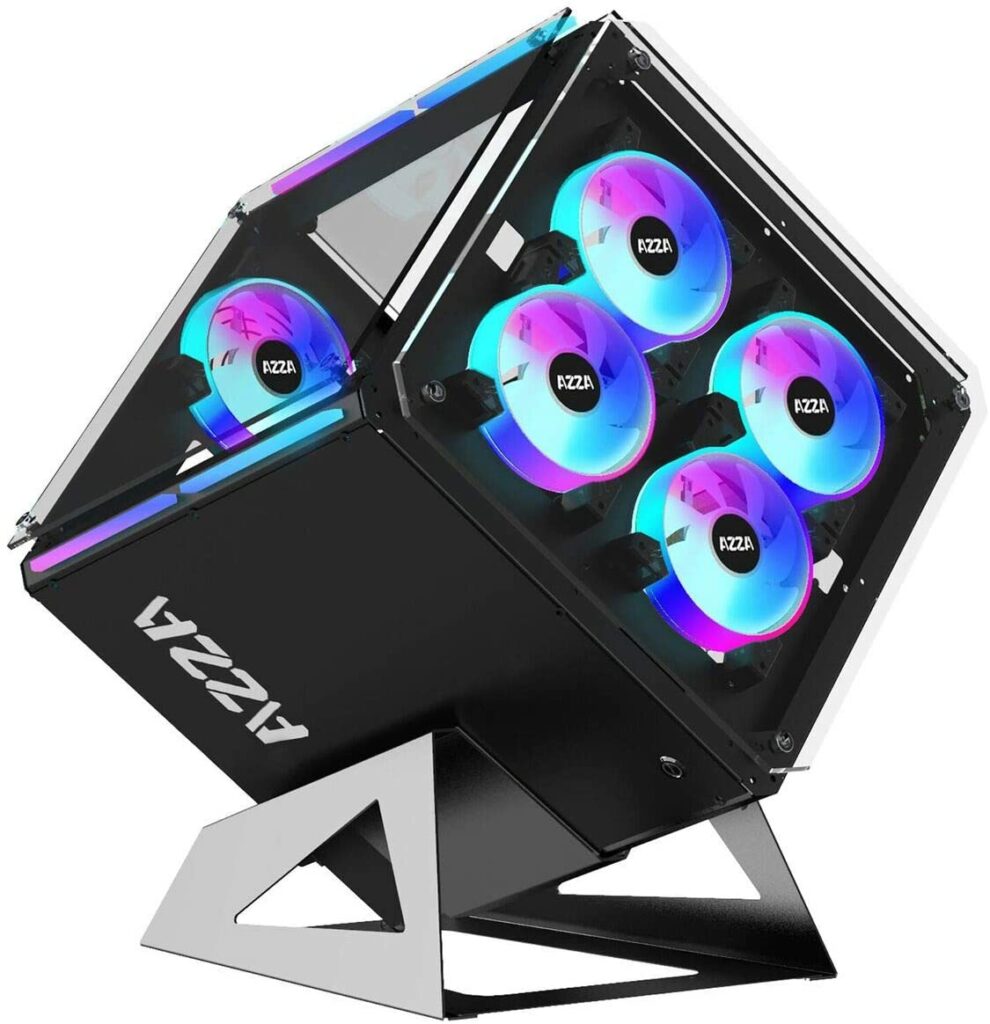 This is another case design from Azza but instead of a pyramid, they went with an abstract cube design with the CSAZ-802F cube case.
This one is just a bit cheaper than the other case from Azza, currently priced at around the $270 range.
It comes with 5 of their Hurricane II Digital RGB fans, it supports video cards up to 280mm, it has support for a 240mm radiator in the front and it comes with a stand to keep the cube at an angle that's nice to look at.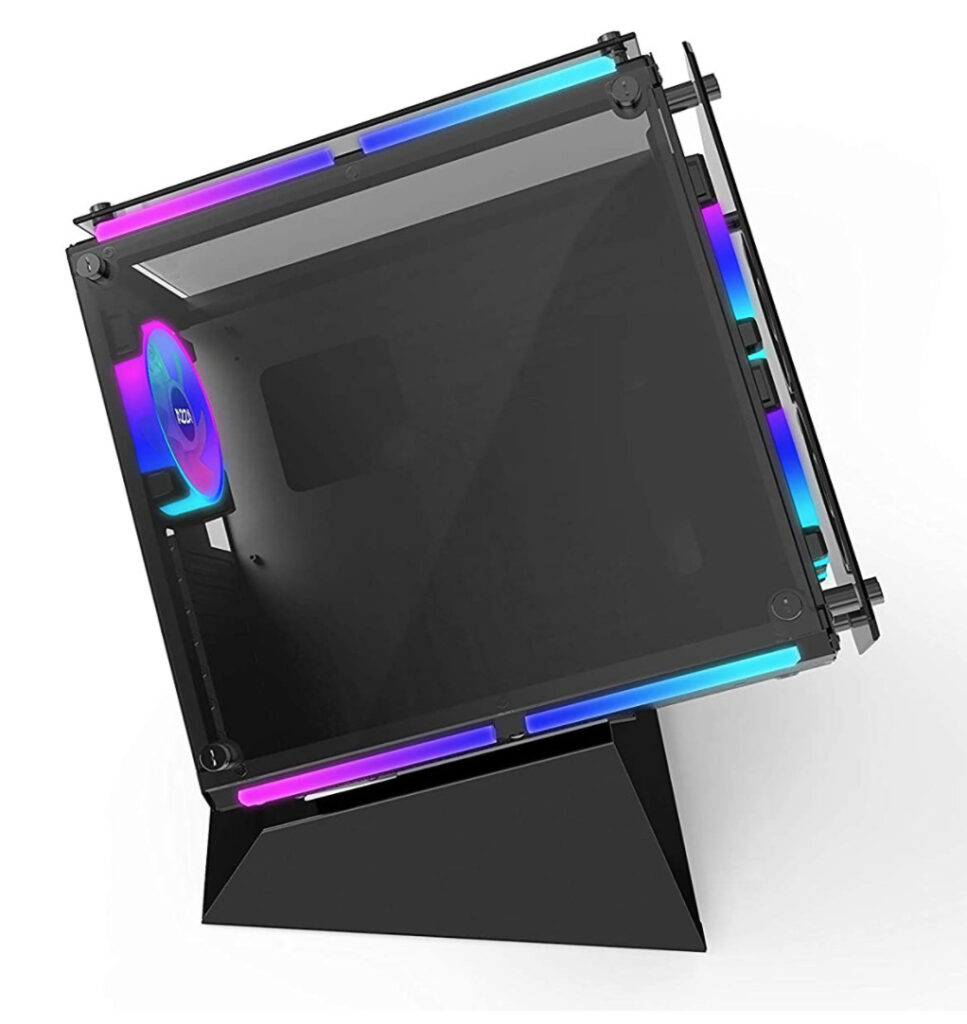 This case coming with 5 fans is awesome, the air cooling going on with it is great and the fans can all be changed to different colors via a compatible motherboard. It also has 3 accent lights on each side of the case.
Keep the size in mind, this is not a mini-ITX case gone wild… it also supports ATX and mATX motherboards as well. So really whatever type of build you'd want to put in it, it's going to be compatible.
Can't lie, I was a little surprised at the price point with this one. It comes with 5 high-quality case fans, has a unique look with the stand, and is fully compatible with many different types of builds so I figured it would cost a bit more than just under the $300 mark.
When it comes to a cube case that can be fully shown off and give full support for multiple types of motherboards then this cube case from Azza is the way to go!
4. Cougar Gemini X Dual PC Case
Price: Around $700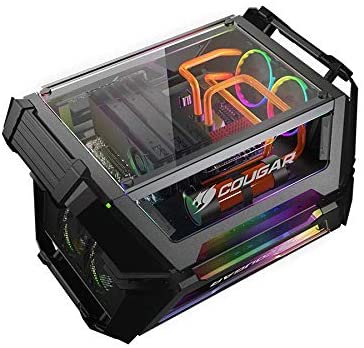 Another dual PC case, this one is called the Gemini X from Cougar. This is the smallest, high-end dual PC case that I was able to find.
You would be able to fit a full ATX motherboard build for gaming and then you could do a second build for streaming or hosting with a mini-ITX motherboard in the second build section.
The way the case was designed, you will be able to set it up either vertically or horizontally depending on how you want to show it or where it will be able to fit in your space.
For airflow, 5 fans are able to be installed for both sections. With that many fans, there is plenty of airflow going around for both systems that would be installed in the case.
The aluminum casing is very thick at 3mm thickness instead of the 1mm standard that you usually see with aluminum cases. The tempered glass is also thicker than most other cases at 5mm thickness whereas most cases use 4mm.
With that thickness comes heavy weight, this thing wouldn't be easy to carry around. It's definitely not meant to constantly be taking it places as it weighs a TON after both of the systems are put together.
You would have to get whatever fans you'd want to install as the case does not come with all of the case fans, which is a shame, but after all, is said and done this case provides housing for a full ATX build and a mini-ITX build while also being able to show if off in a cool way.
5. Cougar Conquer 2 PC Case
Price: Around $300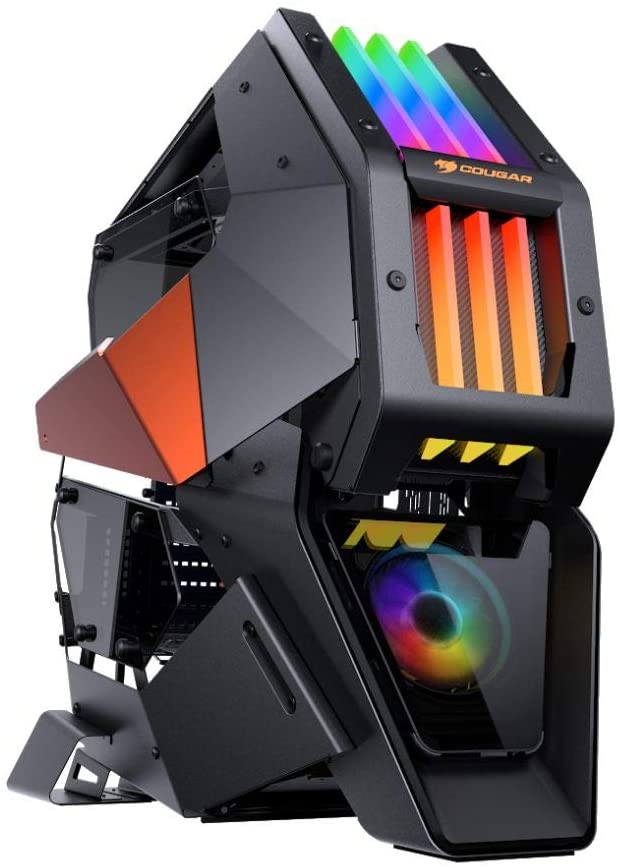 Another case from Cougar, the Conquer 2 case has an incredible design combined with a unique level of functionality that makes it stand out from the rest of the high-end cases that are on the market.
I'd like to first touch on the design choices with this one. When you go to put a rig together with this case, you first remove part of the chassis to mount up all of your hardware. It has a detachable sub-chassis.
Then you are able to slide it into the case.
All of the hardware inside is able to slide in and out of the case.
It's such a unique design choice, I love what Cougar did with that.
Other than that, it has ARGB lighting on the front of the case and it comes with a single 120mm fan in the front.
Not everyone is going to be a fan of the distinctive metal framing design as it covers up some of the viewing angles of the hardware inside but low-key, it gives off a spaceship vibe and it's an instant attention grabber for how big the tower is itself.
When it comes to being able to mod a case and having the unique feature of being able to easily pull out all of your hardware even while the PC is still powered on then this would be a very cool case to go with.
It's basically a spaceship case to show off your work of technological art to friends and family!
6. Antec Torque PC Case
Price: Around $350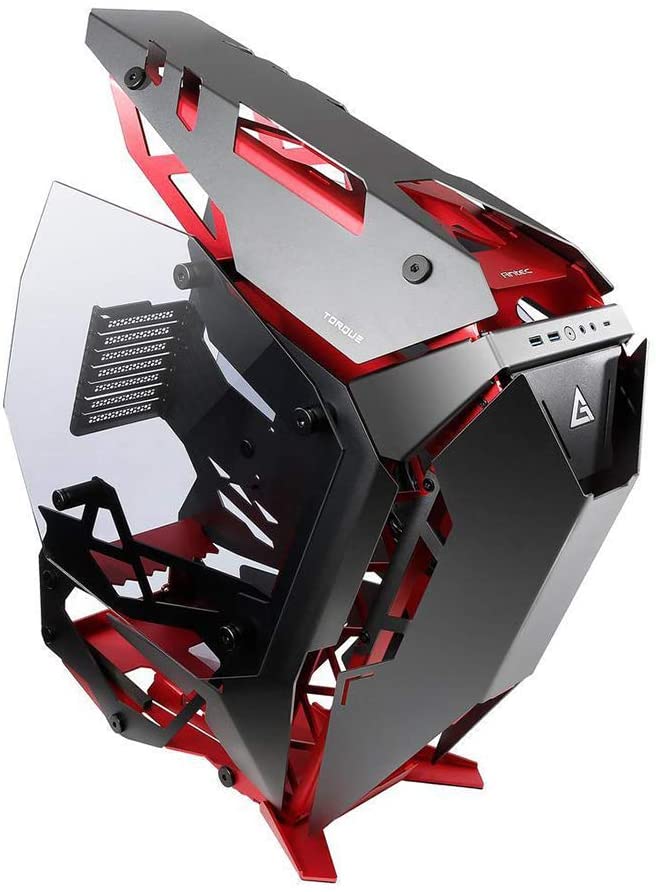 Antec has many different types of higher-end cases but their Torque case is their most premium case that they have made. It won a design award in 2019 which should say enough about how precise this design is.
It is an open-air case that has a downward-angled design. Bold and aggressive, that's a good way to put it.
Any hardware inside will be clearly seen as the case was designed to be able to show off the inside of the PC.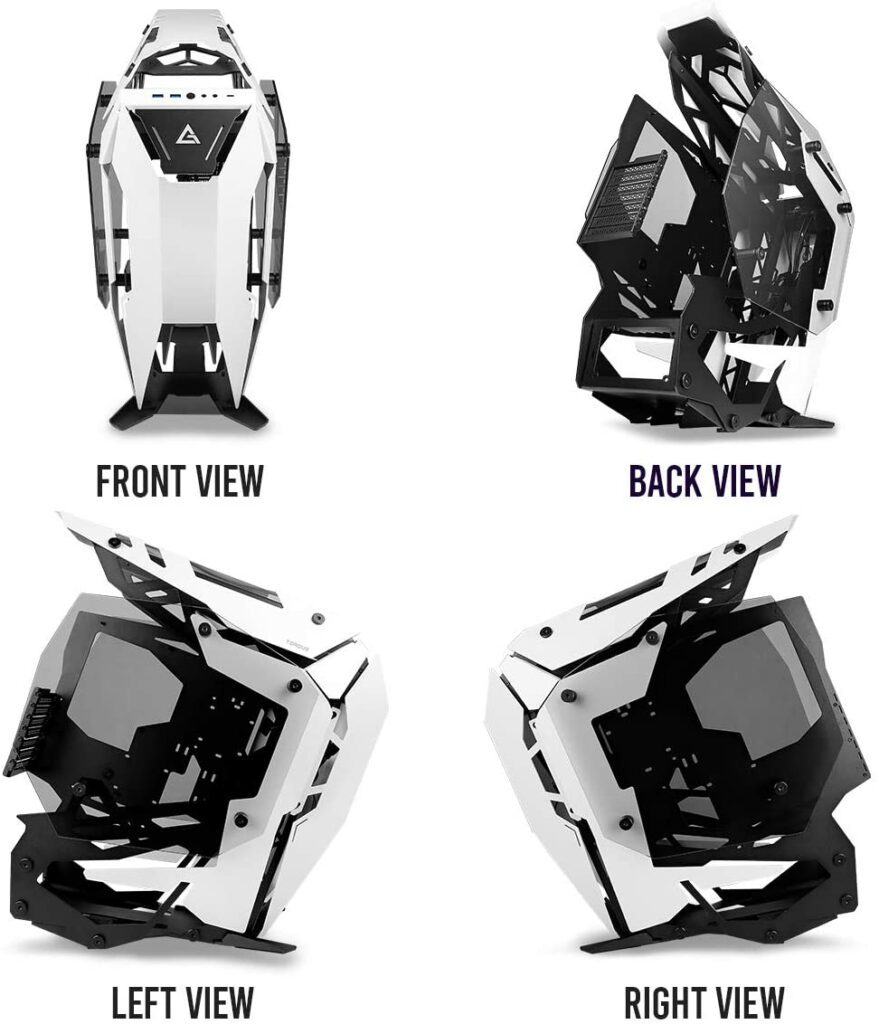 This case has highly extensive liquid cooling support and it is meant for those that are looking for a case that will be able to handle an elaborate cooling system with their build.
It also comes in a white/black variation which I personally think looks better than the black/red variation. Something about it screams "modern elegancy" to me in the white/black version.
I love the open-air design and even though it is a bold and crazy design, it seems that it would be a breeze to be able to build a PC. An awesome design combined with ease of use, that's what this Torque case is all about.
7. In Win D-Frame PC Case
Price: Around $350-$400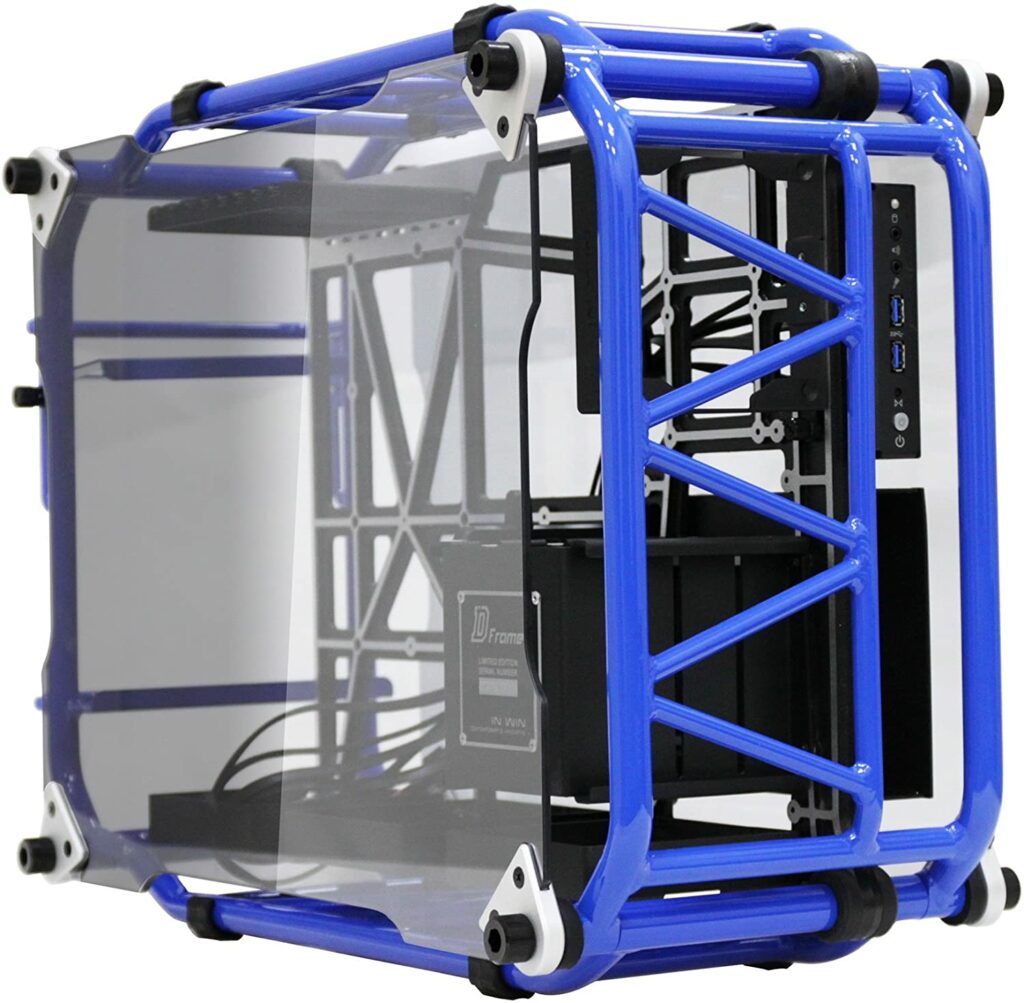 In Win is another case manufacturer that has many different types of cases and this D-Frame case is one of my favorite cases that we featured here for the overall "motorcycle steel tube" style they decided to go with.
It comes in blue, red, green, orange, and white variations. It's always nice seeing a variety of styling with a case like this.
A unique aspect of the D-Frame case is that full assembly is required so you will be truly putting together the PC from scratch which is actually a cool idea.
This case makes any build a true DYI PC build.
Plenty of builders using this case have done some different modifications to it and state that it is a modder's dream. There are a lot of cool things you could add or change with this case.
For cable management, there are mounted routing holes throughout the case making it easy to manage all of the cables that you'd be using.
It also makes for a great case with water cooling in mind with the open space, there is plenty of space to work with, and would match up with water tubing with the steel tubing design.
This is a case for the modders, the "industrial" design lovers, and for those looking for an open-air case that is sure to catch anybody's eye.
8. Thermaltake AH T600 PC Case
Price: Around $150-$250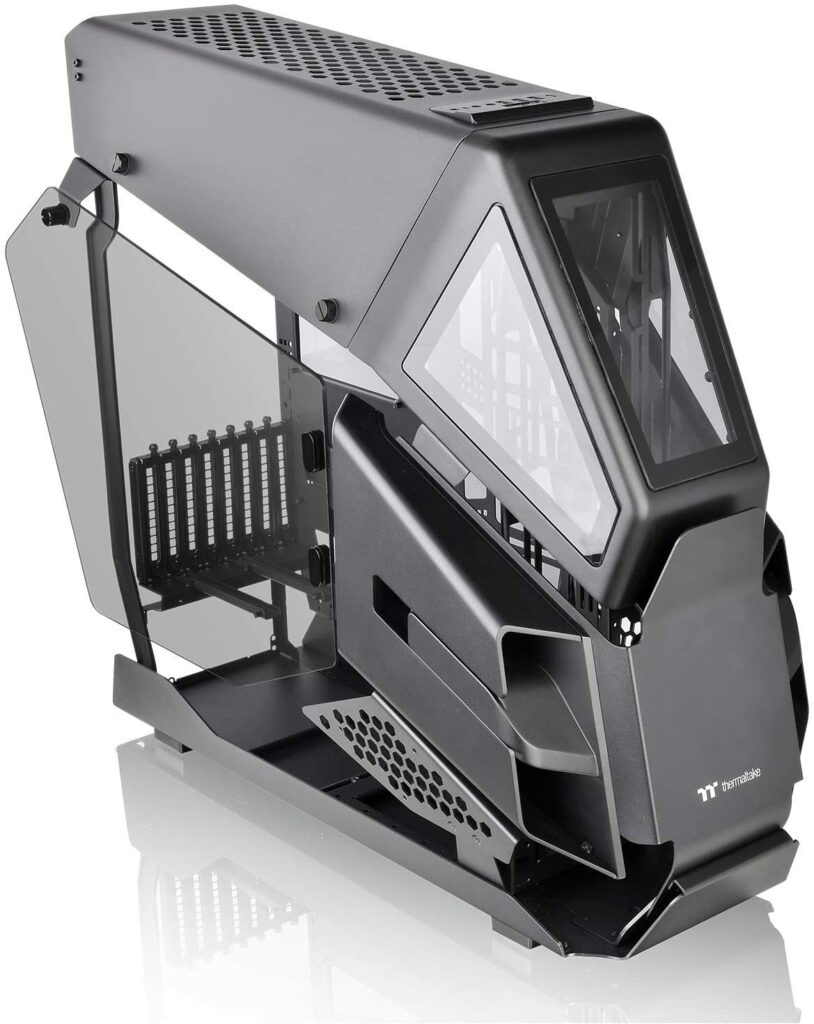 This next one is from Thermaltake, a well-known PC part manufacturer that has dipped their toes into the high-end case world with their AH T600 "helicopter-styled" case.
The most unique features to note about the AH T600 is that it has a rotational PCI-E 8-slot design and that both of the glass doors are able to be opened up on the sides.
The rotational PCI-E 8 slot gives you the choice of having your video card mounted vertically or horizontally depending on how you are doing the build.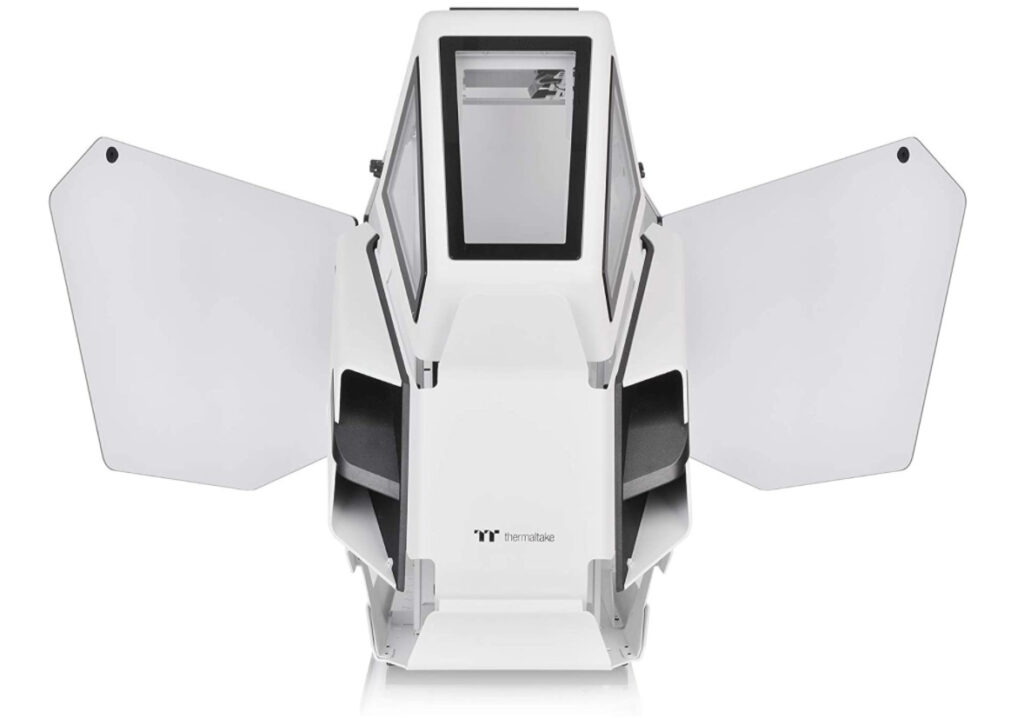 When the glass doors are opened up on the case it truly looks like a futuristic helicopter type of case…
It's a very unique design, if I did a build with this case I'd feel like I'm getting ready to control a remote fighter chopper every time I'd be powering it on. ?
As for variations, it also comes in a white color but you can also opt for a m-ATX version which is only compatible with micro ATX boards but it's also a little cheaper compared to the E-ATX version.
This case has one of the coolest designs featured here and it's also the lowest-priced one out of the rest here. Super unique design, if you want a futuristic attack chopper PC case then this is probably the only one of its kind!
9. Antec Striker PC Case
Price: Around $250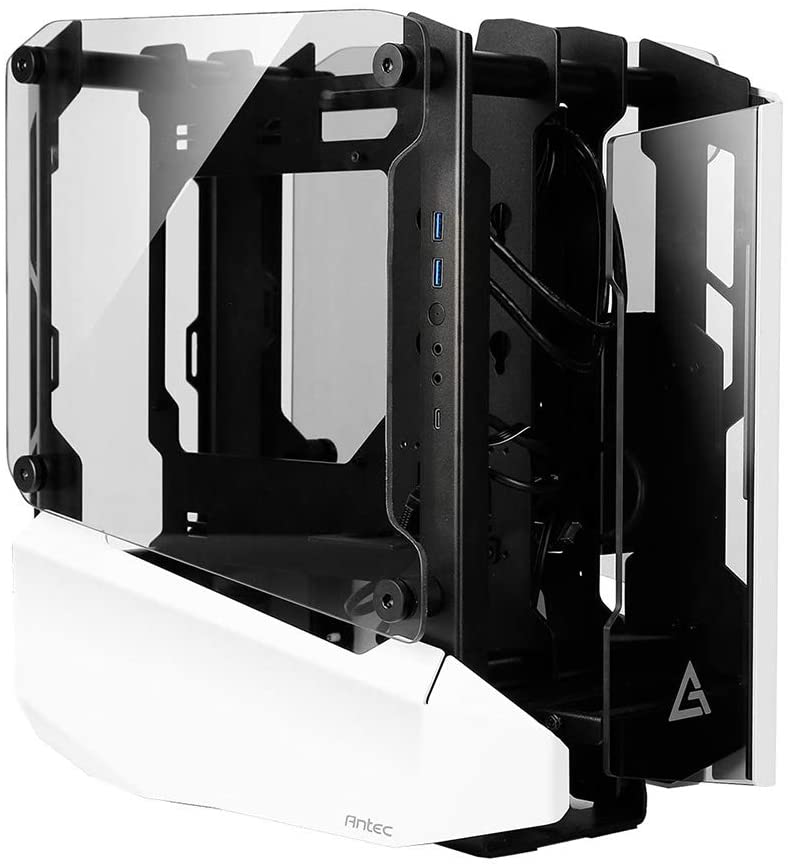 This is another case from Antec but this time for a mini ITX build that has a highly involved, custom water cooling system.
The Striker is a mini-ITX case that has the sole purpose of showing off a detailed custom water cooling setup. Otherwise, this case wouldn't be justified to use.
Some notable features would be a front mounting for the GPU, up to 2 x 120 mm or 1 x 240mm case fans at both the rear and the side and 1 x 240mm radiator support on those same sides.
Having the video card mounted up front is bound to get folks to make comments about the build. You never see cases that are designed to show off the video card this way which is awesome to see!
It's nice seeing all of the freedom involved when it comes to a water-cooled setup, multiple spots for fan, and radiator support for an ITX type of build.
It's all about the aesthetic with this one. It doesn't have many "extra" features other than the simplicity of the case itself along with being able to show off your water-cooled ITX build.
For those that need an open-frame case that allows you to mod and use water cooling for an ITX build to the max as well as having the eye candy of the GPU being mounted on the front then this is the case to go with.
10. In Win WINBOT PC Case
Price: Over $1,000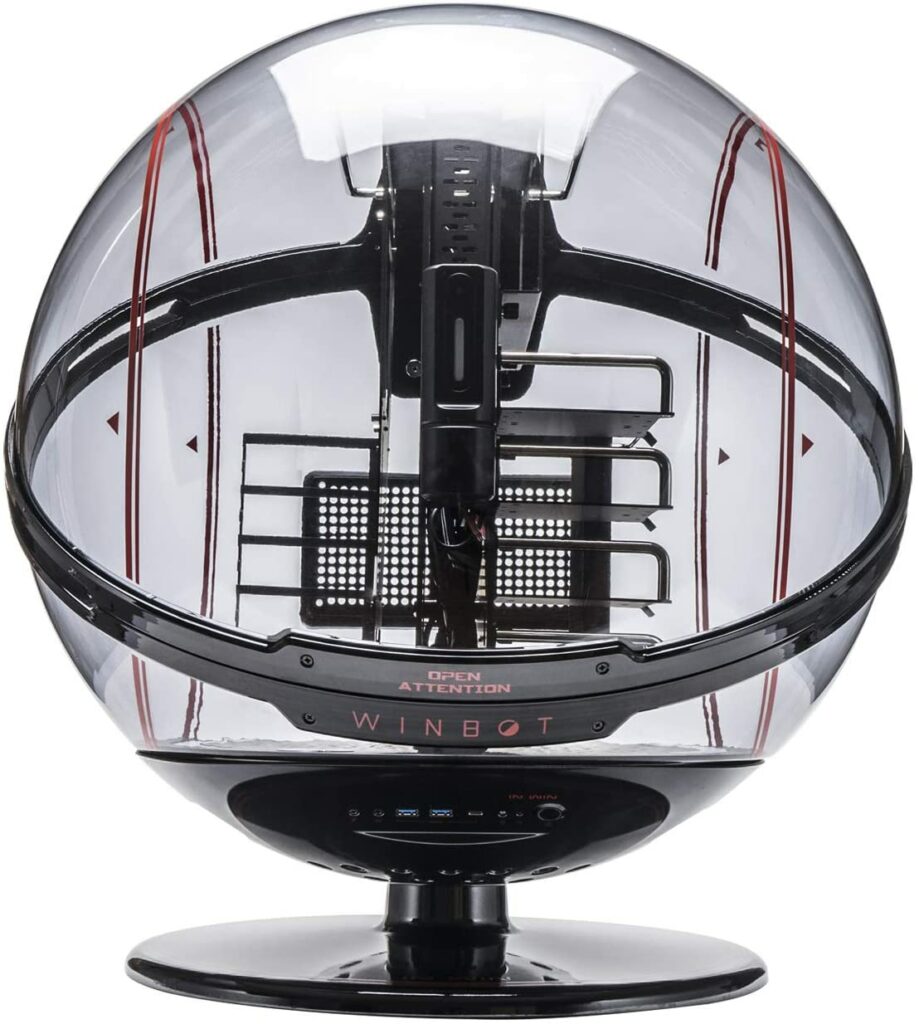 Last and most definitely not least we have a showpiece case from In Win. This is the most expensive case I've been able to find on the market, constantly priced at over $1,000.
On their official website, at the time of this writing, it costs over $5,000. I've seen the price be in a range of a little over $1,000 to over $3,500 on Amazon.
It is extremely customizable and has features that you aren't going to find with any other case at all. At least not anything I was able to find.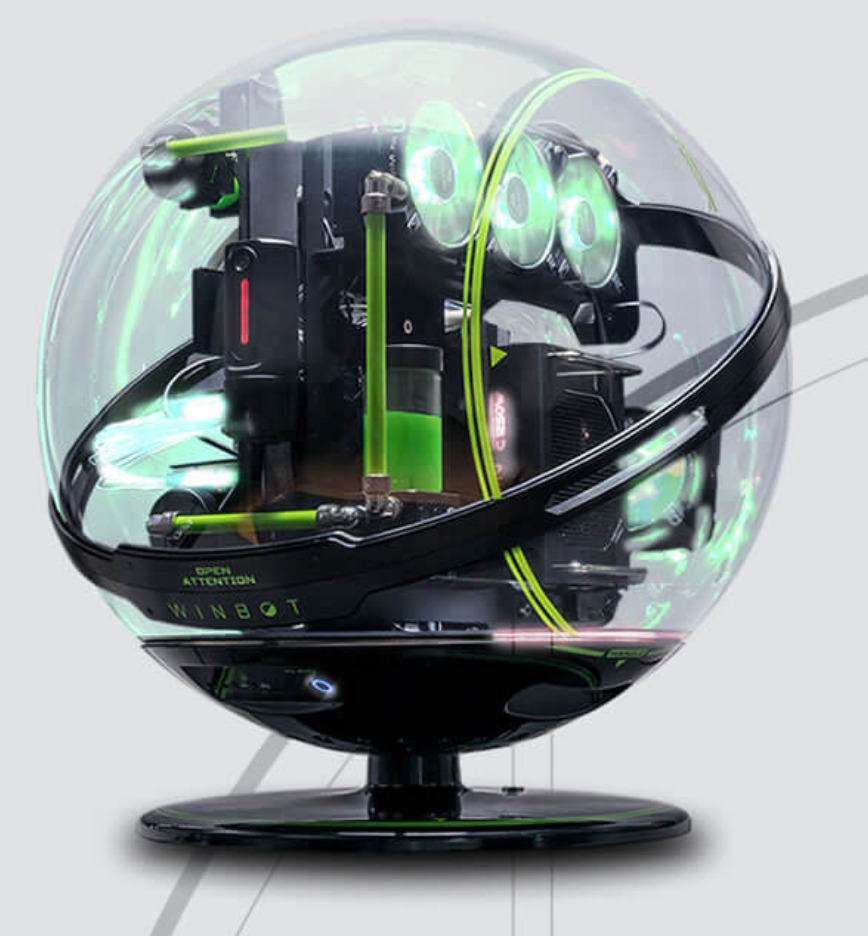 This case has facial recognition. You can customize hand gestures to move the case and it can also follow you around if you walk by it.
It rotates at a full 360° range of motion with the swipe of your hand or as you walk around the case itself. It will recognize the user and know that you are the owner after setting it up as such.
The facial recognition is good enough to be able to tell the difference between a picture of a face and an actual face. In Win didn't mess around at all with this case, showing the level of innovation and design that they are able to fully provide.
If you want further details on this case then you should check out their webpage featuring the case. It truly is a one-of-a-kind case that combines science and technology in a fascinating way.
Criteria Used For These Expensive Cases
---
Before featuring all of these spendy PC cases I wanted to make sure that the ones I chose were worthy of being shown in the first place but it also came down to what I'd personally consider "expensive" in terms of any PC case.
These are the few things I was looking at as I was surfing around for the most expensive cases that are out there and ready to use.
Price Point
The pricing of each case was obviously the most important factor. I think anyone could agree that a PC case that costs $200 or more would be considered an expensive case.
But we also need to think about how much those dollars mean with each case and if it'd be worth what you get! Even with the cases that cost over $1,000… There is value to be had with them.
Design
When it comes to case design, I purposely looked for the coolest, craziest and distinctive cases that are on the market.
If someone is spending a bunch of cash on a case, it needs to look the part. And trust me, all of these cases have a design that will make PC lovers take a second look.
Utility
However, a case should never be 100% about the looks. Yeah, we want to show off our amazing PC case but what if it is a horrible building experience? That would make the case not even worth considering.
Each of these cases has a good level of utility combined with aesthetics. Whether it's for optimal cooling or for features you won't find in other cases, utility is a must when it comes to the high-end world of PC cases.
Uniqueness
I don't see a point in sharing a post showcasing the most expensive PC cases without taking a look at how unique each case is.
It should come as no surprise that these cases are going to be some of the most unique-looking cases that you have ever seen because of their price point and design overall.
Conclusion
---
All of these cases were high-end and creative in their own way. True enthusiasts that are looking to show their work off with their PC build in the most unique ways possible will be checking these cases out.
From overall utility to the craftsmanship involved, these were the most expensive PC cases that are currently on the market that I saw worthy of being shared with you.
Are there any other expensive PC cases that you think should be listed here?
Which cases did you think were the best when it comes to expensive PC cases?
Let me know in the comments below! 😀
Hey there! 👋 I'm Colton, founder of PC Builds On A Budget.
Whether you need help putting your PC together, finding a great pre-built rig, or want some help finding awesome peripherals – I've got you covered!
I share my experiences of anything and everything related to gaming PCs with you here. 👍