Last Updated on January 9, 2023
I'd like to post about the best PC cases that cost under $70 that are out on the market today. PC cases at this price range are perfect for any PC build!
There are some PC cases listed here that are under $75 as well since there are enough cases on the market within a few dollars of a difference that I figured it'd make sense to also include them.
You can expect to have not only some great-looking options for around $70-$75 for a case but you can also expect to have plenty of functionality as well.
For any case at any price range, you need to make sure that it will be compatible with your rig as well as have everything included that you need to move forward and complete your PC build.
With that, let's get to the best of the best when it comes to cases that cost under $70-$75!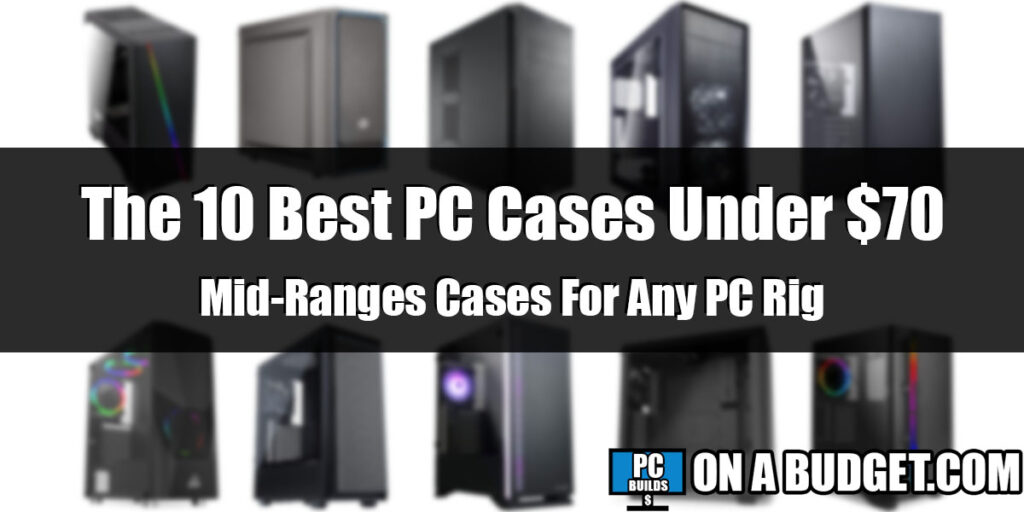 A Mid-Range PC Case Roundup
---
The best PC cases that are under the $70-$75 range will provide some of the most essential features that you need in a case.
This price range is a perfect spot because it doesn't completely break the bank while also not being so cheap that the case choices are of super low quality.
You'll see with the cases showcased here that you'll have extra fans pre-installed, some extra hard drive bays, cool LED lighting effects, and more.
Be sure to read through all of them and check out the pros/cons of each one before moving forward with a specific case.
You never know, you might find one that has a specific feature that you didn't even realize existed with the case.
These case choices are not ranked from 1st to last. They are all great cases to go with and I simply wanted to share the best when it comes to this price range.
With that, I've created a comparison table to show you which ones I would personally prefer if I were in the market for a mid-tower case for around or under the $70 range.
Comparison Table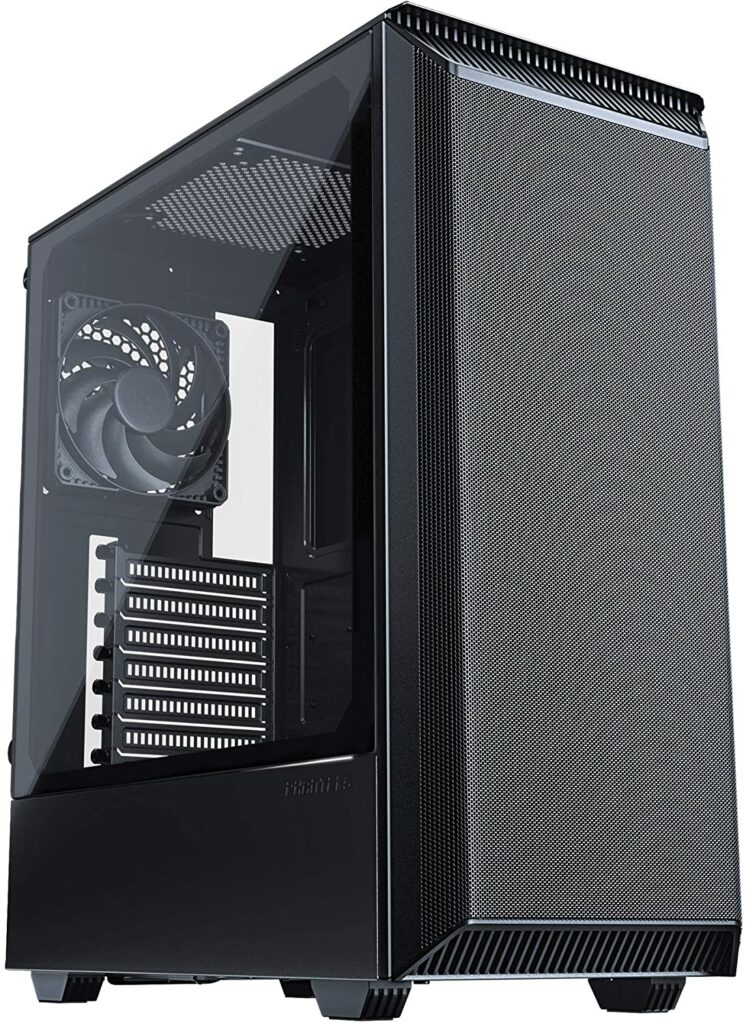 Phanteks Eclipse P300A PC Case
When it comes to having an all-around case for right at the $70 mark then it is hard to pass up the P300A from Phanteks. It is an excellent case with optimized airflow. 

Lian Li LANCOOL 205 PC Case
Lian Li cases are extremely popular and for good reason. Their 205 LANCOOL case features a clean aesthetic, plenty of storage mounting options and a great ventilation design.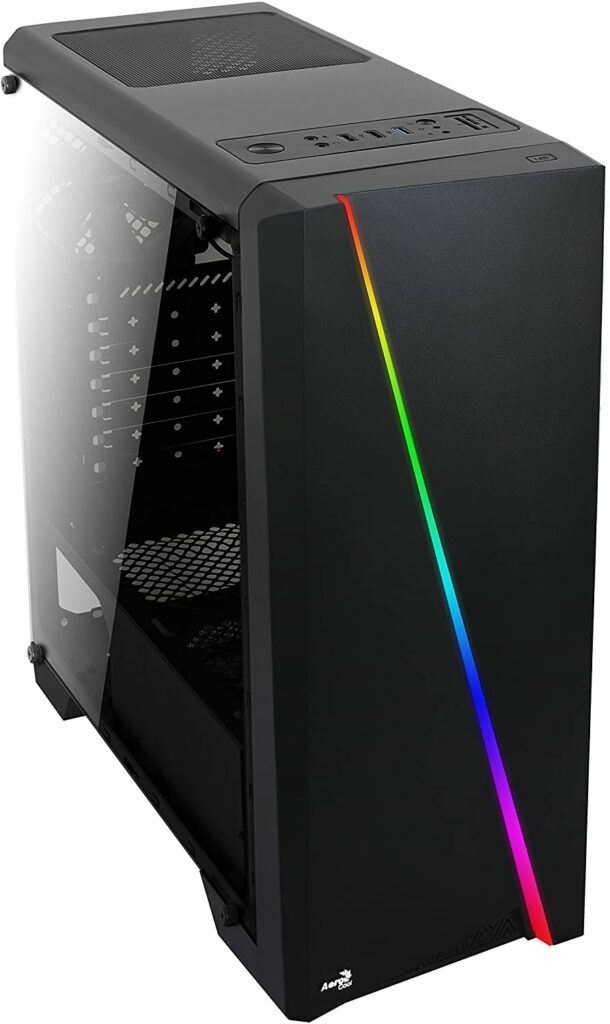 This case from Aerocool might not have all of the attractive features that you will see with the other cases listed here but for right around the $50 mark it is hard to ignore when it comes to one of the most budget friendly options on the market.
The 10 Best PC Cases Under $70 In 2023
---
1. Phanteks Eclipse P300A PC Case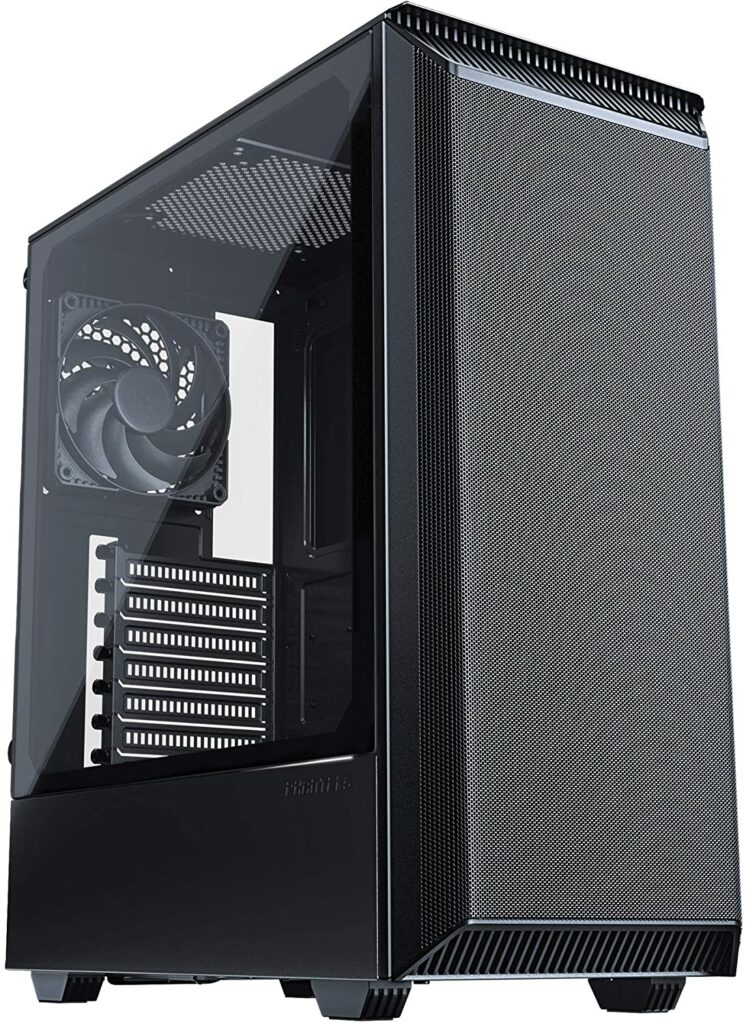 This first case from Phanteks is a great one to go with for those of you that are more into a minimal case design.
The mesh front provides a great deal of good airflow through the case while the glass side panel lets others see inside of the case.
It's a good case to be able to show your PC off with.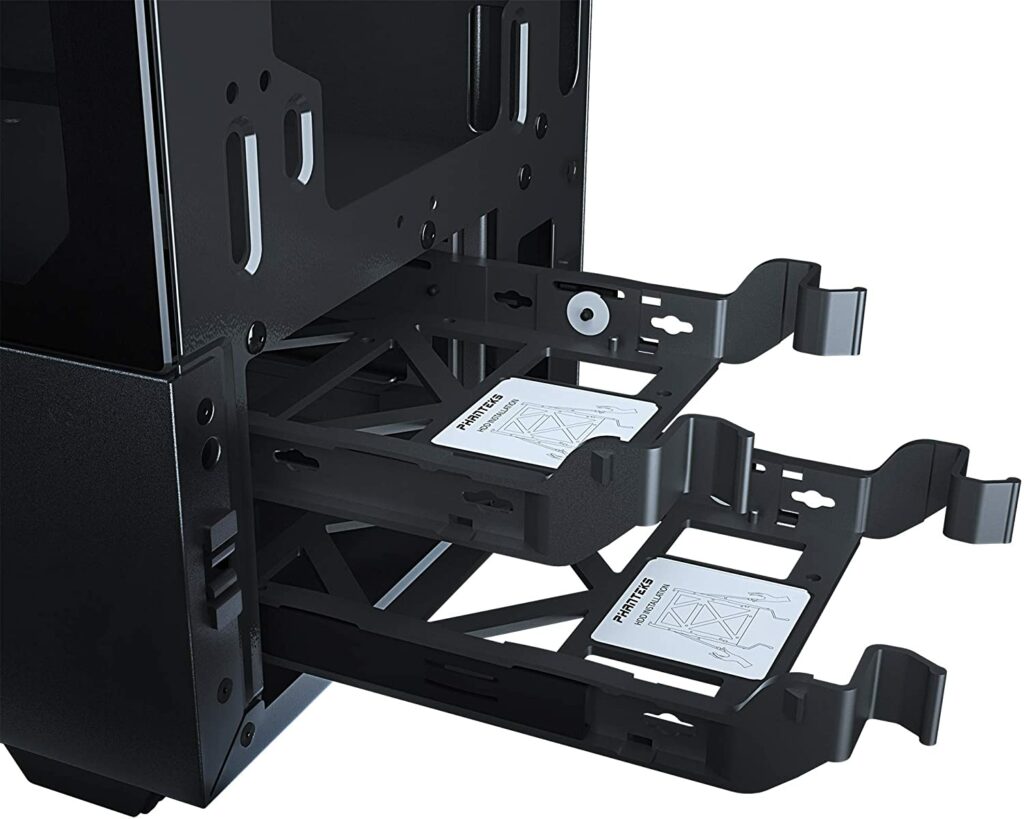 The big kicker with this case is that it is incredibly easy to work/build with and it comes with several HDD/SSD mounting options.
You can have up to four SSDs mounted on the case and there are two HDD trays that you are able to use as well.
Video cards up to 355mm will fit which is perfect for almost any card on the market right now and it's compatible with Micro ATX, ATX, and ITX boards.
One 120mm fan will come with the case. It is pre-installed in the back as an exhaust fan. It'd be wise to pick up a couple of 120mm fans for the front of the case to optimize airflow.
The only downfall of this case is that if you plan on using a fully modular power supply with it, it can be a pain to get the PSU cables to work right due to the HDD trays being in the way.
For around the $60 price point, this case has every feature that you'd need to be able to build a PC smoothly and easily.
Pros
Minimalistic design
Plenty of HDD/SSD mounting options
Well optimized airflow
Cons
Using a modular PSU could be a pain
Side glass panel is a fingerprint magnet
2. Apevia ENZO PC Case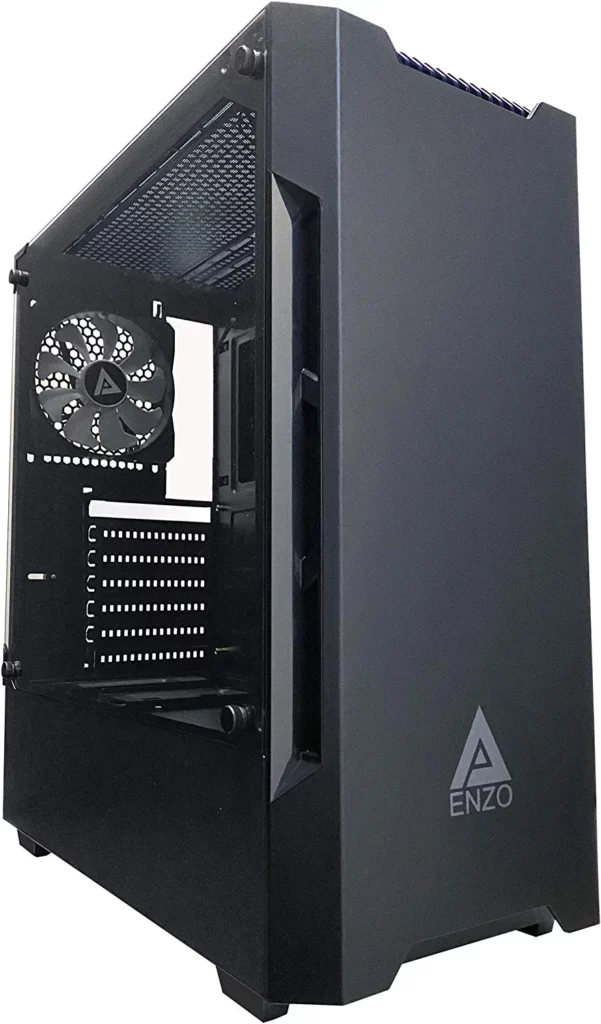 Apevia was one of the first brands I went with years ago and it lasted me an incredibly long time. Apevia has slowly started making a "comeback" into the PC case space and their ENZO case fits the bill on being an awesome, contemporary mid-tower pick.
It has a tempered side glass panel, it comes with a single 120mm fan at the back, has the standard front ports of 1x USB 3.0 / 2x USB 2.0 slots, it'll fit video cards up to 350mm in length, it has room for up to six 120mm fans, it supports up to two 140mm fans at the top, and it comes in a few different style options.
When it comes to minimalism and a case that just gets the job done, this has a decent build quality and is ready for more additions down the road. Although that's kind of a "con", having to get extra fans for intake at the front… it's still something to go for.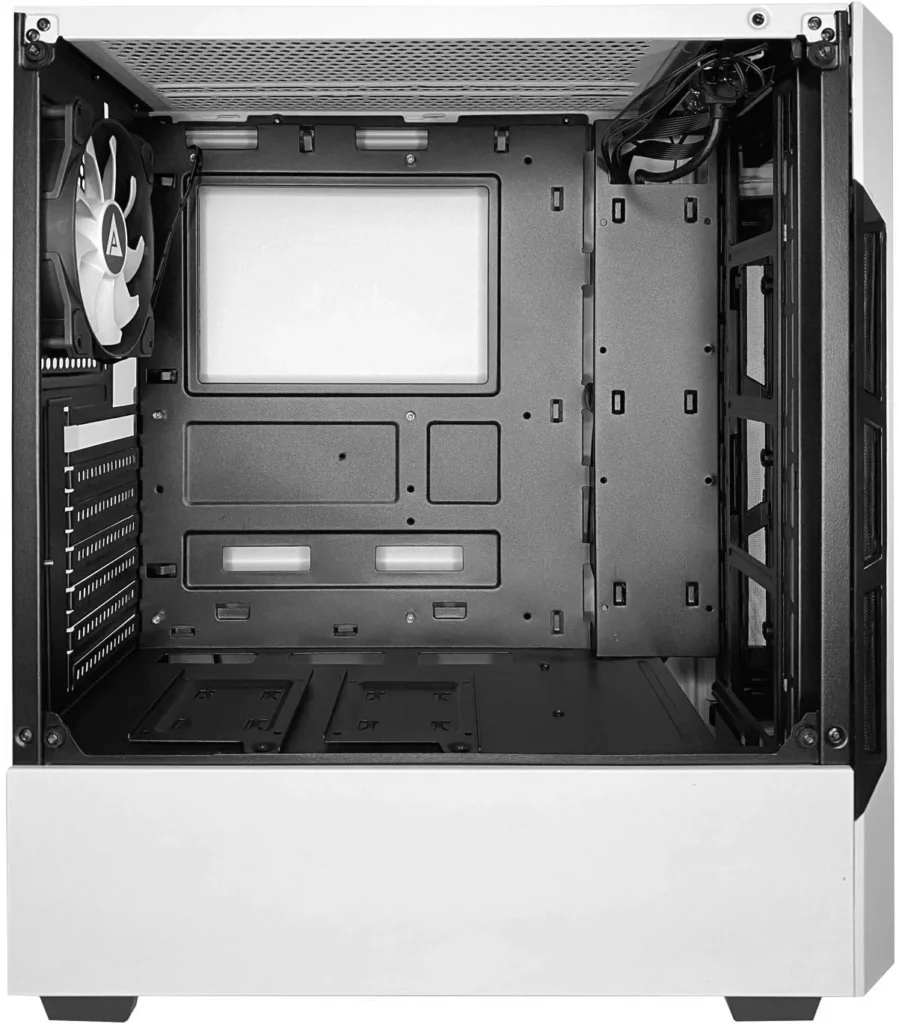 After adding in intake fans, this would be a great case to go with as it'll fit up to 350mm in length for video cards – it'll last the long haul for the life of upgrade paths to your build.
Nothing crazy fancy about the build but simplicity is a way to go as well. Not every builder wants to have RGB lighting going all around, but it wouldn't be too difficult to add in some lighting if you wanted to – and it'd look awesome with lighting!
Liquid cooling is an option, base cooling with plenty of fans is an option… really anything you'd want to do with your build, that's where this comes in as a minimalistic base to build off of.
It comes in black, white, and pink style options. It's usually priced right around the $65 range which fits right into our budget point goal and it has plenty of feedback from other builders to back it up.
It's good that Apevia has been making a comeback with both budget-friendly case options like this as well as other higher-end choices!
Pros
Minimalistic, clean style
Good build quality that'll stand the test of time with upgrade paths
Up to six total fans can be used
Cons
Doesn't come with intake fans
Will be a slight tight fit with ATX boards
3. Apevia Aura PC Case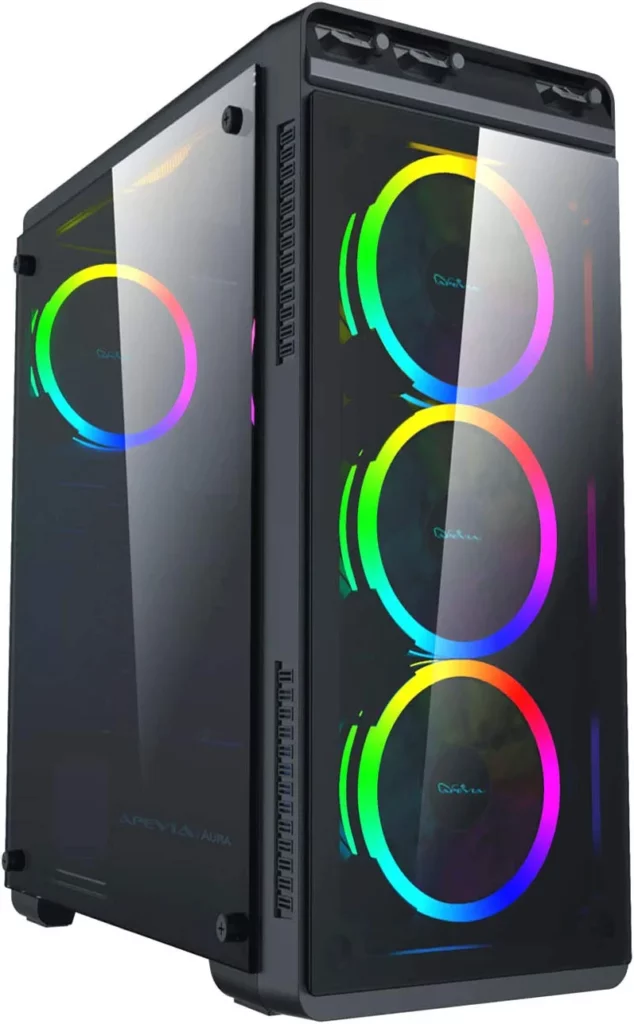 Right away with another case from Apevia, but this time around including plenty of fans and having some RGB built-in right out of the gate.
The Apevia Aura is a slick mid-tower case series with tempered glass at the side and front, it has the standard 1x USB 3.0 / 2x USB 2.0 slots available at the top, it can fit a video card up to 350mm in length, it has a RGB light switch for 16 different lighting modes with the fans, and there are multiple style options to choose from.
Being able to have a case where you don't need to add in any extra fans for heat dissaption is always a big plus. The fans that come with the Aura are more than enough to keep airflow at an optimal level while using your PC.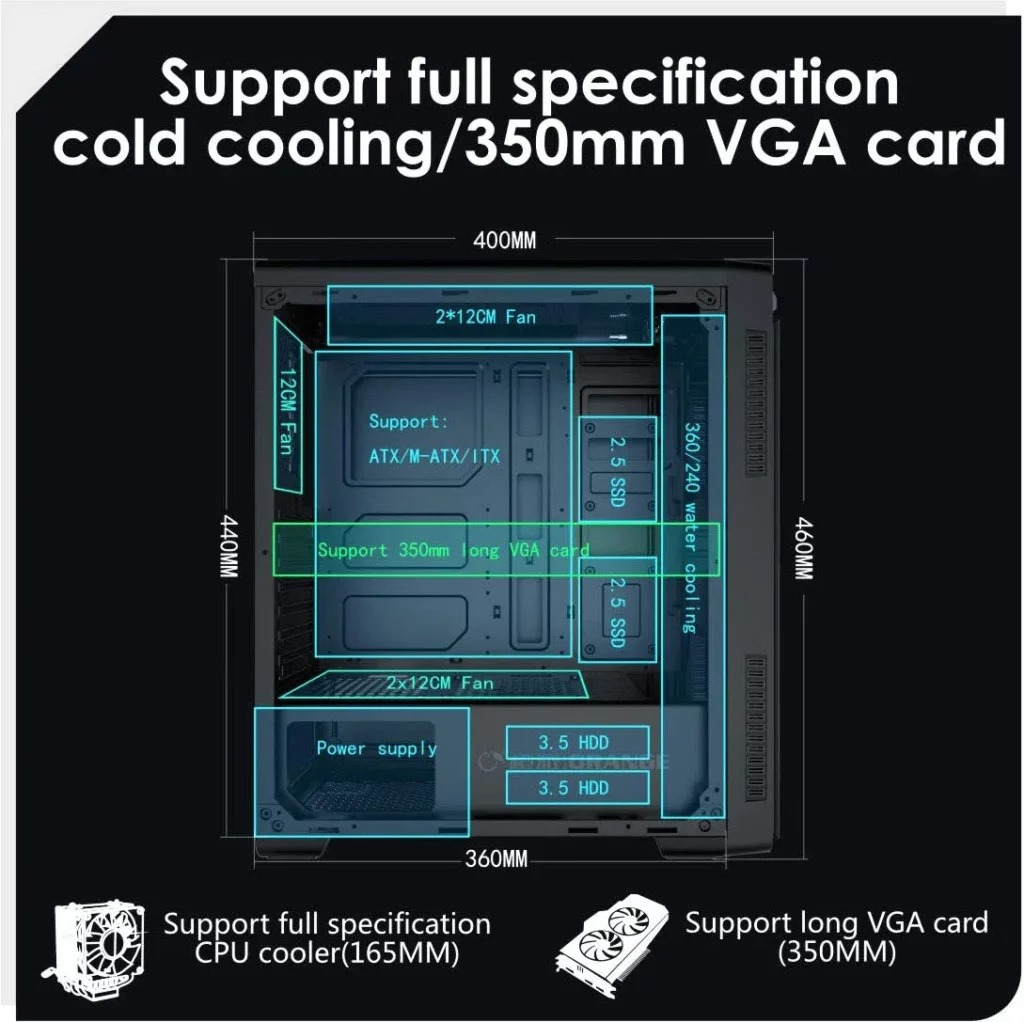 This is definitely a case designed to show off your hardware with the full tempered glass used at the front and the side of the case. Sometimes, with cases that have a glass front, intake fans aren't able to work as well… But this case has vents on the sides of the front panel that'll push air through.
The RGB lighting is controlled with a switch at the top of the case. It can cycle through 16 different lighting modes ranging from the standard breathe, static, and cycling modes. These lighting settings can go through 6 different colors being red, blue, green, pink, orange, and white.
You also have about six different choices on style from both color options of the case and which fan styles to go with. The spectra case comes in black/white/pink, the phoenix case comes in black and has octogon shaped fans, and the frostblade case comes in white and has full lighting within the fan blades instead of the edges.
When it comes to having a case that comes with good intake/exhaust flow right from the get go, comes with base RGB lighting to show off, and has all of the base specs for many different types of builds then it's hard not to go with the Aura series!
Pros
Comes with plenty of fans for optimizing airflow
Ready and compatible with whatever type of case/build upgrades
Comes in plenty of different styles/colors
Cons
Priced right at or above the $75 range
Drive bays are a bit finicky with cable management
4. Fractal Design Focus G PC Case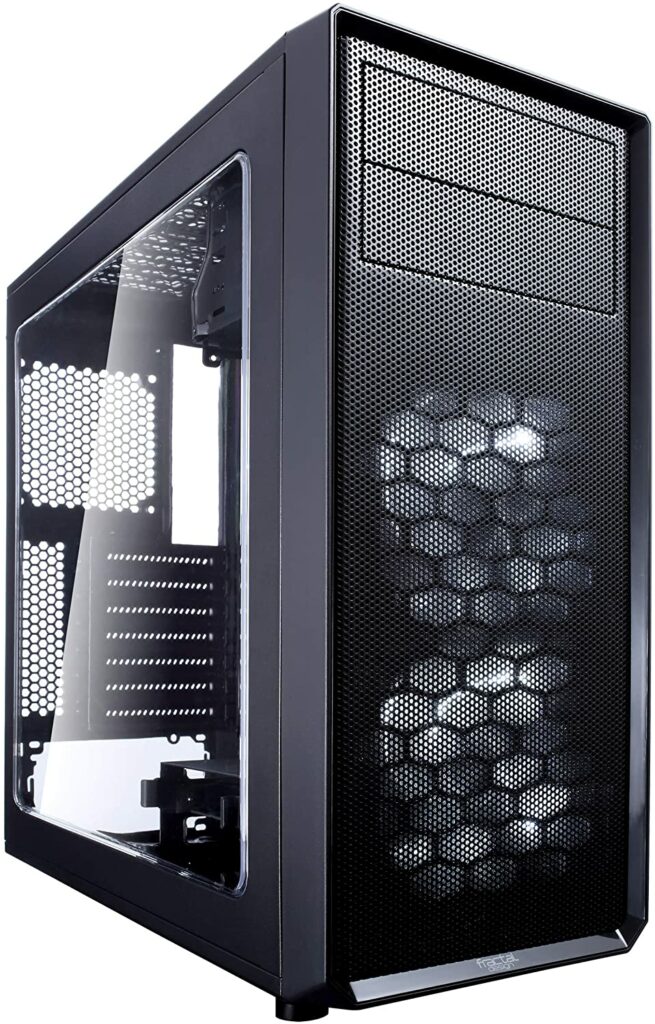 This case from Fractal Design has been used with a bunch of different builds over the past few years.
Many folks that look at build specs here on the site have shared using this case and I've only heard good things about it!
It comes with two white LED 120mm intake fans in the front and it's compatible with multiple radiators for liquid cooling. Though you'll want to add in an exhaust fan to optimize cooling in general.
It can fit GPUs up to 380mm long, there are two hard drive bays with an extra 2.5″ mount behind the motherboard tray, and is a great choice when it comes to cable management.
So in terms of what you'll need for your build going forward, this case has quite a few good things going for it.
It would have been nice to see extra hard drive bays and mounts but from a design standpoint, I can see why more couldn't be added in. That design choice is what helps with good cable management.
There are plenty of color variations as well! It also comes in blue, red, grey, and white. There is also a mini version if any of you were interested in doing a smaller build.
Two USB ports are available on the front, one is USB 2.0 and the other is USB 3.0. My favorite parts about this case are the overall design to show off your build, the easy cable management involved and it having different variations.
Pros
Cable management is very easy to manage
Different color variations available
Easy to show off your hardware inside
Plenty of cooling compatibilities
Cons
Doesn't have a lot of storage bays
Doesn't come with an exhaust fan
5. NZXT H510 PC Case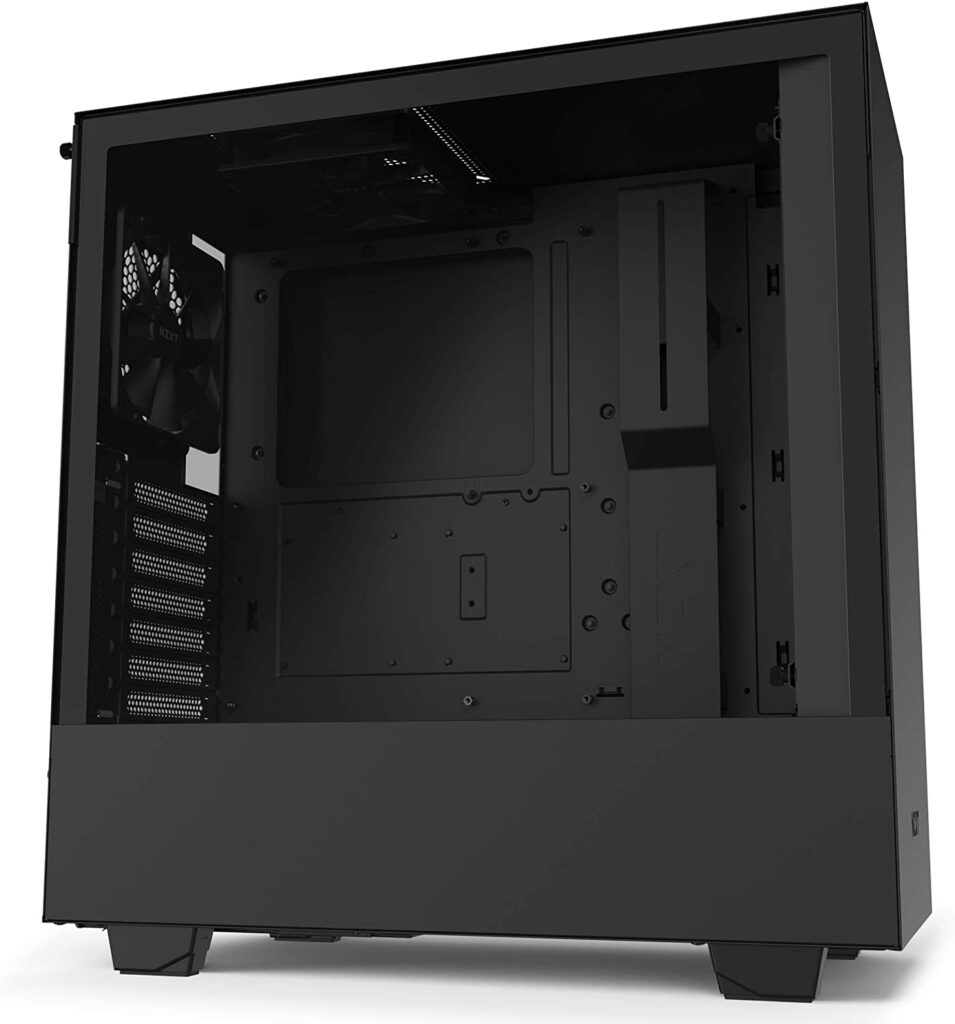 NZXT is a very reputable brand for PC components across the board. Their cases have been one of the more popular case choices with builders for a long time now and for good reason – they almost always have everything you need and then some when it comes to a simplistic case.
The H510 case is their mid-tier solution in their line of cases. NZXT has constantly kept up with their sleek, intuitive case designs that many builders love.
This is the only case featured in this guide that has a Type-C port included in the front panel. Type-C is being used more and more in recent builds so for some of you, that could be the main selling point of this case.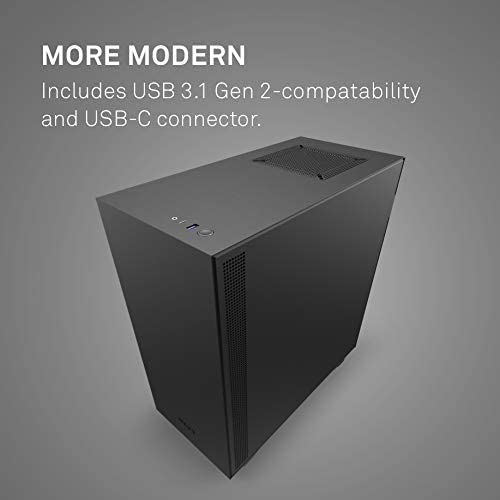 Two 120mm fans come pre-installed in the H510. They are both exhaust fans – one is at the back panel and the other is at the back of the top panel of the case.
NZXT also has their own patented cable routing kit which comes pre-installed with channels and straps to make the cabling process more innate while you are managing all of your cables.
It's compatible with Micro ATX, ATX, and ITX boards, supports radiators up to 240mm, and has dust filters for the front panel as well as the PSU.
There are two other versions of this exact case that come in a red trim and a white case all around as well. It's always good to have different color options!
I would have liked to see some RGB lighting involved with this case, however, some would argue that part of the point of the case is to not include any lighting. With that said, there are also some other variations where RGB lighting is included.
Intake fans included with the case would have also been good to see… but you can always add in other fans down the road whenever you deem it necessary.
When it comes to a super simple design combined with premium amenities in a mid-range case, it's hard to not go with NZXT's H510 case.
Pros
Very sleek design
Patented cable routing kit included
Plenty of room to work with
Comes in different colors
Cons
No intake fans included
Radiator compatibility on the front panel only
6. Lian Li LANCOOL 205 PC Case
Lian Li has always stayed on top of the latest trends when it comes to PC cases, especially when it comes to simple designs.
They have become very popular over the past few years because of how sleek the designs are as well as how easy they are to put a PC together with.
Their LANCOOL 205 case came out in early 2020 and has taken the "budget PC case market" by storm.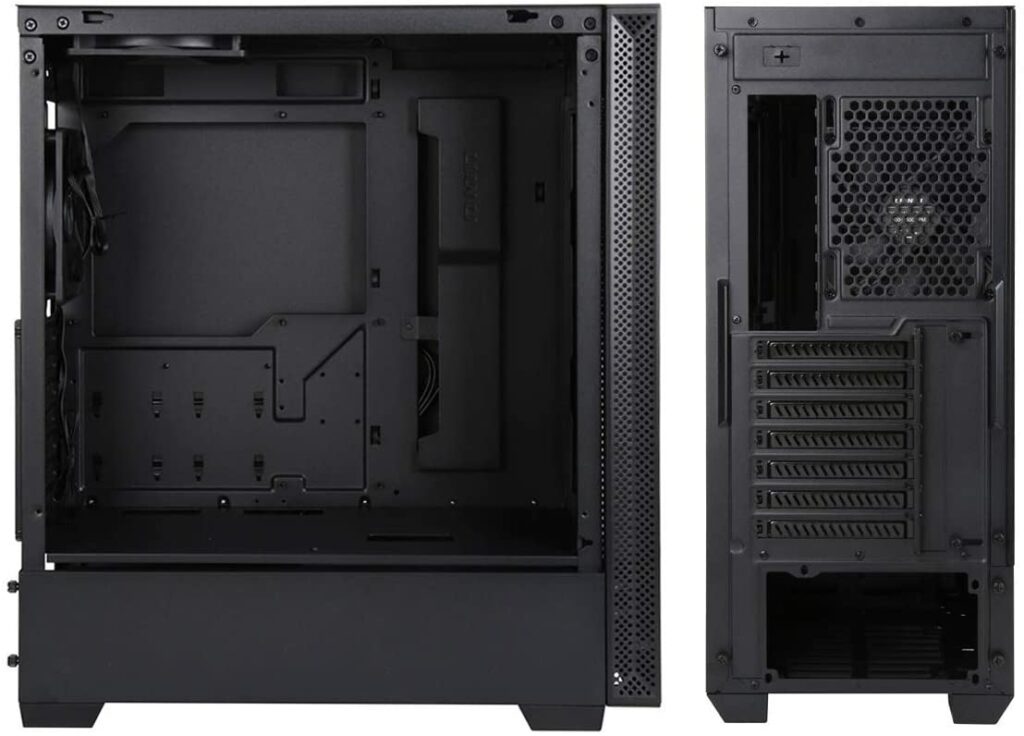 It has an extremely clean aesthetic, very good airflow, plenty of room to work with, multiple storage device mounting options, straightforward cable management, and top/bottom magnetic dust filters.
It also comes in a white variation as well as a mini-black version. Whichever version you decide to go with, there is plenty of room for extra accessories, radiators, and fans to go around. There are two 120mm exhaust fans in the rear of the case, one at the top and one at the very rear.
There are two USB 3.0 slots on the front as well as the standard audio jacks that you'd expect to see. You can have up to six different storage devices with this one as there are four 2.5″ drive bays and two 3.5″ drive bays.
To sum up the LANCOOL 205, it's a smooth case with all the bells and whistles you'd need to add in whatever else you deemed necessary with the case.
The only slight downfall I see with this one is that there aren't any intake fans that come with the case. Otherwise, there isn't really anything bad going on with it.
If you're looking for something that is right under $70, has a straightforward style, and want to have one of the most effortless cases to build with then this case should absolutely be on your radar.
Pros
Extremely easy to build with
Top notch ventilation
Plenty of drive bays
Loads of room to work with
Cons
Doesn't come with intake fans
7. AeroCool Cylon PC Case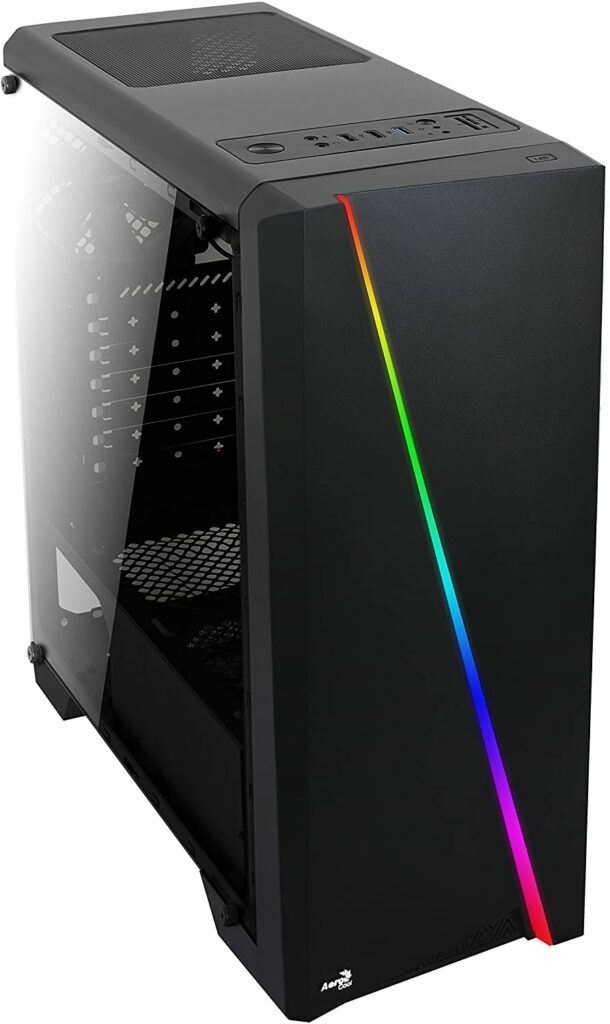 Priced at right around the $50 range, this is the cheapest case that is featured in this list. It comes with a few flaws, but when it comes to having a nice-looking case that's easy on your wallet… it's one to keep in mind.
It has also been included in the $600 build guide here on the site a few times due to the price point and overall use of the case!
This case has a good side window for showing off your hardware as well as including a minimal RGB light strip at the front of the case which can switch to different color modes with the click of a button.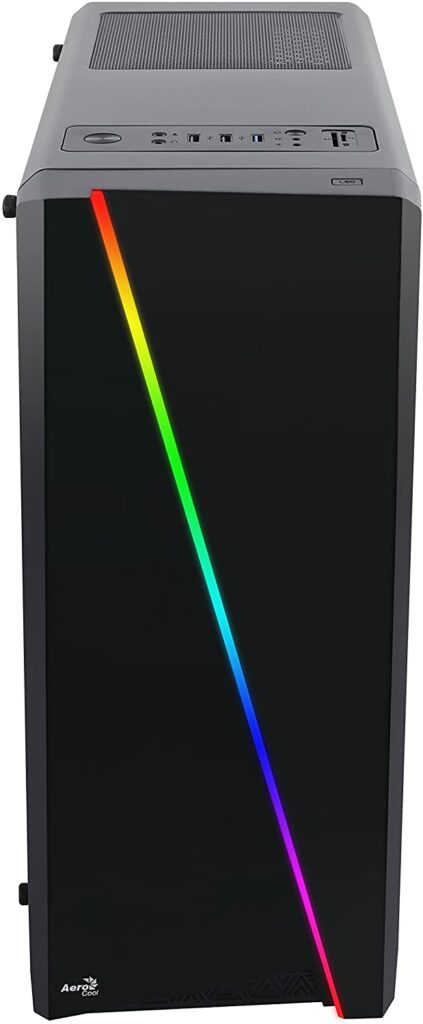 There are 6 RGB lighting modes and you can switch between 7 solid color modes.
It comes with a single 120mm fan in the back for the exhaust and is compatible with different fan configurations.
However, you will only be able to fit a single 120mm fan on the top but you can also fit three 120mm fans in the front or two 140mm fans if you deemed it necessary.
I personally think that adding in extra cooling would be essential in this case as the airflow is its biggest downfall.
There isn't much ventilation at the front of the case so it'd be wise to snag some front fans and/or go with liquid cooling for your CPU if you decide to go with this case.
The front I/O with this case has a little more going on in comparison to the other cases here. It has a single USB 3.0 port, two USB 2.0 ports, audio jacks, and also an SD card reader.
There is a power supply dust filter and it's compatible with every type of board that you'd want to use with this case. You can have two SSDs and two HDDs which gives you a decent amount of room for storage devices.
To sum this one up, it's a value case that doesn't hurt the wallet much at all but it could have better ventilation/airflow going on with it. It has everything you'd want in a case without having the most optimal cooling right out of the gate.
Pros
RGB accent lighting
Extremely inexpensive
Includes a SD card reader
Cons
Ventilation/airflow is not well optimized, will need liquid cooling and/or extra fans
Would have liked to see 2x120mm fan support at the top of the case
8. Antec NX400 PC Case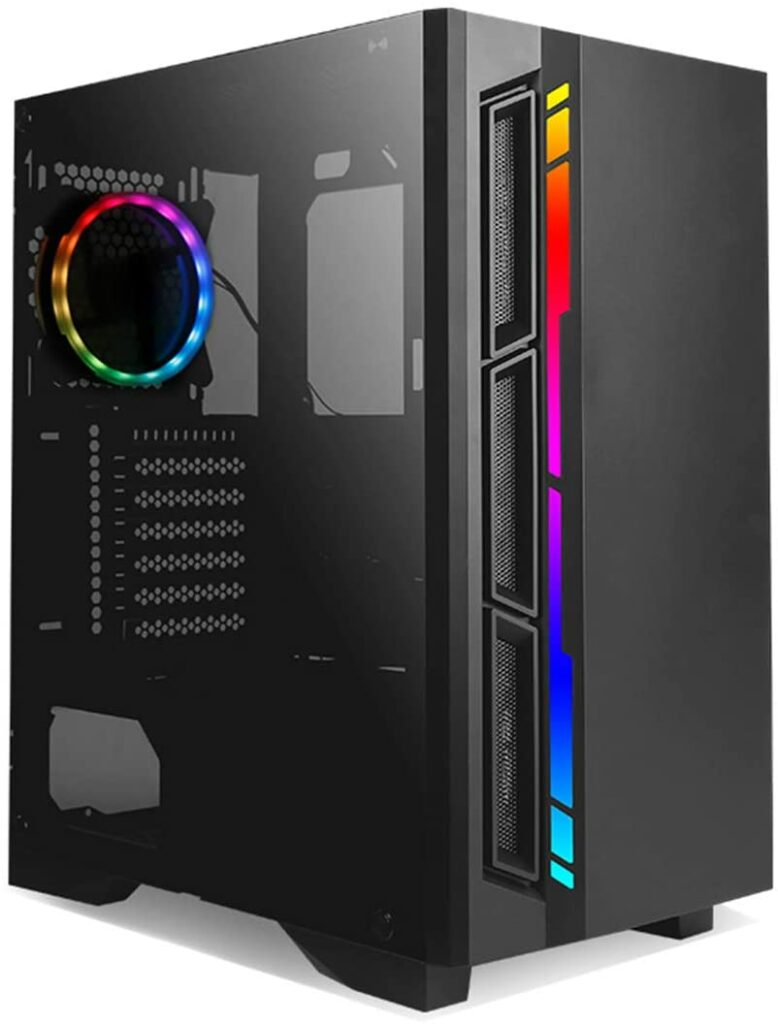 Antec makes a bunch of different case designs. This NX400 model is another affordable RGB case like the previous one with the main difference being that you can tell that Antec had airflow as one of their main focuses with this case design.
The reason why is because it's compatible with plenty of different fan and radiator configurations as well as having decent front ventilation going on with the design as well.
You can have up to 360mm cooling in the front, 240mm cooling on the top, and 140mm in the back.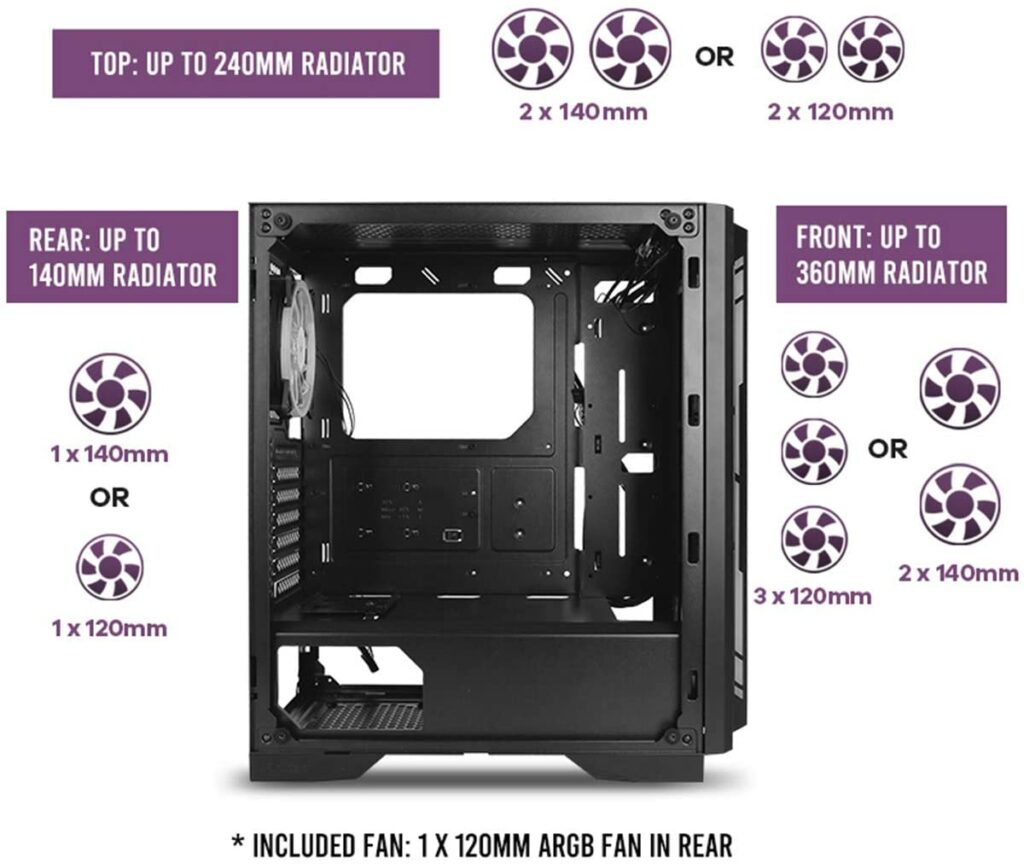 It actually comes with a single 120mm exhaust fan in the back that has ARGB lighting that goes along with the ARGB accent lighting with the case.
There are two USB 3.0 ports and a single USB 2.0 port with the front panel. It also has basic audio jacks as well as a LED button to control the lighting of the case and the back fan.
For storage, there are four SSD mounts and two HDD mounts so you'll have plenty of room when it comes to adding storage. Video cards up to 330mm will fit with this case, it is a somewhat smaller design compared to the other cases here.
The only downsides with this case are that, coming from other builders, the cable management isn't the easiest to deal with and the case doesn't come with any fan filters. It seems that this is the type of case that would better suit someone who has a bit of experience doing PC builds beforehand.
All in all, this case has all of the base features you'd want out of a mid-budget case.
With cable management not being the best… that'll mean that this case would be better if you have already built PCs in the past and have a bit of experience.
It's not like a new builder wouldn't be able to use it… just that it's not the most beginner-friendly case featured here.
Pros
ARGB lighting
Plenty of options for cooling
Has all of the base features for a good all-around case
Cons
Cable management isn't the best
Not the best choice for beginners
No intake fans
9. Zalman S5 PC Case
This next case from Zalman has some of the best design choices made out of all of the cases presented here. When it comes to overall functionality combined with a smooth look… This one is hard not to eyeball.
This S5 case comes with both intake and exhaust fans, has ARGB accent lighting for the front/side/back fan, it has good room for all of your storage devices and the cable management is pretty easy to use!
A 240mm radiator would fit on the top as long as it's not over 35mm thick but it also comes with an optional bracket for other sizes making this a decent choice if you wanted to do a liquid-cooled build.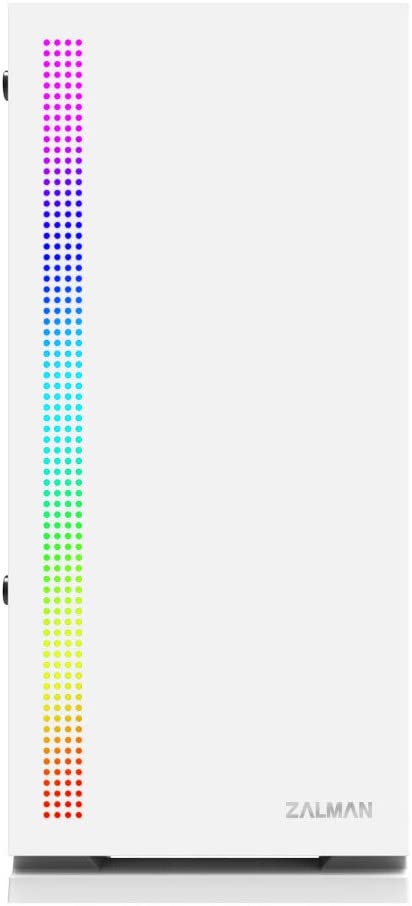 There are four total SSD mounts and two HDD mounts and video cards up to 340mm in length will fit.
From other builder reviews, It's made out of a tougher case material which always feels good while putting your PC together. On the flip side, there have been a few reports of things going wrong with the case.
There have been some builders saying that the RGB light strip didn't work properly or that the case was delivered damaged, which could be a problem from shipping but it's worth noting anyway.
Design-wise, it might not be a big deal to some of you… but compared to the other cases here, it sits higher up from the feet of the case. This would help with bottom ventilation if having the PC on the carpet was your absolute only option.
Other than the fact that it's a PC case that is priced right under the $75 range and that there have been a couple of reports of the RGB lighting not working as intended… this is a phenomenal choice for a case to go with.
If you're looking for a case that has minimal RGB lighting, is made up of durable materials, that comes with an intake fan as well as an exhaust fan right out the gate, and is simple to use then this Zalman case would be the definite one to go with.
Pros
Made out of durable materials
Comes with an intake fan and an exhaust fan
Cool RGB lighting
Decent cable management, easy to build with
Cons
A few reports of the LED strip not fully working properly
A few reports of the case arriving damaged
10. Montech Fighter 500 PC Case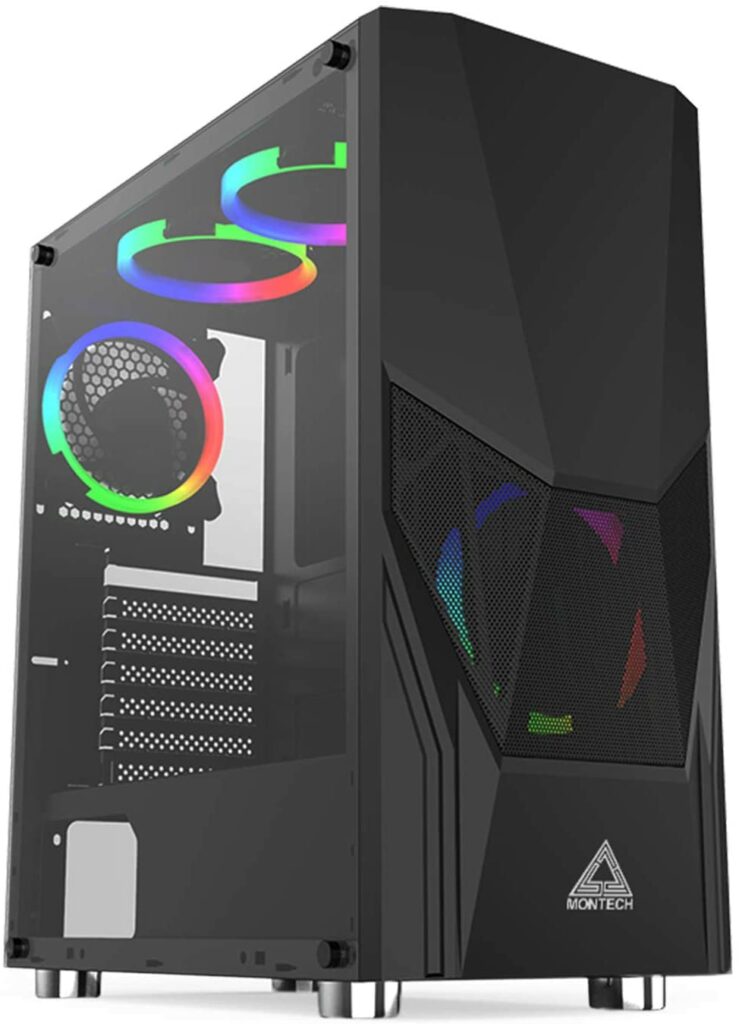 Last but absolutely not least is the Fighter 500 case from Montech. I've personally built a couple of PCs using other Montech cases and they have always been super easy to build with.
With the Fighter 500 specifically, you not only get a really cool-looking case but you also get a good level of cooling and ventilation with a lower-priced case. It comes with four RGB fans. There are three exhaust fans and one front intake fan.
Unfortunately, you aren't able to change the colors of the RGB fans, but the simple fact is that it comes with four fans for an optimal level of airflow at this price point…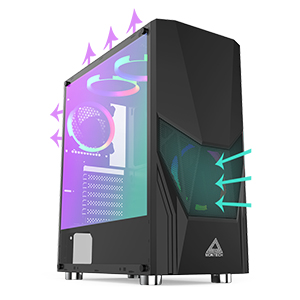 It makes sense that the "extra" lighting features aren't included with this one.
On top of the included intake/exhaust fans, you also get a sleek case design, a magnetic dust filter at the top of the case, three USB ports in the front I/O (1x USB 3.0, 2x USB 2.0), it can fit cards up to 320mm and has 2x 2.5″ SSD drive bays and 2x 3.5″ HDD drive bays.
It is also compatible with all of the basics when it comes to radiators should you ever decide to upgrade to liquid cooling in the future.
When all is said and done, this case has all of the basics you need for an optimal level of performance right out of the gate.
Sure it would have been nice to see some customization with the fans that come with and it'd be nice to be able to fit bigger video cards in it but this is kind of where it's at when it comes to a beginner-level case at this type of price point.
If you're looking for something basic that gets the job done when it comes to having optimal airflow and ease of use then the Fighter 500 case is going to be the one to get.
Pros
Affordable, low price point
Comes with four case fans
Sleek case design
Beginner friendly
Cons
Cannot customize the LED fan colors
Only fits cards up to 320mm
Criteria Used For The Best PC Cases Under $70
---
Now that you've seen the best of the best when it comes to PC cases under the $70-$75 range, I'd like to touch up on everything that you should look for, and what was looked at for this guide, when it comes to finalizing your decision on which case to snag up.
From the overall design to the best PC case features that you should look for, I want to make sure that you completely understand what to be on the lookout for when it comes to these cases!
So with that said, let's go ahead and chew over the standards when it comes to these cases.
Price Point
The overall price point is obviously the main factor we are looking at for these cases.
At just under the $70-$75 point you are bound to find a case that you will not only be able to easily build with but to also be happy with for the years that you'll have your PC build.
Most of the cases featured here are priced barely under the target budget. When you take a look at the market yourself, you'll notice that this is almost the "sweet spot" when it comes to shopping around for a good case for your PC.
This is due to the companies involved in the creation of these cases having a little more wiggle room when it comes to the design choices made with the case.
At this price, you're going to see a lot more good traits and a bump in quality control.
Overall Case Design
When it comes to a PC case's design, you have to look not only at what you personally like best but also in terms of what comes with the case… that's also part of the overall design!
You should ask yourself a few questions when it comes to a PC case's design:
Is the design sacrificing anything that is vital for ease of use? (Drive bays, cable management, etc.)
Does the case design conflict with airflow?
Will I be able to fit all of the necessary parts I need in the case?
Do I thoroughly enjoy looking at the case?
Sometimes in a case's design… some things are sacrificed just for the sake of something looking "cool" or following the current trend of the case market.
Keep an eye out for this for yourself and be sure to understand what's important when it comes to a case!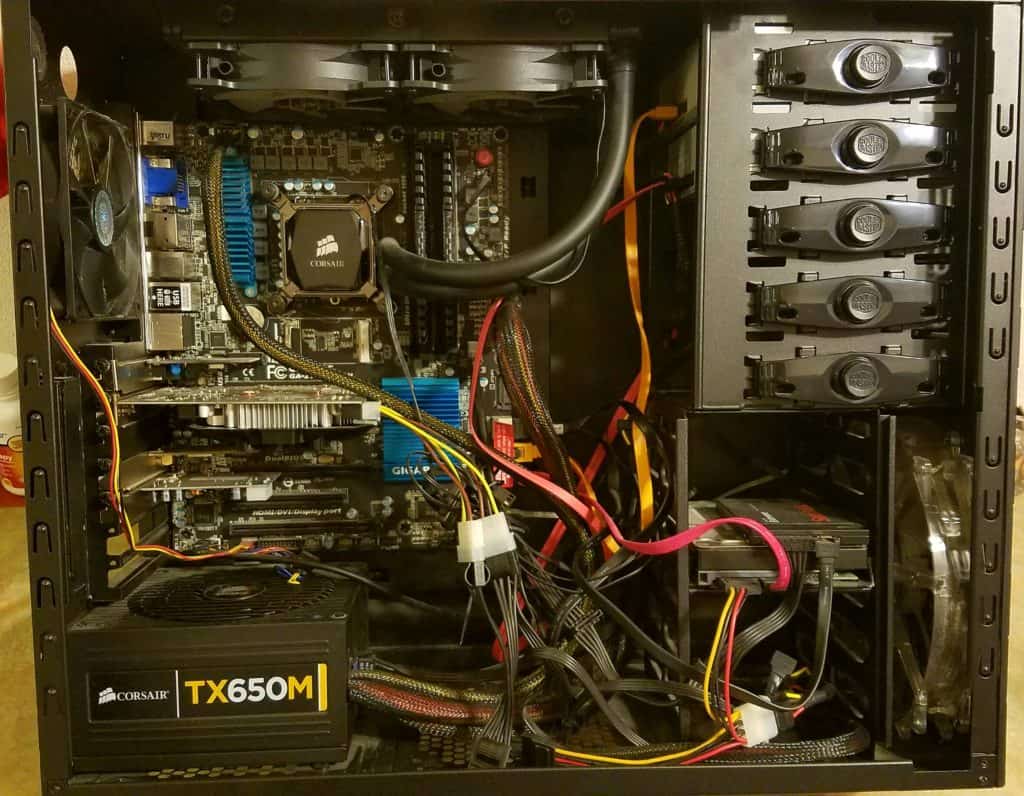 Airflow, enough drive bay mounts for your storage, enough space to fit all of your parts, and certainly if you enjoy the looks of it!
Always keep the important design choices in mind and you'll be good to go as you move forward with your ideal case choice.
Utility & Usability
The usability of your case goes hand in hand with the case design.
If the design choices were made right then it'll be easier to judge whether or not overall utility will be at a good enough level for you.
When you're serious about choosing a case, whether it's one of the cases mentioned here or something else, you'll want to dig into what the general handling is like when building with it.
I do this by taking a look at the specifications of a case as well as any problems that may have persisted within real builders' experiences. The cases chosen for this guide were looked heavily at the pros and cons involved when it comes to utility and design.
At around the $70 range, usability is going to be well thought of with almost any of the cases you'll find on the market. Just keep those few things in mind and you'll be in check for picking out a good case.
Must-Have Features
There are a few "must-haves" when it comes to a case. When you know the must-haves then you'll be able to further fine-tune a case choice that will best suit you and your PC.
Depending on how many storage devices you want, you need to ensure that there are enough drive bays for your storage.
It's extremely frustrating when you don't have enough drive bays for the intended storage device count with your build... So be sure to have that on lock!
Airflow is extremely important when it comes to any case and I feel like some newer folks that get into building don't think that it is as big of a deal as it is.
If your case doesn't have optimal airflow, it will not be able to last long under high temps. I've experienced this myself with poor airflow builds in the past.
Some cases will come with intake and exhaust whereas some others will require you to get the necessary fans to complete the airflow. You'll want to make sure that you do this as soon as you can!
You can also look into using some liquid cooling and using a radiator with your build, they can get kind of spendy but in the long haul, it can definitely be worth adding to your build.
Lastly, you'll want to look at the cable management options with a case. You can understand how it works from other builders' experiences with the case through builder reviews.
You can also look for plenty of holes in the back to loop your cables around and if it seems like it'd be easy to use zip ties with some of the other cables.
Those are the main features you'll want to look for if you want to ease up on the experience of putting your PC together as well as having longevity with your PC!
Conclusion
---
This marks the end of this guide for the best PC cases under the $70-$75 price range!
I hope that you were able to find a case here that you'll be able to use for your PC or at the very least, I hope this post helps you understand what to look for when you're looking for the best mid-range PC cases on the market.
Need more help with your build or don't know which parts are best? Be sure to look into how to build your own PC here on the site! There are plenty of guides here to help you out!
If you want to gauge some big differences when it comes to price point, you should check out our post on the most expensive PC cases that are out there, some of them are pretty insane!
Also if you're in the market for some good peripherals to go with your current build then be sure to check out our guide on the best gaming mice under $100 whenever you get the chance.
Taking a look at the design choices, optimizations, ease of use, and overall utility… these are the best PC cases for under $70 that I've been able to find on the market today.
Are there any other mid-range cases that you think deserve a spot on this list?
Which cases, if any, are the ones that you think you'll go with?
Let me know in the comments below! 😀
Hey there! 👋 I'm Colton, founder of PC Builds On A Budget.
Whether you need help putting your PC together, finding a great pre-built rig, or want some help finding awesome peripherals – I've got you covered!
I share my experiences of anything and everything related to gaming PCs with you here. 👍