Last Updated on January 9, 2023
This is our guide for the best gaming mouse under $100 in 2023. At the $100 dollar price point, you will have a mouse that is worthy of wielding for any game.
Doubling down on the research, I've gone out and found the absolute best gaming mice on the market that are under the $100 dollar mark.
This guide will be going over personal reviews of the mice, pros/cons of each one, specifications, and overall what each mouse will be good for.
Hopefully, this guide will give you a good understanding of what to look for when you're ready for a gaming mouse at this price range!
With that, let's get to the list.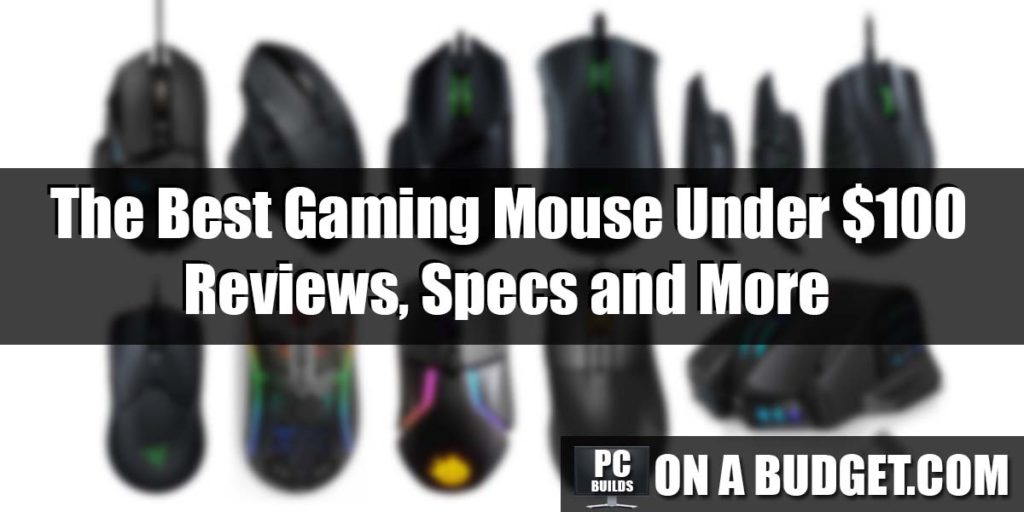 Gaming Mice Under $100 – Our Guide & Overview
---
When it comes to shopping around for a good gaming mouse that's at this price point you need to know exactly what to look for because some of the mice on the market are too hyped for features that are either not a big deal or are overhyped to simply sell the mouse.
That's why I decided to create this guide. To help you understand the real mice on the market that will actually give you an advantage in your games.
I'll explain the best usage for each mouse as we move forward with this guide and you will also be able to go over the specifications and reviews of each one that way you can come to a decision for yourself.
If you play MMOs or MOBAs then you should look into mice that have multiple side thumb buttons to fully utilize your hotkeys.
If you mainly play FPS titles or games that require precision in general then you will want to get a mouse that has a great grip and feel to it as well as being able to have a wide spectrum of DPI settings.
The goal here is to help you discover your ideal mouse depending on your play style, most wanted features and desired aesthetic.
Comparison Table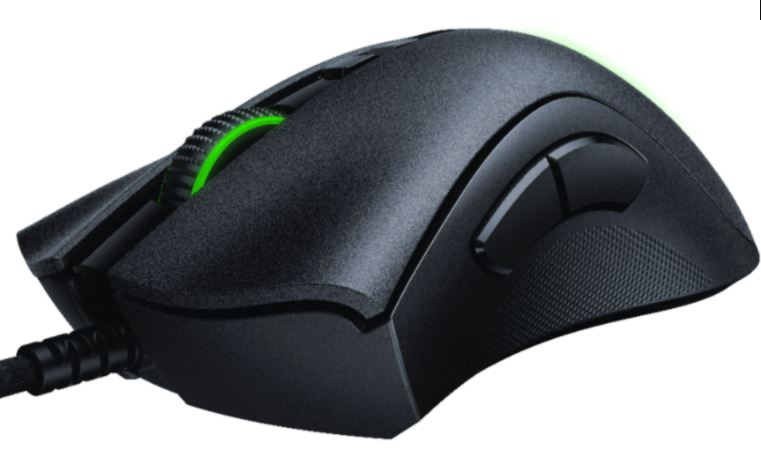 Best all-around, ergonomic gaming mouse.
For all-around ergonomics and everything you need when it comes to a high quality, competitive gaming mouse... The Deathadder V2 is the mouse to go with.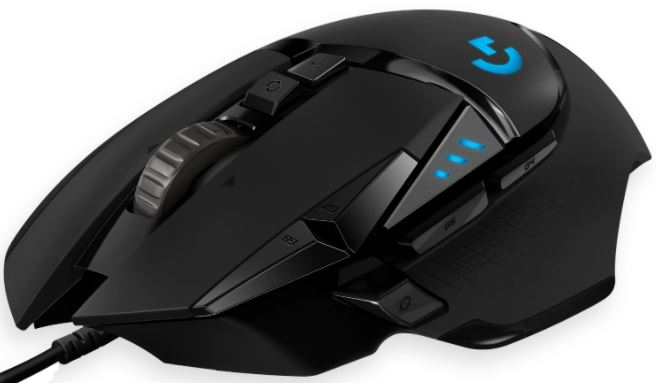 Logitech G502 Hero Edition
Best mouse for variable weight options.
The Logitech G502 is popular in the competitive scene for good reason. The G502 is absolutely the best gaming mouse for when you want variable weight to choose from.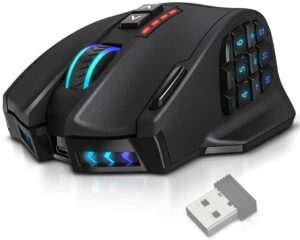 Best wireless mouse for MMOs/MOBAs.
UTechSmart might not be a brand that the entire PC community knows about, but the Venus Pro actually provides insane value for the final cost. 
The Overall Research
Gaming mice have changed over the years, especially the higher priced ones and the ones made from the bigger brands. When choosing the one that is best for you – it comes down to the ergonomics, the accuracy of the sensor, and the functionality of the mouse.
Based on the research and from handling many different types of gaming mice through the years, the Razer DeathAdder V2 is a good pick for an all-around gaming mouse right now. It has everything you need for almost every type of game you would play.
If you're looking for something for MMOs, MOBA-type games, or any other game that uses plenty of hotkeys specifically then the Razer Naga Trinity would be an excellent one to go with.
Be sure to read on for more details about those two choices. Everything you need to know about them will be below within the analysis below.
However, you should also take a look at all of the other mice that are featured in this guide! You never know, you might discover a mouse you've never heard of and go with something you never thought you would.
These are not ranked in order from best to least best. I simply wanted to share the best of the best that's out there.
Be sure to peruse carefully through the pros and cons of each mouse and go from there. I hope you enjoy this guide and find it useful! Feel free to reach out to me in the comments at the end of the guide, I'm all ears!
Top 10 Best Rated Gaming Mice For Under $100 of 2023
---
Below are the top picks for the absolute best gaming mice that cost under the $100 dollar mark in 2023. There are plenty of great choices out there, be sure to read up on the features and reviews of each mouse to get an idea of which one would be the best for you and your gaming rig.
1. Razer DeathAdder V2 Gaming Mouse
Best all-around, ergonomic gaming mouse.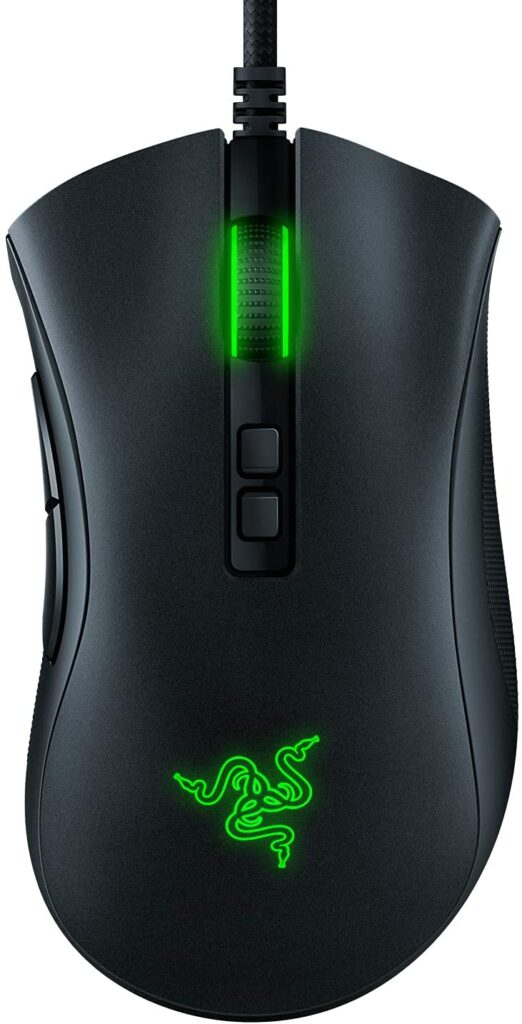 When it comes to having an all-around gaming mouse that does great in every aspect, it's hard to beat the Razer DeathAdder V2.
Razer has plenty of great mouse choices but the DeathAdder has been one of the absolute best all-around gaming mice on the market for a long while now.
It has excellent ergonomics, it lasts for a very long time, feels very comfortable for almost any hand size, and has the unique Razer style to it.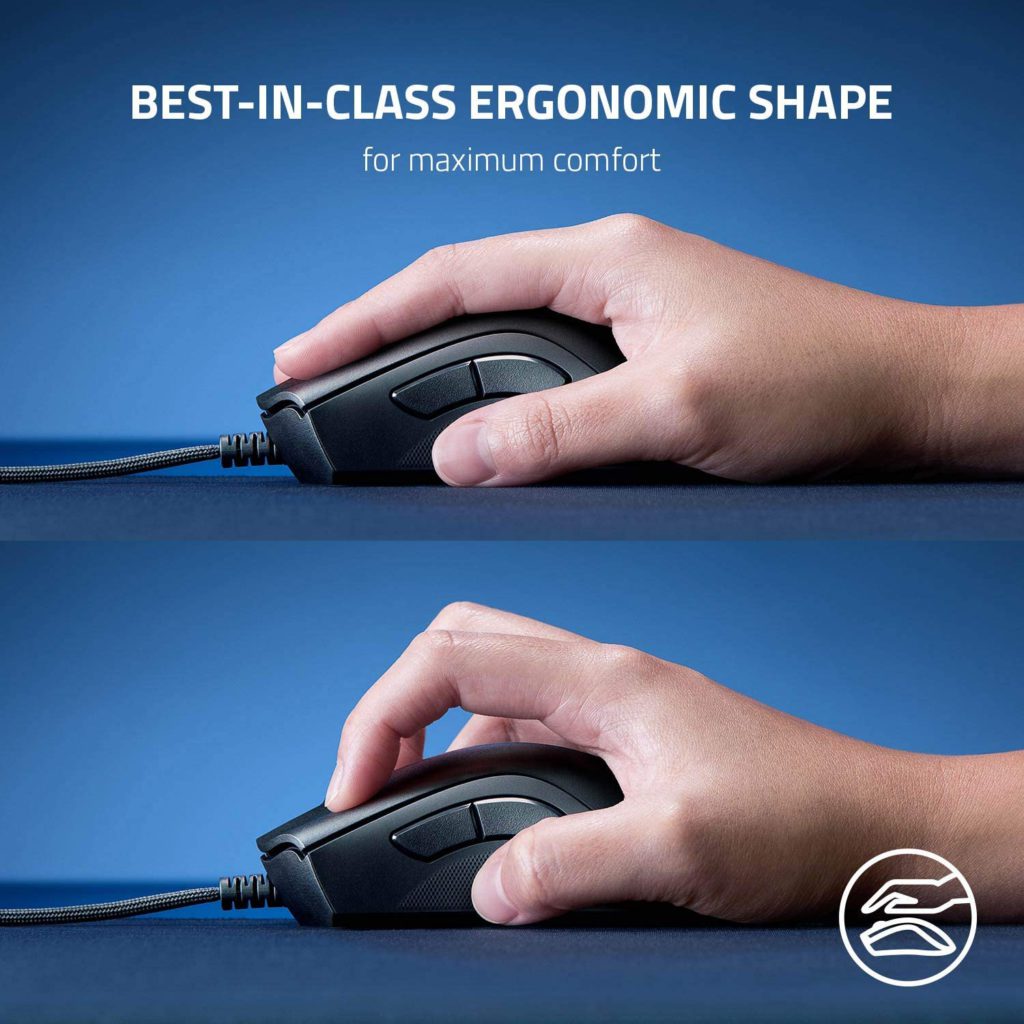 The side grips combined with the overall ergonomic design is what makes the DeathAdder V2 one of the best mice out there.
It seamlessly drags across your mouse pad and you will get used to the feel and the settings very quickly.
Whether you use a claw grip or if you use a palm grip while using your mouse in-game, you will have a comfortable experience with the shape of this mouse.
In terms of settings, you will be able to change up a lot of different aspects of the DeathAdder through Razer's Synapse 3 cloud-based hardware tool.
From customizing the lighting to adjusting the polling rates, changing DPI settings, assigning custom macros and saving separate profiles – the Razer Synapse tool is feature rich and filled with utility.
It comes as no surprise that this mouse is one of the best picks if you're looking to spend under $100 on a mouse that delivers on almost everything you need for gaming as a whole. If it maybe had more lighting zones and adjustable weight then it would have no competition at all.
Pros
Very comfortable, ergonomic design
Plenty of customizable options/profiles through Synapse
Extremely durable
Razer proprietary switches
Cons
Cannot adjust weight
Only two lighting zones
2. Logitech G502 Hero Edition Gaming Mouse
Best mouse for variable weight options.
If weight adjustment is an important factor for your choice in a gaming mouse then you definitely need to have the Logitech G502 Hero Edition on your radar.
This one from Logitech has been a staple for many PC gaming rigs because it is simply an incredible mouse.
It has 11 programmable buttons, a sniper thumb button, plenty of weight adjustment, and a button to make your scroll wheel spin smoothly.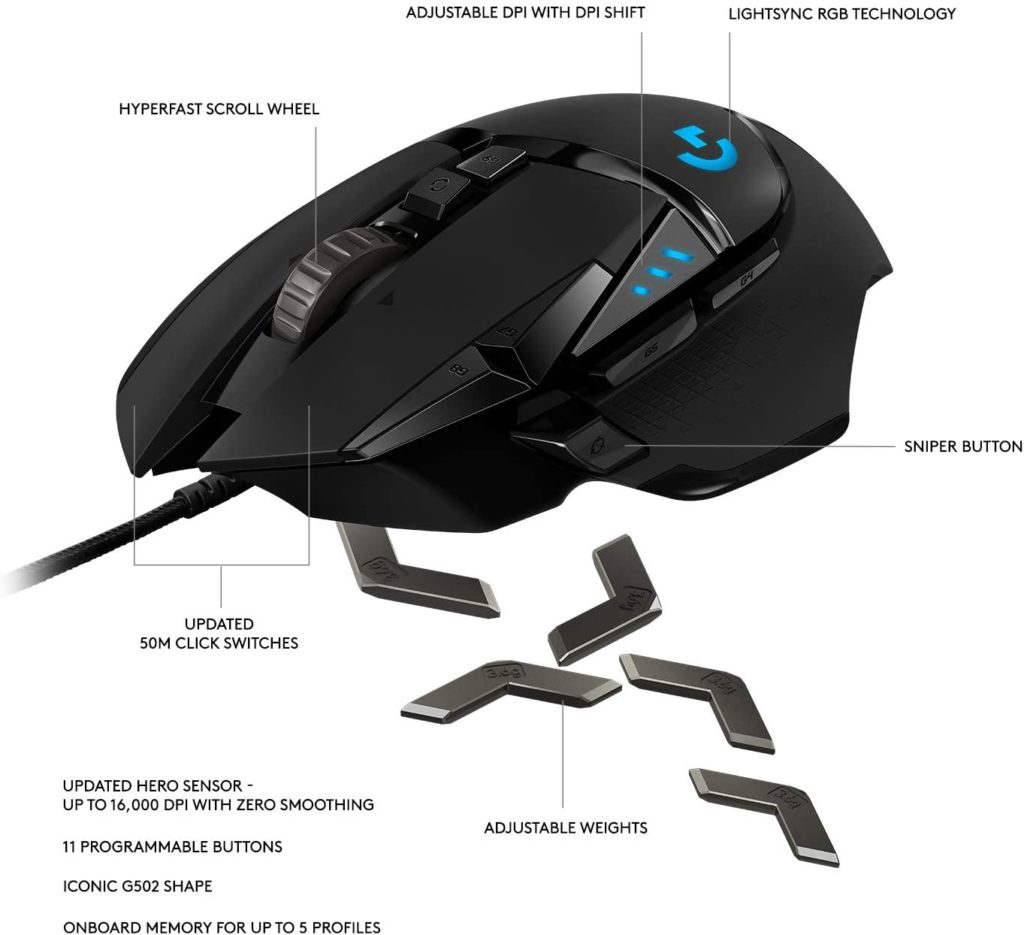 There are two thumb buttons near the two main mouse buttons that act as your DPI switch but you can change them to do whatever you'd like within Logitech's mouse software.
Within that software, you will also be able to change up the bit of lighting that the mouse has along with being able to save different profiles if you deemed it necessary.
It should be noted however that the GHUB software that Logitech now uses isn't the best software out there.
When you get around the bugs and learn how it is used then you'll be able to adjust what you need to adjust.
The sniper button also acts as a way to change your DPI on the fly, preferably while scoped in with a sniper. However, lowering your DPI in other types of games can be beneficial as well – it's not specifically for sniping in FPS games.
Weight adjustment is top-notch here, the weight differences are very noticeable. When I used this mouse a while back, I decided to use all of the weights combined. With this mouse, the heavier feeling is what felt best for me.
Check out the full review right here if you're interested in reading more about my personal experiences with this one!
The fast scroll wheel button allows you to switch between a scroll wheel that will lock in increments or you can have it scroll basically infinitely. It's very nice for browsing to the bottom of a webpage or when you need to scroll very fast in a game.
As for the sensor, Logitech has a 16K "Hero" sensor with a spectrum of 16,000 DPI to adjust. It's not the absolute best sensor on the market and this mouse has maybe been out for a good while now… but it is still extremely accurate and very good quality for what it brings to the table.
The only downsides with this one are the minimal RGB lighting customizations and that the scroll wheel can sometimes feel a little loose when using the fast scrolling option.
Pros
Very noticeable weight adjustments
11 programmable buttons
Logitech's software is easy to use
Unique ergonomics
Cons
Very minimal RGB lighting zones
Scroll wheel can feel slightly loose on the fast setting
GHUB software isn't the best software
3. Logitech G604 Gaming Mouse
Best wireless mouse for long-lasting battery power.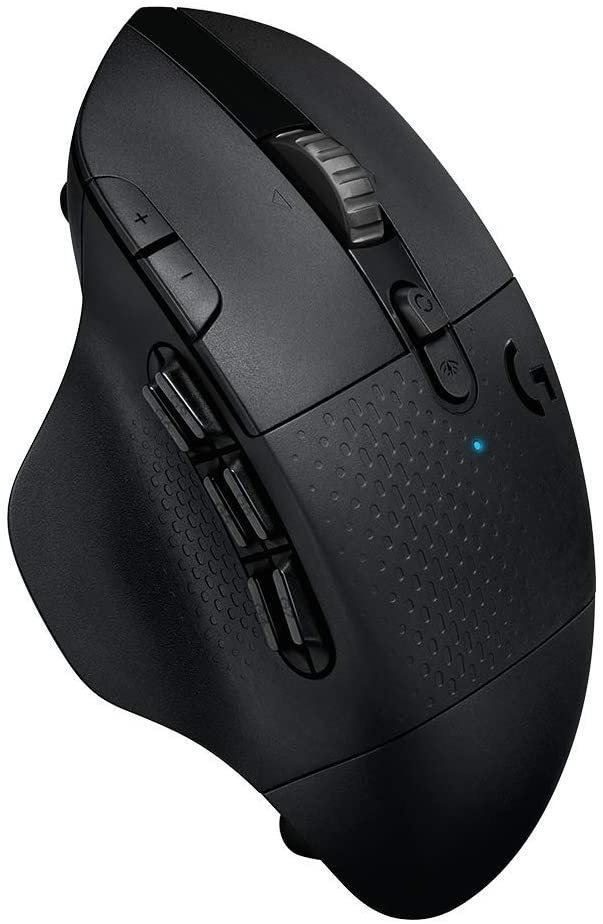 Combine everything that makes a Logitech mouse great (a highly accurate sensor, amazing build qualities, comfortable ergonomics, software for setting up profiles/macros, and on-the-fly features), make it wireless and you get the Logitech G604.
Wireless mice are nice to use and when it comes to how Logitech does it, it is done the right way here.
It takes a single AA battery and you will be able to get upwards of 240 hours of battery life from the AA on lightspeed mode!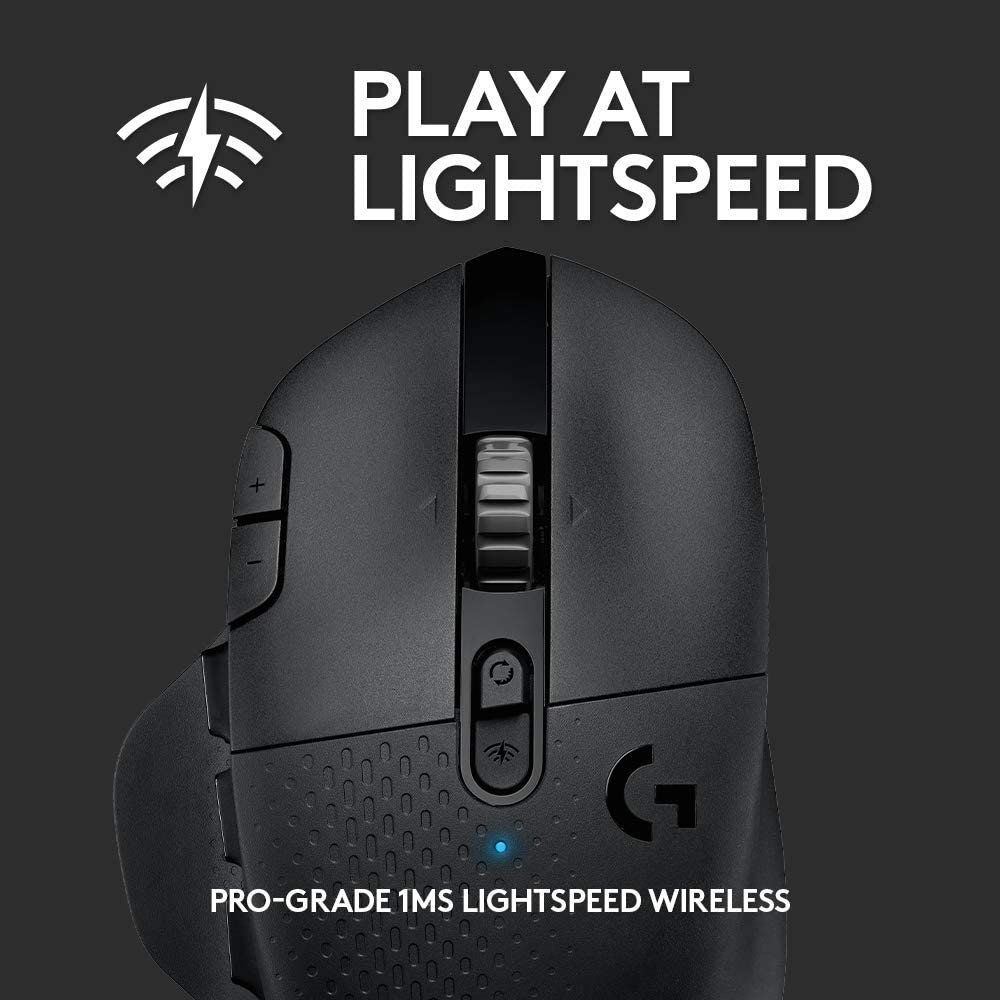 If you opt-out of the lightspeed mode then the mouse will last around 5 months in Bluetooth mode.
Lightspeed mode allows the mouse connection to be around 1ms which is essential if you're playing competitively with the mouse.
If you're on the normal Bluetooth mode then the battery will last a lot longer and you will be able to connect it to many different devices as well.
With that said, 240 hours is more than enough time and you get a few more features compared to similar mice out there.
There are 15 programmable buttons with this one, 6 of which are thumb buttons. You've got the fast scroll wheel option similar to the G502 and the Hero 16K sensor is used as well.
It has high-quality grips on the side and the top has a good texture to it as well. Ergonomics are very comfortable as is the case with almost any Logitech mouse.
It would have been nice to see some customizable RGB lighting with this one and you have to opt into using the GHUB software which isn't the best… but regardless, it's probably one of the best if not the absolute best wireless mouse on the market right now when it comes to features and plating competitively.
If you are looking for a wireless mouse that is very high quality and lasts a long time then this will be the one to go with!
Pros
Wireless, lasts 240 hours on Lightspeed and 5 months on Bluetooth
15 programmable buttons, 6 thumb buttons
Texturized grips, very comfortable to use
Cons
There is no customizable lighting
Uses GHUB software
4. Glorious Model D Gaming Mouse
Best lightweight, ergonomic gaming mouse.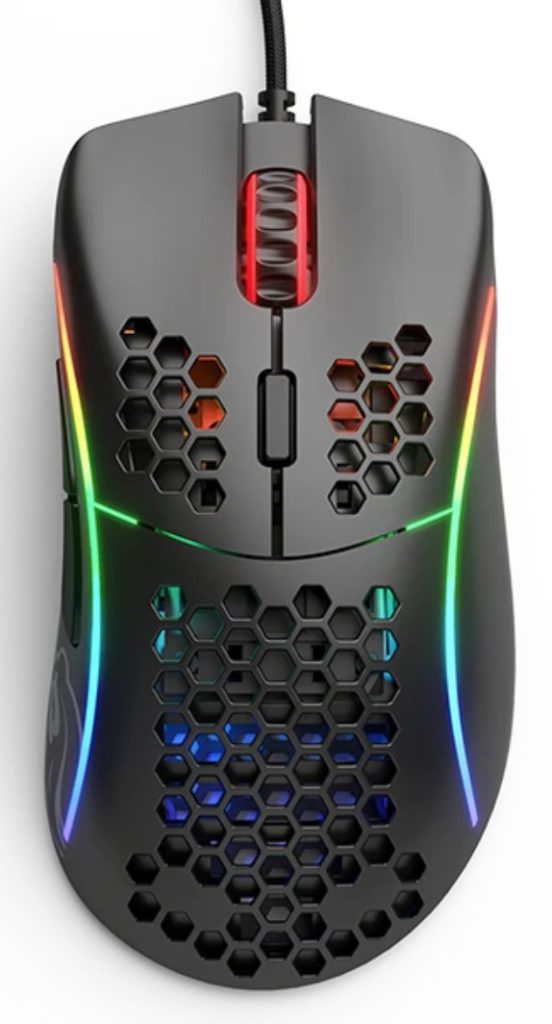 The Glorious Model D is from the PC Gaming Race store and has been a very popular pick when it comes to a comfortable, ergonomic, and extremely lightweight gaming mouse.
I have used the Glorious Model O for quite some time now and it has become my all-time favorite mouse. After using a lightweight mouse I don't think I could go back to anything else.
But that doesn't mean that it'd be the absolute right fit for you as well, many folks prefer heavier mice. I preferred heavy mice for a long time! It comes down to what your preference is.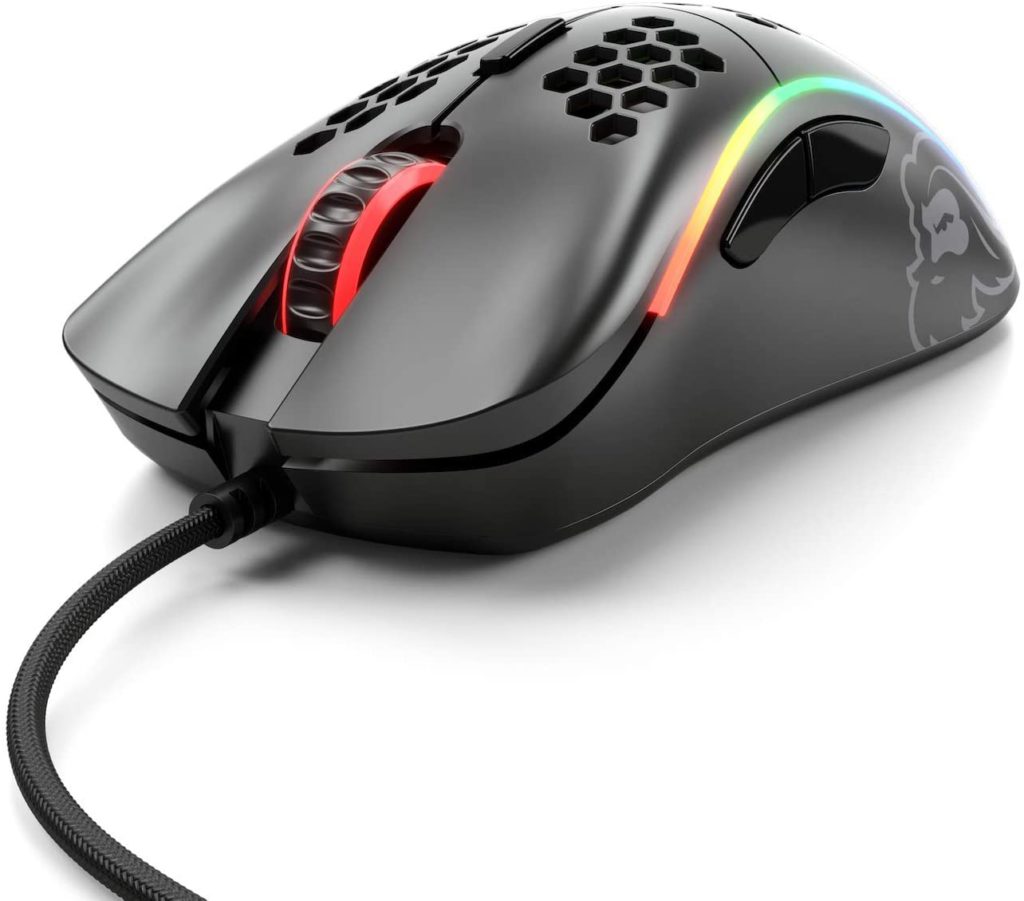 The difference between the Model O and the Model D is that the Model D is their take on a bigger, more ergonomic mouse. It also has bigger side thumb buttons.
Other lightweight mice on the market that have a similar design to the Model O are more expensive, don't have as many features, or aren't as high quality when it comes to the overall build.
The Glorious mice from PC Gaming Race have the honeycomb shell design which provides a lighter overall weight to the mouse.
It also comes with smooth mouse feet pads that make the mouse glide along your mousepad with ease.
To make the mouse feel even lighter, they use a braided cable that almost feels like a light cloth where you can hardly tell it is even plugged into the PC.
It comes in two different sizes, if you have medium-sized or large-sized hands then the default Model D is for you. If you have smaller hands then they have a Model D- variant that you should go with.
The Glorious software is super easy to use and allows you to set up your DPI settings, lighting, and profiles. The mouse itself comes in matte white/black and glossy black/white.
When it comes to using a lightweight mouse with your rig, I'd highly recommend getting the Glorious Model D. It's an incredible mouse and beats the mice on the market that are similar to it by a long shot.
Pros
Incredible build quality
Highly customizable
Extremely lightweight
Top-notch customer support
Cons
Lightweight mice aren't for everyone
Glorious branding might be too much for some
5. Razer Naga Trinity Gaming Mouse
Best mouse for multiple configurations.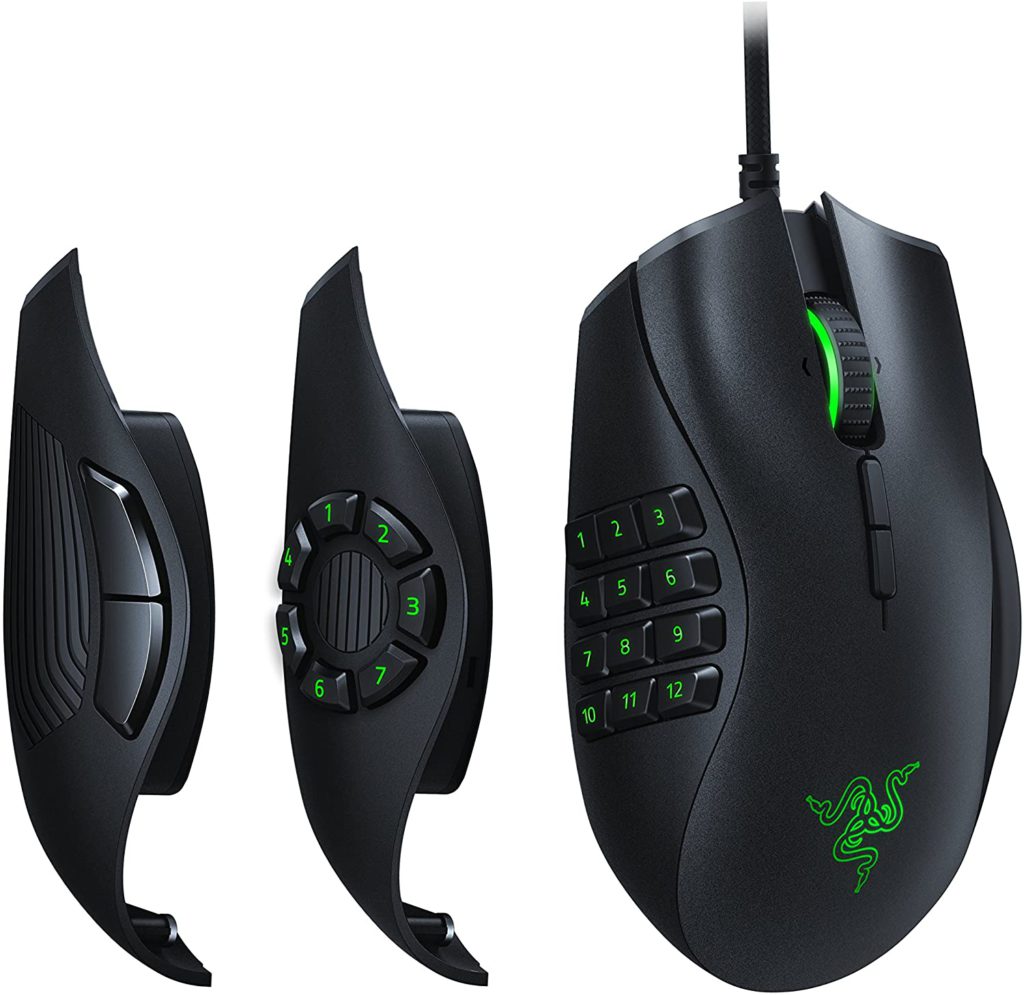 Razer's Naga Trinity is a mouse that tries to provide multiple choices when it comes to thumb button configurations and they do it very well.
I've been able to mess around with this mouse and each configuration for a while and all three side plates feel superb. Razer did a great job getting the feel down for all three types of side plates.
The two-button and seven-button plates have good side grips to them and the right side of the mouse also has a nice grip to it.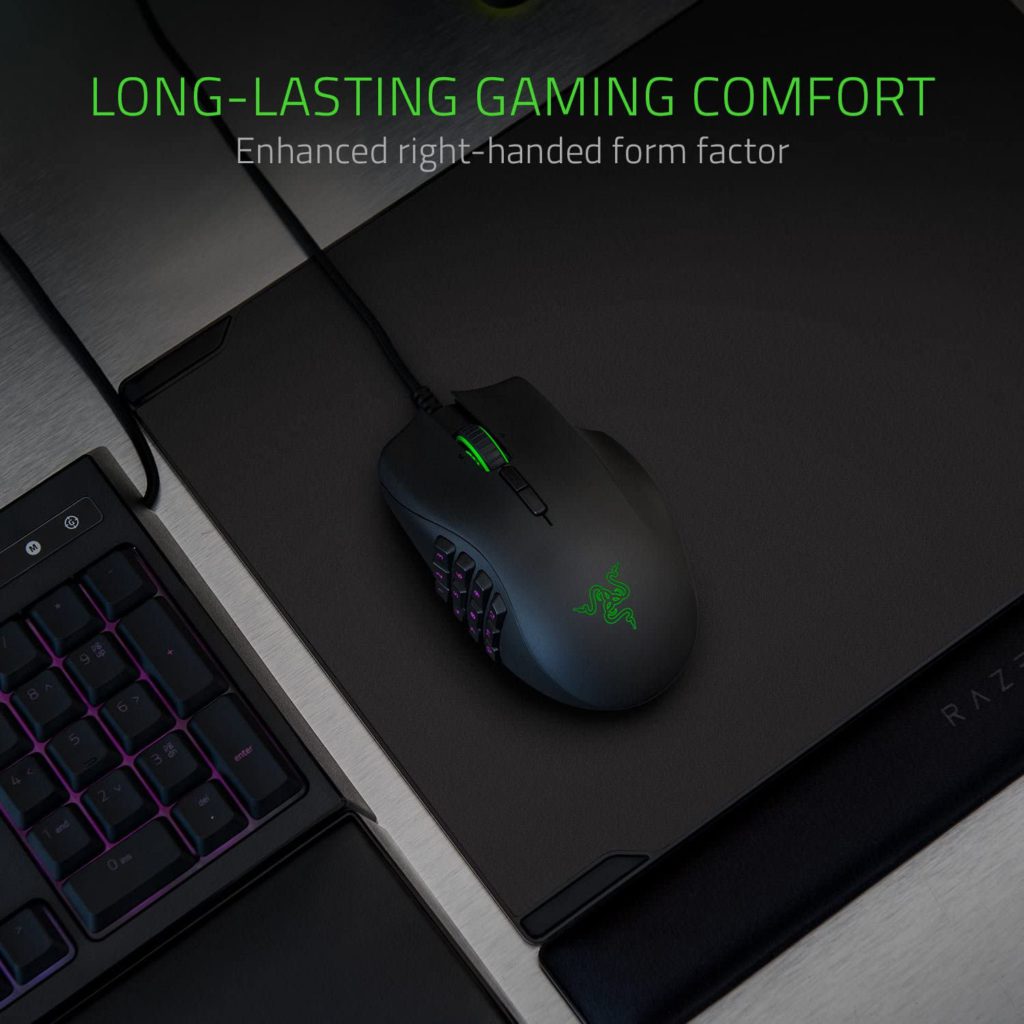 When switching to any of the plates, you have a similar hand placement which I enjoyed feeling upon switching around the different plates.
It has a good right-handed form factor to it no matter which configuration you're using.
This uses a 5G optical sensor and you can adjust your DPI up to 16,000 which is plenty of room for getting your desired DPI setting exactly where you need it.
The mechanical clicks feel amazing. Each click feels highly responsive, it feels like a truly premium mouse in that regard.
That actually caught me off guard because I figured it wouldn't feel as great as other mice since it uses different side plates but there is no sacrifice in quality for that feature.
Then of course you have Razer's Synapse tool where you can customize your profiles, lighting and other mouse settings as you'd expect to be able to.
More lighting zones and maybe a side plate that includes a sniper button would have been nice but that's also asking for a lot considering that it is packed with all of the features that it has.
It's also on the heavier side weighing 120g which is heavier than most of the mice mentioned in this post. This could either be a great thing or a turn-off depending on what kind of weight you like to see in a mouse.
If you're not sure which kind of thumb button configuration you'd want to go with and want something that gives you a little bit of everything then you should consider getting the Razer Naga Trinity.
Pros
Three different thumb button side plates
Very comfortable right-handed form factor
Mechanical mouse clicks
Cons
Might be too heavy for some
Minimal lighting zones
6. Razer Basilisk v3 Gaming Mouse
Best ergonomic grip mouse for on-the-fly DPI.
The Razer Basilisk v3 is Razer's answer to the Logitech G502 – and a decent update from the previous v2 Basilisk at that.
This one was released in September 2021 and it has been a huge hit for those looking for a newer Razer mouse that has a sniper button and a strong, ergonomic design.
The v3 Basilisk is all about programmability and customization. Although they got rid of the adjustable scroll wheel resistance that we saw with the v2, everything else has been leveled up with the v3.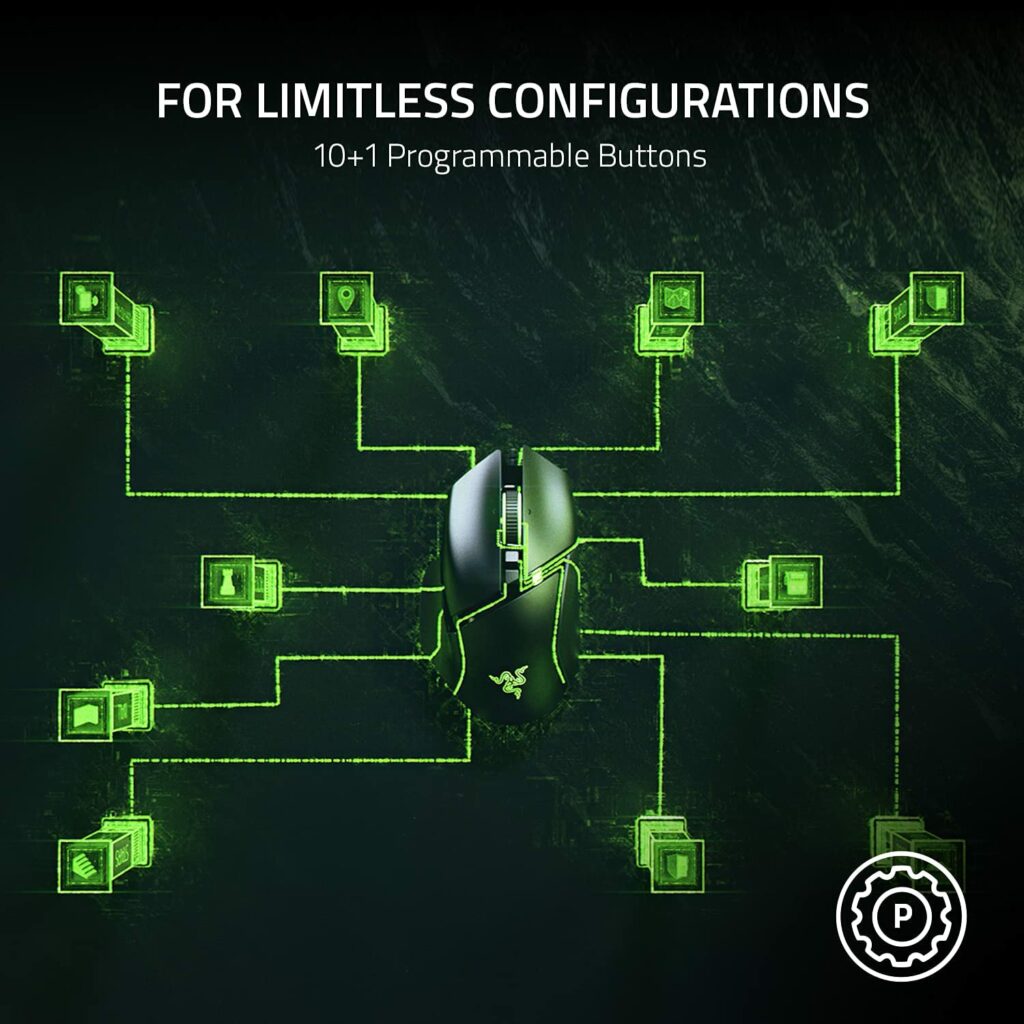 Every button can be programmed exactly how you see fit within Razer's Synapse software. This includes the scroll wheel which has been changed on the software side, allowing for further customization of how the mouse can be used.
Also, like the G502, the scroll wheel can be tilted to each side providing extra buttons. It also allows you to change the scroll wheel to fast scrolling.
There are 11 programmable buttons in total which you can program through the Synapse tool along with all of the other options for the mouse.
Another addition to it is the Speedflex cable that they use here. It's made of a light material that is so light that it will feel as if you went with the wireless variation.
These additions make the Basilisk v3 stand out from the G502. A lightweight cable, an adjustable dial for the scroll wheel, and the Razer touch… it's hard to pick one or the other!
I can see wanting to go with Logitech for their design as well as wanting to spend a little less as you can sometimes find the G502 at around the $50 price point, but Razer did a great job creating a right-handed form factor mouse to compete with it.
You get what you pay for with Razer's newest Basilisk mouse. When it comes to programmability, it's certainly a step up from the v2 Basilisk.
This would be the perfect mouse to go with if you want the form factor design and be able to use Razer's tools at your disposal.
Pros
Adjustable dial for scroll wheel activation
Razer Synapse tool
Lightweight cable with a heavier mouse
Amazing form factor design
Cons
G502 is a direct competitor and slightly cheaper
v3 no longer uses the scroll wheel resistance that v2 had
7. UTechSmart Venus Pro Gaming Mouse
Best wireless mouse for MMOs/MOBAs.
Not every mouse featured here has to be a top-tier, well-known, and established brand like all of the other mice featured here.
When it comes to using a wireless mouse in MMOs or MOBAs where you are constantly using many different hotkeys then the UTechSmart Venus Pro would be ideal.
In different massively multiplayer online games, you are going to have a bunch of mainline skills and the more buttons to be able to access those skills, the better.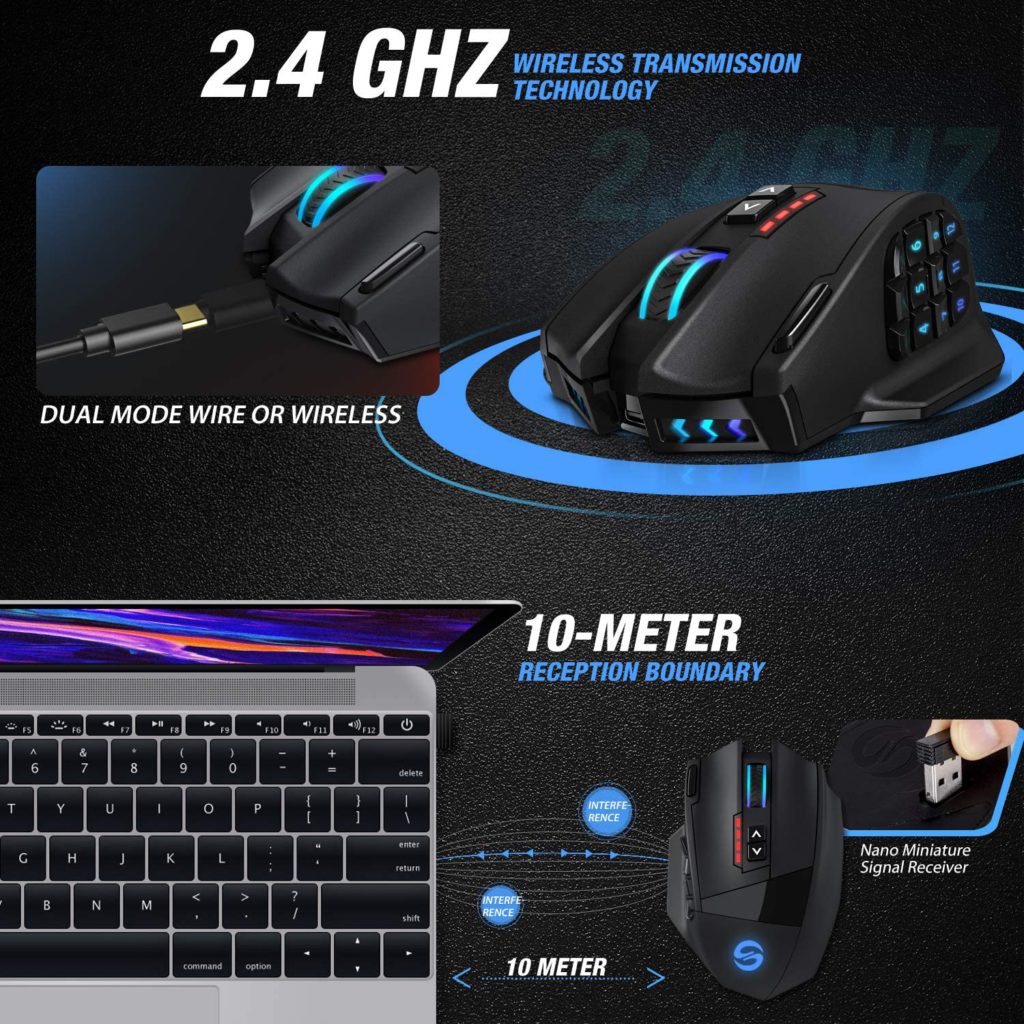 That's why using a mouse like this that has 12 different thumb buttons is extremely useful in MMOs.
It allows you to be able to activate a bunch of different skills all within the reach of your thumb.
The same is true in some different MOBA-style games as well. Although usually not as many skills, the different hotkeys for call-outs and whatnot is very useful.
You may be wanting to consider a mouse with a bunch of thumb buttons as well if you mainly play different strategy-type games.
There are a ton of hotkeys in games such as Starcraft II or Age of Empires where the extra keys really come in handy.
As for the overall features of the mouse – it has a 70-hour battery life, up to 16,000 adjustable DPI with 5 switchable stages, a decent sensor, and a USB C cable for wired mode or charging the mouse.
The battery life isn't anything to write home about but it is nice to see that a USB C cable comes with to use it in a wired mode and/or to charge the mouse. More motherboards and PCs are starting to use Type C anyway so it's nice to see it used here.
All of the different DPI settings and whatnot can be customized within UTechSmart's driver software which is easy to use and it is pretty straightforward.
Using a Type C cable for charging is a nice touch, but I could see how that would be a turn-off for some. Not everyone has a Type C port with their PC so using it in wired mode wouldn't be possible at all if that was the case.
In a nutshell – this is the mouse to go with if you want to spend less, if you want plenty of thumb buttons for MMOs/MOBAs and if you absolutely need a wireless option.
Pros
Lower price point
Comes with a Type C cable for charging and wired mode
Decent RGB lighting effects
Comfortable, ergonomic design
Cons
Might be too heavy for some
Not every PC has a Type C port
70 hours of battery life is less than other premium wireless mice
8. Razer Viper Gaming Mouse
Best premium, ambidextrous gaming mouse.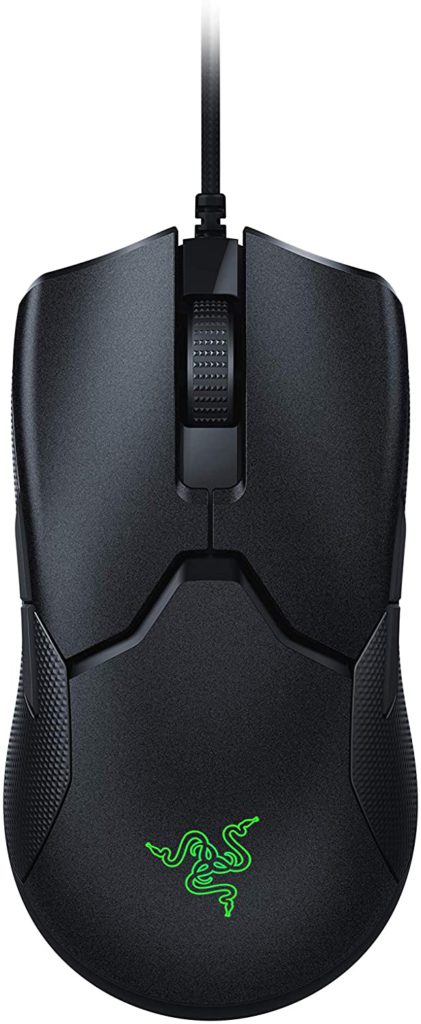 If you are left-handed or prefer to have an ambidextrous mouse in general for gaming then the Razer Viper is the perfect one to go with.
But it's also not specifically for left-handed users, if you would also like to have thumb buttons as well as buttons on the right side to use with your pinky finger and ring finger then you should look more into this one.
Some folks mention that they are either not used to the buttons on the right side while using it with their right hand and will accidentally click the buttons at times, but that is something that you get used to in time.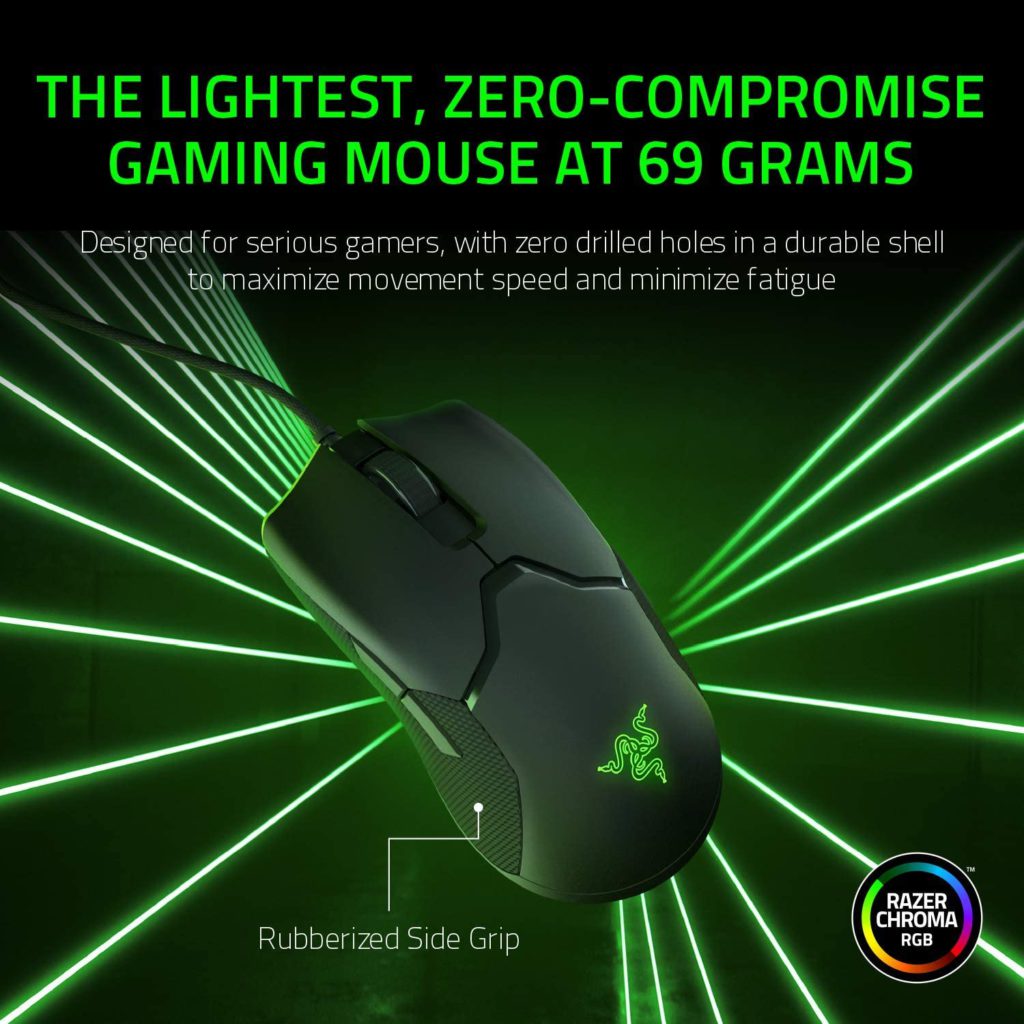 This is the answer to the lightweight gaming mouse market for Razer. This is their lightest mouse weighing in at 69G.
They were able to achieve that super-lightweight without having to have a honeycomb design to it.
This should appeal to those of you that aren't the biggest fan of the honeycomb shell design on a lighter-weight mouse.
There are 8 total programmable buttons with the Viper which of course are all able to be programmed through the Razer Synapse tool. The DPI switcher button is located at the bottom of the mouse.
As you could easily assume, the Speedflex cable is used with this mouse as well which makes it drag-free. Razer's Speedflex cord makes their mice feel as if you're using a wireless mouse.
With most of the other mice here as well, it would have been nice to see some more RGB lighting but that's just me. Having the DPI switch at the top would have made switching to a different DPI easier as well.
A high-quality Razer sensor, mouse click switches that feel amazing, and an ambidextrous design are what this mouse is all about.
This should be an instant snag for left-handed users wanting a lightweight mouse and for users wanting some extra buttons on the right side. It's a great mouse for playing competitively.
Pros
Lightweight mouse without a honeycomb shell
Uses the Razer Synapse tool
Incredible build quality
Side buttons on both sides
Cons
DPI switch is on the bottom of the mouse
Minimal lighting
9. SteelSeries Rival 600 Gaming Mouse
Best RGB mouse with weight adjustment.
SteelSeries has always been one of the top, premium brands when it comes to eSports gear and their SteelSeries Rival 600 has been favored highly when it comes to competitive gaming.
It is highly stylized with 360° RGB lighting, it has an adjustable weight system, it has remarkable accuracy with two sensors, and has mechanical switches for the main mouse buttons.
I am a huge fan of when RGB lighting is done right and the Rival 600 looks great in that realm.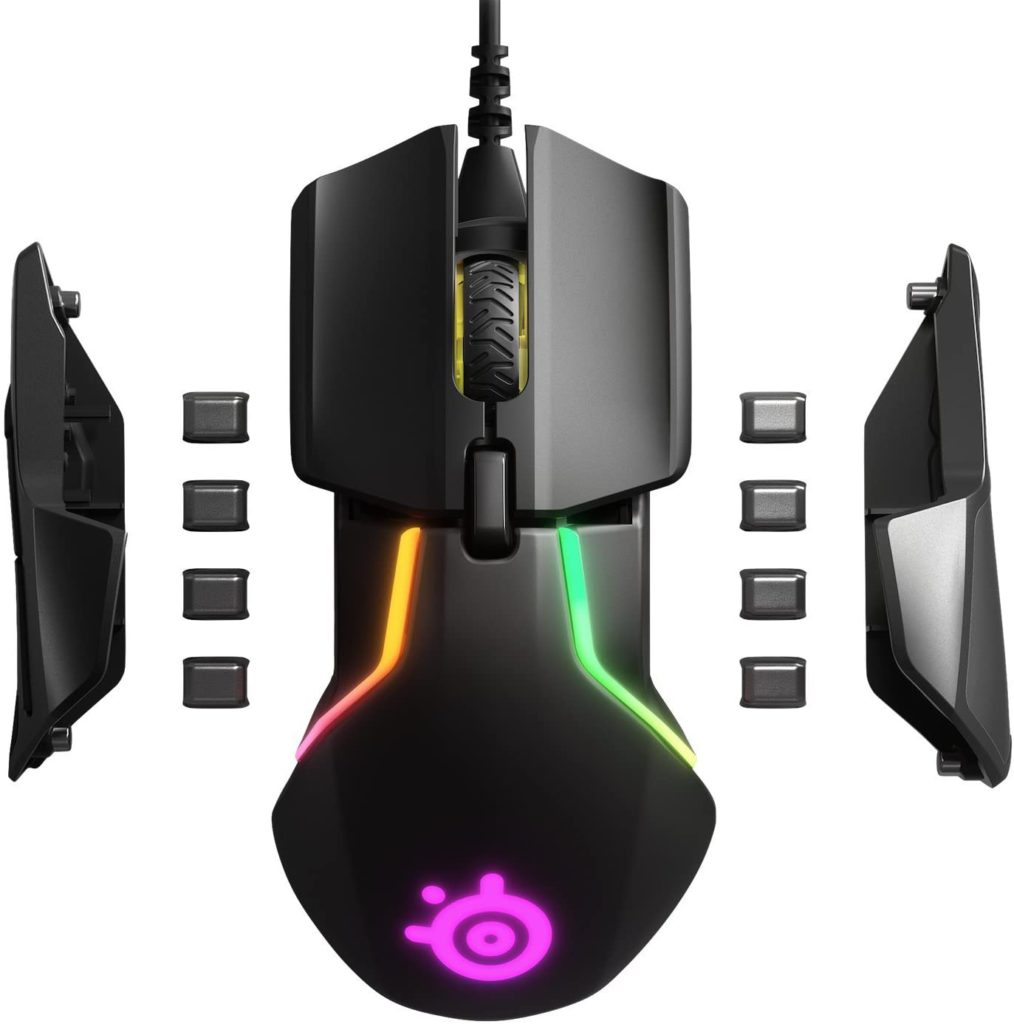 The lighting can be customized however you like with their SteelSeries Engine software which you can also use to program the buttons on the mouse as well.
The software alone might be why you'd want to pick up a SteelSeries mouse in the first place.
It has a massive amount of customization features that you can use to make the mouse truly yours. Be sure to look more into it for yourself!
Two sensors are what SteelSeries boasts about the most when it comes to the Rival 600. Combining the two sensors gives you a very high level of 1-to-1 tracking as you glide across your mousepad.
You can also adjust the lift-off distance which helps you fine-tune your overall accuracy depending on how you use the mouse.
They took their time to give a bunch of features when it comes to tuning your accuracy. You can also adjust the weight of the mouse on both sides of the mouse.
To adjust the weight you simply remove both of the side panels of the mouse and then adjust the weight how you see fit.
However, a couple of downsides to the Rival 600 are that the rubber side grips aren't as high quality as some of the other mice shown here and it's a bit more expensive than most of the other mice.
If you are looking for a highly styled RGB mouse that delivers well on a great software and is able to have the weight adjusted then the Rival 600 is going to be the go-to mouse to go with.
Pros
Lots of RGB lighting customization
SteelSeries Engine software is feature rich
Adjustable weight
Highly accurate with two sensors
Cons
Rubber side grips aren't the best
May be too expensive for some
10. SteelSeries Rival 710 Gaming Mouse
Best mouse for innovative features.
This last mouse is the most expensive one listed here, but it also has the most features and innovation in a gaming mouse to date.
The SteelSeries Rival 710 has all of the bells and whistles of what you would expect out of a high-end mouse, but it also has the most features that aren't seen on any other mouse.
The Rival 710 has an OLED display, tactile feedback, modularity with the cable and the sensor as well as an incredible build quality as a whole.

The display shows you which mouse settings you are currently using, is able to show notifications from Discord, has compatibility with some games to show in-game statistics and if you wanted to you could add your own personalized GIF to it.
Then there is also tactile feedback meaning that when it's time to reload or another type of notification in-game then there is a vibration to let you know when it is time to take the action.
Within the SteelSeries Engine software, you will be able to customize this tactile feedback from the intensity of the vibrations to the patterns of the vibrations.
Features like these aren't seen with any other mouse, hence the higher price point compared to all of the other mice. You definitely get what you pay for.
It's nice seeing the modularity with the cable and the sensor, future mice and other companies are probably taking notes of this one. I wouldn't be surprised if mice like this become the norm.
Imagine full modularity from the side panels for different buttons to different scroll wheels and grip types… This is definitely a forefront of future mice to come.
To sum it up, it is a high-quality mouse with top-tier tracking that adds extra quality-of-life features with its own highly customizable screen and tactile feedback which you aren't going to find with any other mouse on the market today.
Pros
Has an OLED display showing notifications in and out of your game
Has tactile feedback vibrations in-game
Full modularity
SteelSeries software
High quality build
Cons
Usually costs right at the $100 mark
Best Gaming Mice Under $100: A Buyer's Guideline
---
Now that you have a broad idea of the best of the best mice when it comes to this price point, I'd like to go over some general guidelines that you should follow before coming to your final decision on a mouse.
If you have never used a gaming mouse before then there are a few features that you should understand to a full extent.
That way you will be fully prepared to choose a mouse for yourself!
Top Gaming Mouse Brands
As with almost anything else, big brands are big because of their marketing and brand message.
There are times when a mouse is super hyped up because of marketing but it's really not all what it's cracked out to be…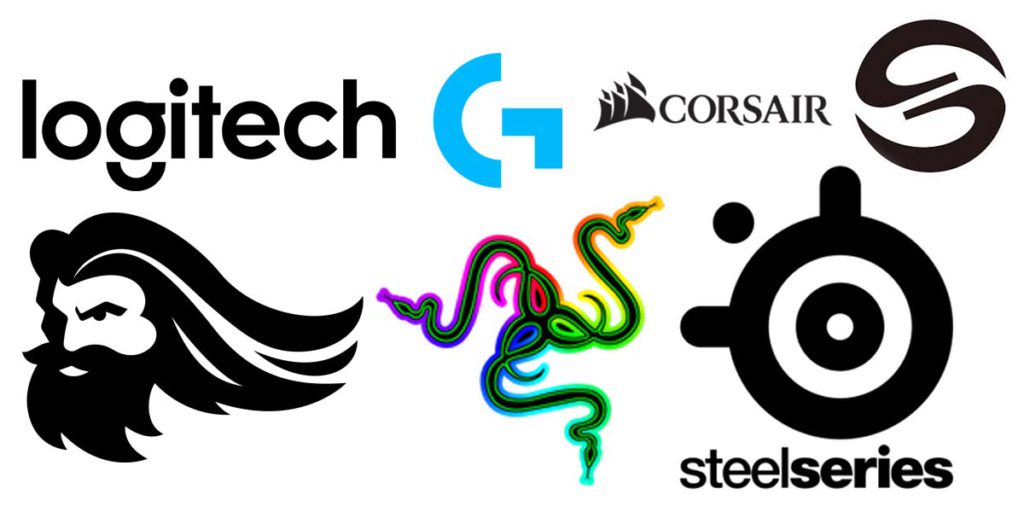 But the brands mentioned here such as SteelSeries, Razer, and Logitech are all highly reputable brands that have been around for a long while.
I have used mice from all of these brands and some others as well, I personally love Razer mice but I am currently using the Model O.
Also keep in mind that some of the lesser-known brand names, such as UTechSmart, are able to make great mice as well!
It simply comes down to which features you need the most and how a specific mouse will benefit you and your playstyle(s).
Choosing Your DPI
Typically, if you are going for high accuracy, you will want to be playing on a lower DPI level. This could mean anything from 200-800 DPI – those would be lower levels.
With my Model O, I switch between 500 DPI and 1000 DPI depending on the situation. You then need to adjust your in-game mouse sensitivity to match up with how you play.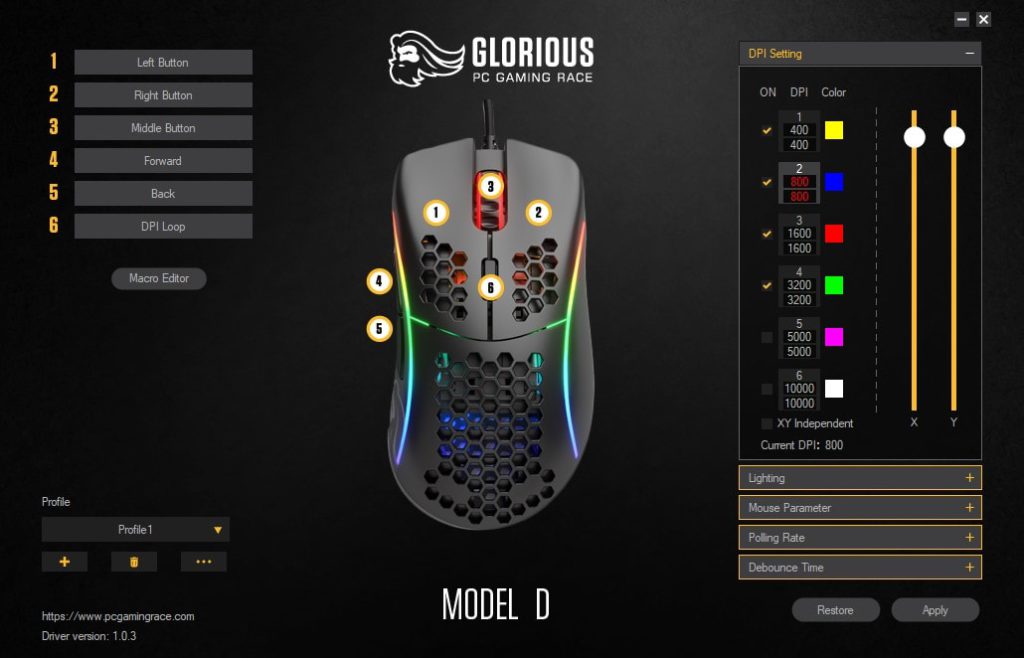 In FPS titles, it's best to get used to a lower sensitivity overall because it's more accurate to glide your hand and wrist across your mousepad for the most accurate shot.
So don't be worried and buy a 20K DPI mouse because that sounds "better" than the 16K one. There is hardly anyone that actually plays at those insane levels of DPI.
Companies add the high levels of DPI to show that your experience is going to be customizable to whichever DPI setting is best for you.
Lightweight VS Heavyweight Mice
Every mouse is different and every mouse is going to have a different weight to them.
There isn't a "meta" when it comes to a mouse's weight. It is entirely based on your preference.
I played with heavy mice for a long time, specifically the first version of the DeathAdder and the Logitech G502, and I loved every moment of playing with them.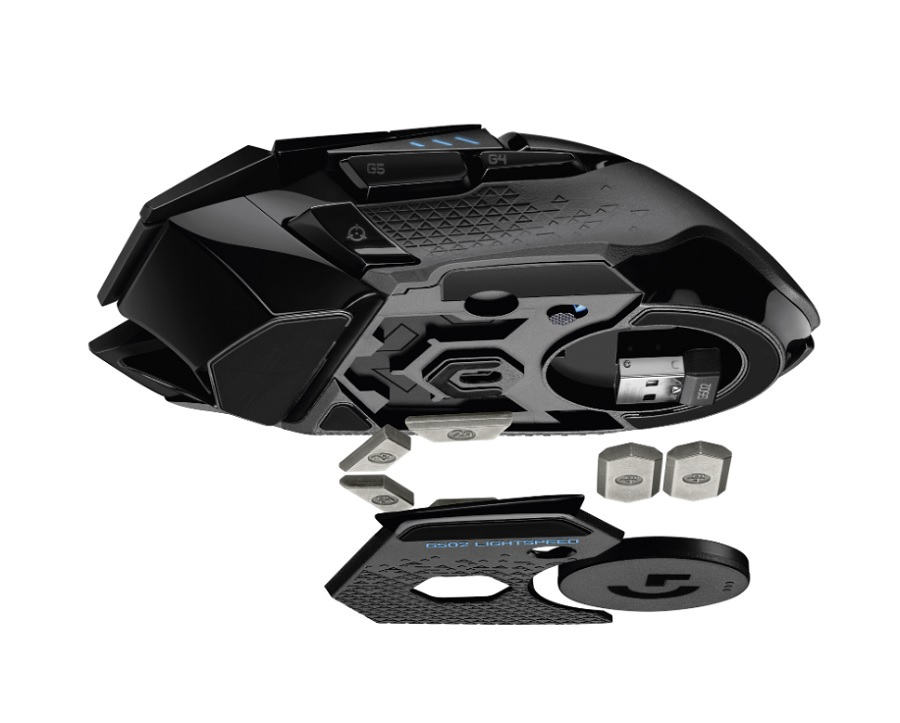 When I switched to the Model O I wanted to give my G502 away as a gift and try out a lighter mouse and for me, I wouldn't want to go back to a heavier mouse.
The best way to dictate if you'd like a heavy mouse over a light one or vice versa is to go out there and use some mice.
If you're able to, try to find a local shop and use some of their gaming mice. It'll help you get an idea of what you would like best.
If you aren't able to, don't be too hung up on the idea of it. Weight adjustment mice allow you to choose the weight you want so if you're really not sure, go with one that is adjustable!
Dictating The Accuracy of a Mouse
The overall accuracy comes from the sensor of the mouse. All of these mice have optical sensors which are extremely accurate.
There are minute differences when it comes to the tracking of each of these mice, a difference so small that you probably won't be able to notice.
In 2023, mice have evolved so much and have become so accurate that they all have great sensors.
If you are interested in the specifics of a sensor though then you should do the research yourself! Check out their websites and check out some videos about how the sensors were made.
At this point, the sensors and the quality of them are highly marketed now. Sensors, especially for mice at this price point, are going to be finely tuned no matter the mouse.
Frequently Asked Questions
---
Q: How many buttons should I have on my mouse?
A: When you are playing the games that you plan on playing with your future mouse, check to see how many hotkeys you could assign to your mouse. Generally, in MMOs/MOBAs you will want several side thumb buttons whereas in FPS titles only the basic two thumb buttons will be enough.
Q: How heavy should my mouse be?
A: There is no "best mouse weight" when it comes to gaming mice. Heavier mice are easier to control and lighter mice are easier to flick fast. It comes down to how much control you want over how fast of a flick you'd want to have.
Q: What is the most optimal DPI setting?
A: Everyone plays at different sensitivity settings. It will take a little while to fine-tune your ideal DPI setting and in-game sensitivity to match up but once you do you will hardly want to switch from it. Mice with a sniper button are nice for those that want to be able to switch between two specific DPI settings on the fly.
Q: Are gaming mice more accurate than regular mice?
A: Yes! Gaming mice have state-of-the-art sensors inside them that are created specifically with gaming in mind. Most mice today at this price point have highly accurate, 1-to-1 tracking which you will not be able to find in a basic office mouse.
Q: What are the best features that mouse software should have?
A: You will be able to find any software for the mouse by a simple Google search for the mouse + driver software. As for what should be included in the software, it is best to see programmable button mapping, DPI customization, polling rate adjustment, and multiple profiles to choose from for different games.
To Conclude
---
Hopefully, after checking out this guide you have a good idea of what kind of mouse you should go after when it comes to the best gaming mice for under the $100 dollar mark.
There are plenty of great choices and there isn't one mouse that's the overall best choice – there is only the mouse that is best for you and your playstyle.
In short, if you are mainly playing FPS games then you don't need 12 side buttons. Two thumb buttons for special nades and lethal nades should be enough, or maybe a couple more for skills.
If you are playing MMOs and/or MOBAs then you have a lot of hotkeys going on so maybe you'll want to go with a mouse that has plenty of extra buttons going on.
Then you also want to keep the quality of life features in mind. Go with the mouse that has the features you'd prefer and the style that you're after.
So, do you know which mouse you will be getting?
What did you like about this guide? Is there anything I missed?
Let me know in the comments below! 😀
Hey there! 👋 I'm Colton, founder of PC Builds On A Budget.
Whether you need help putting your PC together, finding a great pre-built rig, or want some help finding awesome peripherals – I've got you covered!
I share my experiences of anything and everything related to gaming PCs with you here. 👍