Last Updated on October 2, 2015
Having a multicolor gaming mouse sets the bar high for your gaming system. In my opinion this is the best light up mouse on the market! If you're looking for a colorful gaming mouse then this is definitely the one you're looking for!
Most gaming mice that have illumination are made of low quality materials so that the manufacturers can keep their cost lower. This is not the case with UtechSmart's "Mars" gaming mouse.
With a decent max DPI setting, macro buttons, DPI switch and cool custom illumination basically makes this one of the best gaming mice to purchase when looking around for that perfect mouse to add to your PC build.
With that, let's get to the review!
Product: UtechSmart Mars High Precision Gaming Mouse
Price: $18.99
Cheapest Place To Buy: Amazon.com
Warranty: 1 Year & 6 Months
My Rating: 9 out of 10
INTRODUCTION
---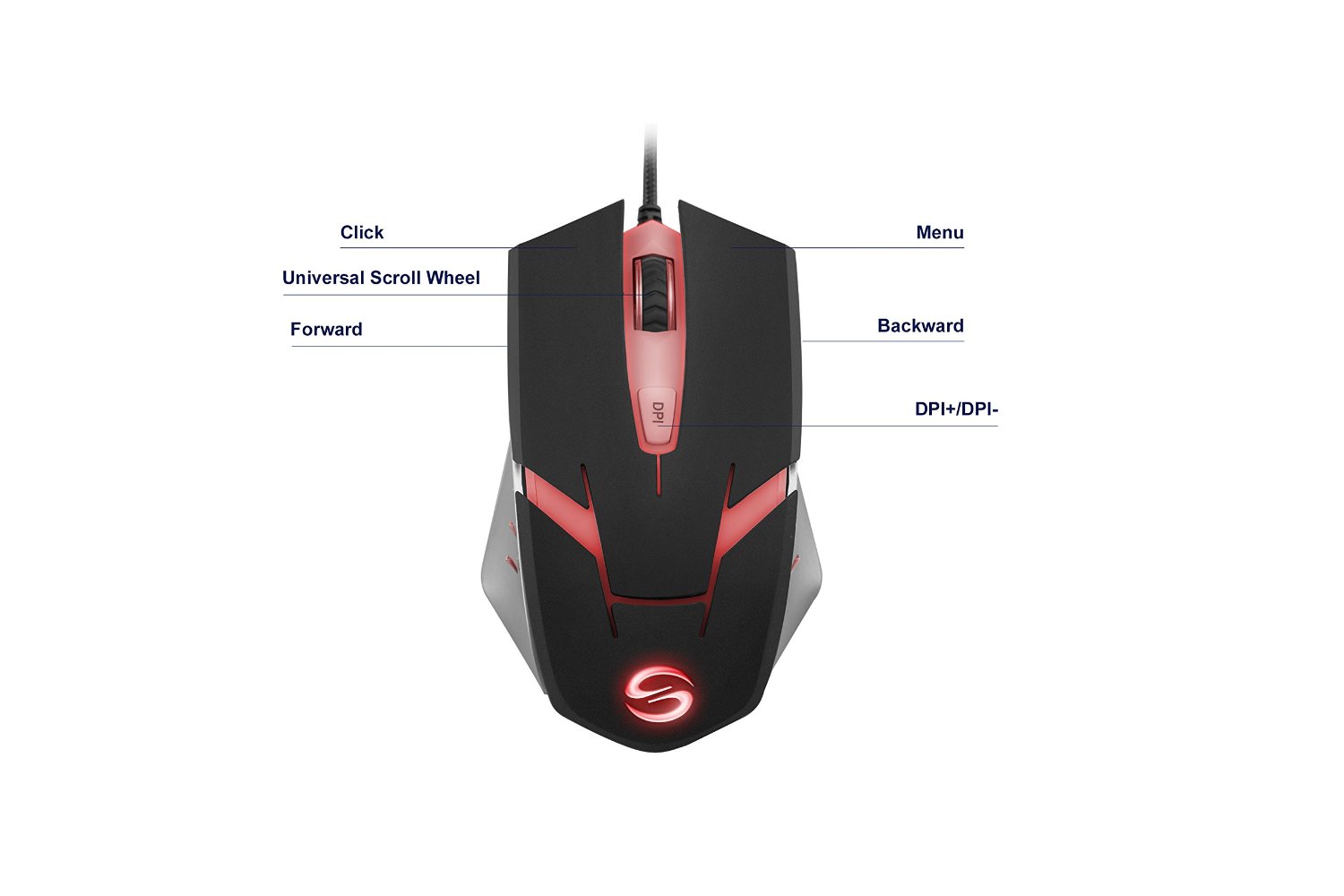 The price for this mouse is super awesome. You're able to customize it to your hearts desire with the colors and it has a max DPI setting of 4000 DPI. DPI is very important especially if you play at a higher resolution.
My personal favorite feature is the lighting. You can set it to pulse, to sit at a certain color or if you don't like the lights to be on while you're doing some hardcore gaming then you can simply turn the lights off on the mouse.
Thumb buttons are almost essential for me now because all of the games that I have been playing lately require me to have extra buttons to get a quick med pack heal or to turn off my flashlight when I need to stay hidden from enemies. This mouse has two thumb buttons but the design is different than most mice that have the thumb button features!
This mouse also comes with its own unique software that is installed via your CD drive. The software includes customizable macro button inputs and color customization options as well.
All in all, this is a very good mouse especially for the price. You're getting a lot of bang for your buck with this mouse!
WHY IS DPI IMPORTANT?
---
DPI stands for dots per inch. DPI measures how many dots that your mouse pointer will move on your screen per inch while you glide the mouse across the mouse pad.
Typically if you play at a higher resolution like 1080p then you'll want to have a higher DPI setting so that your mouse can move to more pixels for every inch you move your mouse. In FPS games such as Battlefield your aim is dictated on where your mouse pointer is at on the screen. Sure, when you're in-game you can't actually see your mouse pointer but the game is programmed to follow the pointer in order to aim in a certain way while playing.
When you're able to move your pointer at a higher rate on a high resolution screen then your aiming in general will be better. Accuracy improves. Now the optimal setting of DPI and your own screen is entirely up to you and what you're comfortable with but usually, for a 1080p monitor anyway, you'll want your DPI setting higher than 3000. That's why this mouse works perfect because 1080p has kind of become the norm and for the way it is designed it is at a great price range!
If you have a lower resolution than 1080p then you should definitely adjust your DPI settings to something lower and most optimal for your resolution. Why? Because you'll be more accurate with a mouse pointer that moves across less dots per inch when there aren't as many pixels on the screen on the lower resolutions!
THE SOFTWARE
---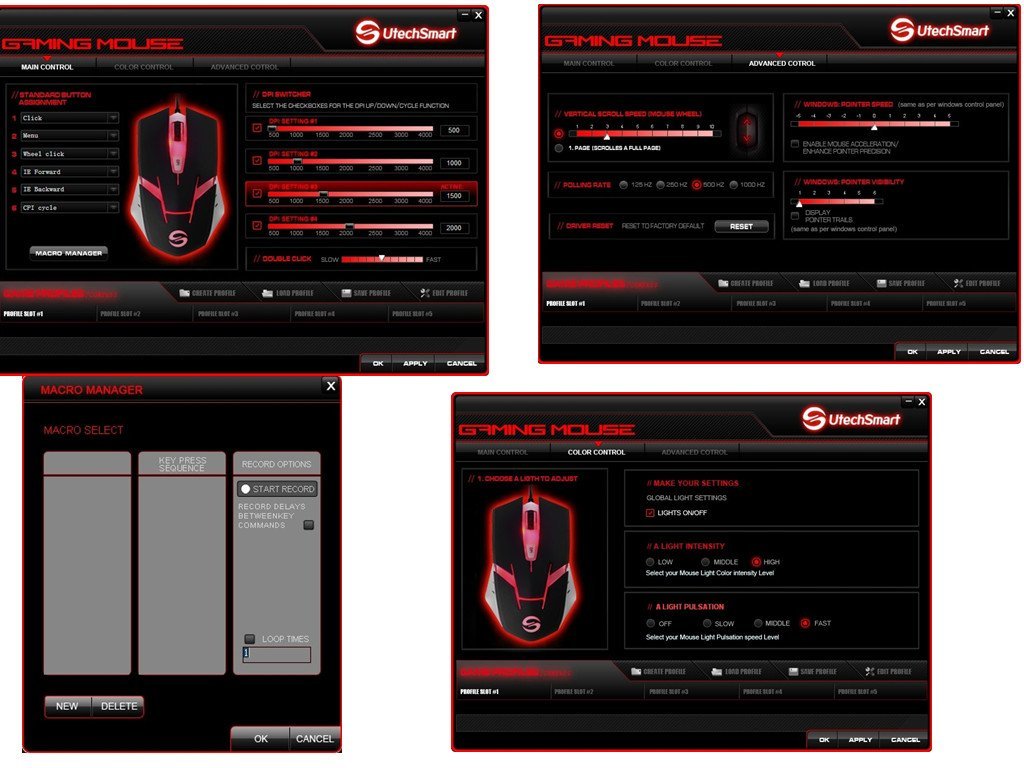 The software that comes with the UtechSmart Mars mouse is very well done. There are a ton of options that you can use to customize your experience with the mouse.
You'll be able to set up to 5 different profiles for the different games that you play or just different every day uses such as certain actions when browsing the web or possibly different actions while designing either 3D effects and/or regular graphics.
Other settings such as the speed of your scroll wheel, editing the different DPI switches to your optimal needs, adjusting your pointer speed, adjusting your polling rate, recording macros and changing your lighting settings are all inside of the software included with the mouse.
TO CONCLUDE
---
When you compare this mouse to similar mice such as the HDE Ion Pro 3 or the Maxin M-1 you're just getting better DPI settings and a higher quality material that will easily stand the test of time.
Not to mention the super positive feedback that other users have left on Amazon, this shows that this mouse is an excellent choice when shopping around for the best gaming mouse for your buck.
I hope this post helped you in choosing the right light up mouse. Illumination makes any gaming rig look amazing and this mouse is definitely a great asset to any build!
So what do you guys think of this multicolor gaming mouse? Have you used it before?
Let me know in the comments below!
Hey there! 👋 I'm Colton, founder of PC Builds On A Budget.
Whether you need help putting your PC together, finding a great pre-built rig, or want some help finding awesome peripherals – I've got you covered!
I share my experiences of anything and everything related to gaming PCs with you here. 👍