Last Updated on December 13, 2015
Recently I finished a new PC build for myself, my dream build, and I had bought Windows 7 64bit and I decided to take part of the free upgrade to Windows 10.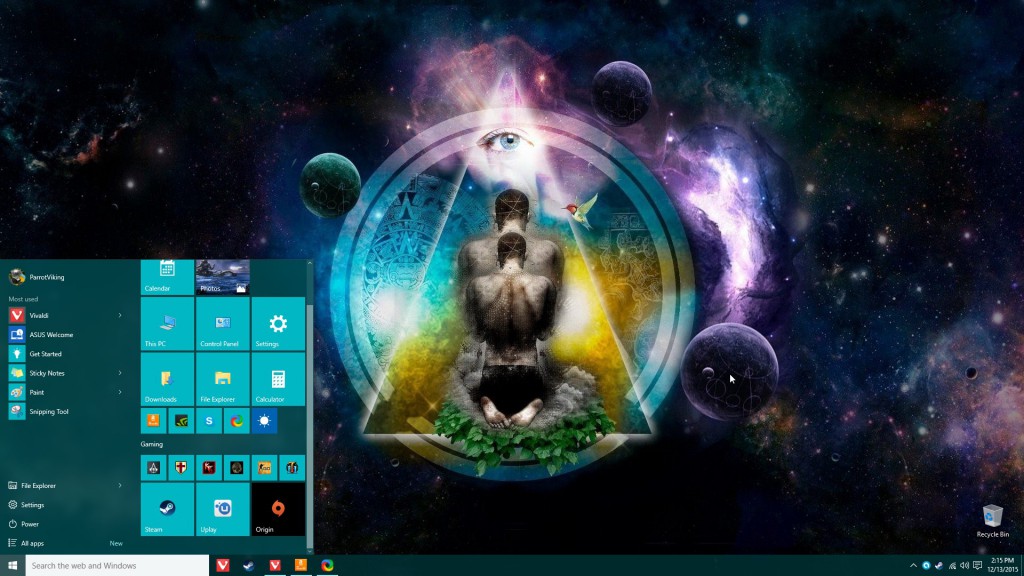 A Bit Skeptical
---
To be honest, I was and still am a bit skeptical about Windows 10 as far as privacy and data sharing goes.
Although right away after install Microsoft lets you say yes or no to being able to share a bunch of different stuff but the fact that they had so many different options which dealt with sharing data and sending data to Microsoft had me feeling a bit weird.
With that, I still went ahead and moved forward with fully installing it for my PC. So far on the user experience side of things, I'm absolutely loving it.
Customizing everything to my personal taste is really easy to do and I really dig the new start menu. I changed the search bar right next to the start menu from Bing to Google and my favorite internet browser Vivaldi is working pretty good with Windows 10.
Vivaldi is still in beta, there have been a couple of times where Vivaldi would crash but it's a very rare occurrence. I'm really liking how it is working with Windows 10 and I don't regret doing the upgrade at all so far.
Steam and games overall have ran perfectly. I play Stronghold Crusader still to this day and at first I was a little disappointed that it wasn't working with Windows 10 but then I remembered that compatibility mode is an actual thing (can't believe it took me a while to think of that) and so after putting in Windows 7 compatibility mode for Stronghold I was able to run it flawlessly.
I'm pretty sure this would work for any older game that ran on previous versions of Windows because Stronghold worked right away once I set up the compatibility mode.
The Future of Windows 10?
---
I haven't really touched or even thought about touching any of Microsoft's products that are integrated such as their app store, Microsoft Edge, things of that nature. The only apps I'm using that are by Microsoft are Photos, Calculator and the Weather app.
I think that Windows 10 is going to be a great future OS simply because of its DirectX 12 compatibility and the fact that it's an easy OS to use and to get used to. Sure it took maybe a few days to really get the hang of the new start menu and navigating around the new feel of it but other than that it's a pretty simple and easy to use OS.
I think that many people have moved to and will move to Windows 10 as the default operating system. It's basically like having Windows 7 and Windows 8 combined into one which is actually a really good combination.
I think that the future of using it as an OS is bright, but I don't think the whole Windows app store and Windows app movement is going to have as big of an impact. Gaming is pretty awesome with it, the speed of it is pretty awesome and the overall customization is great!
I am constantly checking on my privacy settings and data sharing settings to make sure that Microsoft doesn't try to pull a fast one on me to see everything that I'm up to, but that's really the only "complaint" that I have about Windows 10.
No I'm not doing anything illegal, hell I don't even torrent anything anymore. I simply like knowing that all of my information is private and for me only.
To Conclude
---
All in all, Windows 10 is an easy to use and very customizable OS with a weird vibe of potentially invading privacy. Though this could also just be me being a bit paranoid…
What are your thoughts on Windows 10? Do you like it?
Are you currently using Windows 10 as your operating system?
Let me know in the comments below! 😀
Hey there! 👋 I'm Colton, founder of PC Builds On A Budget.
Whether you need help putting your PC together, finding a great pre-built rig, or want some help finding awesome peripherals – I've got you covered!
I share my experiences of anything and everything related to gaming PCs with you here. 👍