Last Updated on March 5, 2018
It's time to review the Pictek gaming mouse since we've had some time to get some personal experience with it. A mouse needs to be packed with cool features for it to be considered one of the best mice for a low price, but does Pictek deliver on that?
We've had plenty of experience with the mouse to answer that and it's best to go over everything that this mouse has in store. There is more to it than what you'd think!
With that, let's get to the review.
Product: Pictek Wired Gaming Mouse
Price: ~$13
Cheapest Place To Buy: Amazon.com (Use coupon code: EHG78XZF)
Warranty: 18 Months
My Rating: 8 out of 10
Pictek Gaming Mouse Software Features
---
The best part about this mouse is having the flexibility with what you want your DPI and polling rate to be like.
DPI stands for dots per inch which dictates how many dots your mouse cursor will move per inch.
With this mouse, you'll be able to specify what your DPI is and you'll be able to switch it whenever you want with the DPI buttons on the top.
The base levels of DPI that come standard on the mouse is 1200/2400/3500/5500/7200. You'll be able to change these values as well as the color that correlates with it on the software that comes with on a disc.
You'll also be able to change the polling rate of the mouse between 125Hz/250Hz/500Hz/1000Hz.
Polling rate dictates how often the computer will report the cursor's position on the screen. For example, if the polling rate is set to 1000 Hz then the mouse will report its position 1000 per second.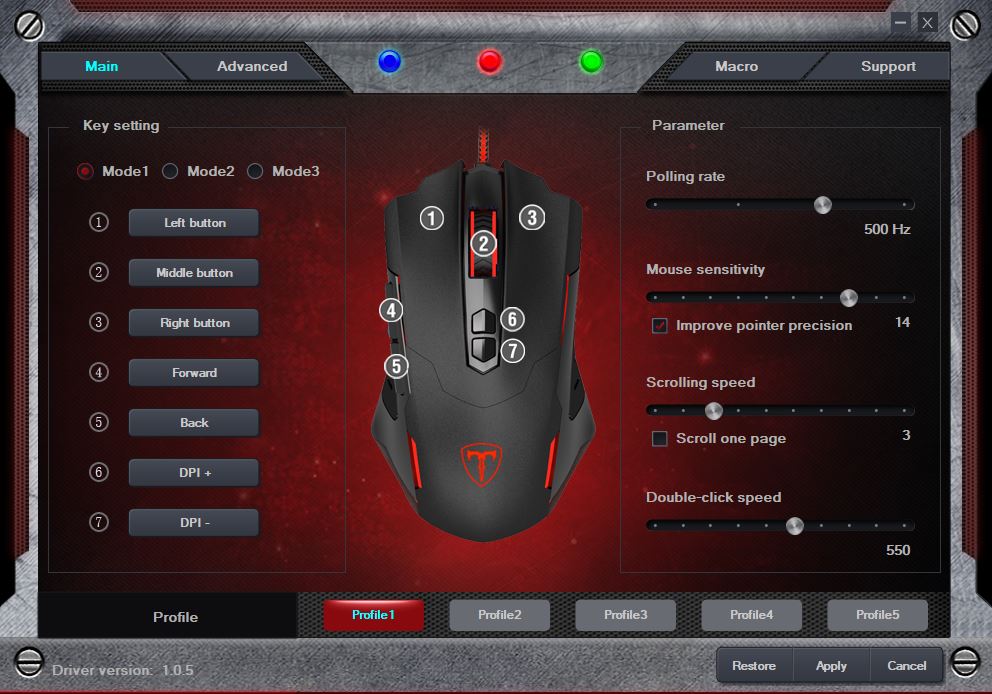 There's no reason for any mouse makers out there to have more than 1000 Hz polling rate with their mouse and I don't see why you'd want to go any lower than that.
You can tell the difference between 125 Hz and 1000 Hz pretty easily, but since it's not going to hinder anything it's best to stay at 1000 Hz.
The DPI and the polling rate will be the two parts that'll be the most important to mess around with.
You'll also be able to change the mouse sensitivity, the scrolling speed, the double-click speed, change between different modes/changing what each mouse button does, set up macros and change the different lighting effects.
Setting up macros and changing what each button does will be up to you, just know that it's pretty simple to do once you're inside the software.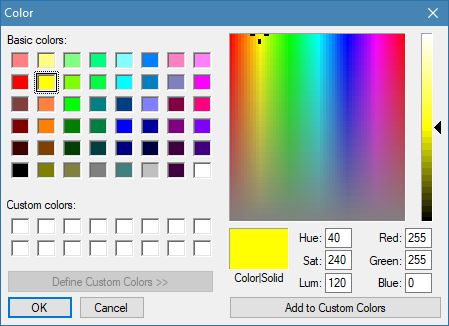 While changing your DPI and what not, you'll also be able to change the lighting depending on which DPI setting you're on.
You'll be able to keep it to a static color, have a breathing effect, a blinking effect or for it to cycle between all of the colors. You'll also be able to change the speed of all of these effects.
This was an unexpected feature to have when I had seen the price point that it's selling at. This mouse is easily one of the nicest RGB gaming mice out there for a lower price point.
When it comes to the software, you're getting a bit more than what you'd expect to get.
You can switch between modes, setup macros, change DPI and have full RGB lighting… These features are very nice to have, especially at this price!
Pictek Gaming Mouse Build Quality
---
As far as build quality, you need to remember how much the mouse is being sold for. You can't expect to have a premium build quality without paying the premium price.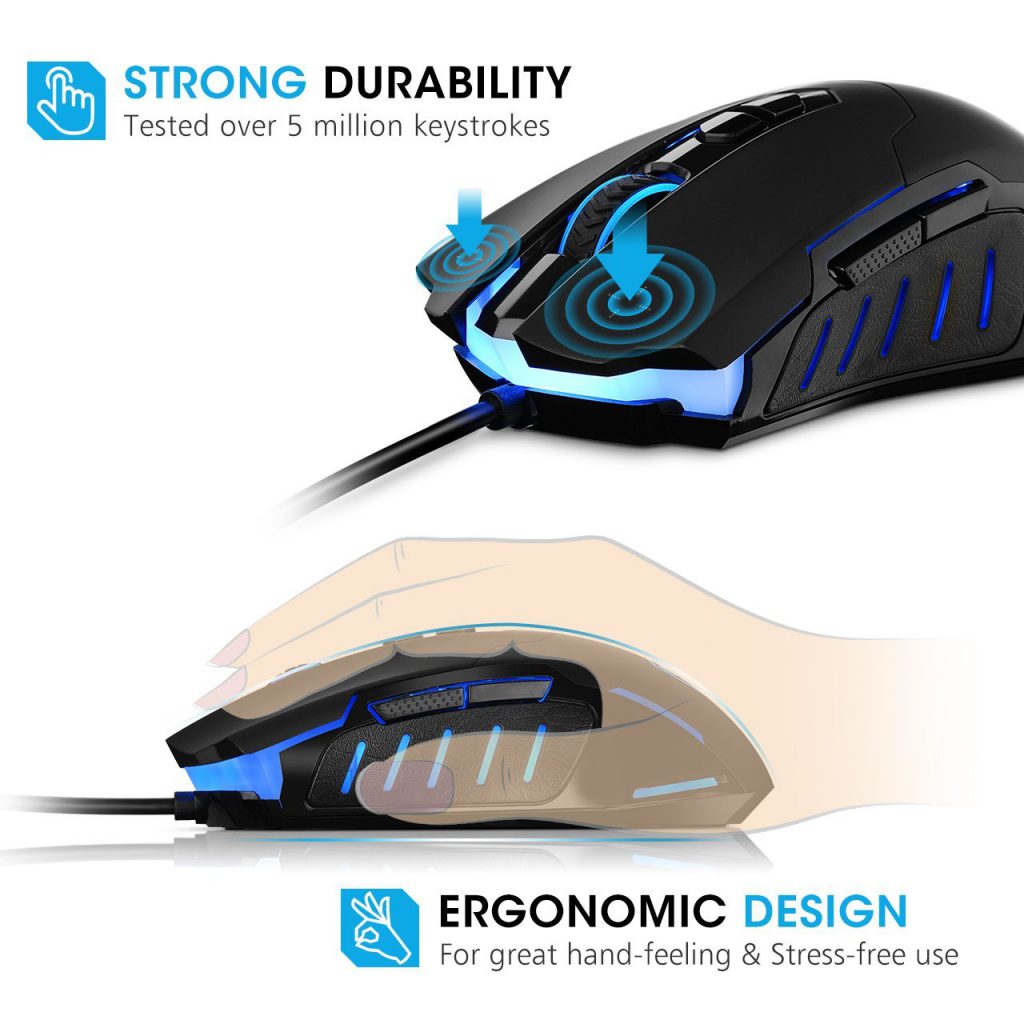 With that said though, the feel isn't bad at all. Even gave it a few strong squeezes with my grip and the material didn't pop out of place or anything.
The sides of the mouse almost look like air vents to me. There isn't any grippy material on these sides, but it's not like your hand is going to be slipping away or anything.
If you plan to use the mouse with your palm and not having your fingers in a "claw" position then I don't think it's going to be too comfortable, though that could just be my own opinion.
I play with a "claw" type grip which feels perfect for this mouse. I suppose that a palm grip can work as well, figured it's worth pointing that out.
If you click the buttons hard enough you can pick up on that it sounds almost more hollow, there isn't a solid click sound when clicking down harder. There is a nice grip texture on the forward thumb button, the back thumb button is more smooth like the DPI buttons on the top.
It's a bigger mouse than what I was expecting it to be, it's about as big as the Logitech G502 is. Granted that it might be a bit wider due to the thumb rest on that mouse.
It's not made out of the greatest plastic ever but it's also nowhere near the worst. You can tell that the manufacturing process isn't garbage with this mouse, they make sure that the mouse is made to where it'll stand the test of time and be used the way you'd want to use it.
Pictek Gaming Mouse Performance
---

There isn't much to talk about on the side of performance after sharing that you'll be able to change all of the parameters of the mouse yourself with the software.
The mouse performs how you'd expect it to, it does what it needs to do and does what it says it's doing. It really does switch between the different polling rates and DPI settings.
The company claims that the mouse has gone through testing with over 5 million keystrokes which definitely says a lot about how long you can expect the mouse to last. I'm pretty sure companies that make claims like that need definite proof in order to promote it as such.
I used the mouse both with games and general use, it feels nicer than I thought it would. Played plenty of Fortnite with this mouse and I don't feel that it hindered my performance at all, though also not saying that the mouse helps me get kills.
It's a comfortable mouse that looks cool, feels like it maybe should be priced higher as compared to other mice at this price point, this one is surely at the top.
Should You Get It?
---
If you're looking for a mouse that is super cheap, still has RGB lighting on top of being able to customize DPI and what not then this should definitely be something to look at picking up.
t's easily the best cheap wired gaming mouse on the market right now because of the range of DPI settings it has on top of build quality and the custom lighting.
Don't just take my word for it, there are plenty of reviews on Amazon as well where others say the same about how awesome of a mouse it is for the price. Pictek has done well with this one!
If you do pick this mouse up, don't forget to use this coupon code to get it for even less!
Coupon code: EHG78XZF
So, are you going to be picking up this mouse?
What other mice have you seen at this price point that deliver on similar features?
Let me know in the comments below! 😀
Hey there! 👋 I'm Colton, founder of PC Builds On A Budget.
Whether you need help putting your PC together, finding a great pre-built rig, or want some help finding awesome peripherals – I've got you covered!
I share my experiences of anything and everything related to gaming PCs with you here. 👍