Last Updated on December 14, 2016
It's time to review the SkyTech Omega gaming computer since it's a newer pre-built PC that is getting more and more popular on Amazon each and every day.
SkyTech is getting better and better with their pre-built gaming PCs, I've got to give them that, but you need to be sure that this PC is what you're looking for and you need to be aware of how much power you're getting per dollar spent since that's the most important factor when it comes to purchasing a gaming computer.
With that, let's get to the review.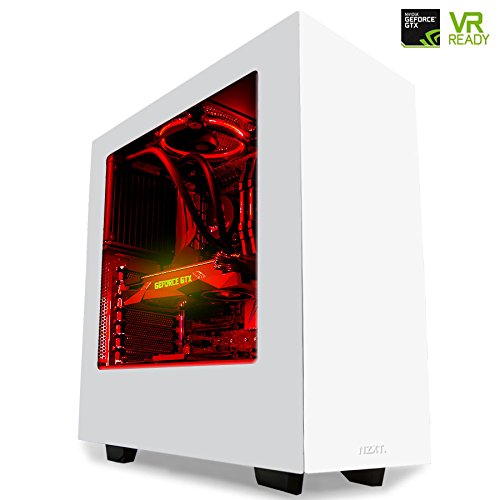 Product: SkyTech Omega Gaming Computer
Price: $1,249.00
Cheapest Place To Buy: Amazon.com
Warranty: 1 Year
My Rating: 6.5 out of 10
Power Per Dollar Spent Is Important
---
The biggest thing about gaming computers – whether it's a custom PC build or not – the amount of performance that you get for every dollar that you spend is the most important factor to consider.
With pre-built PCs specifically it comes down to which parts were more invested into and what you plan to actually do with the PC.
For example, if you only plan to play video games while looking around at different pre-built PCs then there are certain parts that would be a bit overkill in that regard meaning that you'd be overpaying a little bit.
Sure, it's never a bad thing to have a super powered gaming PC and if money isn't an issue for you then that probably isn't a problem for you.
For many folk, money doesn't come that easy and if they're going to be investing a pretty penny into a gaming computer it had better be what they really need out of it.
When you invest into a gaming computer you need to know that it's going to last for the long haul and that it's completely capable of running the games/programs that you plan on running.
With that, I'd like to get into some of the hardware inside of the SkyTech Omega. It has some pretty amazing guts inside but it might be a bit much in comparison to other PCs on the market… depending on what your plans for the future are.
SkyTech Omega's Processor & Graphics Card
---
The processor and the video card are the two most important components inside of a PC that is made for gaming. High end games need a certain amount of power from both in order to run at a smooth frame rate.
From paying over $1,000 for a gaming PC you had better have a PC that can handle anything you throw at it and that's exactly what the SkyTech Omega will deliver on – but there are a couple of things about these two parts that I want to address.
The CPU is an i7-6700k and a liquid cooler to go with it. This processor is insanely powerful which brings me to my point about being aware of what you're using the PC for and how powerful you actually need it to be.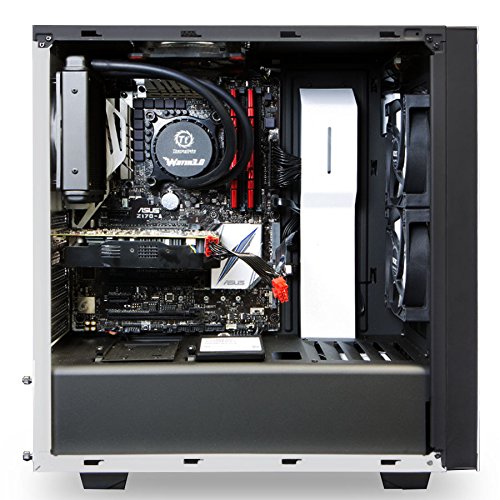 If you're looking at getting this PC strictly for gaming then you might want to consider going another route.
When comparing the newest generation of an i7 to an i5 there is hardly any performance difference while gaming yet the cost difference is very significant.
The only real advantage that an i7-6700k has over something like the i5-6600k is that it's a better processor for heavy rendering tasks and 3D graphics programs. You'd be able to get a lot more done at a faster speed.
With gaming, there's literally only a few frames difference per second. Yet the cost for the individual part is a $100 difference.
I bring this up because I feel that building your own PC – especially a $1,000 PC build – would bring more overall gaming value to you since you'd be able to substitute parts like that. We also need to factor in all of the other hardware as well so don't get me wrong here, I'm not bashing this PC at all. Just being transparent about the processor.
For the graphics card it uses a 6GB GTX 1060. This video card is very good and it's definitely capable of VR gaming – there's nothing wrong with it at all in that regard. But I want to go back to my point about power per dollar spent with this…
If you were to spend about the same amount on a custom build of your own you'd be able to sport an i5-6600k, which is totally ready for the future of gaming specifically, with an 8GB GTX 1070 for a graphics card instead.
The performance difference between a 1060 and a 1070 is significant enough for me to make sure to point it out. Sure, if you're gaming at 1080p resolution for the most part then you're not going to see much of a difference. Both cards have top level performance for 1080p.
But when looking at the future of VR and higher resolution gaming such as 1440p or even 4K – the 1070 is the much better pick. Again, the 1060 is going to be able to handle VR for a good while and everything – it's just that I feel more confident about the far future with the 1070.
To sum up this CPU and video card combo – I feel like it'd be more optimal for gaming with using an i5-6600k and a GTX 1070 instead. It'd cost about the same amount. Now, if you plan on doing heavy video rendering and tasks that rely heavily on CPU usage then you'd definitely rather want the combination that this PC has as is.
The Rest of The Hardware
---
Now for the rest of what's inside of this beast! It all adds up, the value is definitely there.
It also has 16GB of DDR4 RAM, a 2TB hard drive, a 240GB solid state drive, a 600W power supply, Windows 10 pre-installed and a basic keyboard and mouse to go with.
DDR4 RAM is the newest type of RAM and although 16GB isn't essential for gaming, it's nice to have. RAM helps with multi-tasking and when it comes to adding a bunch of mods in high demanding games, having a good amount of RAM will help.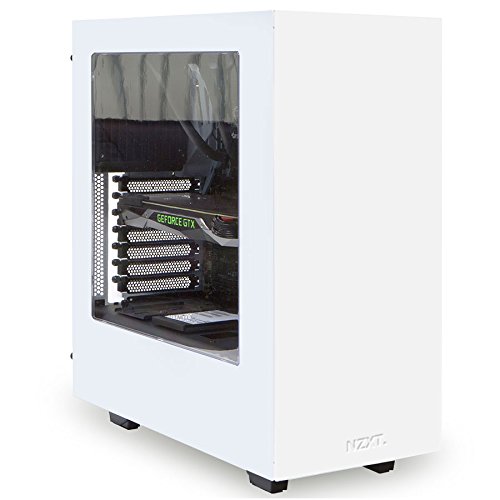 8GB of RAM is the standard for today and I really don't see that changing anytime soon. It's inevitable that the minimum amount of RAM needed for gaming will increase someday but that day is a while out yet.
Having 2TB of hard drive space is going to be more than enough for a bunch of games and programs that you'll be using.
I have a 1TB hard drive along with a 500GB SSD. With over 100 games installed along with some programs, I still have a good amount of room left and this PC has much more room than that.
A solid state drive (SSD) is extremely nice to have, the speed difference with a traditional hard drive is pretty significant. I have a post right here all about the differences between SSDs and HDDs so be sure to check it out to understand how much of a difference there actually is!
Windows 10 will be installed on the SSD which will result in super fast boot times and all around faster performance while using anything within Windows. With a bit over 200GB left over, you'll be able to install some of your favorite games and programs to make them load fast as well.
600 watts of power will be enough even with overclocking in mind. I'm not sure if 600w would be enough for a heavy overclock on both the CPU and GPU but you'd definitely be able to do some overclocking on the CPU alone with that much wattage.
The keyboard and mouse that comes with isn't going to be anything special but it's going to be able to get the job done. The mouse will have enough DPI for 1080p which is most likely what most PC gamers start out gaming at and when it comes to keyboards – there's no real advantage to having one that was made for "gaming".
With all of this other hardware, I can see how the price point is justified. This is one heck of a gaming rig and depending on your plans for it, it could be right up your alley.
Should You Build Your Own?
---
Building your own PC can result in saving money on hardware and getting your total money's worth on the parts.
I can definitely see the value here for what all you're getting. In my opinion, it'd be better to go for a build of your own if you were getting a PC strictly for gaming or even if you needed the extra processing power for whatever tasks you'd need it for since you'd save a bit of money.
Some people however simply enjoy the idea of getting a PC that works right out of the box, you pay a bit extra for that but I see why some would want to go that route!
Building your own PC really isn't that hard and the money you save on top of being able to customize it yourself makes it that much more worth it. There are plenty of guides here on the site to help you out!
If you're going to be going with the SkyTech Omega then you should also be sure to check out some of the reviews over on Amazon. Those people have actually tried it out themselves and it'd be worth checking them out to get more info on it!
So, are you going to be picking up the SkyTech Omega?
Or would you rather build your own to save some money and optimize more on having a rig specifically for gaming?
Let me know in the comments below! 😀
Hey there! 👋 I'm Colton, founder of PC Builds On A Budget.
Whether you need help putting your PC together, finding a great pre-built rig, or want some help finding awesome peripherals – I've got you covered!
I share my experiences of anything and everything related to gaming PCs with you here. 👍