Last Updated on April 2, 2016
If you're looking for the absolute best mechanical keyboard for under 100 dollars then you really need to take a look at what VicTsing has created.
Although they aren't the most well known company for gaming peripherals right now, they are definitely well on their way of becoming a well known name in the industry. I've been using their newest keyboard for almost a week now and I've got to say, it's the best keyboard I've laid my hands on by far.
VicTsing is a consumer electronics company that has recently been coming out with some high quality yet affordable gaming peripherals and I've got to say, I'm extremely impressed with what they've done in the mechanical gaming keyboard market.
With that, let's get to the review.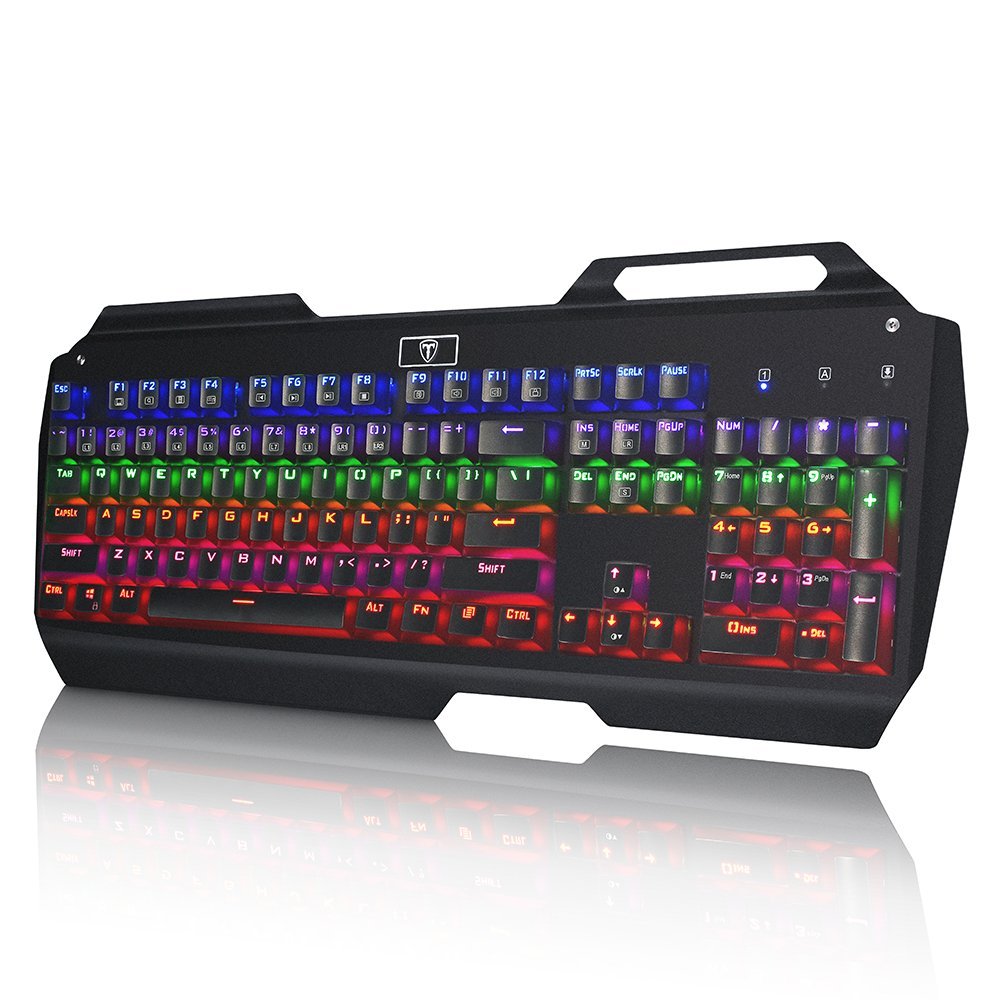 Product: VicTsing Mechanical Gaming Keyboard
Price: $75.99
Cheapest Place To Buy: Amazon.com
Warranty: 1 Year
My Rating: 10 out of 10
A Mechanical Gaming Keyboard Done Right
---
To be honest, I had never used a mechanical keyboard until I decided to try this one out. I have some friends that have mechanical keyboards and they've always talked them up as being the best choice when it comes to keyboards for gaming.
I had always thought that the keyboard didn't really matter, that you could really go with whatever keyboard you wanted and you'd still have the same experience. It wasn't until I tried this one out that I realized what it's really like to have a high quality keyboard specifically made for gaming.
This really feels a lot better than some traditional keyboard like my last one, my previous keyboard wasn't mechanical and it didn't have that many features. It simply lit up different colors and the keys felt like any other normal keyboard. Truthfully, I only got it because the colors were cool.
The only reason I always strayed away from mechanical keyboards is because I really didn't see the value in paying almost $100 in one since I believed that the experience was going to be the same all around the board.
But a mechanical keyboard, a good one like this one, feels amazing. Typing feel awesome, there's something about hearing the clicking sound with each key that makes me want to type more and more each time that I use it.
Not only that but this specific one is very well priced for what it actually brings to you. There are a bunch of features and the overall structure of it was made with quality in mind for sure. Since it's ergonomic and angled just right, I never feel like my fingers cramp up after typing for a while or gaming for long periods of time…
It also has all of the bells and whistles when it comes to multimedia keys as well… there are actually a lot more features to this than what I had imagined while reading about it on Amazon.
Thanks to this one, I don't think I'll ever stray away from mechanical now that I have one of my own. 🙂
Lighting Effects Are Always Awesome
---
Before I get into how the keyboard was manufactured and what not I want to dive into what this keyboard delivers in the realm of lighting effects.
With my PC I really love trying to deck it out with peripherals and other parts that add different lighting effects simply because it looks awesome.
There are actually multiple ways to show off and use the lighting effects of this keyboard and I'd like to talk about all of the different ways you can display the lighting.
So there are 9 different overall lighting modes that you can use to show if off.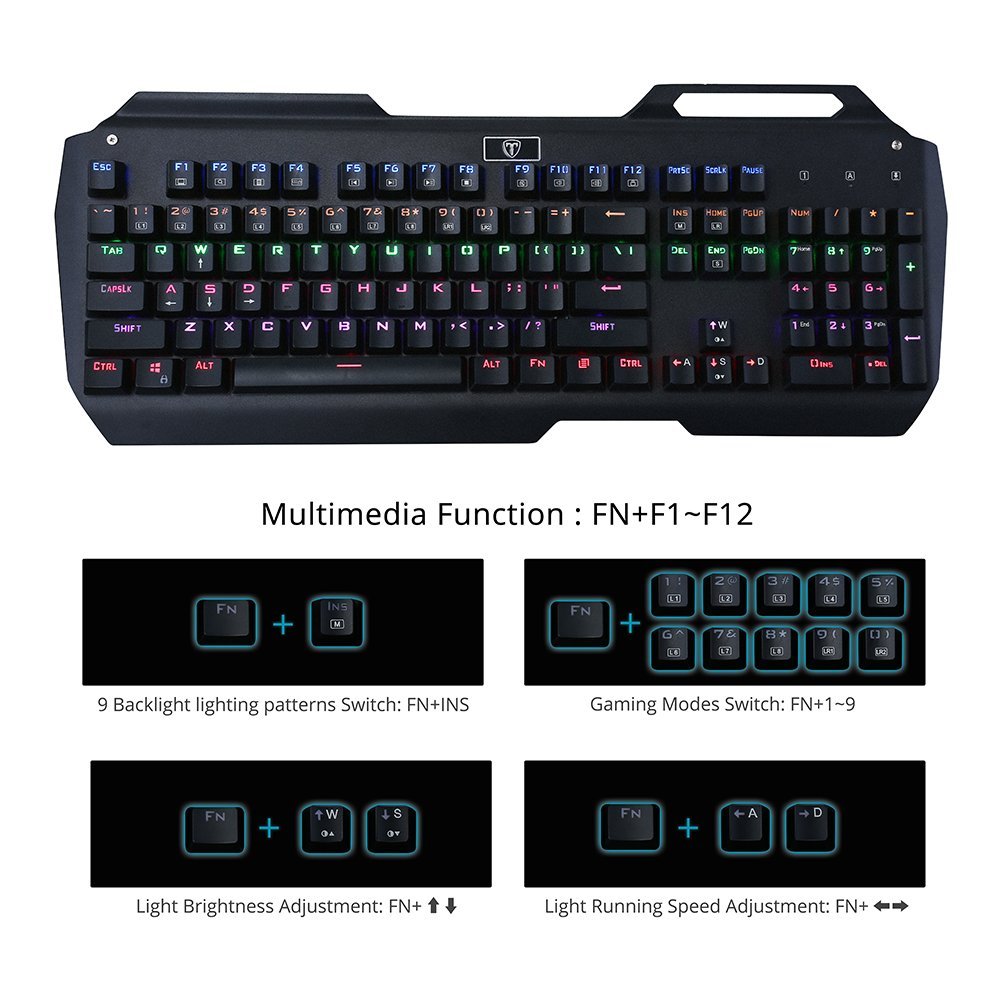 The 1st mode simply lights all of the keys up.
The 2nd mode only lights up each key as you press them. In this mode, when you press a key it stays lit up for about 2 seconds and then shuts off again. This actually looks really cool and it's fun to play around with!
The 3rd mode pulses the colors in and out. You can control how fast or slow it pulses by holding the Fn key and pressing the arrow keys left or right respectively.
On the 4th mode the WASD keys and the arrow keys are the only keys that are lit up. I don't really ever use this mode as I use more than just those keys when I'm gaming, but it's cool none the less!
The 5th mode lights up all of the keys in separate lines in and out and repeats the process of it over and over.
The 6th mode is similar, but all of the keys get lit together in a wave.
On the 7th mode, the lights go around like a snake in a way and then all of the keys get lit up in a pattern. This is also what happens when you plug the keyboard in for the first time.
For the 8th mode, which is my 2nd favorite, keeps all of the keys lit but it cycles through a wave going from bright lights to dim lights. It's an ideal mode for keeping your keyboard idle if you're still wanting to see all of the keys lit to show it off.
Last but not least, and my personal favorite one, the 9th mode is awesome. Every key that you press flashes in a different direction and the it turn the lights back out. So for example, if you press left shift then lights will go from the left side to the right side in a quick flash. If you hit a key that is in the center then lights flash going towards both sides, when you type fast the lights are pretty mind boggling! 😛
So those are the different lighting modes to simply show off what the lights can do with the keyboard. There are also different game lighting modes and I though that this was pretty awesome as well.
They included 8 different lighting modes for different games from CS:GO to League of Legends, the keyboard only lights up the keys needed to play those games. It looks fantastic in a dark room and it's nice being able to only light up the keys needed for a specific game.
There is also a way to make your own configurations, you can have up to 2. So if you play a certain game a lot but it uses more keys than the other lighting modes for the other games and you like how it works then you can also set it up to where only the specific keys that you personally need are lit up. Then you can save it on a configuration and use it whenever you're about to play that game.
It's Definitely Made For Gaming
---
Most of my research is dedicated to the guts of a gaming PC – I've never really thought about what matters behind the keys of a keyboard.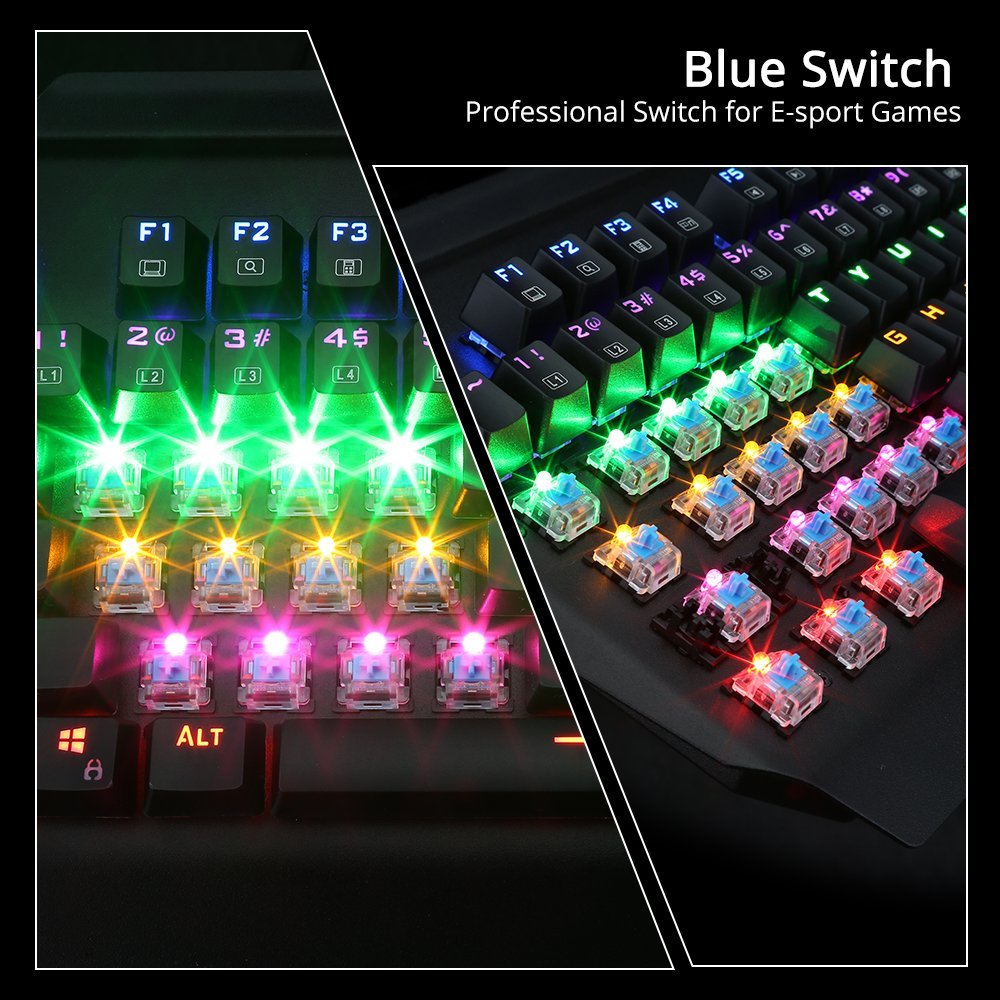 This keyboard has its keys with something called blue switches. When you take the key caps off you'll see them, they are specifically designed to take 50G of activation force/ Blue switches are a tactile click which is why they have a bit of a louder clicking sound – they are faster to click and this also makes all of the keys much more responsive to the touch.
Each key is controlled by an independent switch for anti-ghosting and n-key roll over. This is especially important because ghosting keys would not be good for games where you're clicking different keys at the same time.
Keyboards that don't have anti-ghosting would not be able to have the input go into the PC for more than one key. Those kinds of keyboards aren't ideal at all for gaming because you're definitely going to be pressing more than one key at a time.
It also comes with a little orange tool to easily pull out any key allowing for custom key caps if you'd want to add them. You simply press the tool down on whatever key cap that you want to pull out and it just pops off. I took a look under the keys and I've got to say, these keys are definitely going to last a long time.
One of my favorite parts about the keyboard, in the context of the overall structure of it, is that it's made of a heavy duty material. I believe it is some kind of a high quality aluminium, it's significantly heavier than other keyboards that I've had.
I really like this because it feels a lot more sturdy and future-proof. VicTsing stated that they tested the keys on the keyboard and after the test the keys were able to go through 50 million presses before they stopped working. I don't think any of us would ever hit the keys that many times, not for an extremely long time anyway.
After having a keyboard like this that is tailored specifically for gaming, it being made of a very solid material and the sound of each click sounding awesome I definitely know that I won't be going back to any other type of keyboard. I also know that I'm going to be able to have this specific one for many years to come and I'm excited about it!
All In All, This Is The Best Bang For The Buck
---
Most mechanical gaming keyboards are super expensive, some of the top brand names are priced way over $100… those really aren't worth the price in my opinion.
If you're looking for something more simple that doesn't absolutely break the bank then this is definitely the one you need. For under $100 you really get a bunch of features and the quality is definitely there too. Take a look at some of the Amazon reviews, so far everyone that's using this are absolutely loving it and it's for good reason.
So, are you going to be picking this one up since it's under $100?
What are your thoughts on all of the lighting effects that it offers? Is it all worth the asking price?
Let me know in the comments below! 😀
Hey there! 👋 I'm Colton, founder of PC Builds On A Budget.
Whether you need help putting your PC together, finding a great pre-built rig, or want some help finding awesome peripherals – I've got you covered!
I share my experiences of anything and everything related to gaming PCs with you here. 👍