Last Updated on October 7, 2022
Thermaltake PCs have gained popularity with their new pre-built models, so I figured it was a good time to give the Thermaltake Glacier 360 a full review.
Hardware still isn't the easiest thing to come by to build your own PC at a fair price – it has been nice to see that Thermaltake has entered the market with some beefy pre-built rigs to shake things up and provide more pre-built options for all of us.
In this post, we will dive into the hardware specs inside Thermaltake's Glacier 360 gaming desktop and the level of gaming performance that you can expect from them.
With that, let's get to the review.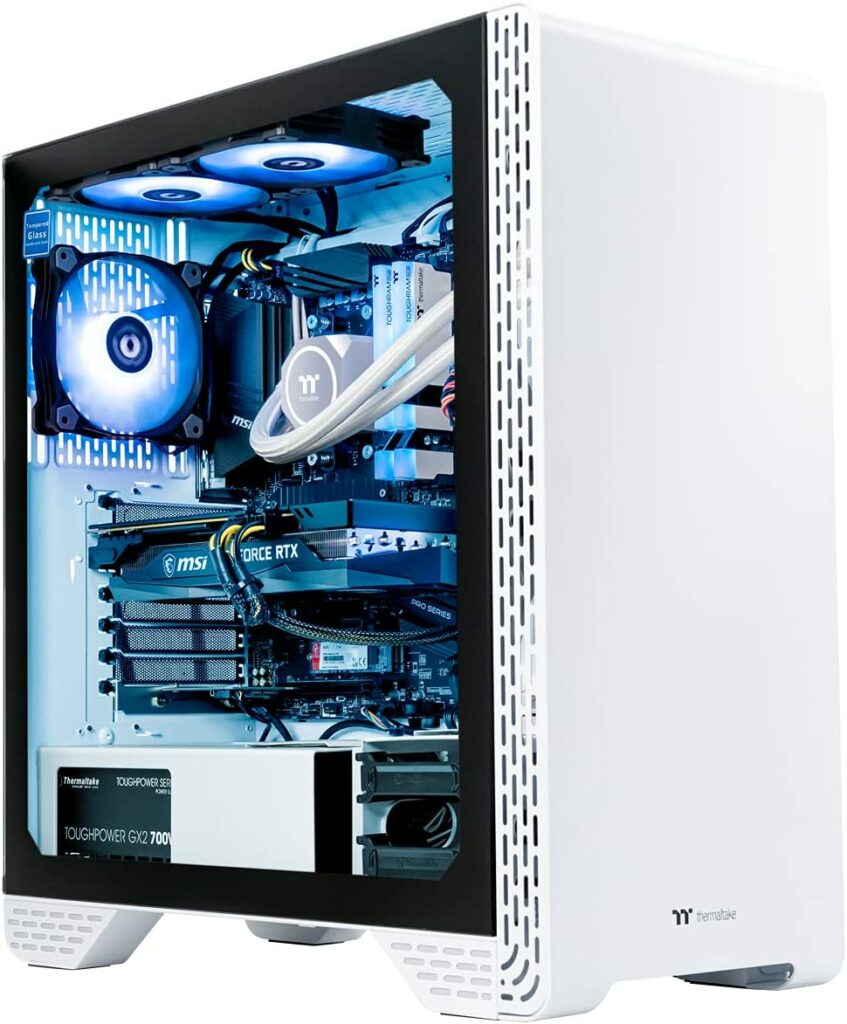 Product: Thermaltake Glacier 360 Gaming PC
Recommended Price: Under $1,500
Cheapest Place To Buy: Amazon.com
Warranty: 1 Year (More Info)
My Rating: See below!
Thermaltake Is A PC Parts Giant
---
A big reason why it's exciting to see that Thermaltake has been creating their own pre-built PCs is that most of the parts involved have been mass-produced by Thermaltake for over 20 years now.
The case, the power supply, the RAM, the fans, and the liquid cooler are all manufactured by Thermaltake. This is awesome because Thermaltake ensures that everything works together great since they're the ones creating each of these parts.
I've personally used Thermaltake products for years – my current case for my build is a Thermaltake case and I had used a Thermaltake liquid cooler with a previous build that worked flawlessly for years.
Thermaltake has been around the block and they know what they're doing when it comes to creating parts that stand the test of time with a rig.
We'll go over those parts in more detail below and we'll also jump into the actual hardware of the build to see if, price-wise, it makes sense for you to buy this rig.
Main Features
---
Before we get into the performance behind the hardware, I wanted to go over all of the different features that come with the Glacier 360.
It comes with a wireless network adapter, it comes with 3 ARGB-enabled case fans, 2 extra case fans in the front, the tempered glass is a swing door for easy access inside the case, and it comes with Windows 10 Home pre-installed.
Unfortunately, there isn't much information that Thermaltake provides about the network adapter. Bluetooth could or could not be guaranteed because Thermaltake uses different adapters depending on the availability that they have while putting the desktop together – which means there isn't a specific WiFi adapter that comes with.
This is sort of a bummer because of course, for a build like this, you'd almost expect Bluetooth to be a guarantee… But you can always add Bluetooth through an additional card or USB connection.
Speaking of USBs, the top of the case provides a single USB 3.0 port and 2x USB 2.0 ports. It also has a headphone and a microphone jack at the top of the case. Pretty much the industry standard there. Adjusting RGB lighting is done through motherboard software rather than another button on the case itself.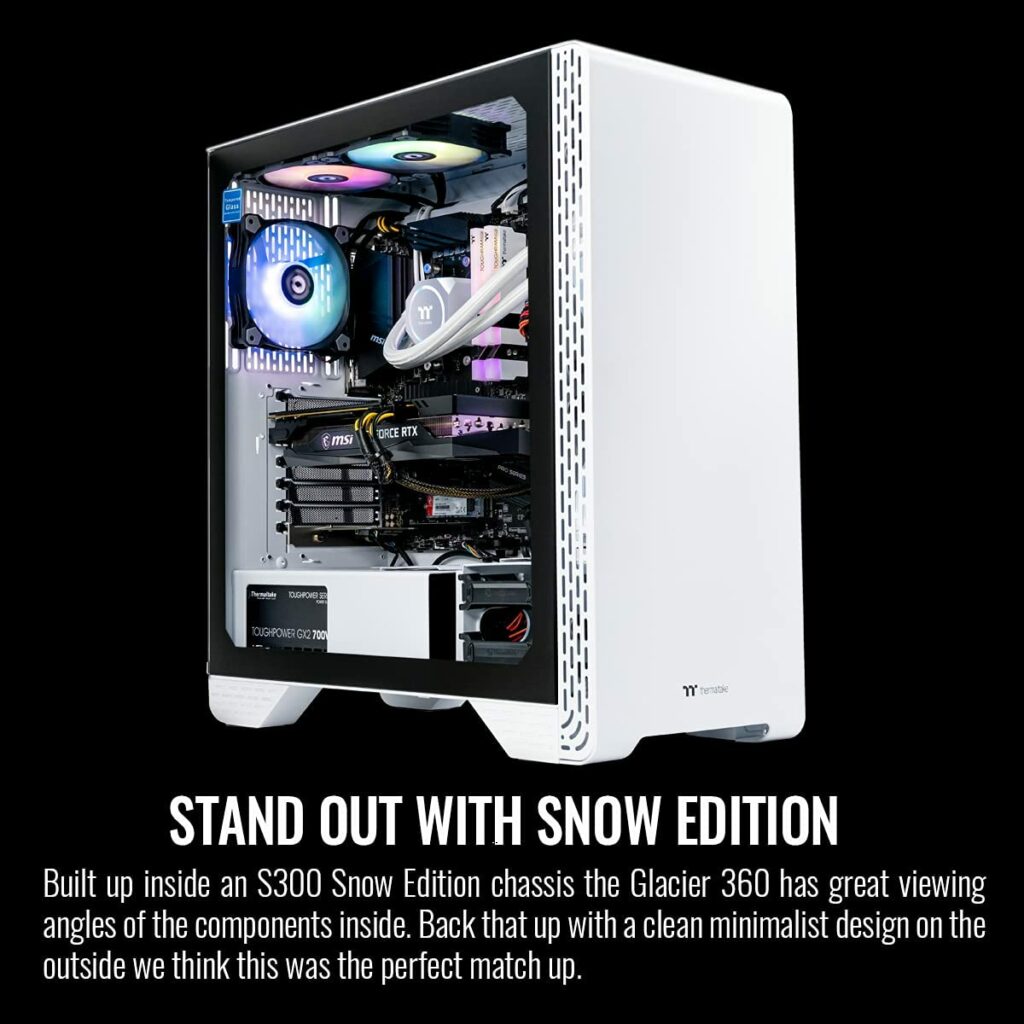 It's easy to access the inside of the case because the tempered side glass is a magnetic swing door. We've been seeing this with other companies recently and it's a nice change from having to screw/unscrew in order to adjust parts and clean the inside of the PC.
There is a lot of cooling going on inside of the rig as well. Not only is the CPU liquid-cooled, but there are 5 other fans that flow air through the case very nicely. All of the fans are also ARGB-enabled – so you can adjust to whichever lighting style you'd prefer and each part that has ARGB will correspond to it.
Thermaltake does not provide a keyboard/mouse combo with this PC so you'll have to ensure that you snag a combo if you decide to go with this PC.
It would have been nice to see a basic combo shipped with the rig… But, to my knowledge anyway, Thermaltake only focuses on premium levels of their own peripheral lineups so it makes sense why none are included.
Now, let's jump into the actual hardware and talk about performance. We'll go over the video card and processing power to get an idea of what kind of performance you could expect out of some of today's more demanding games.
Thermaltake Glacier 360 Gaming Performance
---
To determine the actual FPS and overall performance you'll get in-game with any PC is to understand the power behind the video card and the processor, and how well they work together.
This PC uses a Ryzen 5 5600X processor and a GeForce RTX 3060 12GB video card.
Nvidia's RTX 3060 GPU packs a lot of power behind it, and AMD's Ryzen 5 5600X is a high-end CPU that is able to handle not just high levels of gaming performance but it'll also handle heavier processing tasks extremely well.
Let's go over the video card first – we'll see what kind of performance you can get out of it and if it's the type of card that you should expect with a pre-built at this price point.
Video Card Performance
Graphic quality in games is almost completely determined by GPU performance. Without some good specs with the GPU, you aren't going to be able to achieve the buttery smooth framerates that PC gaming is all about.
The RTX 3060 is a sweet spot when it comes to 1080p performance at the highest graphics settings possible. You can see plenty of examples for yourself in this video.
At maximum graphics settings at 1080p for each game – it easily gets 70+ FPS average in Cyberpunk 2077, 70+ average FPS in Red Dead Redemption 2, 65+ FPS average in Assassin's Creed: Valhalla, 80+ FPS average in Call of Duty: Warzone, and 120+ FPS average in Fortnite.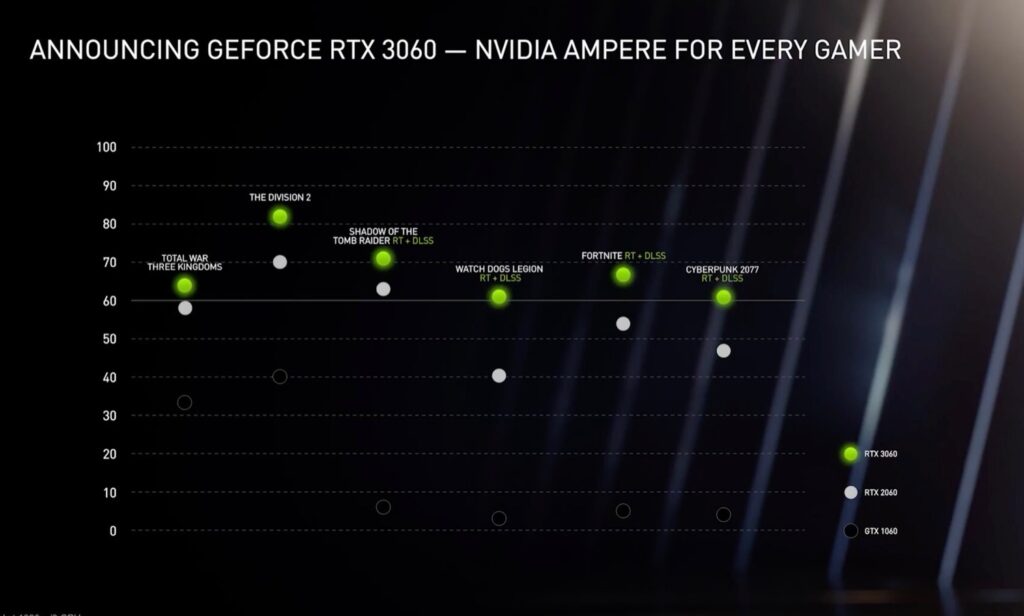 Of course, game performance will also depend on a specific game's level of optimization, but the 3060 packs a punch when it comes to 60+ average FPS at ultra settings in 1080p.
You'd only need to make a couple of tweaks in graphics settings for any game to achieve upwards of 100+ average FPS – and those tweaks are usually hardly noticeable. There is a big, noticeable jump between 60 FPS and 144 FPS – as long as you have a monitor that's able to display that many frames.
The 3060 is also capable of some decent performance at 1440p gaming. You aren't going to achieve 60+ FPS averages at 1440p resolution, but again, with some graphics settings tweaks, it'd be an enjoyable experience for sure.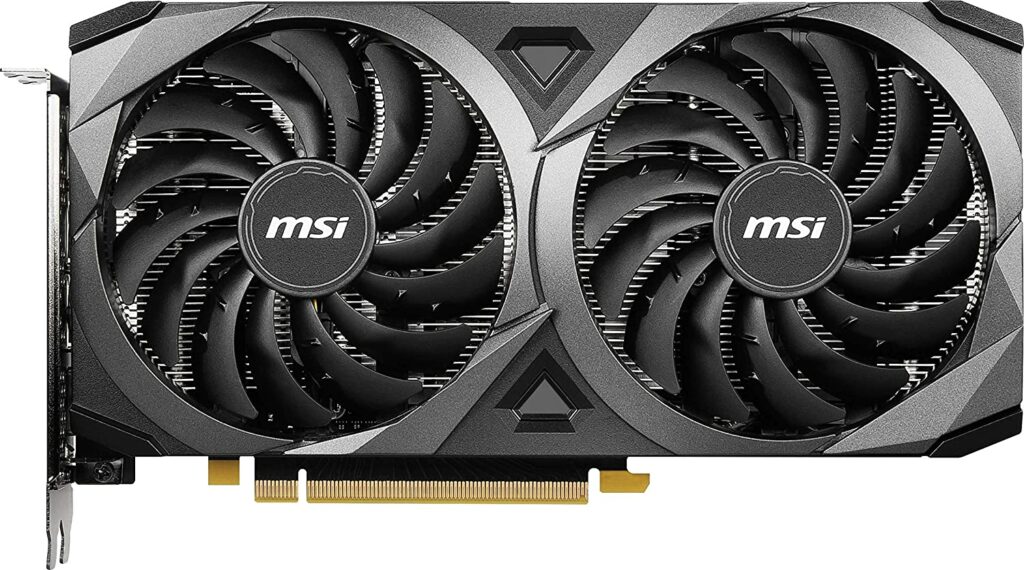 So, if you're looking for solid 1080p performance at max settings with today's games, then the 3060 is a great card to have in any build!
Depending on availability and whether or not you'd want to build your own… at this price point, I believe it'd be possible to get some better performance. But that's the reason for paying a bit extra for a prime-time pre-built system, along with everything else included.
Now that you understand the GPU's levels of performance, let's go over the CPU and how well (or not) they mesh together.
CPU Performance
Processing power is important not just for everything going on in the background of games and how efficiently it can process that information in-game – it's also important for other heavy processing tasks such as streaming, graphics software, video editing software, rendering, etc.
AMD's Ryzen 5 5600X is basically a beast of a processor. It pairs very well with the 3060 graphics card for game performance and is more than capable of handling good levels of streaming/editing/editing speeds.
Now, you shouldn't expect to have the absolute highest levels of streaming quality if you're wanting to also keep your games at max settings, 1080p resolution while streaming at 1080p or higher.
Your frame rate during gameplay and a stream will depend on CPU/GPU usage, and this CPU has plenty of processing power available where you likely won't be at higher rates of CPU usage in any case.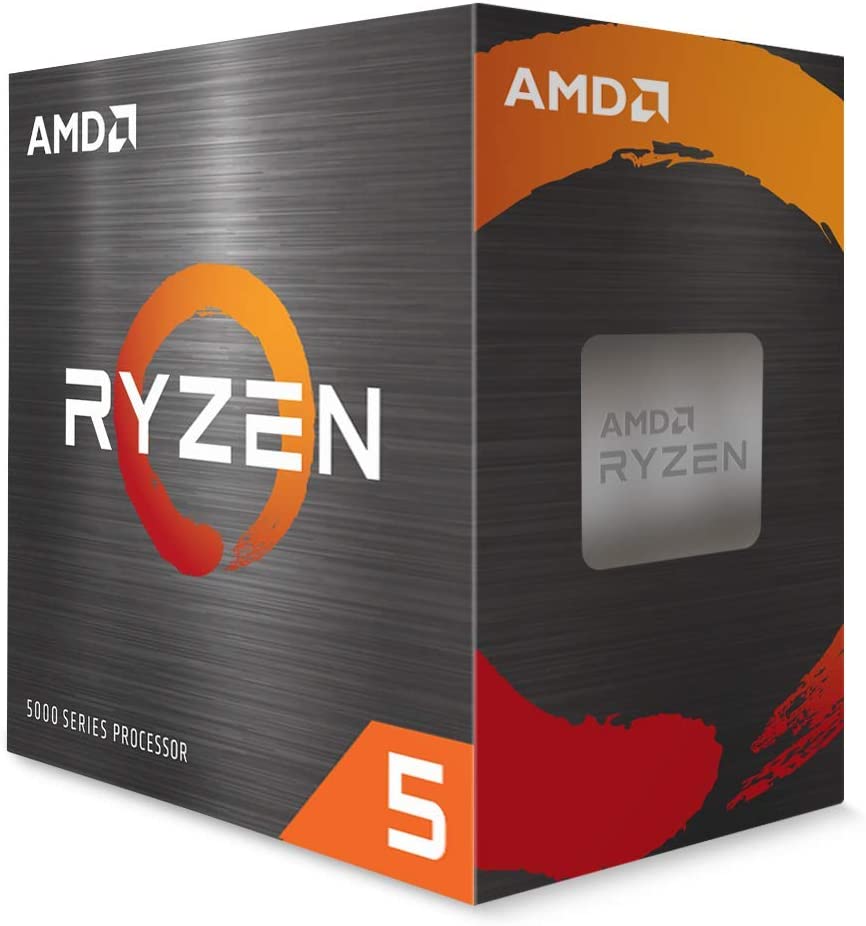 It's a 3.7GHz processor with 6 cores and 12 threads. It's important to have a fast processor with more cores and threads when it comes to tasks such as streaming or rendering, and this CPU is doing just fine in that realm.
On top of that, it's liquid-cooled and unlocked where you can get into overclocking if you deemed it necessary to have a boost of performance, but you likely won't ever feel the need to. But since the option is there, it's kind of a "why not" situation, really.
As I mentioned while looking at GPU performance, you'd only need to make a few tweaks in graphics settings in-game to optimize the experience for your stream. This CPU is more than capable of handling high-end games and processing everything required for streaming, even at 1080p.
Rendering speeds are very good, video editing isn't going to have much if any lag while working… It's an all-around great CPU. It's the 5th iteration of the Ryzen CPUs which have always been a top-notch choice for any PC and any workload.
Other Important Hardware
---
Everything else with any PC needs to come together in full swing to have something that can do a little bit of everything. At this price range anyway, you should expect your PC to be able to do anything you'd want!
Not just for performance, but to determine the longevity of the PC… What type of socket is used? Is there enough memory for the long term? Is there enough storage for what you need? This all comes down the the board, the RAM, and the storage.
We'll go into detail for each, but for a quick sum – this comes with 16GB of 3600MHz DDR4 RAM, a 1TB M.2 NVMe solid state drive, a B550 ATX motherboard, and a 700W 80Plus Gold power supply.
RAM
16GB of DDR4 RAM at 3600MHz is the ideal amount and type of RAM for this build. The main reason being that Ryzen CPUs actually benefit from faster RAM speeds and perform more optimally, like the RAM included with this PC. 3600MHz is good to go for the CPU to perform how it was designed to perform.
Besides Ryzen performance, RAM is also responsible for multi-tasking while using your PC. For example, if you want to have a YouTube video playing, having Discord up to communicate, and have a high-end game all open and running at the same time – you're going to need a good amount of memory.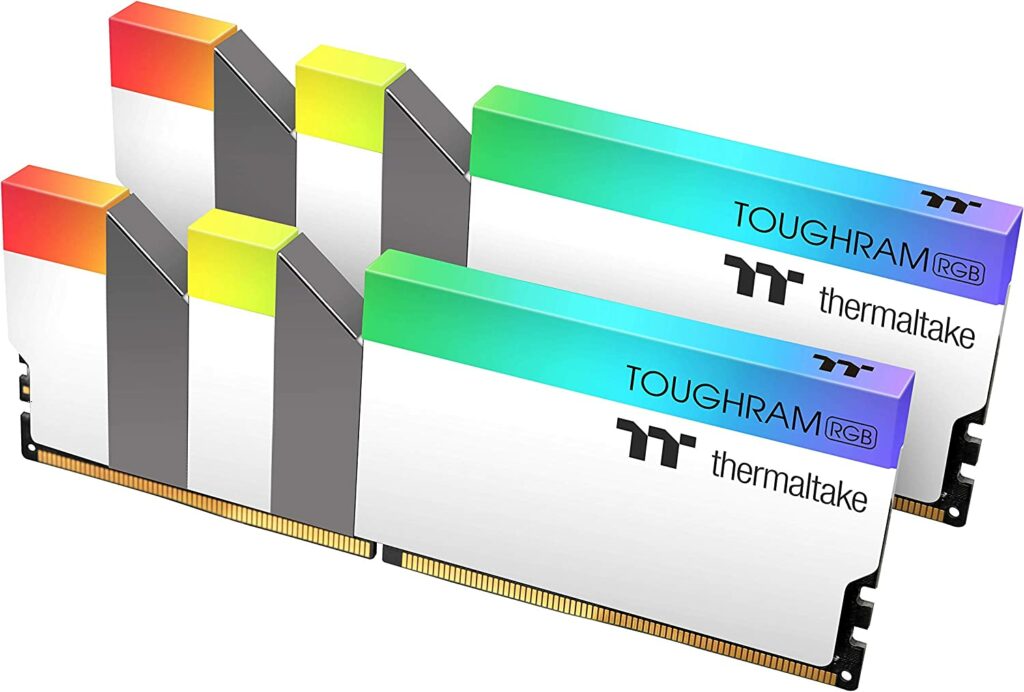 16GB of RAM is more than enough for multi-tasking in this way, it's more than enough for adding several mods to games, and it's enough for quite a long while for future games coming out. 16GB has basically become the standard if you want to be able to run today's and tomorrow's titles.
As a bonus, the RAM is ARGB-enabled so you'll be able to match up the lighting of the RAM with all of the other lighting going on. A neat bonus, and great RAM to have for this rig.
Storage
A single 1TB NVMe M.2 SSD is included with this PC. 1TB of space is more than enough storage for getting all of your preferred programs installed and all of your main games installed while having extra space for the future.
However, if you plan on expanding your game library far and wide, you'll eventually need to add more storage. As far as the options for adding more storage, it'll depend on motherboard availability and what Thermaltake is able to provide.
It's safe to say that you're guaranteed to at least be able to add extra 2.5″ SSDs whenever you need to. What isn't guaranteed is extra NVMe M.2 slots.
Motherboard
This PC uses a B550 ATX motherboard, which uses an AM4 socket, and it's almost always going to be a MSI B550 board. As far as the actual detailed specs of the board, that's going to vary and Thermaltake doesn't have any documentation or note of what specific board it is.
By the looks of it and from several others that currently have this PC, it seems that Thermaltake usually uses the B550-A PRO board from MSI.
This board is an excellent board, MSI boards in general are very solid. Assuming this is the board that you'd get with the Glacier 360, you'd be guaranteed a 3.2 USB Gen 2 port and a 3.2 Gen 1 port at the back of the PC from the board. There'd be 7 USB ports in total available in the back.
It'd be best to use the software for the motherboard to control all of the lighting of your PC, as the ARGB headers are on the board itself. You might be able to use the Thermaltake RGB software – but I'd look into the motherboard software first and see if it works.
An AM4 socket ATX board, most likely from MSI, will set you up for the long haul. If it's the B550-A PRO board, then absolutely – you'll have plenty to work with and longevity with the PC.
Conclusion
---
This marks the end of the Thermaltake Glacier 360 gaming PC review.
Hopefully, after going through this full review, you feel more aware of what it is exactly that you're getting from this PC.
Putting all of this hardware together, this rig is worth the price… for the most part.
The parts and hardware are high-end, and Thermaltake uses most of their own products to produce the PC which is awesome to see.
With that said, I believe it'd be possible to save maybe ~$150-$200 by doing a build yourself… if the prices were right and available. But that's the thing, although the market seems to be shifting back to "normal", finding parts for good prices isn't the easiest thing to do.
Another thing to note is that, since Thermaltake is "newer" at these pre-built PCs… There isn't enough feedback to give a solid enough "scoring" on how their technical and warranty support is. However, they do provide that 1 year warranty, and I'm sure they follow through with it.
Be sure to check out other reviews on Amazon as well, plenty of folks have snagged this PC and it's mostly very positive things that they've shared!
So, do you think that you'll go with the Thermaltake Glacier 360?
What are some other PCs you've been looking at that are similar to it?
What games would you plan on playing with this PC?
Let me know in the comments below! 😀
Thermaltake Glacier 360 Gaming PC
Around $1,500
1080p Gaming Performance
4.5/5
1440p Gaming Performance
3.8/5
Power Per Dollar Spent
4.0/5
Pros
Top-notch cooling
Thermaltake uses most of their own parts
Amazing case/ARGB design
Cons
Thermaltake is newer to pre-built market, support isn't well known yet
Not complete transparency on which specific motherboard/GPU is used
Bluetooth may or may not come with, not clear and not guaranteed
Hey there! 👋 I'm Colton, founder of PC Builds On A Budget.
Whether you need help putting your PC together, finding a great pre-built rig, or want some help finding awesome peripherals – I've got you covered!
I share my experiences of anything and everything related to gaming PCs with you here. 👍