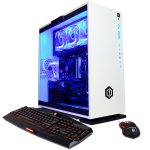 It's time to review the CyberPowerPC Gamer Xtreme GXi10200A desktop since it's a new top seller on Amazon that has some of the newest hardware inside.
When you're looking for a pre-built today you have to make sure that the specs included match up with the price that you're paying because 9 times out of 10, you're overpaying with a pre-built since you'd be able to do a build of your own with the same hardware for less.
That's what this post will be all about – whether or not it'd be a better idea to do a build or if this PC delivers on the performance for what you pay.
With that, let's get to the review.