Last Updated on June 27, 2017
It's time to review the CyberPowerPC Gamer Xtreme GXi10200A desktop since it's a new top seller on Amazon that has some of the newest hardware inside.
When you're looking for a pre-built today you have to make sure that the specs included match up with the price that you're paying because 9 times out of 10, you're overpaying with a pre-built since you'd be able to do a build of your own with the same hardware for less.
That's what this post will be all about – whether or not it'd be a better idea to do a build or if this PC delivers on the performance for what you pay.
With that, let's get to the review.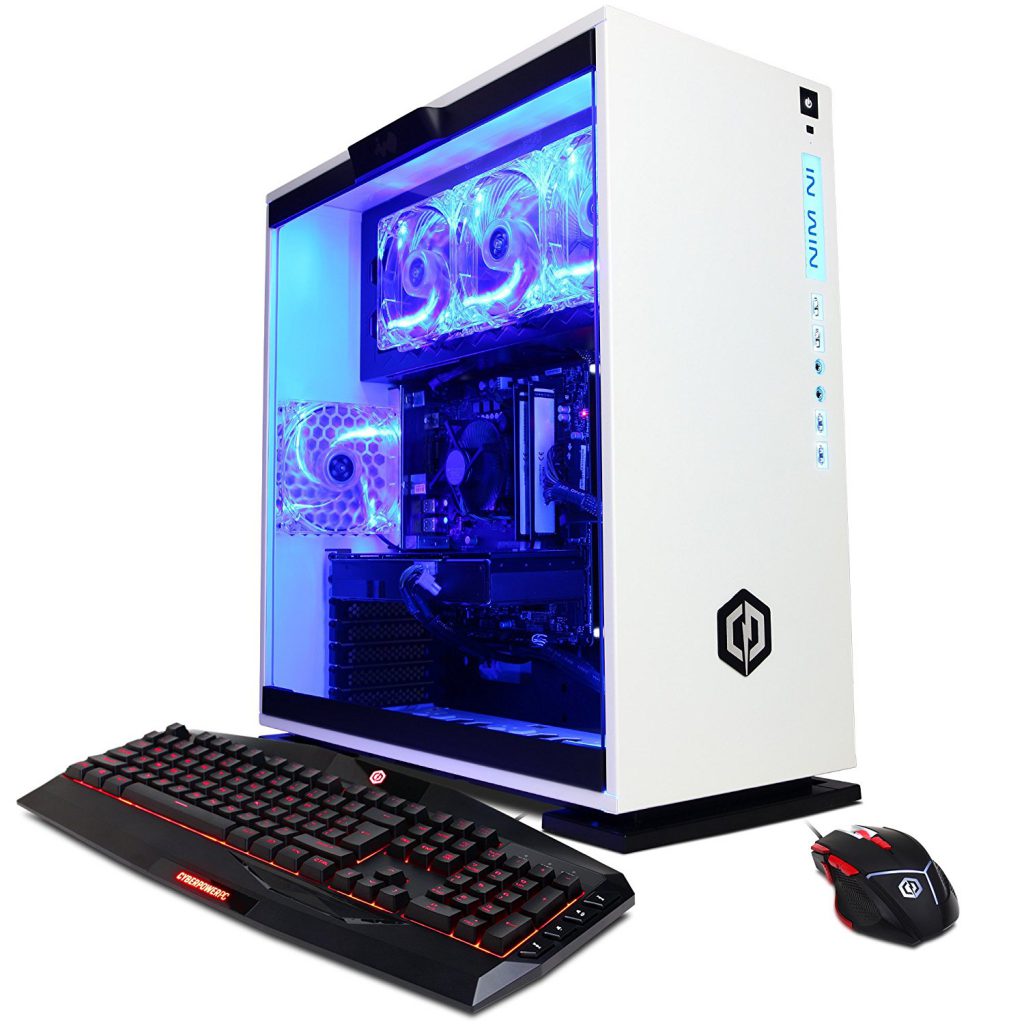 Product: CYBERPOWERPC Gamer Xtreme GXi10200A Gaming Desktop
Price: $1,169.00
Cheapest Place To Buy: Amazon.com
Warranty: 1 Year
My Rating: 7 out of 10
Power Per Dollar Spent
---
Your biggest concern when you're in the market for a pre-built gaming PC is whether or not it gives you a good amount of performance power for every dollar that you're spending.
As I mentioned earlier, it can sometimes make a lot more sense to do a build of your own if you're able to spend the same amount and get more performance or even a little less to get a similar level of performance.
Pre-built PCs do have their pros including having customer support, tech support and not having to grab an operating system… I can understand why some would want a pre-built just for the convenience of not having to go through doing a build of their own due to time constraints or other means.
With that, I'd like to go over the actual hardware specs to see if it'd be a good fit for a gaming PC. What does it actually bring to the table?
CyberPowerPC GXi10200A Processor
---
The processor, or CPU, for a PC is an important spec in terms of gaming performance. Sure, most games depend more on the graphics card but with how much processing is going on with the latest games – you'll need to combine a power GPU with a powerful CPU to match.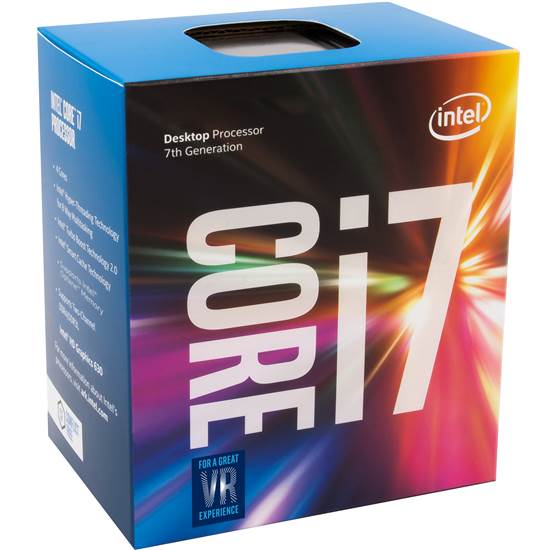 CyberPowerPC's GXi10200A desktop sports an i7-7700 processor which is clocked at 3.6GHz. This is an ideal processor if you're planning on doing heavy processing tasks such as heavy video rendering/3D rendering.
Reason being is because i7's have a technology called hyper threading which allows a single microprocessor to enable itself to doubling the power that it already has. Creating two separate processors for the computer to recognize.
Though many would say that it does, hyper threading doesn't have any real benefit to gaming. For today's AAA titles – if you compare an i5-7500 to an i7-7700 – the performance difference isn't anything super significant.
This doesn't mean that an i7 isn't good for gaming, it's excellent just like how an i5 is. So when someone says that an i7 gives a bigger boost to overall gaming performance than a top tier i5, they're wrong. It really doesn't.
I'm sure that hyper threading technology will be used at some point with PC gaming but it hasn't for a long time and I'm not so sure that it's on the horizon for the near future either. Though again, it's great for content creators as the rendering speeds are much faster and it speeds up the process entirely.
All in all you're going to surpass most if not all of the recommended requirements for even the most demanding games using a CPU like this. It's nice to have a good CPU like this for games that have a lot going on at once such as how much needs to be rendered in PlayerUnknown's Battlegrounds – it requires beefy specs for sure!
This is also true for VR gaming, you'll need this type of processing power to make sure you have a high enough frame rate to keep everything smooth as you look around and what not.
CyberPowerPC GXi10200A Video Card
---
For a video card this PC has a 6GB nVidia GTX 1060. I was not able to find out exactly which model of graphics card it is, odds are that it is a MSI card but that can also change from time to time depending on when the build is done. This doesn't matter much, most of the GTX 1060 cards give a similar level of performance.
A 1060 is a beast of a card for 1080p gaming. It's the newest tech from nVidia and it caters to maxing out games at 1080p as well as having pretty awesome performance for VR gaming.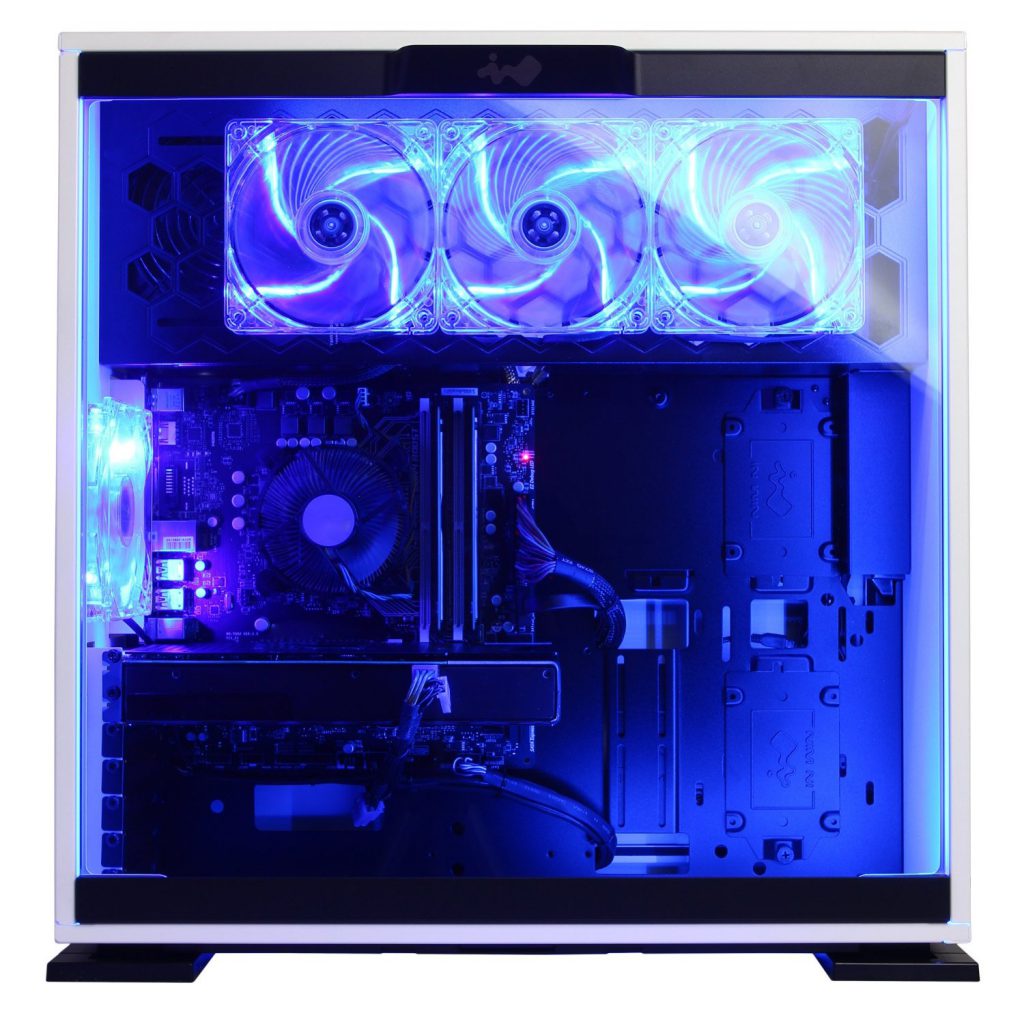 Take a look at the recommended specs for any recent title that has released and you'll see that a 1060 will surpass it. Even for down the road, you won't be running into many issues running the latest games.
What I love most about nVidia is how they handle their driver updates. For the most part, driver updates for their video cards get released often and they increase overall performance across the board.
Not that AMD doesn't also provide quality driver updates, they most certainly do. But from my experience, nVidia is able to develop and release these driver updates more quickly than AMD.
If you want to get an idea of overall performance in terms of frame rates that you could expect with a specific game then I suggest looking up the GTX 1060 on whatever game on YouTube. Better yet, make sure that the benchmark is paired with an i7-7700.
By doing that you'll be able to see how these specs have performed for whichever game you'd like to see!
Other Important Specs
---
The processor and graphics card are the most important parts when it comes to gaming performance, hands down. But this doesn't mean that the other specs aren't also important.
1TB of hard drive space, a 128GB NVMe SSD, 16GB of DDR4 RAM and a backlight keyboard/mouse combo to go with. These are actually all great specs for this PC!
Not only do you get 1TB of space for all of of your games and programs but you'll also have a bit more space with 128GB of SSD space.
Windows will be installed on it which will take up a bit of room there but there is still plenty of room to install your most used programs and most played games on that SSD.
Trust me, it's definitely worth doing. The difference in speed when it comes to SSDs vs HDDs is pretty significant.
16GB of DDR4 RAM is going to be more than enough for the far future. 8GB of RAM is still the standard, it is still enough to run today's games and the ones that are releasing soon.
Having more than 8GB allows you to have more things going on at once. Multi-tasking will be easier for the PC, if you're one to have a program, video and a game going on all at once then you'll need that extra bit of RAM.
The keyboard and mouse is a standard combo from CyberPowerPC that does what they're supposed to do. You wouldn't have to do it right away but I would suggest maybe upgrading to better gear whenever you deemed it necessary, or maybe you'd end up enjoying the combo that comes with!
I've read a couple of reviews stating that the keyboard went dead pretty soon but that was a minuscule amount. It seems that almost all of the people that decided to use this PC are happy with the keyboard and mouse that comes with.
With all of this, I have to admit that going into this review I was expecting things to be a bit worse but it turns out that this PC does indeed deliver on what it says it'll deliver. Though a build of your own might be a bit more valuable… it really comes down to the individual.
Is The CyberPowerPC GXi10200A Worth It?
---
That really comes down to you.
Sure, the specs that come with this PC are nothing short of phenomenal – the performance in gaming will be substantial and it's going to stay that way for a long while.
But you should also consider taking a look into doing a build of your own if you're interested in maximizing your power per dollar spent. As I mentioned earlier, that should be the most important thing you look for.
You could use an i5 processor and take the extra bit of cash to get a 8GB GTX 1070 instead. This allows for even further future-proof power for VR gaming and that change would also allow you to game at 1440p as well.
You can check out the build guide below if you're wanting to look into doing something like that, you'll end up saving a bit of money going that route as well!
I can also see how a pre-built is more valuable to some considering that it'd come with actual support, it'd work right out of the box and you wouldn't have to mess with driver software stuff right out of the gate.
That's why I say it really comes down to what you're really wanting. Are you wanting to save as much money as possible? I'd suggest doing a build of your own then.
Do you want something that's going to work right away and you'll also have some support for tech issues? Then maybe this pre-built is the one for you.
Take a look at the Amazon reviews as well. That way you can get an idea of what others that have used this PC think about it and what their overall experience has been.
So, what do you like best about this PC?
Are you considering doing a build of your own instead?
Let me know in the comments below! 😀
Hey there! 👋 I'm Colton, founder of PC Builds On A Budget.
Whether you need help putting your PC together, finding a great pre-built rig, or want some help finding awesome peripherals – I've got you covered!
I share my experiences of anything and everything related to gaming PCs with you here. 👍