Last Updated on March 4, 2017
Today I'd like to review one of Amazon's top selling computers which is the CyberPowerPC Gamer Xtreme GXiVR8020A2 desktop. It is promoted as VR ready, but is it actually ready?
VR today takes quite a bit of power and the future of it will inevitably take more so any gaming PC that is advertised as being "ready" for it had better have the future in mind as well.
With that, let's get to the review.
Product: CyberPowerPC Gamer Xtreme GXiVR8020A2 Gaming Desktop
Price: $719.99
Cheapest Place To Buy: Amazon.com
Warranty: 1 Year
My Rating: 8 out of 10
What Does VR Require?
---
I really only want to bring up the HTC Vive and the Oculus Rift since those are the two
"mainstream"
VR gaming headsets out there.
I'm going to list the recommended system requirements for both of the headsets and then get into the specs that are inside of this PC.
Both of the headsets are basically identical when it comes to recommended hardware specs.
Recommended requirements for virtual reality:
Graphics Card: GeForce GTX 970 or AMD Radeon R9 290 or better.
CPU: Intel Core i5 4590 or AMD FX 8350 or greater.
RAM: 8GB or more.
Video port: HDMI 1.4, DisplayPort 1.2, or better.
USB port: 1 USB 2.0 or faster port.
As you can see, for the graphics card, you'll need a GTX 970/R9 290 or better. This pre-built desktop comes with a 4GB RX 480 which is a competitor of the GTX 970. In tests and when looking at the numbers – a 4GB RX 480 has a 1% disadvantage to the GTX 970 meaning that they're practically the same card.
When it comes to the recommended graphics requirements, this PC would definitely be able to run VR games. I have a GTX 970 in my current build and I've been running the Vive very well so far.
As far as the future of VR, I could see the 4GB RX 480 hold up for a good few years before really wanting to look at any upgrades.
For the CPU you'd need an Intel Core i5-4590/AMD FX-8350 or better. The CPU that is inside of this PC is an i5-7400 which is a 3.0GHz quad-core processor.
That's a bit lower than the recommended requirements that are listed by almost 10% which in reality isn't too bad. An i5-4590 is 3.3GHz whereas the i5-7400 is 3.0GHz.
As far as the longevity of the processor… It's a pretty good processor, no doubt about that. But there will not be any overclocking options with it when it starts to become obsolete which really won't be for a good while yet.
This is the newest generation of Intel processors and the i5-7400 is really a great processor for today's demands for PC gaming. It's also ready for what's coming in the future!
I'd estimate about 3-4 years until you'd want to start thinking of upgrading it. Keep in mind that this is only with VR gaming in mind. The future of it is going to take more and more power as we move forward with new tech.
Other Specs Of The Desktop
---
As listed above, you'll also need 8GB of RAM, a HDMI port and at least one USB 2.0 port for the Vive. You'll need some more USB ports if you planned on using the Oculus Rift.
These other specs are also met, the desktop basically has all of the recommended requirements for today's VR gaming industry. Now let's talk about everything that it comes with!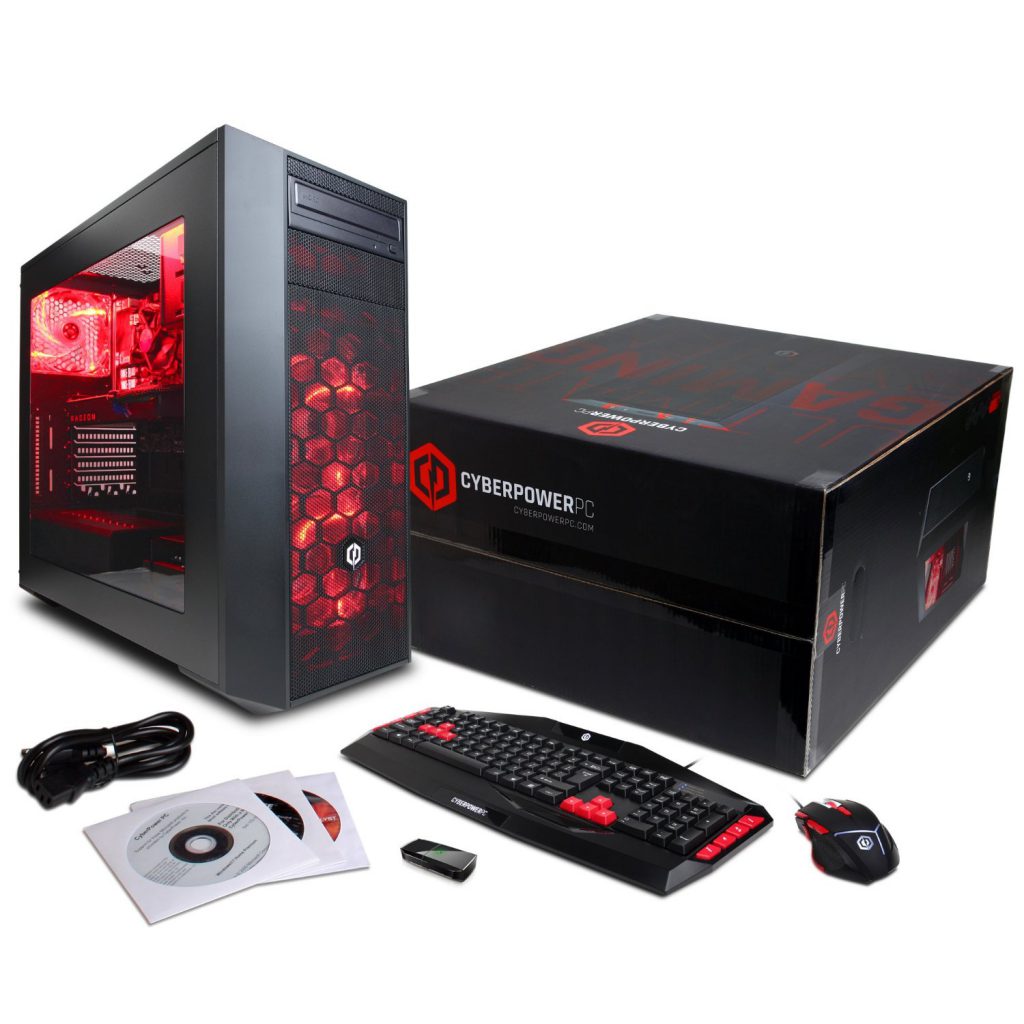 The RAM is 8GB of DDR4 memory which is the latest release for RAM. Since it uses a Skylake CPU it needs to use this newer RAM as well which is good.
It's going to come with a 1TB hard drive which is going to be more than enough room for installing all of your programs, games and etc.
So far, most of the VR games that I've downloaded aren't 20+ GB (yet) so you should definitely have enough space for most of the games that have come out so far.
A USB wifi adapter will come with for those of you that aren't able to connect directly with an ethernet cord. Most of the PC builds that I share here use a USB wifi adapter – they are pretty reliable if you're sort of close to your router!
Windows 10 will come pre-installed and it'll come with a CyberPowerPC keyboard and mouse. I have no information on the DPI of the mouse but based on the reviews – it's good enough for 1080p resolution. The keyboard actually has multi-media keys as well!
Most pre-built gaming PCs are a rip off but this one actually caught me by surprise…
When looking at the hardware itself, you'd be able to get it a bit cheaper if you were to build it yourself with the same exact parts. But after adding in Windows 10 you'd actually pay a bit more than  you would by getting this pre-built and it also comes with a keyboard/mouse.
This is one of the first times that a pre-built gaming desktop actually makes a bit of sense! Is the pre-built industry changing..?
Is This CyberPowerPC Gamer Xtreme Desktop

 Enough?
---
All in all, this desktop has the hardware you'd need to run the latest VR games. Not only that but it's also at a pretty fair price.
Again, you could get this exact build for cheaper when looking at just the hardware by building your own but once you add in a full, legit version of Windows 10 into the mix… it's actually cheaper to go with this pre-built than it is to go with a build of your own.
This is really the only time I've actually recommended picking up a pre-built if you're in the market for budget VR gaming. It just makes sense!
Be sure to read up on what others have said over at Amazon, the reviews don't lie!
So, are you going to be picking up this desktop?
Or do you still plan on doing a build of your own?
Let me know in the comments below! 😀
Hey there! 👋 I'm Colton, founder of PC Builds On A Budget.
Whether you need help putting your PC together, finding a great pre-built rig, or want some help finding awesome peripherals – I've got you covered!
I share my experiences of anything and everything related to gaming PCs with you here. 👍