Last Updated on May 20, 2017
It's time to review the Apevia X Sniper 2 mid tower PC case not only because it's extremely popular on Amazon but also because I believe it's the best!
I did a lot of research on the best mid tower cases when I was getting ready to put my dream build together and I'm super glad that I decided to use this case because it's very simple to use and it looks awesome on my desk.
With that, let's get to the review.

Product: Apevia X Sniper 2 Mid Tower Case
Price: $59.99
Cheapest Place To Buy: Amazon.com
Warranty: 1 Year
My Rating: 10 out of 10
The Apevia X Sniper 2 Comes With A Lot
---
The main things that I look for when I'm looking at quality mid tower cases to use with a build include the overall size, what types of cards would be able to fit inside of it and how many slots it has for different types of drives as well as how many fans it comes with/how many fan slots I can use to add more fans.
This specific series by Apevia definitely makes sure that almost anything can be thrown into the case and that's what I like most about the case overall.
When you're in the market for a case, especially a mid tower, you've got to think about the future. It's best to make sure that the case that you want includes slots for SSDs, bigger graphics cards and enough room for a high quality CPU cooler.
You get all of that with an Apevia X Sniper 2 case. The built in slots for different types of drives are pretty simple to use and inserting drives is quick and easy.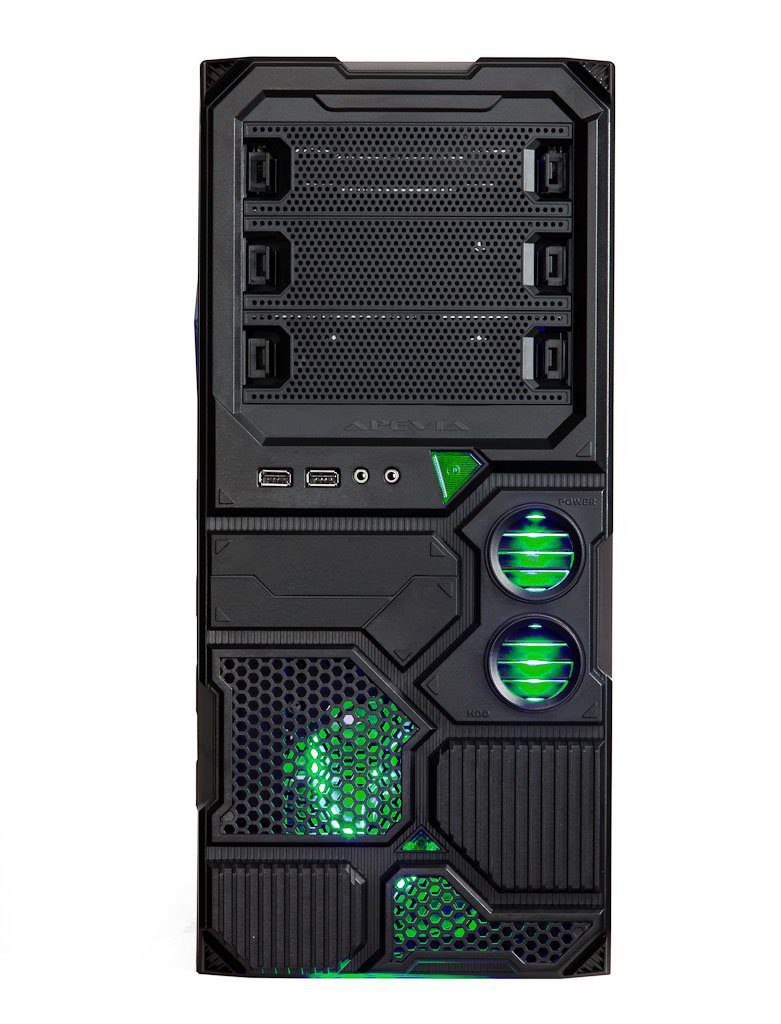 There is plenty of ventilation for airflow since there are many holes throughout many of the areas of the case. From top to bottom, Apevia made sure that air flows through the entire case which is also pretty important – especially for those of you that plan on overclocking.
One 120mm fan comes pre-installed as a front case fan, on the bottom section. Then there are all sorts of slots for adding more fans down the road – you can add up to 8 total case fans which is more than enough for anyone.
I took a 120mm blue LED fan that I've had from my previous PC build's case and decided to put it in the back of the case. It fit perfectly and it looks cool with the green color scheme that I went with.
That's another thing I like about this case – it comes in different color schemes and in my opinion, they're all pretty awesome!
There's Plenty of Room For Anything
---
Eventually I want to add two multi color 120mm fans on the top of the case mainly for the aesthetics of it but also because I plan on adding an aftermarket CPU cooler down the road for overclocking. I went with the green version and I think it's going to be cool mixing a bunch of different colors with it.
The side panel comes off by unscrewing the two hand screws on the back of it and simply sliding it off. There are slits on the sides for the side panels to slide in and out of when you're opening up the case and it's actually pretty easy to get the panels on and off because of this.
As far as the size and fitting different hardware, I've seen a Cooler Master Hyper 212 EVO installed into the case in a different review. It barely fits, but it definitely does fit. Keep in mind that if you're wanting to use that specific cooler with this case that you then won't be able to add any sort of fan on the side panel unless you're using a smaller cooler.
It's standard today but you should also know that the case comes with two front USB 3.0 ports and HD audio plug ins for a mic and ear buds. They are 3.5mm jacks.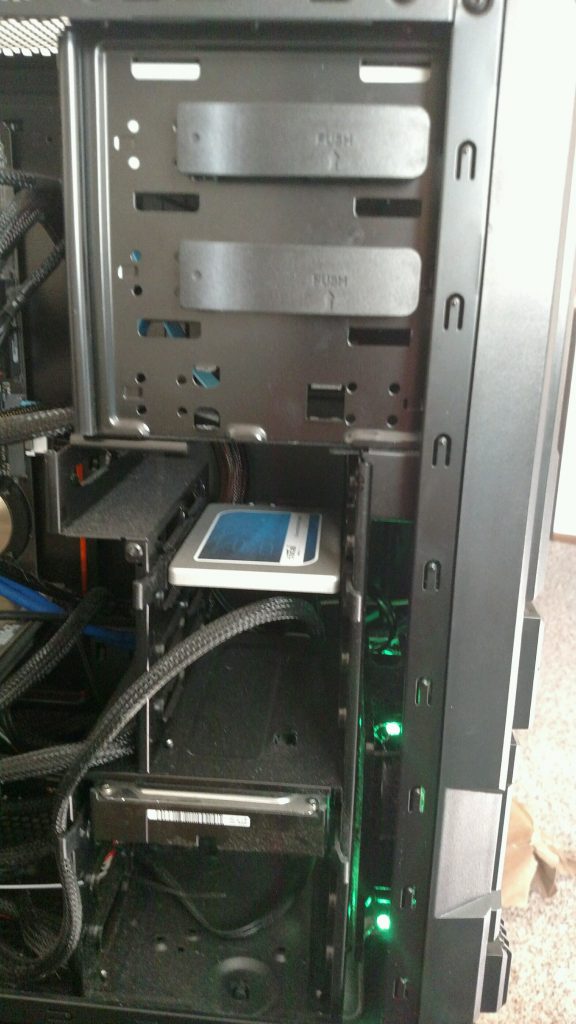 As I said earlier, the drives are super simple to put in. For the top drive slots you simply push up on the bottom parts of the locks and it unlocks the slot allowing you to slide in a CD drive or fan controller.
After you slide it in you can then re-lock the drive using the lock, it simply snaps back in.
For hard drives and solid sate drives the case comes with sliders and slots for the drives. You simply put the drive into the sliders and you slide them into the slots that you want them in. It really is a simple process – makes things easier.
That's really it for all of the features and what not that it comes with. It'll fit video cards up to 13″ long and micro ATX/ATX boards up to 11″ x 12″ leaving plenty of room for what you need. I used an EVGA 4GB GTX 970 for a video card and there's plenty of room left after installation.
Cable management is definitely doable with this case and although I didn't do the best job with my build – it was definitely better than other cases I've experienced.
Since both side panels are easy to slide on and off it really wasn't too much of a hassle getting the cables in optimal positions and I really can't say that is the case with other cases that I've worked with in the past.
For about $60 you really can't go wrong by going with this case, it's definitely one of the best if not the absolute best mid tower case on the market right now!
Overall Pros & Cons
---
There really aren't that many cons when it comes to this specific line of cases but for those that don't want to read all of the details I'll compile a list of pros and cons for you.
Pros:
Cable management is easy.
Aesthetically pleasing.
Lots of room for bigger components.
No tools needed for mounting drives.
Many spots to add more fans.
Cons:
Only comes with one fan.
Case wires can be weird to manage.
The pros obviously out weigh the cons big time and when it comes down to cable management it's really up to the individual and how much time you take towards cable management.
It's hard to compile a list of cons for as many pros but that's really all that it comes down to. It's a very well made case especially for the cost.
Many People Love This Case
---
And for good reason too. You can't go wrong with this case if you've got around $60 in your budget for a case.
It's made out of a sturdy material, it has plenty of room for bigger components and you can add a bunch of fans down the road to ensure that your build stays cool.
You should also read up on all of the different Amazon reviews, there are more pictures and what not as well as answered questions there that you'd also find useful!
So, are you going to be using this case for your PC build?
What do you like most about it?
Let me know in the comments below! 😀
Hey there! 👋 I'm Colton, founder of PC Builds On A Budget.
Whether you need help putting your PC together, finding a great pre-built rig, or want some help finding awesome peripherals – I've got you covered!
I share my experiences of anything and everything related to gaming PCs with you here. 👍