Last Updated on January 2, 2021
You need the best RGB gaming mouse that's on the market? Look no further, these are the best RGB gaming mice that you'll be able to find online!
The RGB aesthetic is awesome and you're looking for the best of the best so what do you need to look for? There are important factors to choosing the right RGB mouse because the one with the best lighting isn't the only factor you should consider.
We'll be going over the specs of each mouse listed here as well as why or why not to get it!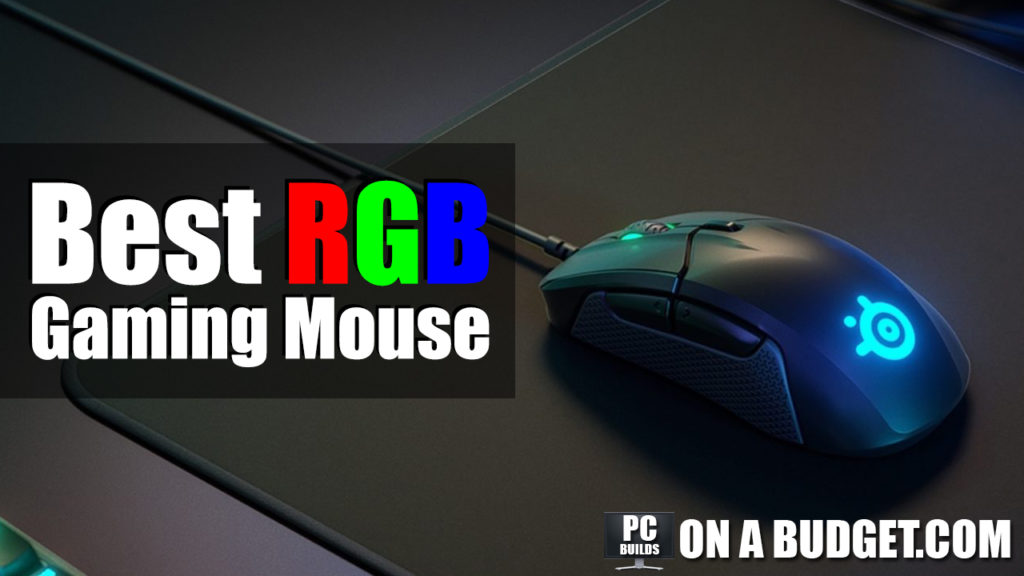 Best RGB Gaming Mice
---
Whether it's a name brand you fully recognize or some of the "off" brand mice out there, we'll take a look at what makes them great.
We aren't going to be featuring any mice here that we feel wouldn't stand the test of time or that it wouldn't suffice enough in terms of lighting options/looks, DPI settings and how the mouse feels overall.
This is not listed in any order of best to worst. However, we will start with what we think is the actual best RGB mouse comparatively to the rest of the mice listed.
1. Glorious Model O
The lightest RGB mouse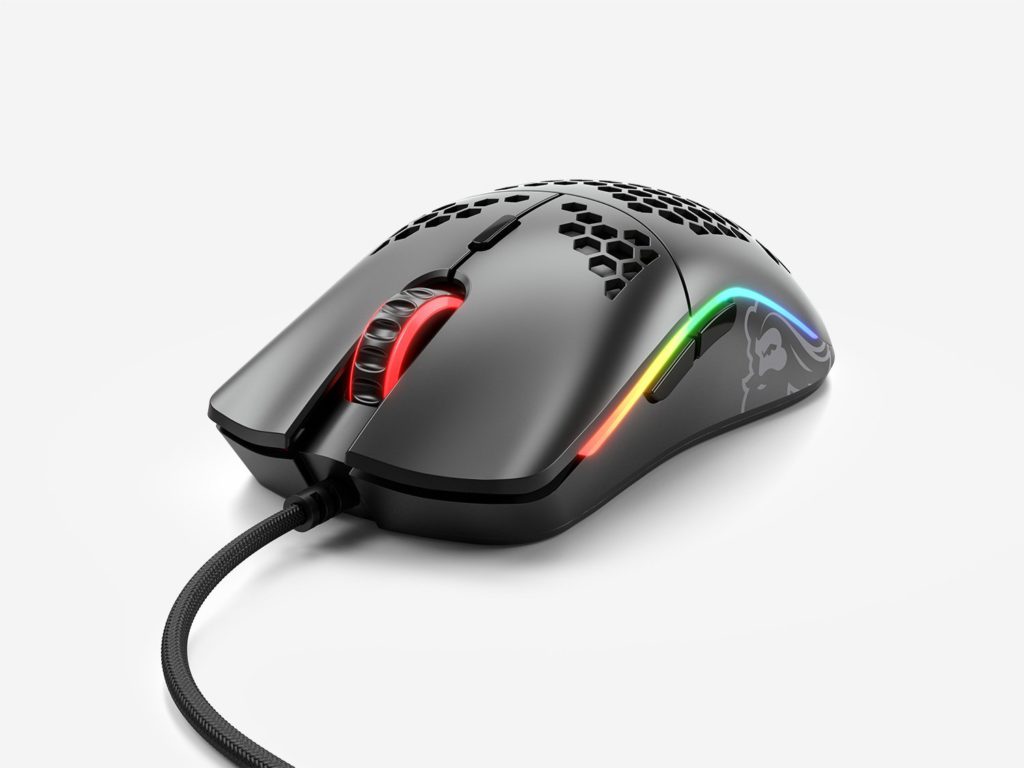 Customizable lighting: Yes
Mouse software: Yes
DPI settings: Full DPI customization
Glorious Model O Details
---
I'm currently using the Model O today and it's absolutely the best mouse I've ever used. It's extremely lightweight and has all of the customization settings you could ask for.
PC Gaming Race is an amazing company.
When I first had the Model O, after about three months or so the cable ended up failing on me. I had contacted PC Gaming Race through e-mail and they helped me out in a flash. They sent me a brand new cable and skates 100% for free. Didn't have to pay the shipping either!
I love it when companies care. I love it when companies create great products and understand the customer because they're the exact same. PC Gaming Race was founded by hardcore PC gamers just like you and I and it shows in all of their products.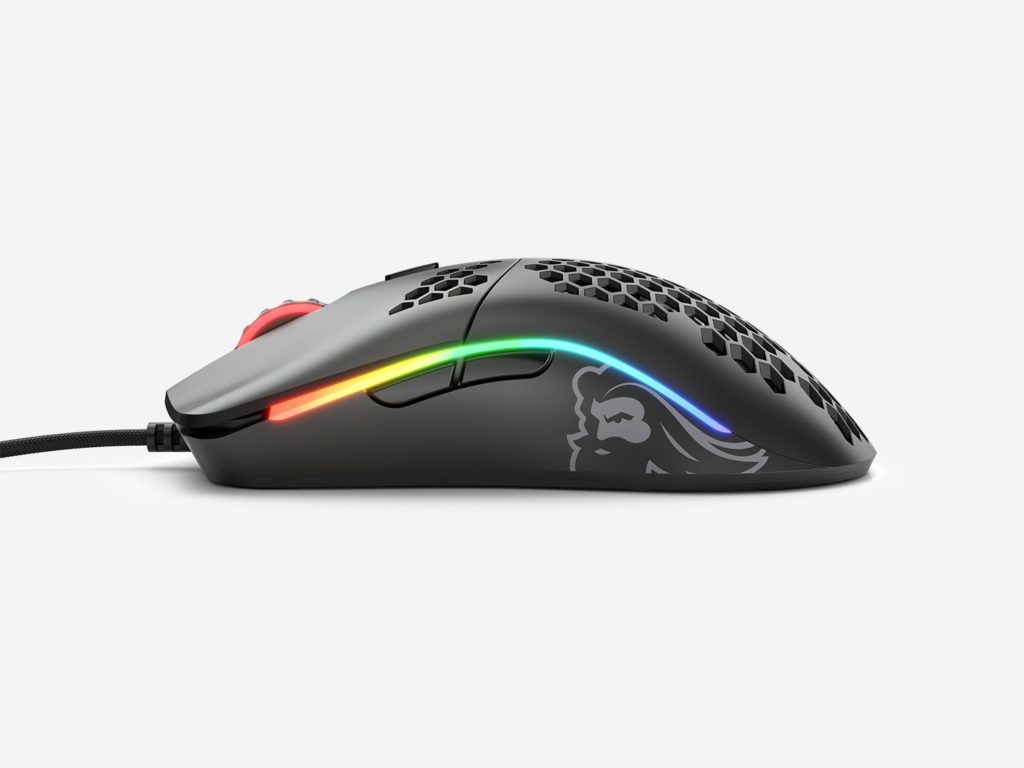 I'll always recommend PC Gaming Race's mouse and I hope to someday use some of their other peripherals as well.
I've been thoroughly enjoying the Model O even coming from being the type that liked the heavy Logitech G502 in the past!
PC Gaming Race has also recently announced their new Model D mouse which is a bigger and more ergonomic version of the Glorious Series mice.
I'd suggest also checking that one out. I have no personal experience with it but from experiencing the Model O… I'm certain that the Model D is also just as glorious.
The Glorious Series gaming mice all come with software drivers which allows you to customize lighting, DPI settings and set up macros. It's simple, easy to use and detailed where you can pin point exactly how the mouse works for you.
You can set an exact DPI point, change the DPI for X and Y axis and determine how many different profiles you're able to switch to on the fly with the DPI button on the top of the mouse.
The Glorious Model O and the Model D are both the best RGB gaming mouse, hands down.
From the company being transparent and super helpful to the product itself… It's a no-brainer if you're in the market for the best possible RGB mouse out there.
2. Logitech G502 Hero Edition
The weight-tuning Hero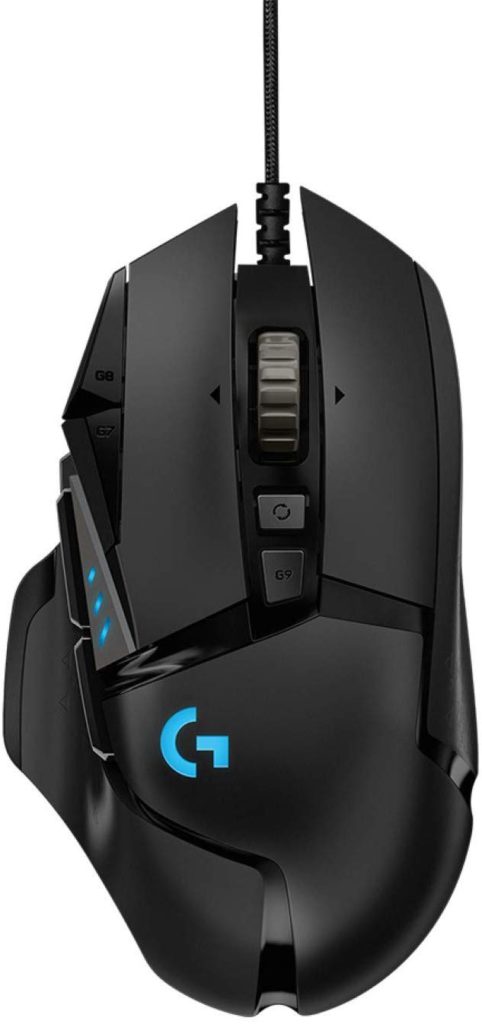 Customizable lighting: Yes
Mouse software: Yes
DPI settings: Full DPI customization
Logitech G502 Hero Edition Details
---
I had used the Logitech G502 for a long while before switching over to the Model O. I gave my G502 to a friend as a gift when I decided I wanted to try a lightweight mouse out.
When it comes to a weight adjustable mouse that delivers on all of the software goodies that we love… There isn't much out there that can compete with the G502.
It comes with multiple weights and you'll be able to switch in and out whichever weights you want. This allows you to perfect the weight that is best for you.
It's used by many pro players out there and is considered one of the best gaming mice on the market. It doesn't provide much in terms of RGB lighting but since it's completely customizable we should still consider it a full-fledged RGB mouse.
Logitech has a great software that comes with it as well and if you plan on or currently have other Logitech products that have RGB lighting then you'll be able to sync the lighting with all of the other peripherals as well.
You'll be able to adjust DPI, acceleration and macros with this mouse. It has it all when it comes to software.
There's also a "sniping" button which while you hold it can decrease or increase your DPI while you're holding it to give you a difference in DPI while you're aiming down the sights of a scope.
I didn't use this feature much myself since I believe you should be able to use the same DPI no matter how you're aiming in a FPS title but it's there for those that enjoy using it.
I definitely enjoyed this mouse while I was using and I'd consider it the best mouse in general before I snagged the Model O. But to compare the two is hard to do… They're much too different.
If you prefer heavier mice then the G502 is the way to go. If you're trying to have a lightweight mouse, the Model O or Model D is the best.
There are too many differences to put them in the same category of mice besides the RGB factor.
They both have incredible software that allows you to adjust the mouse however you see fit but when it comes to the feel, weight and overall build they're definitely different mice.
If you're looking for a mouse that has full customization across the board that's also heavier in weight then the Logitech G502 is the mouse to go with.
3. SteelSeries Rival 310
The proven durability master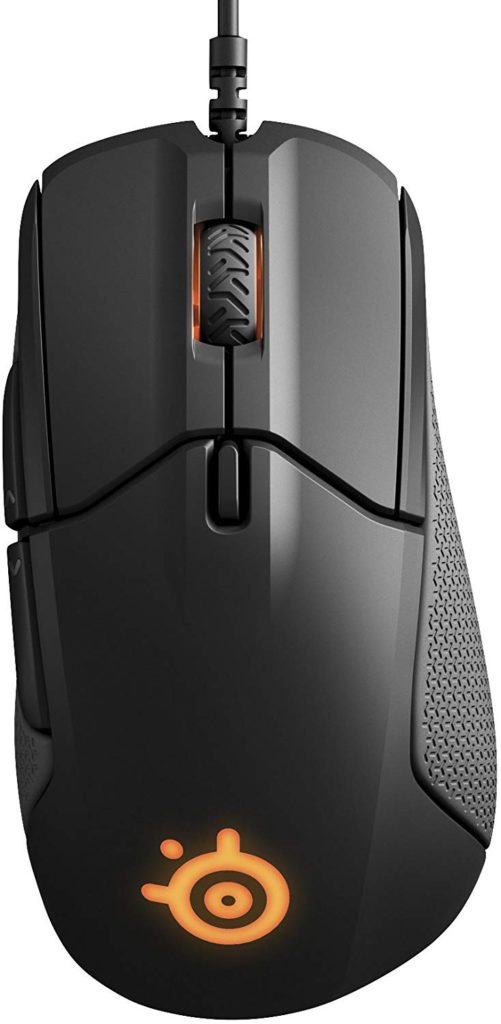 Customizable lighting: Yes
Mouse software: Yes
DPI settings: Full DPI customization
SteelSeries Rival 310 Details
---
SteelSeries is another big mouse brand widely known to stand the test of time, have great sensors and have something that is fully customizable to your play style.
The Rival 310 is specifically designed for maximum ergonomics and it is easily one of the most popular mice that they have available right now.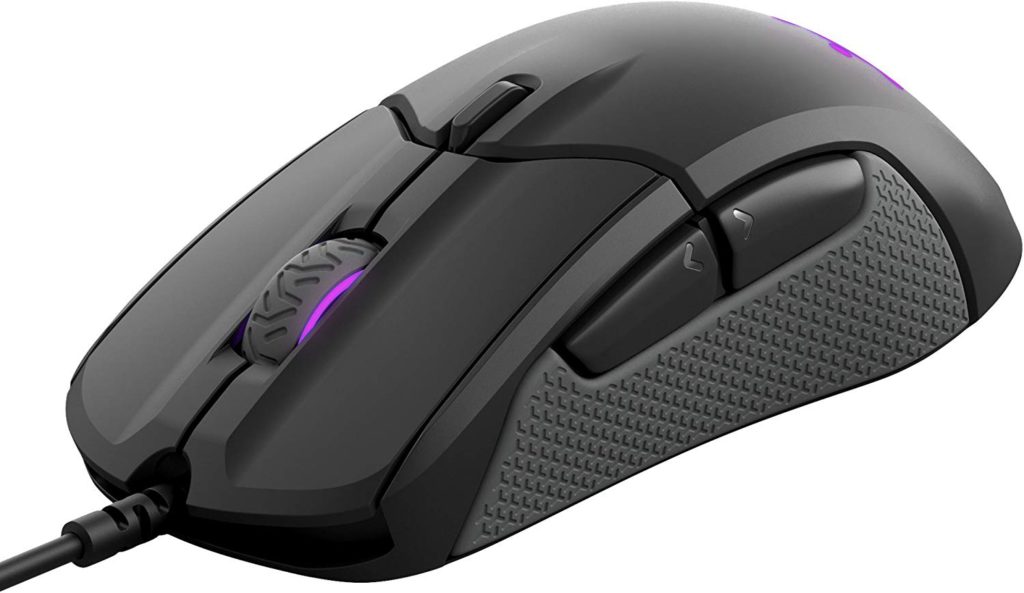 There have been plenty of newer models released such as the Rival 710 but the 310 is significantly less pricey and has been proven over and over again to be a great mouse so I figured it was the model to go with.
They share that they have "Split-Trigger" buttons meaning that the left and right click are separate and they have tested them and they're able to have 50 million clicks each.
The main reason this mouse is featured is for the design and durability. Design wise, you don't see a lot of mice with this type of shape, it's more unique. And when it comes to durability… this mouse is a beast.
Of course there is software which allows you to customize all of your mouse settings as well as the lighting.
Later Rival models have more lighting going on and some of them are wireless amongst other features but for right under $40 the Rival 310 is the way to go.
My favorite parts about the 310 is how big the side thumb buttons are, the overall design and how it caters to all grip styles as well as the side grips and how they feel.
If you're looking for something that focuses on durability and comfort then the SteelSeries Rival 310 is going to be the mouse for you.
4. Redragon M602 Griffin
The low budget ergonomic king
Customizable lighting: Yes, slightly limited
Mouse software: Yes
DPI settings: 800/1200/1600/2400/7200
Redragon M602 Griffin Details
---
Redragon is the most well known mouse brand when it comes to cheaper, more affordable mice.

They have been around for a long while creating peripherals and although they aren't as big of a name compared to Logitech or SteelSeries… that shouldn't deter you away from them.
This mouse costs under $20 and gives you a decent range of DPI setting choices, software that allows mouse setting customization and it has options to set up RGB however you want as well.
You aren't going to have full zone lighting customization but you'll be able to set a color for a specific DPI setting or have the mouse cycle through all of the colors in a wave.
As for DPI, the first three options (800/1200/1600) are going to be fine for 1080p. You can then adjust in-game sensitivity to work with those DPI settings.
When it comes to a larger mouse with the ergonomic side grip design, software that gives you enough settings to play with and a proven track record to be reliable then the Redragon Griffin would be a solid choice.
5. PICTEK T16
The cheapest all-rounder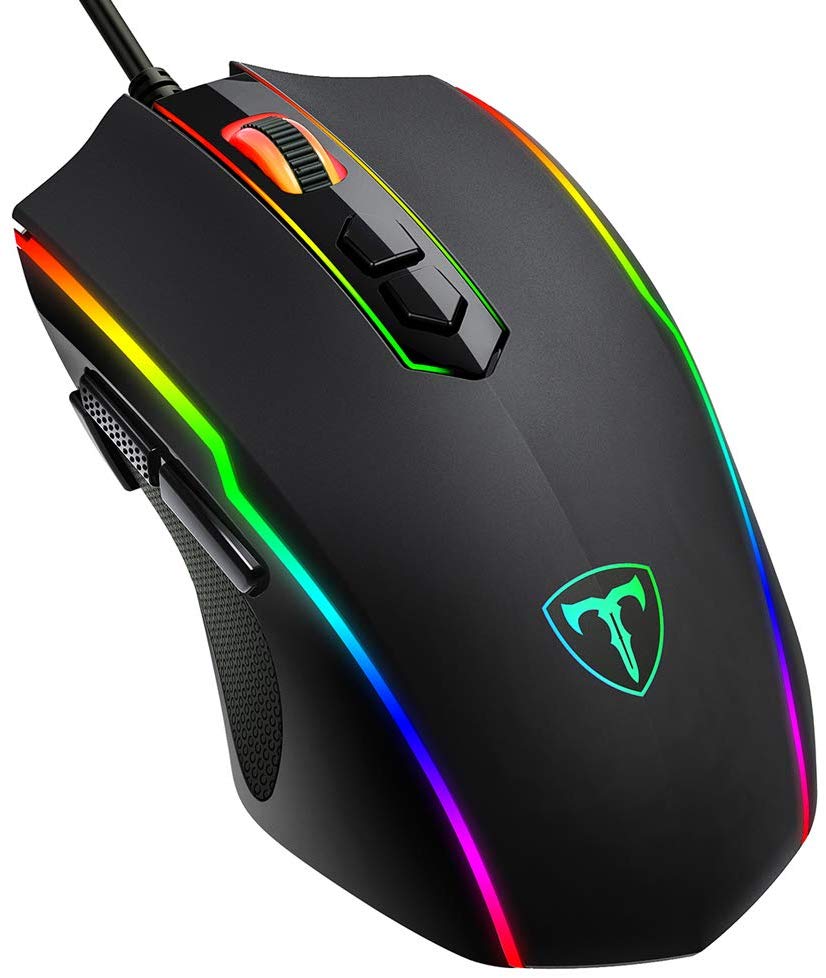 Customizable lighting: Yes
Mouse software: Yes
DPI settings: Adjustable between 500-7200
PICTEK T16 Details
---
PICTEK is not any sort of big name brand but they sell a lot of mice over on Amazon. We've worked with them before in the past and we still use a PICTEK mouse for when we're moving the PC to other rooms.
This version is updated from a past version which didn't have the extra thumb button and it didn't have full-scale RGB lighting customization. Other than that, the build is almost exactly the same and for good reason. It works well!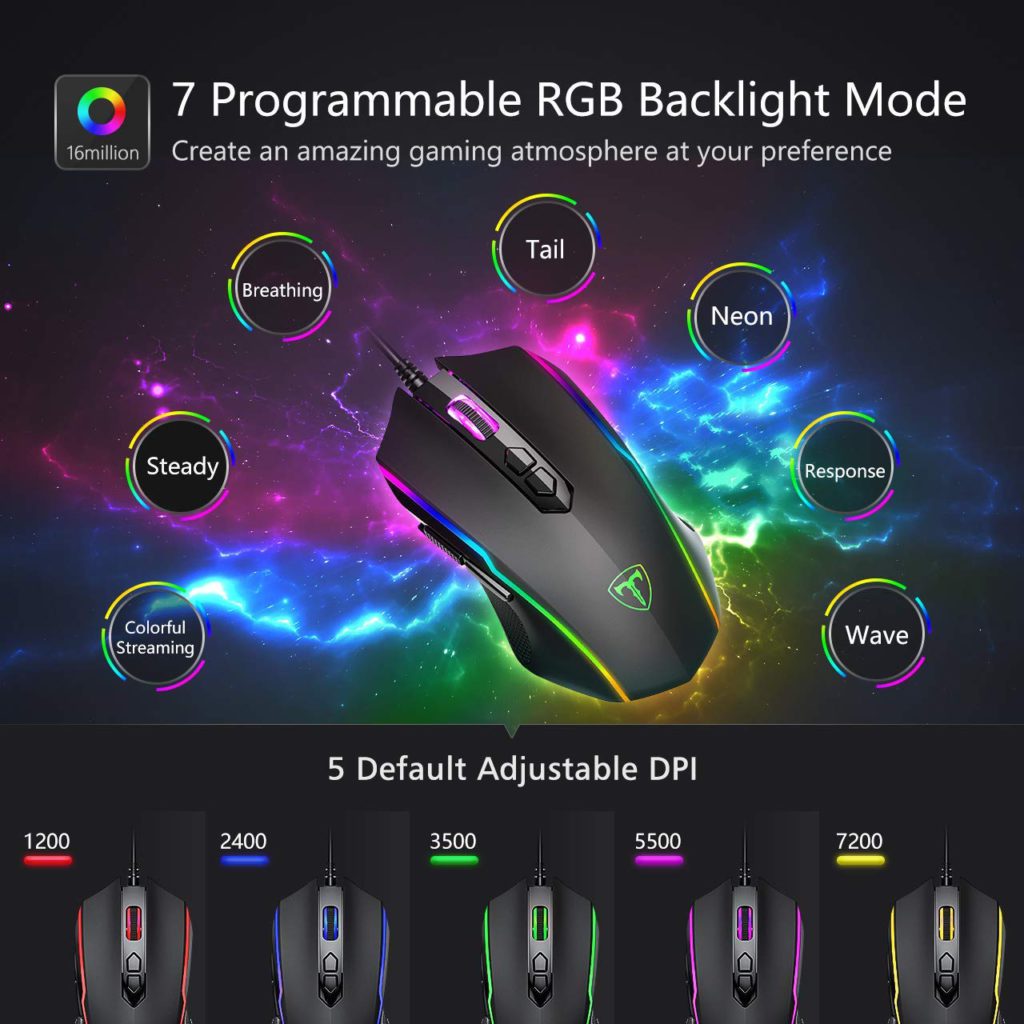 It has all of the base features of the two side thumb buttons, a software which lets you adjust different mouse settings and comfortable grips.
For lighting you're going to be able to change it to different styles such as wave or breathing lights. You have full control of how the lighting looks on it.
An added feature is the extra, third thumb button. You'll be able to set it up for whatever you want within the software.
They've termed this extra button as the "Fire Button". You'll be able to set it up as a multi-click for the left-click if you wanted to but again, you'll be able to use it for whatever you set it up for.
A driver disk is included but since most of us aren't using disks much any more you can head over to their official PICTEK drivers page and download the software from there.
If you want to be able to adjust DPI, have full-scale RGB lighting customization and not have to pay over $20 for a decent mouse then the T16 is right up your alley.
How We Chose The Mice
---
A gaming mouse is more than just the lighting. You need to factor in DPI, ergonomics, possible softwares to use with it and if those softwares are able to change many aspects of the mouse.
Keyboards are a different story since there aren't many different features other than the style and feel of the different keyboards.
Almost all keyboards have a similar build and you aren't going to tell much of a difference between two mechanical keyboards, two mem-chanical or two membrane keyboards.
Headsets are sort of similar with gaming mice in terms of the kind of settings they have, any possible softwares and each one has a unique build quality to them.
Same thing going for gaming mice. There aren't two mice that are strikingly similar, they'll all have their own twist.
Choosing The Right Mouse For Yourself
---
You've seen some of the best RGB gaming mice on the market! Now it's time to choose the right one that suits you best.
Maybe it comes down to the look and lighting effects of the mouse. Or maybe you're mostly interested in different settings options and fine-tuning the performance of the mouse.
Whatever is most important to you, make sure you dial down and understand the factors that make a mouse a great mouse. If you need more information check out some of those important factors below.
DPI
---
DPI is important because it shows how many dots per inch the mouse is able to move the pointer across the screen. That's what DPI stands for: dots per inch.
If a mouse boasts having 32,000 maximum DPI and saying that it's the best… don't fall for that.
It's more important to be able to have different DPI settings and possibly to be able to customize your DPI to your liking if the mouse allows it.
A decent DPI setting for 1080p resolution would be 1600 and lower.
If you're able to move the mouse pointer 1,600 dots per inch on a 1920 x 1080 pixel resolution screen then you'll be golden for being able to move around enough to be accurate and fast.
Although that's a good general rule of thumb when it comes to DPI and 1080p resolution, everyone is different and if you are someone that uses 4000 DPI on a 1080p screen then by all means go for it!
Make sure the mouse has the settings that YOU prefer and look more into the other factors as well.
Lowering your DPI is always an option as well. Me personally, I usually play FPS titles at 500 DPI and switch to 1000 DPI whenever I feel that it's necessary.
Consider DPI choices and know which levels of DPI suit you best and find a mouse that provides those DPI options to you. Otherwise you'll regret getting the mouse once you have another one that has the DPI settings that you'd prefer.
Ergonomics
---
How a mouse feels, if it's able to provide comfort no matter the hand size and if your preferred hand style on the mouse is going to be compatible with the mouse…
These are the ergonomic factors to consider when you're looking at getting a mouse.
If there are side thumb buttons then are they able to be easily clicked at all times?
Is it compatible with claw, palm and/or fingertip mouse grips?
How does it feel for different hand sizes?
These are questions you need to ask yourself when you're looking at any given mouse to ensure that you get a mouse that'll last you for a while.
We've shared some of the ergonomic features of the mice featured here but you should also look for yourself within reviews and dimensions of the mice.
Software
---
Software isn't essential but it's a very nice feature when it comes to customizing your mouse DPI, polling rates, accelerations and any other options the software might let you change.
Lighting is usually also affected by the software though in rare cases you may be able to change a mouse's lighting with a specific button on the mouse itself.
Price
---
Price plays a significant role in choosing the right mouse for your rig which is why we included a couple of mice that are on the lower end of price range.
As with anything else, the more you pay the more you're going to get. If the higher priced mice aren't within your budget range then the cheaper ones will absolutely suffice! You'll only be missing out on deeper mouse setting customizations and top-tier build quality.
The cheaper mice featured here were carefully chosen and researched so that it's not just some random cheap mouse that will break within a month. They're proven, RGB and efficient!
Concluding The Best RGB Gaming Mouse
---
Go with your gut when it comes to picking the best RGB gaming mouse for you.
If the lowest possible cost is what you're most interested in then the PICTEK T16 is going to be the one for you. It has all of the base settings and customizations you'd want for the lowest price.
If superb build quality and mouse usage options are what gets you going then the SteelSeries Rival 310 should be the obvious choice.
Which mouse are you most interested in?
Do you have any experiences with any of the mice featured here?
Let me know in the comments below!
Hey there! 👋 I'm Colton, founder of PC Builds On A Budget.
Whether you need help putting your PC together, finding a great pre-built rig, or want some help finding awesome peripherals – I've got you covered!
I share my experiences of anything and everything related to gaming PCs with you here. 👍