Last Updated on January 10, 2022
I saw that the Skytech Azure gaming PC over on Amazon was a top pick when it comes to high end gaming PCs so I figured it was time to give it a thorough review!
Pre-built gaming rigs are extremely popular these days due to the craziness of the GPU market. If you aren't able to purchase the right parts to build your own gaming PC then odds are that you are scouring around looking for the best of the best when it comes to ready-made gaming computers.
Skytech has been a prominent player when it comes to easily accessible and quality gaming PCs on the market. Plenty of folks swear by their level of quality for their ease of use and great customer service.
So when it comes to one of their higher end models, the Azure, do they follow suit and is this PC worth getting in today's market?
That's exactly what this post will be going over. I hope that you will feel more confident about whether or not you should snag up this PC after reading through this!
With that, let's get to the review.
Product: Skytech Azure Gaming Computer
Recommended Price: Around $2,000
Cheapest Place To Buy: Amazon.com
Warranty: 1 Year (More info)
My Rating: See below!
Skytech Is Largely Credulous
---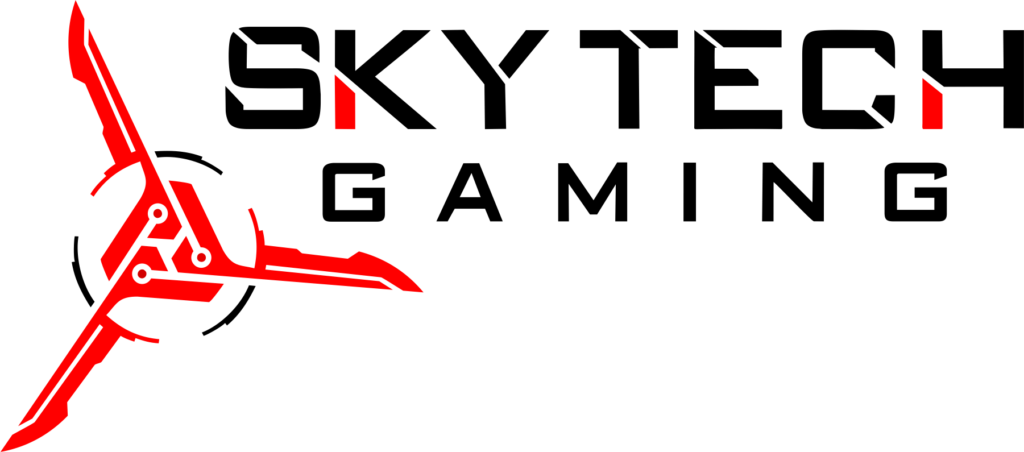 There are plenty of reviews of some of the other Skytech PCs here on the site such as the Skytech Shadow 3.0 and the Skytech Chonos Mini PC. They have created some incredible PC rigs!
Skytech has always shown a reputable level of trust when it comes to both the quality of their PC builds as well as how their customer service representatives operate.
Every single gaming PC from Skytech comes with a full one-year warranty and a line of free lifetime technical support. When you receive the PC, there is a tech check off list that comes within the packaging to show you that they actually looked over everything with the PC before shipping it out to you.
They have also always kept very up to date with the newest hardware that is available and from the comparisons I've made, especially with how the market is today, they have some of the best prices as well.
There are a couple of variations of Skytech's Azure PC so I will highlight the differences between the two versions. As far as overall performance is concerned, both of those versions use the exact same hardware.
Main Features
---
Before I get into all of the hardware involved with this PC I wanted to go over all of the key features that is included with the build itself.
This PC has changeable RGB lighting with the fans and the trim lighting on the case, built-in 802.11AC WiFi, Windows 10 pre-installed without any bloatware, a minimum of 6 USB slots in total and a free RGB keyboard/mouse combo that comes with.
Most of the other Skytech PCs are able to change color from a LED button at the top of the case but with this PC there will be an app that is pre-installed that will allow you to change the colors of the lighting zones within the app itself.
The other Skytech computers I've reviewed did not have an app that comes with. They had a button that allowed you to cycle through different colors and effects.
However, there may be some additional drivers that you'll need to download in order to get the lighting to work properly due to the fact that they use whatever brand of motherboard they have available at the time that they put the PC together.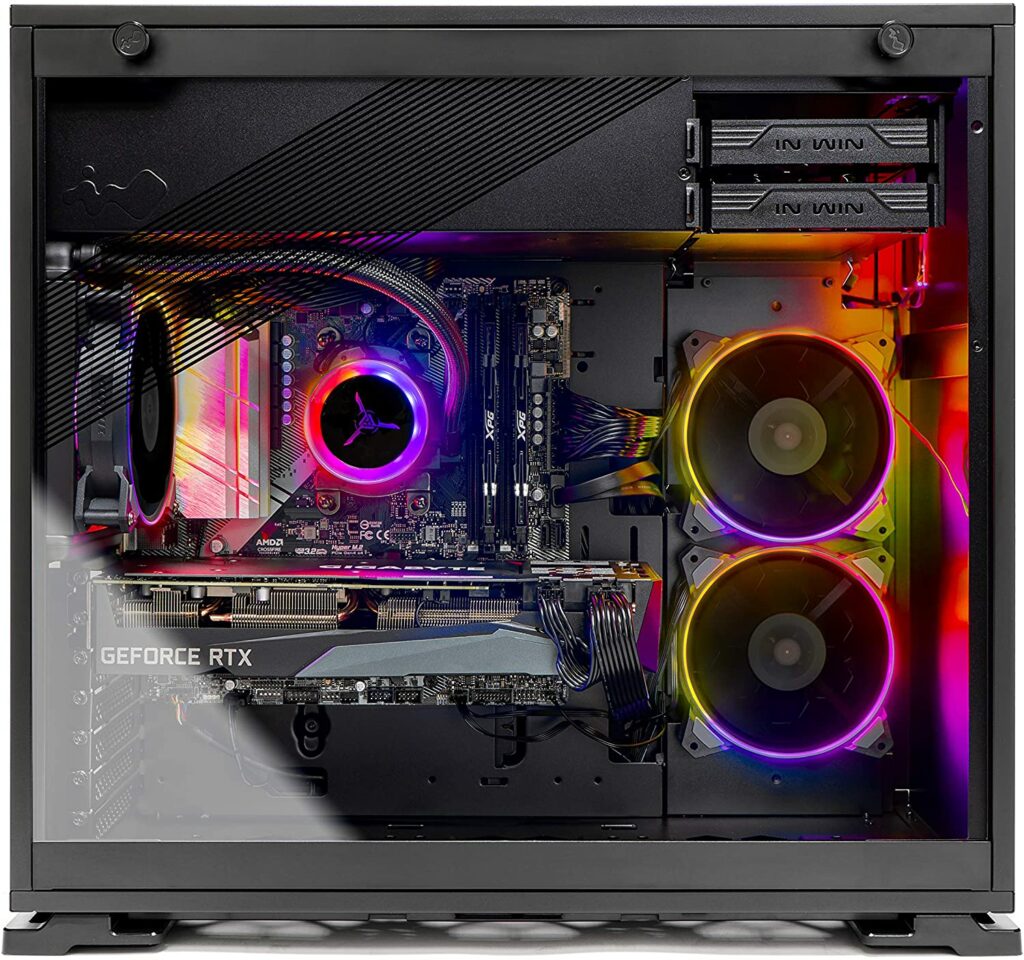 Having 802.11AC WiFi built into the rig is a nice touch. This means you won't have to go and buy a separate wireless adapter if you prefer to have a wireless connection.
It's always better to have a direct connection via an ethernet cable if you want to have the best possible connection.
If that's not an option for you then you'll be able to have a pretty decent wireless connection through what comes built-in with the PC.
Windows 10 comes pre-installed and they do not have any bloatware pre-installed with it.
Some companies are paid a nice price to be able to pre-install different anti-virus programs or random bloatware software that doesn't do you any good.
Skytech has always avoided installing crappy bloatware beforehand and I think all pre-built gaming PC companies should follow suit with that idea.
There is a "minimum" of 6 USB slots with the motherboard at the back of the case. Then there are two USB 3.0 slots that you can utilize at the top of the case.
They say that the minimum is six for the back USB slots because they use whatever motherboard is available to them at the time. This allows for faster production and availability across the board… But it sure would be nice to have a confirmed motherboard anytime the Azure is sold.
The keyboard/mouse combo that comes with as a RGB combo and they're rather adequate considering that they come with the PC. There are a few DPI settings you can switch into with the mouse and the keyboard is a mixture of mechanical/membrane.
The keyboard is something I could see someone keeping for the long haul but you'd maybe want to eventually upgrade the mouse to something better down the road.
Now that you've got an idea of everything that comes with this PC – let's get right into the important parts.
Let's go over what you can expect when it comes to raw gaming performance.
Skytech Azure Gaming Performance
---
Performance, in regards to gaming, will come down mainly with the graphics card's performance capabilities combined with the processor's performance power.
They used a Nvidia RTX 3070 GPU with an AMD Ryzen 3600X CPU in this rig. The video card is one of the most powerful and new video cards on the market and the processor is a great choice to combine with it.
With how the market is right now, it's good to see that some of these pre-built machines are able to snag up some of the new 3000 series video cards. They are exceptionally difficult to come by these days… Pre-built PCs are almost the only way to be able to obtain those cards.
Graphics Card Performance
If you are looking for a gaming PC that is able to run games such as Call of Duty: Warzone at over 100+ FPS at 1080p, Fortnite at over 150+ FPS at 1080p or Rainbow Six: Siege at over 200+ FPS at 1080p at the highest level of graphics settings then this is the type of hardware you'll need.
1440p is also very doable with this type of hardware. Fortnite would run around 150 FPS avg. at 1440p. Call of Duty: Warzone would run around the 80-90 FPS mark all on the highest graphics settings.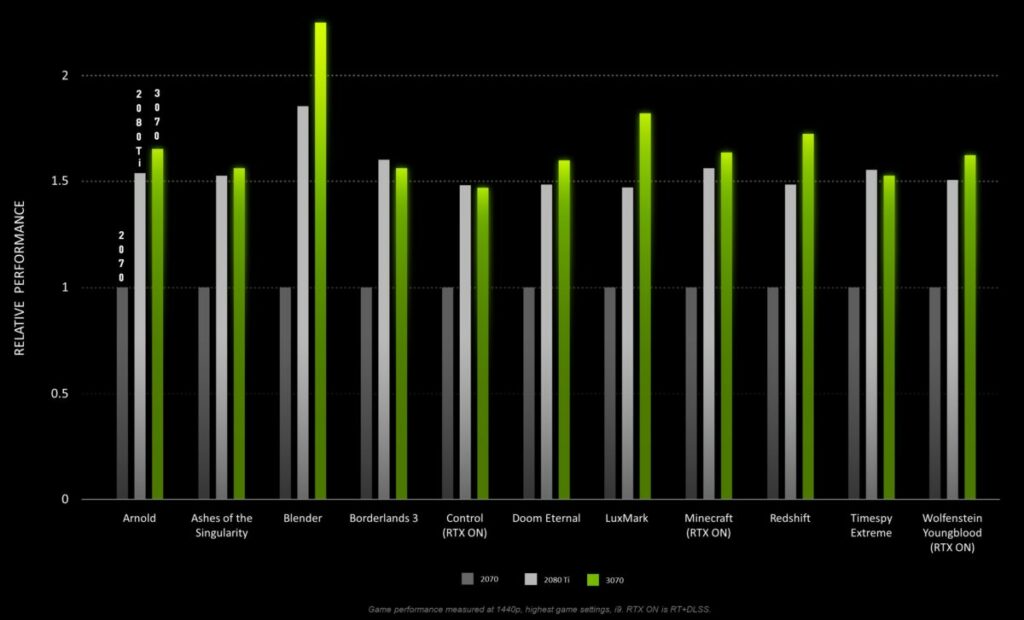 The newer 3000 series video cards will be more than enough for either maximizing 144hz 1080p gaming or high frame rate 1440p gaming.
You'll want to keep that in mind if you decide to go with this PC. Make sure that you are also getting a monitor that is able to perform well with the given hardware.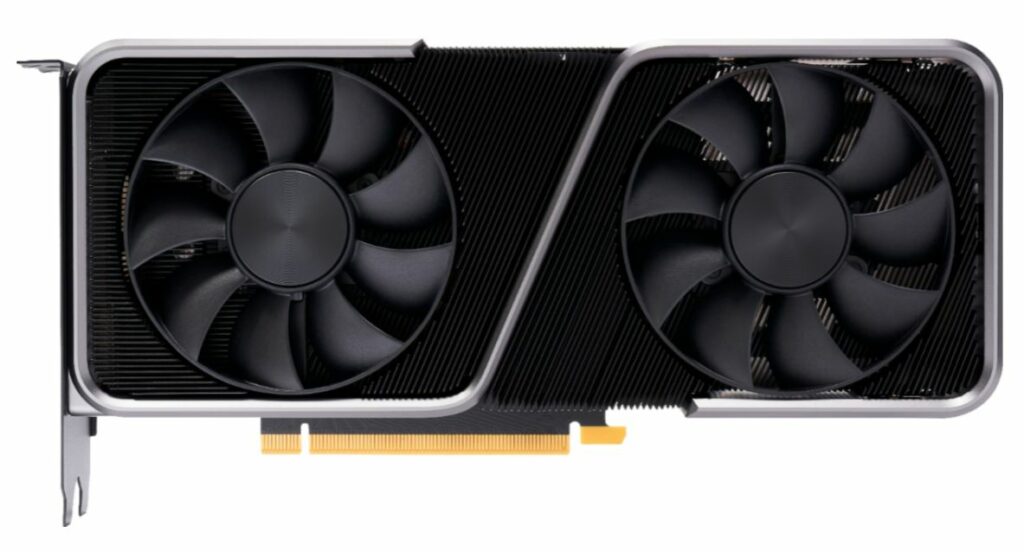 Something like this monitor from ASUS would suffice very well if you were wanting to maximize 1080p gaming performance with it.
Whichever monitor you'd want to pair with this performance, just be sure that it matches up nicely to the actual performance that will come out of the card.
If you're looking for how a specific game will perform with this type of hardware then be sure to also check out my post on how to buy a pre-built PC because I go over how you can gauge what type of performance you could expect out of any piece of hardware.
The exact brand of the video card is going to vary based on Skytech's availability of whichever brand they're able to provide.
Any RTX 3070 brand is going to provide amazing performance… PNY and Zotac are a couple of the brands that you might end up with or, if it's available, they also use EVGA or Gigabyte cards as well.
In a nutshell, this video card is ready for anything you're going to throw at it. It's one of the best cards out there when it comes to power per dollar spent and it can handle a very wide variety of performance levels.
Processor Performance
Processing performance has a bit less to do with gaming performance and more for the bunch of different tasks that your PC has to handle.
Yes, you need a powerful CPU in order to get optimal levels of gaming performance combined with the video card… But the processor is also important if you are involved at all with content creation software or rendering different types of content in general.
The processor used in this PC, the Ryzen 5 3600X, is a 6-core 3.8GHz processor. That many cores and the high speed – combined with the fact that you could overclock it a bit if you ever deemed it necessary – it's a fast CPU.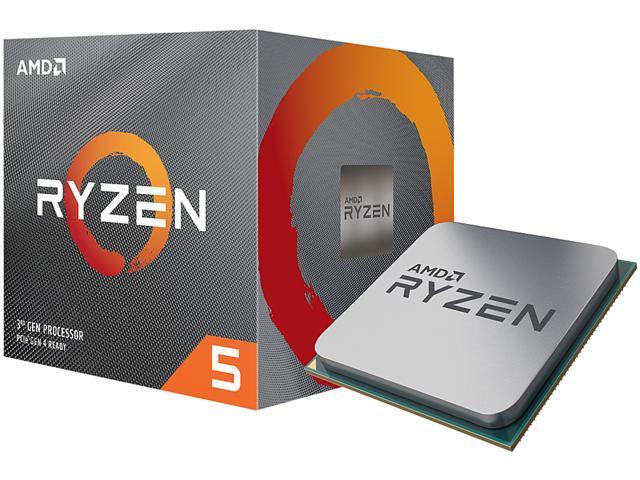 With gaming, it handle the performance of the RTX 3070 and there will not be any performance bottlenecking going on.
It's important to match up the GPU performance to a CPU that is able to handle that same high level of performance and the 3600X does exactly that.
However, I feel like a 3700X could have been used here for this rig.…
At this price point, Skytech could have added in just one more step up for CPU performance but they instead are opting for other pieces of hardware to be levelled up – but I'll elaborate on the other pieces of hardware later on.
As for cooling the CPU, there are two versions of this desktop that use two different types of CPU coolers. One of them uses a different type of storage along with liquid cooling whereas the other version uses the stock cooler along with a different type of storage comparatively.
Again, I'll elaborate more on the storage differences within the next point of the review… But as for liquid cooling vs stock cooling with the Ryzen 3600X…
To sum it up – if overclocking is interesting and you know that you'll be getting this desktop to test the limits of it then you'll want to use the version that uses a liquid cooler. It'll help you to get the most out of the processor during your overclocking efforts.
If you simply want to use the PC as is and don't want to mess with any overclocking or if you would rather just do a slight overclock then you'll be better off going with the stock cooler version.
As for the differences of storage used with those versions… Go ahead and keep reading along! 😉
Other Important Hardware
---
Looking past the overall levels of gaming performance – you've got to understand everything else that is involved with the PC. All of the rest of the important hardware.
Depending on the version of the Azure that you go with, you'll have a different type of storage and you'll also get a different CPU cooler (like I mentioned above during the CPU performance section).
I'm going to go over all of these other pieces of hardware as well as highlight the differences in the storage so that you can be more confident about which version of this PC is right for you!
RAM
RAM is simple to understand. The more RAM you have, the more you can multi-task. The faster your RAM is, the better that Ryzen is going to be able to perform.
This build uses 2x8GB sticks totaling out to 16GB of 3200MHz RAM which is plenty fast enough for Ryzen to be able to take advantage of and perform at a higher level.
These days, 16GB of RAM is almost entirely essential for everything. From gaming to multi-tasking… To rendering and editing… 16GB is the way to go.
When it comes to gaming, having more RAM will allow you to add in more mods into your games as it helps the PC understand more of what is going on in the background of your game.
As for rendering and editing, more RAM and faster RAM helps to streamline the processes going on as you are creating your content.
Plenty of RAM here, good speeds… Not much else to say. Both of the versions use the same exact RAM.
Storage
Storage is where there is a mild change depending on the version that you decide to go with.
One version, the version that also uses a liquid cooler for the CPU, uses 1TB of Gen4 SSD storage.
The other version, the version that uses the stock Ryzen cooler for the CPU, uses 1TB of NVMe storage.
It's $100 cheaper to go with the stock cooler/NVMe option and honestly, like what I mentioned earlier in regards to CPU performance, I'd go with this version if you aren't wanting to learn how to overclock your CPU.
You'll save $100 and you'll be able to have amazing gaming performance across the board.
But as for the storage difference in terms of loading up games… The difference is mere milliseconds.
Where Gen4 storage beats out NVMe storage is when you need to use that next generation of storage for workstation purposes or maybe as a write-cache in a server… But the real use of it isn't super viable right now.
When it comes to gaming, you aren't going to see a different in loading times with games. At most, one second faster. It's nice to have the newest of the new, for sure, but there isn't going to be much of a benefit when you only have gaming in mind.
Motherboard
As with the rest of the hardware (except for the CPU of course) the brand of the motherboard is going to depend on what is available for Skytech at the time that they put the Azure together.
With that said, it's guaranteed to be a Micro ATX B450 motherboard.
B450 boards are able to do entry-levels of overclocking your CPU. They aren't meant specifically for overclocking but they are compatible with the process and you'll be able to do it if you think it's necessary.
Although it would have been nice to see at least a full ATX B550 board, the next step up, it's understandable why they'd use this board. It will be able to have a BIOS update if you ever wanted to upgrade your CPU to the Ryzen 5000 series CPUs so you'd be good to go for future CPU upgrades!
There most likely will not be any extra PCIe slots or any extra RAM slots because it will likely be a basic Micro B450 board. From looking deeper into it, it seems that they use an ASRock branded board.
It's not the best motherboard… It's kind of the bare minimum that they can use for all of the rest of the parts but you also need to consider how there is a pretty big shortage of hardware all around.
It's kind of an "it is what it is" situation. If the pricing of hardware overall would be cheaper for building, you wouldn't be using a B450 board because, price wise, it wouldn't make sense. But because how the market is… B450 will have to do.
Cooling
I mentioned how Skytech is using the two different types of CPU coolers for this build and the differences between them but I wanted to talk about the fans and case design in addition to the overall cooling aspects of the build.
This comes with 3 120mm fans with the exhaust is attached to the liquid cooler with that option and then it's another RGB exhaust fan with the stock cooler version.
The intake fans are actually on the side of the case and there is a ventilation design on the side of the case.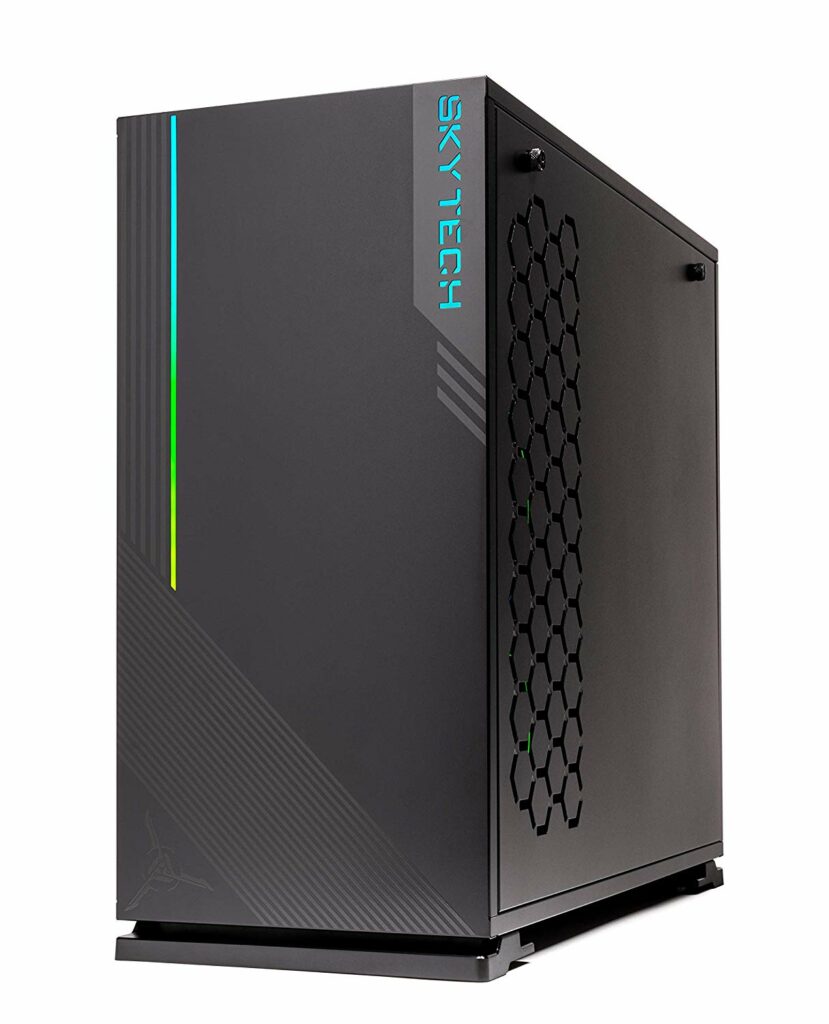 It's a different kind of look, but I'm personally a fan of that design choice! It also has some slight ventilation in the front so there aren't any problems of getting air in and out of the build.
This allows for some good cooling and it's nice to see that they have a design that allows for plenty of airflow all around the inside of the case.
The big caveat with this PC is that it can come with liquid cooling and the newer generation of storage.
Some of the similar builds out there do not come with these options which is why it has been a popular choice for quite some time now.
Conclusion
---
This marks the end of the Skytech Azure gaming PC review.
Now that you have all of the information you need about the desktop – you should dial in and figure out whether or not this would be a good gaming build for you.
When you add up how much it would cost today to build something similar… This is absolutely the more cost-effective route.
If you are interested in some part lists for around this same price point (whenever the market decides to settle back into "normalcy") then you should check out the $2,000 build guide here on the site.
You should also hop over and read up on some of the Amazon reviews for this build as well. Plenty of people are happy with this build and they go even more in-depth about the PC as a whole.
So, are you going to be picking up the Skytech Azure?
What is your favorite part about this rig? Is there anything else you wish Skytech would have added to it?
Let me know in the comments below! 😀
Skytech Azure Gaming PC
Around $2,000
1080p Gaming Performance
5.0/5
1440p Gaming Performance
4.5/5
Power Per Dollar Spent
3.0/5
Pros
Future compatibility with Ryzen 5000 CPUs
RTX 3000 series video card
Extremely fast storage options
Cons
Doesn't use a B550 ATX board
Ryzen 3700X could have been used instead
Much cheaper to build once pricing makes sense
Hey there! 👋 I'm Colton, founder of PC Builds On A Budget.
Whether you need help putting your PC together, finding a great pre-built rig, or want some help finding awesome peripherals – I've got you covered!
I share my experiences of anything and everything related to gaming PCs with you here. 👍