Last Updated on August 2, 2021
I'd like to post a review of the Skytech Blaze II gaming PC since it seems to be a popular PC when it comes to an all-around high performance gaming desktop.
Pre-built PCs have evolved quite a bit, even from the past few years. It wasn't too long ago when almost all pre-built PCs were a rip-off and building your own PC was the absolute way to go.
Today, that's not so much the case. Sure, you can save a decent chunk of cash with building your own rig but not everyone wants to do that. It's nice to be able to take the PC out of the box, plug it in, turn it on and be ready to go.
The Blaze II gaming PC from Skytech is a pretty decent choice when it comes to all of the pre-built PCs out there and I'd like to go into detail what it is all about!
With that, let's get to the review.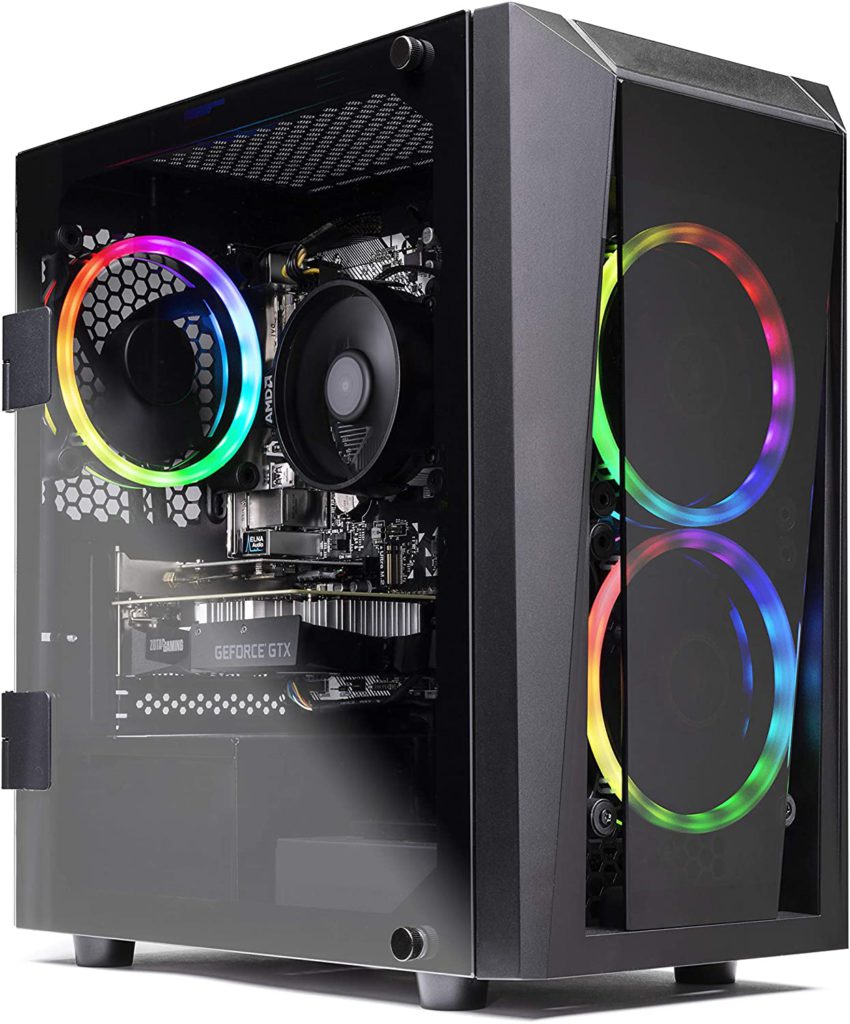 Product: Skytech Blaze II Gaming Computer
Recommended Price: Around $850
Cheapest Place To Buy: Amazon.com
Warranty: 1 Year
My Rating: See below!
Skytech Blaze II GPU & CPU Performance
---
Skytech has always done a great job with providing all of the information available about their desktops within their product pages which I commend them for. Too many pre-built gaming PC companies purposely hide what's going on with their rigs.
But not Skytech, and not with their Blaze II gaming desktop.
When you want to get a general idea of the performance power you can expect out of any desktop, you need to first check out which graphics card (GPU) and processor (CPU) they're using within.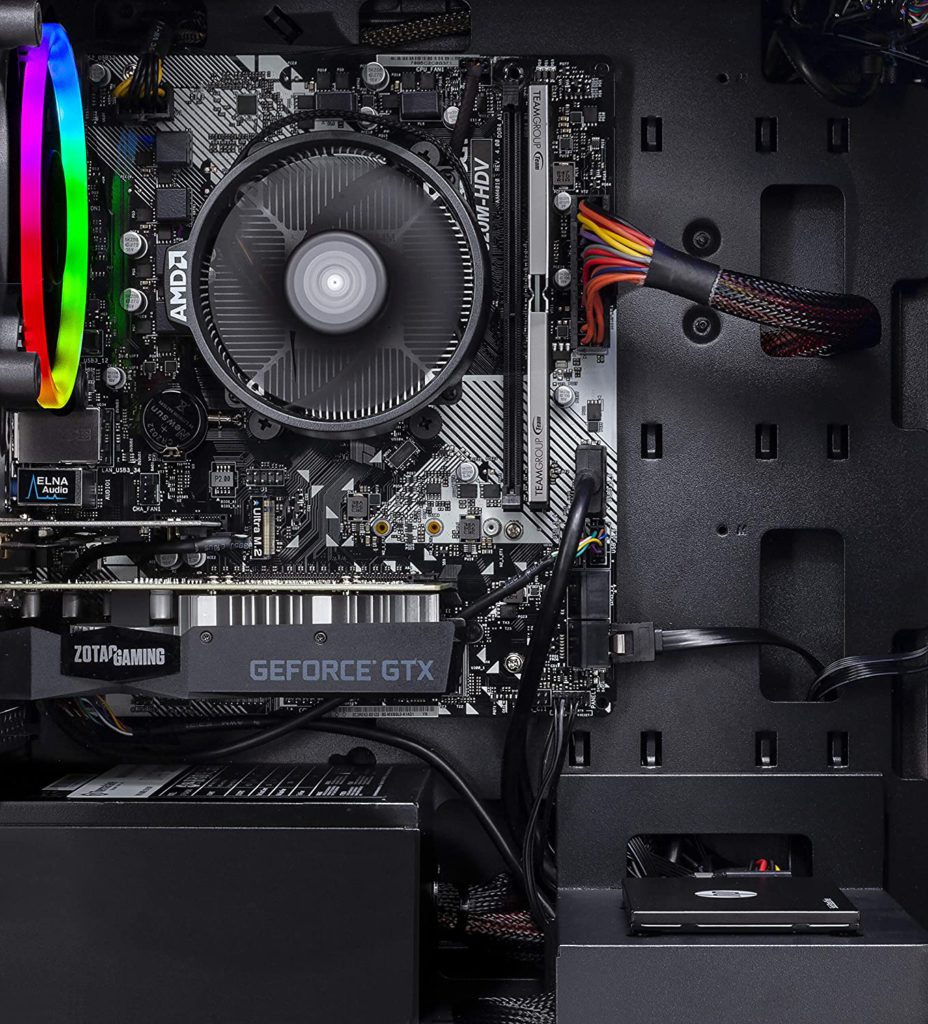 The graphics card that comes with this PC is a GTX 1660 6GB GDDR5 card.
6GB of GDDR5 memory is more than enough for today's games when it comes to high quality, 1080p gaming.
If you're trying to reach averages of higher frames per second (FPS) in some of today's most demanding titles then a GTX 1660 is going to get the job done.
It's not the best card out there in terms of 1080p gaming performance… but it's hard to beat the pricing of a rig that is using a card like this.
Some FPS examples for a few popular titles would be getting around 85 FPS in Apex Legends, 170 FPS in Fortnite, 70 FPS in Modern Warfare and 75 FPS in Red Dead Redemption 2.
If you'd like to know an average FPS rate on any other title, feel free to let me know in the comments below! I'll be happy to look into any specific game with these specifications to get an idea of what the performance would be like.
Of course, this is because of the GPU performance combined with the CPU performance as well as understanding the overall performance levels of the GPU in detail.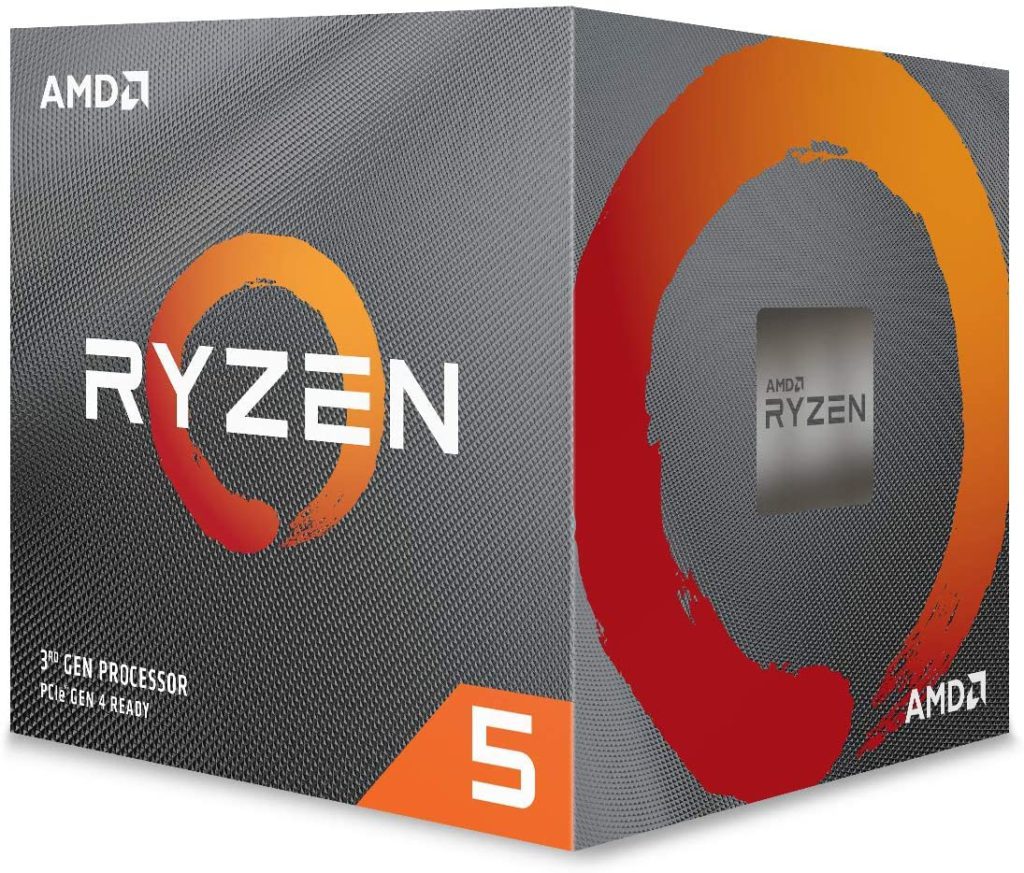 The CPU that comes with this PC is a Ryzen 5 2600. It is a 3.4 GHz, 6-core processor that packs a nice punch.
Sure, the 2000 series Ryzen CPUs is a generation behind the current generation but in terms of 1080p performance and a more affordable price point compared to rigs that are using the newest generation of the CPU, it makes sense.
Compared to the 3600, it isn't a huge loss in performance – especially when you tie in the pricing.
A GTX 1660 combined with the Ryzen 5 2600… it's a very nice combo for 1080p gaming.
In some of the more demanding titles you are going to want to tweak the settings around a bit to find your "sweet spot" for how smooth you want your gameplay but all in all, you should expect to be able to get an average of 60 FPS on most titles at 1080p.
Although the GPU & CPU performance is the most important in terms of understanding how this PC will perform in different titles, we also need to look into all of the other hardware that's going on in this PC.
Taking A Closer Look At The Hardware
---
The rest of the hardware going on in the rig is also important to understand because it'll give you a general idea of how easy it'll be to use the PC for everyday use.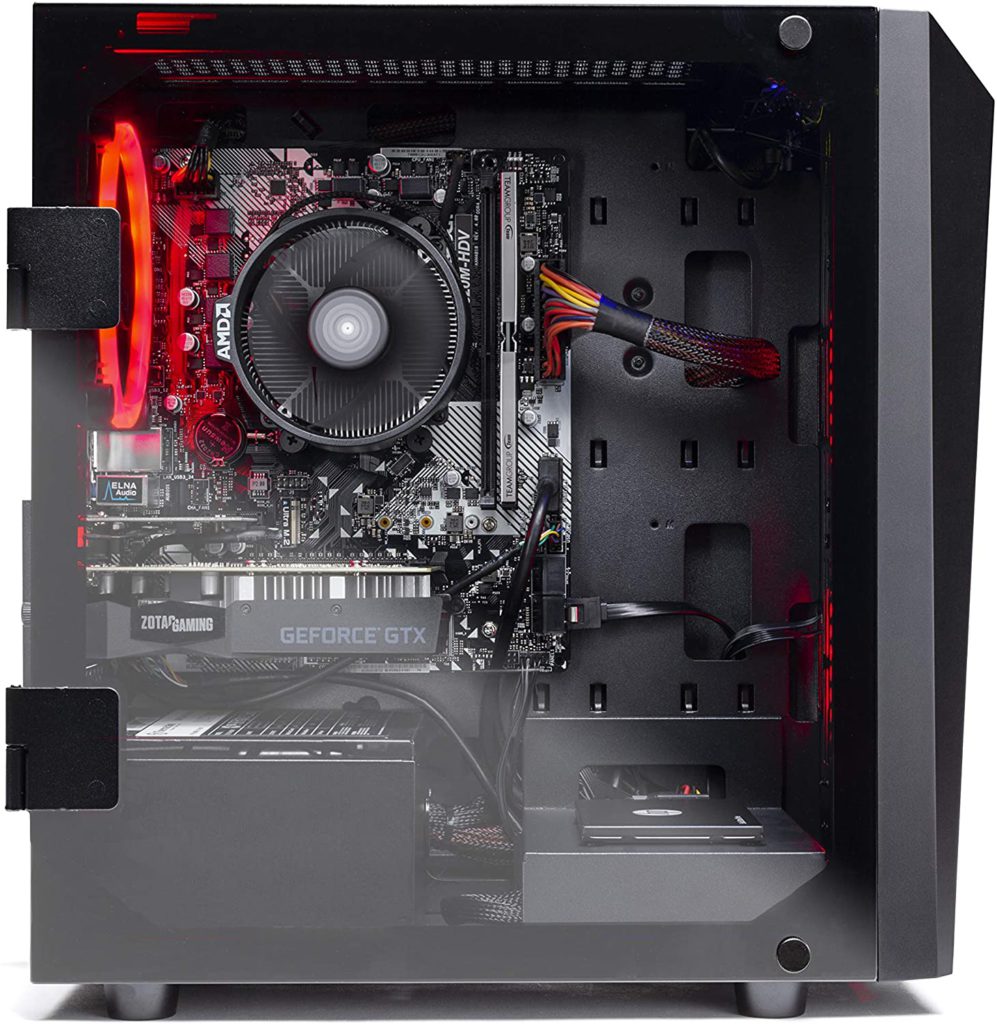 This PC has a 500GB solid state drive, 8GB of DDR4 RAM, built-in wifi, a 550W power supply, customizable RGB lighting, Windows 10 pre-installed and it comes with a keyboard and mouse combo.
500GB of storage space with a solid state drive (SSD) is more than enough to get the ball rolling with your favorite titles.
Some titles are increasing in size by a huge amount though… take a look at Modern Warfare and how much space it takes up – it's upwards of 200+GB of storage space.
It comes down to what you plan to have installed, and even with MW installed you'll have around 300GB to use but you may want to consider adding in a traditional hard drive down the road to increase your overall storage space.
8GB of RAM is still the standard for all of today's games. Even with the newer titles coming out, 8GB is still enough to be able to enjoy the game completely.
RAM is what helps your PC do multiple things at once and to be able to handle multiple additions to a program or game. For example, if you're planning on modding Skyrim heavily, you're going to want a decent amount of RAM installed.
Same goes for if you're wanting to play a demanding title while listening/watching a YouTube video and using Discord all at the same time – you're going to need a decent amount of RAM to get it done.
There is another version of the desktop that uses 16GB of RAM but it's also around $100 more. Up to you if you think that extra bit is worth the future-proof amount of RAM.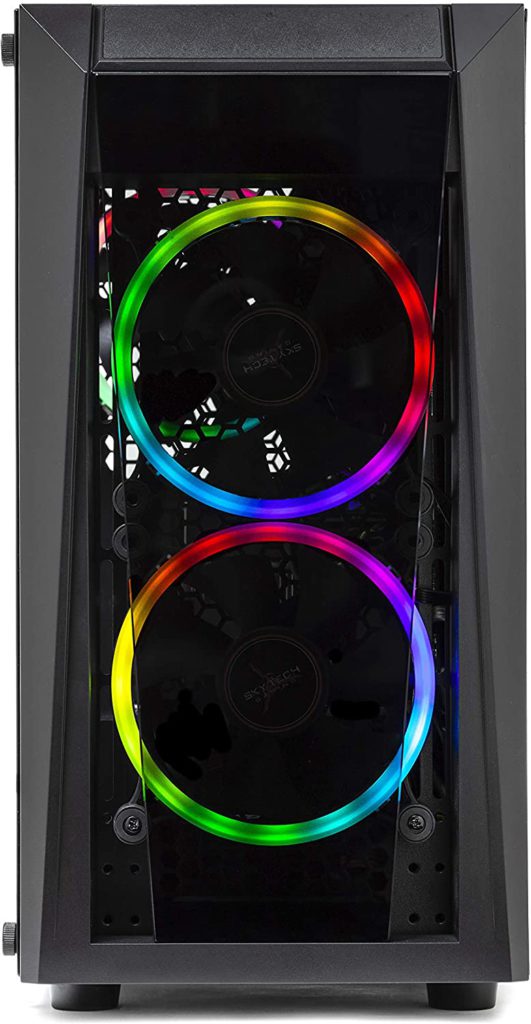 Built-in wifi is a nice feature to have included but I would still recommend using a direct connection to your router/modem with an ethernet cable because that will provide the absolute best connection to the internet.
If you absolutely have to use wifi with this desktop then you're in good hands. It has 802.11 ac networking going on so it'll be able to connect well to your router. Try and be as close as you can to it though!
A 550W power supply (PSU) is used with this rig and there hasn't been any reports of it overheating or dying out from what I've read up on about it. It also has some RGB lighting going on as well which is a perfect fit for the build!
If you plan on upgrading to a more powerful CPU & GPU down the road and plan to do heavy overclocking then you'll probably want to upgrade the PSU. Otherwise it's more than enough to handle the rig as is.
The RGB customization is great! The three cooling fans that are included with the rig can be changed to whatever color you'd like and they also provide an ample amount of cooling.
Windows 10 will come pre-installed without any annoying bloatware and a RGB mouse and keyboard combo will come with as well.
Windows 10 is the obvious choice when it comes to an operating system but most importantly is pointing out that Skytech doesn't mess around with annoying bloatware that interrupts you while using the PC to buy something from them or whatever else… that is always a downfall when companies decide to push different programs at you.
As for the keyboard and mouse, they're a pretty basic combo but the lighting is cool. The keyboard is a membrane keyboard with the standard multi-media keys and the mouse is a generic mouse with a minimalistic lighting effect.
To sum up the rest of the hardware, you can't go wrong here. These hardware specifications are close to the hardware going on with the Skytech Archangel 3.0 gaming PC that they also have but it has a higher cost because of using the Ryzen 5 3600.
For what you're getting out of the Skytech Blaze II, I'd say it's worth getting if you're in the market for a rig like this!
Skytech Is A Reliable Company
---

When it comes to transparency, high quality parts and high build quality then Skytech is a great company to go with. They handle their rigs with care and they have fair pricing across the board, especially with this Blaze II desktop.
They have a good combination of parts, a support team that is super helpful and a full 1-year warranty with this desktop.
Skytech provides a bit more information on FPS in games and other features of the Blaze II on the Amazon product page so be sure to check it out! You should also read through the other reviews as well to get a good idea of what this desktop is all about!
If you're interested in doing a build of your own then you should check out the PC build guides that are available here on the site. You might be able to save a bit of cash by building a rig similar to this one if you are interested in going that route!
So, are you planning on picking up the Skytech Blaze II gaming computer?
What are your favorite parts with this rig?
Do you think it's a fair price for what you get?
Let me know in the comments below! 😀
Hey there! 👋 I'm Colton, founder of PC Builds On A Budget.
Whether you need help putting your PC together, finding a great pre-built rig, or want some help finding awesome peripherals – I've got you covered!
I share my experiences of anything and everything related to gaming PCs with you here. 👍