Last Updated on January 10, 2022
I noticed that the Skytech Chronos mini gaming PC has been selling well on Amazon so I figured that now would be a good time to give it a proper review!
Prebuilt gaming PCs have been selling like hot cakes since the GPU market is all wack with supply and demand issues. Skytech has helped out a lot when it comes to having a company to provide affordable, high-performing gaming PCs.
Sure, you can scurry around and try to find the right parts for your own rig… But when attractive PCs come up like Skytech's Chronos mini desktop then it's hard not to buy it up right away.
There are different versions of this Skytech Chronos mini desktop so I will be going over some of the differences between them to help you figure out if it's the right PC rig for you to go with.
With that, let's get to the review.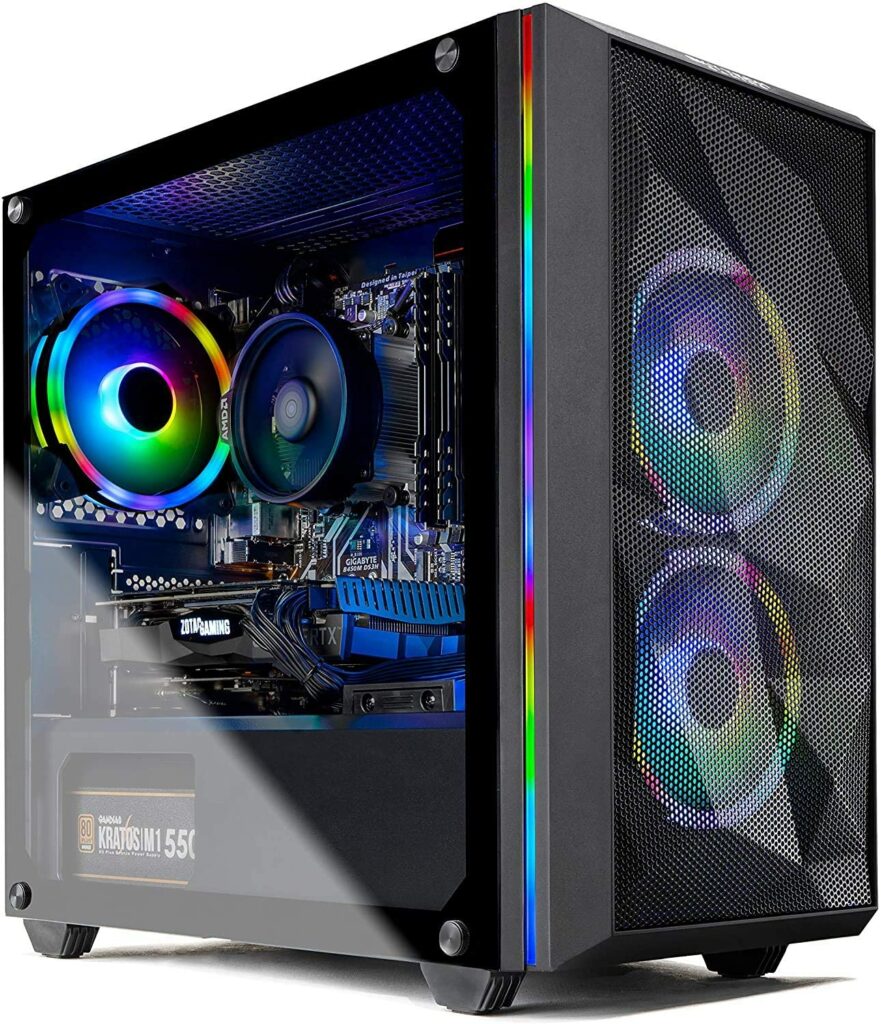 Product: Skytech Chronos Mini Gaming PC
Recommended Price: Around $900
Cheapest Place To Buy: Amazon.com
Warranty: 1 Year (More info)
My Rating: See below!
Skytech Is A Great Brand
---
Skytech gaming PCs have been around for quite some time now and, even though the recent GPU market problems, they've had great customer support and overall stability when it comes to prebuilt rigs as a whole.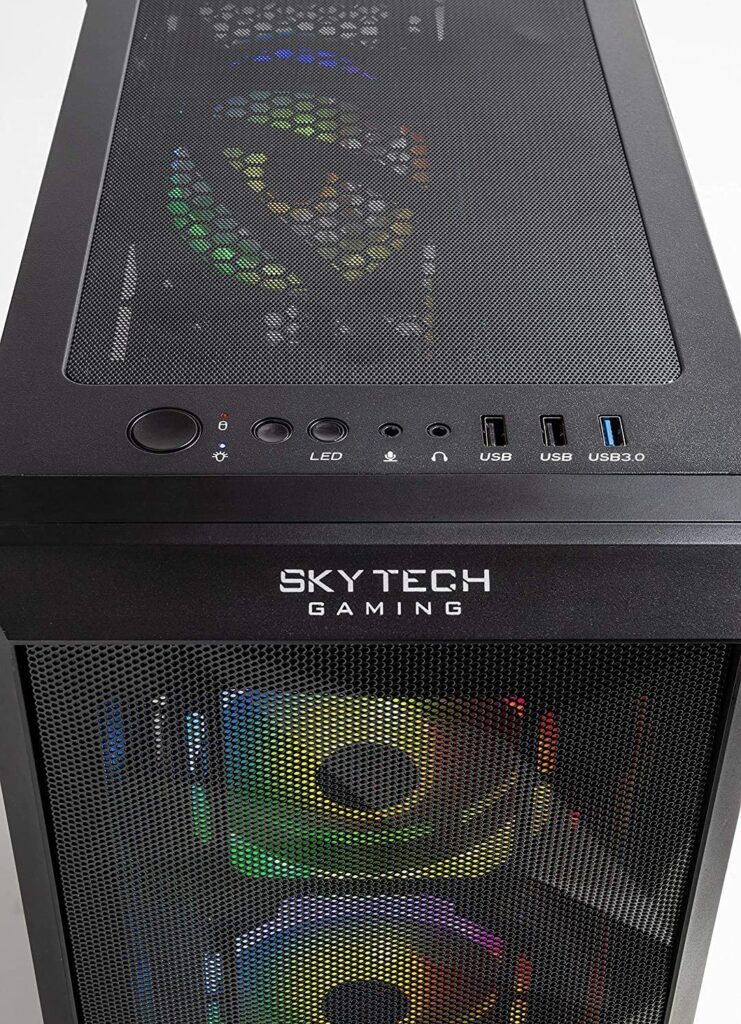 They constantly update their builds with different hardware and they don't push a bunch of bloatware onto their machines either.
This track record they have set up goes way back! Check out some of the other desktop reviews such as the Skytech Shadow 3.0 or the Skytech Archangel to see what I mean!
Prebuilt gaming PCs can come at a cost if you don't understand the hardware going on inside…
Although this mini PC will provide some pretty decent performance to the cost – you need to keep the future of the PC in mind as well.
When you're going to a prebuilt rig you can't simply look at the performance, call it good and give it a go. I'll be going over gaming performance in this review but I want you to take note of the other important hardware as well.
You need to be able to decide whether or not the upgrades in the future are going to be worth going over…
With that, let's start out by going over the main features of this rig and go from there!
Main Features
---
Before we venture into what you can expect from the hardware in terms of gaming performance, I'd like to go over some of the key features going on with this build.
This PC has three adjustable ARGB case fans, built-in wifi, loads of USB slots, Windows 10 pre-installed with no bloatware and a simple gaming keyboard/mouse combo.
The ARGB looks great with this build and you can change between a bunch of different colors and settings.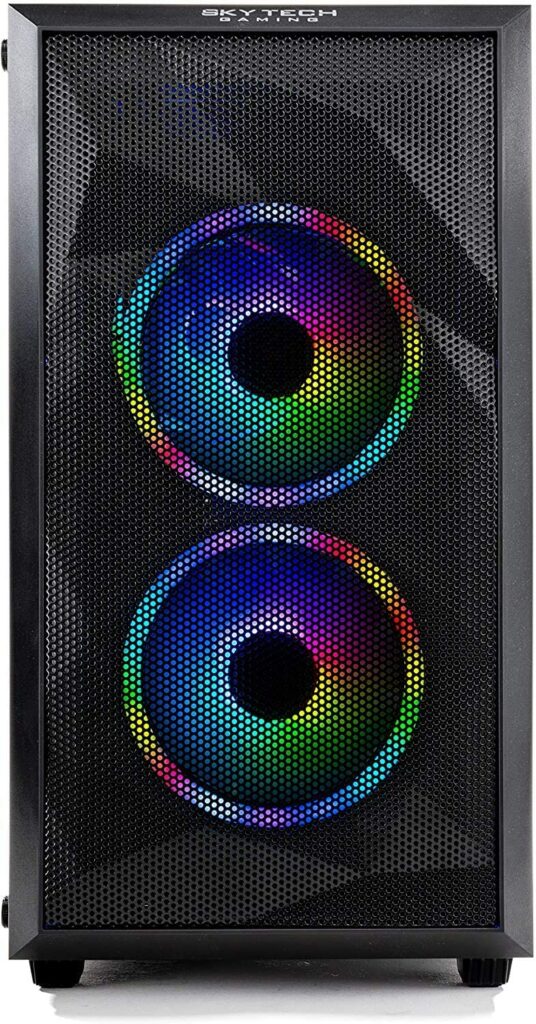 ARGB lighting jumps between around 7 different traditional colors but there are different modes and effects that go with it as well. You can cycle through all of them with the LED button at the top of the case.
The wifi built-in comes from the motherboard having a 802.11AC connection. This type of connection is sort of the industry "standard" when it comes to being able to keep a stable, wireless connection.
However, I'd still highly recommend connecting to your internet via Ethernet as it'll give you the best performance for playing online.
For USB slots it has 1x USB 3.0 on the top of the case along with 2x USB 2.0 slots. Then in the back from the motherboard it has 4x USB 3.0 slots and 4x USB 2.0 slots.
So when it comes to having enough slots for all of your different devices, you will not have anything to worry about. There are more than enough slots for everything you'd need.
Windows 10 comes pre-installed and in the awesome Skytech fashion – there isn't any pre-loaded bloatware crap software that comes with it.
You'd be surprised how many of the prebuilt gaming PC companies out there try and get you to subscribe and keep a bunch of software installed due to signing contracts…
Then to top it all off, it comes with a Skytech keyboard/mouse combo that also has some RGB lighting tagged onto it.
They aren't the best peripherals but it's nice that Skytech at least throws them in for free just in case you don't already have some!
With the main features out of the way, let's move onto the important bits. It's time to see if this rig can do well when it comes to gaming performance!
Skytech Chronos Mini PC Gaming Performance
---
To boil down the game performance we need to look at the graphics card (GPU) and processor (CPU) performance separately and then go over if they work well together or not.
In a nutshell, you need to breakdown what games you plan on playing and understand what you're getting out of this PC. If the performance is good enough for you then it comes down to if the price is justified for you.
I'll share my thoughts on the power per dollar spent here as well as whether or not upgrading is going to be a hassle down the road.
For this review, I'll be going over the variant that uses a Ryzen 3 3100 processor with the 6GB GTX 1660 graphics card.
GPU Performance
This PC uses a 6GB GTX 1660 GPU. This GPU is meant for averaging around 60-70 FPS in most titles at high graphics settings.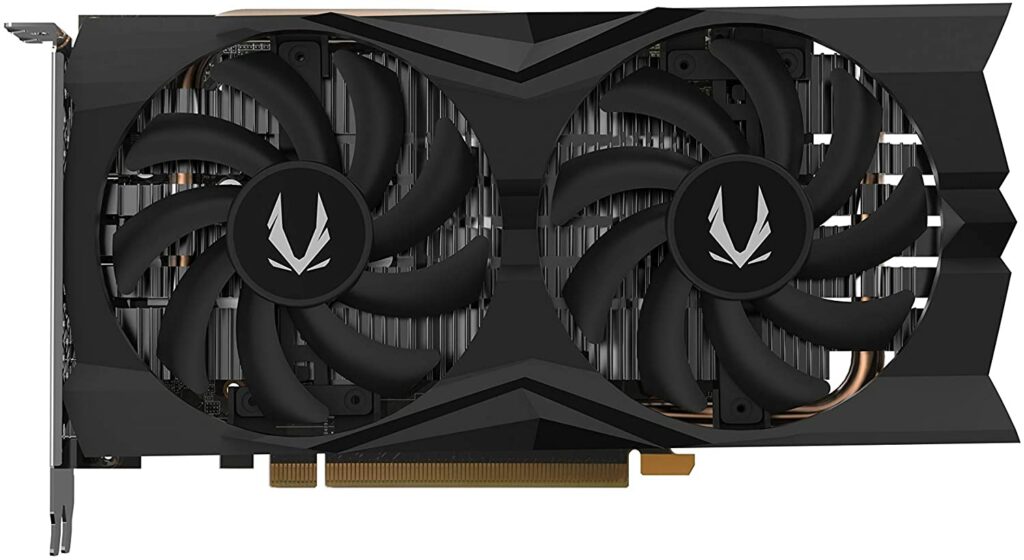 That's with AAA titles in mind such as Red Dead Redemption 2 (RDR2). The more graphically intense the game is, the better your graphics card has to be and RDR2 is a great game to use as an example.
If you aren't looking for 100+ FPS performance for your 144hz monitor then this type of performance is right up your alley.
It wasn't long ago when building your own PC for around this $900 price point would be able to give you performance levels of 100+ with ease…
But since the GPU market has been friend for quite some time now, this price point for this level of performance can maybe start making sense to you.
You could go the route of trying to be patient and waiting for the newer generation hardware to get back in stock and do a build of your own or if you are more ready than ever to start gaming at 1080p then this is generally the type of GPU you're going to find with prebuilt PCs like this.
Take a look at this comparison chart from GamersNexus – it'll help you understand the different in performance compared to similar GPUs.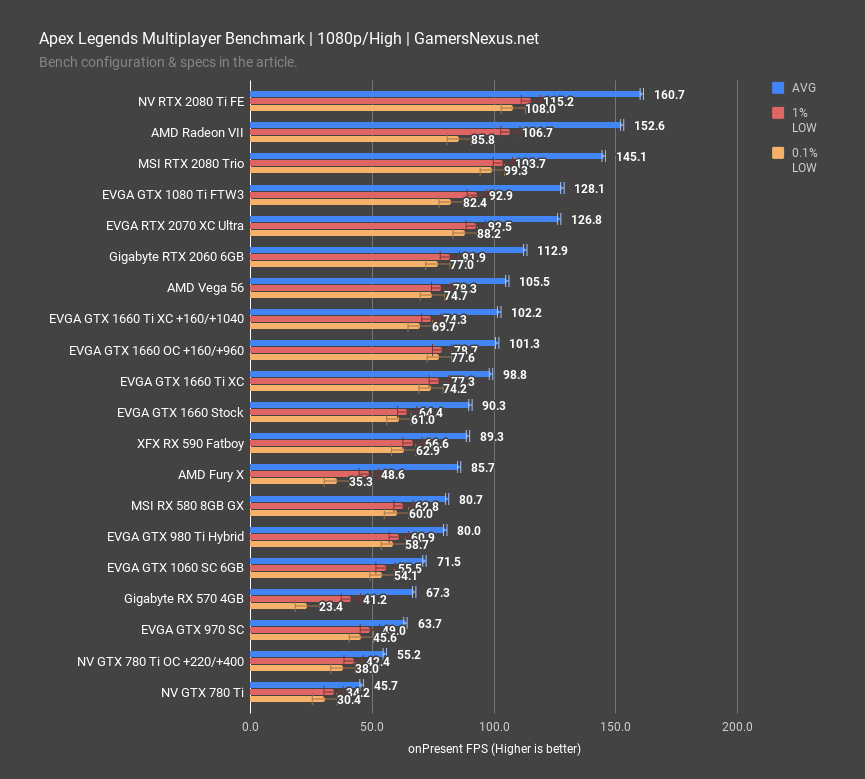 Each game is going to have different levels of optimization and what not, but on average it's safe to say that most of today's titles are going to run at 60+ FPS at 1080p and high settings.
The 1660 is a card that is actually a couple of generations behind compared to the current GPUs that are out but as you can see, that doesn't mean that it doesn't have high levels of performance!
Although the graphics card is the main indicator for performance levels in games – you also need to have a decent CPU to back it up.
CPU Performance
For the processor, this PC uses a Ryzen 3 3100. This is an entry-level CPU that is perfect when you have 60 FPS, 1080p gaming in mind.
There are tons of technological jargon when it comes to the Ryzen 3 3100 performance but if you just want the quick sum answer – this CPU is a good match with a GTX 1660.
But if you were planning on using this PC for heavy processing tasks such as rendering, video editing, graphics editing and so on… You'll want to maybe consider something else.
Ryzen CPUs were designed with the content creator in mind and this CPU is still able to do those things, don't get me wrong, but there are much better Ryzen CPUs out there that do those tasks much faster and more efficiently.
For CPU performance, this is great if you want this PC strictly for gaming.
If you're looking for a PC that's good for streaming and constantly rendering videos for posting online, this isn't the most optimal CPU for that job.
But that's not to say that this wouldn't be a good starting point! Due to the motherboard used here and being compatible with other 3000 series Ryzen CPUs… It could be used as a foundation for a future rig that's able to do all of that and then some!
Speaking of which, let's go over everything else going on inside of this build.
Other Important Hardware
---
Going beyond gaming performance, there are other pieces of hardware that you should look over with this PC. The motherboard, RAM and storage is also important to acknowledge!
Everything added up will help us understand if this PC is a good direction when it comes to power per dollar spent.
Because even if the gaming performance isn't as ideal as it could be, if the other pieces of hardware compliment the entire PC well enough… Then it might be a pretty decent deal after all.
Motherboard
There is an A320 motherboard used with this build. This motherboard uses an AM4 socket which is fully compatible with the full line of 3rd generation Ryzen CPUs (the 3000 series as a whole).
This means that a future upgrade to say a Ryzen 5 3600 or even a Ryzen 7 3700X would be possible with this motherboard whenever you would deem it necessary to do so.
But when it comes to the newest generation from Ryzen… You will end up having to get a different motherboard altogether.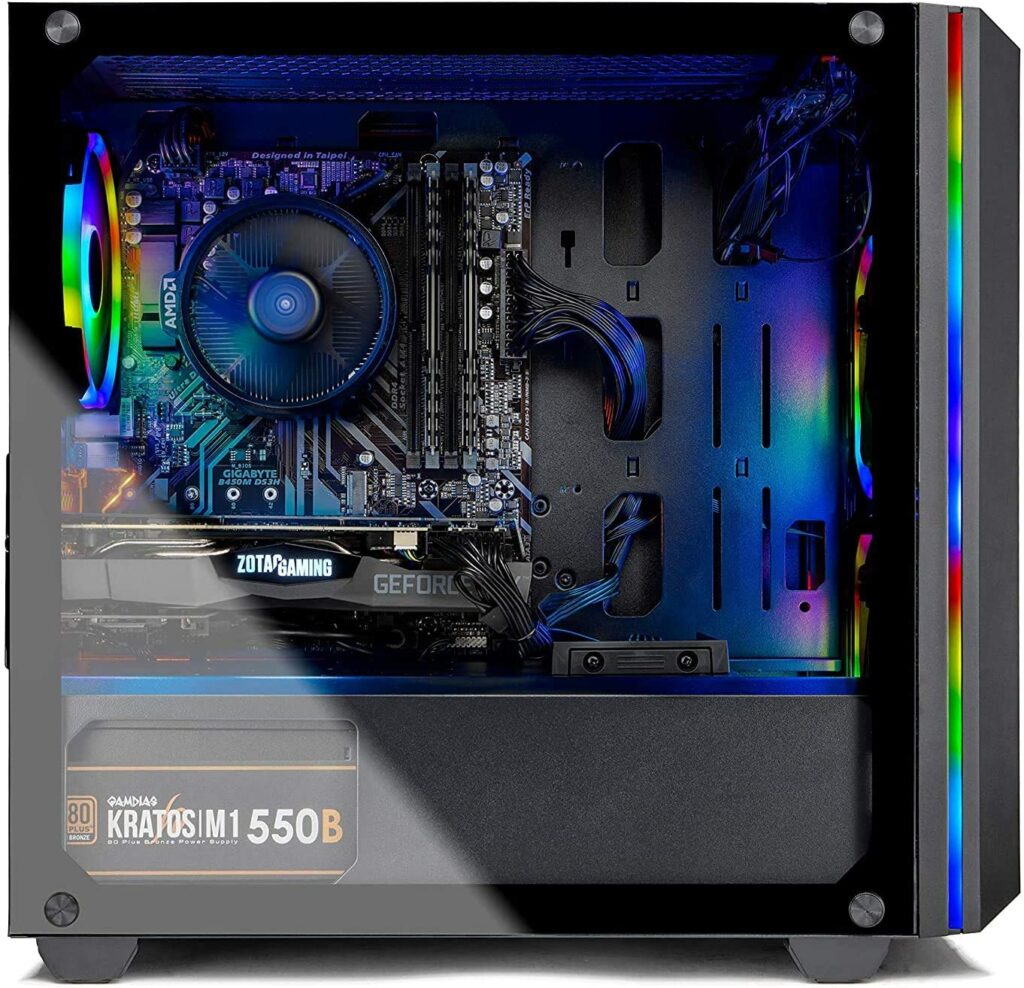 The newest generation of CPUs coming to the Ryzen line aren't going to be compatible with 300 series motherboards.
It would have been nice to see a newer motherboard used here but the upgrades to the different 3rd generation CPUs are absolutely going to be more than enough to have an extremely high performing PC for the long haul.
Upgrades will only become necessary if/when you aren't happy with the overall performance in a few years time or if you are wanting a PC that is fully capable of VR gaming or 144 FPS gaming.
Some motherboard companies have been able to confirm on working on creating a compatibility with the new 4th generation CPUs but time will tel for that…
If you become interested in that in the future then you can always head back here and reach out to me in the comments or look up the compatibility for yourself through the manufacturers – we won't know for certain until more info is available.
RAM
16GB of 3000Mhz DDR4 RAM is used with this build and I was actually surprised to see that much RAM being used here! Similar builds will only have 8GB max so it's good to see that 16GB is being fully utilized.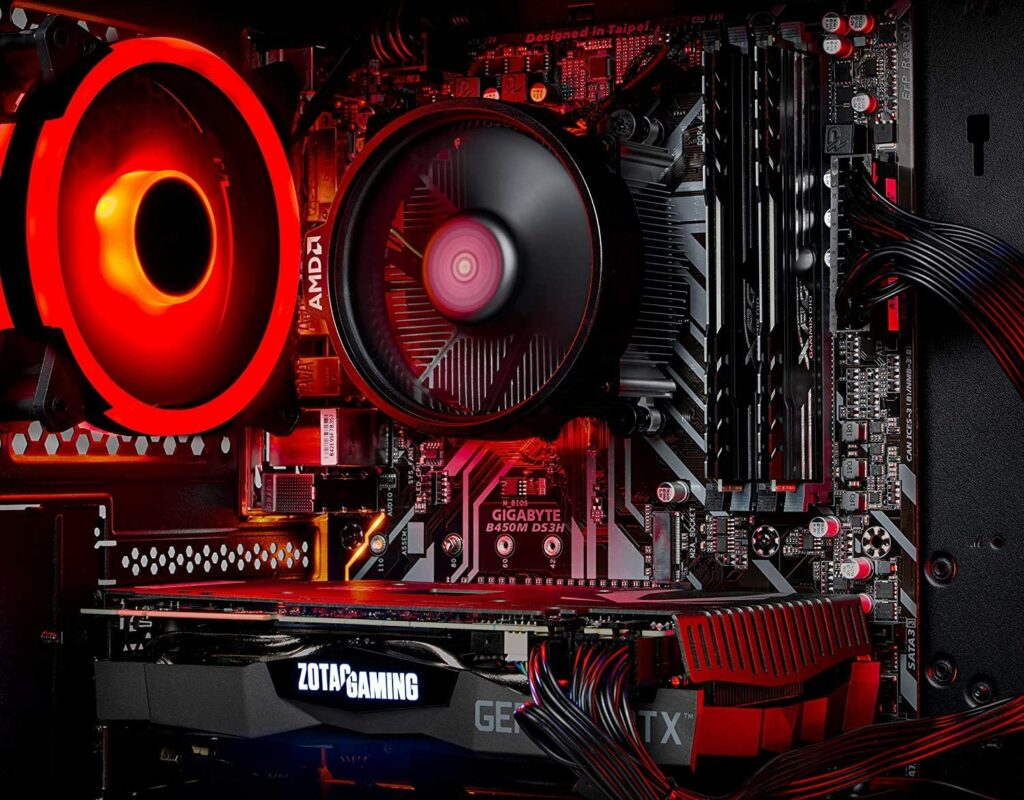 RAM helps with multi-tasking and having enough memory for multiple mods installed (for those of you that use 300+ mods in Skyrim or Minecraft… You're going to need RAM).
16GB has become the standard nowadays with new titles being more and more demanding and with more folks using multiple programs at one time while playing their games… 16GB is an absolute must at this point.
Ryzen also works best with faster RAM speeds and 3000Mhz is more then fast enough to help with that. No worries for upgrade paths and what have you.
The only downfall with the RAM is that the motherboard used only has room for two RAM sticks so if you're wanting more than 16GB total then you'll have to keep using dual channel RAM.
Storage
There's only a single 500GB solid state drive (SSD) used here for storage. There are a couple more areas for adding more storage if you ever needed it but it would have been nice to see a 1TB hard disk drive (HDD) used alongside the SSD…
Especially with games being more than 50+ GB each install… you will eventually have to add in more storage.
That's not the greatest outcome but I mean, for a build that's put together at this quality adding on the customer support and overall performance… It's understandable that a single storage drive is used.
Conclusion
---
This marks the end of the Skytech Chronos mini gaming PC review.
You now know the important bits about this desktop. So now begs the question… is this the right PC for you?
Adding up all of the costs… In today's market it'd cost about $150 less if you built your own PC using similar hardware. But with how the GPUs are priced right now… that's not exactly the case.
Even with how the current market is, you can still take a look at some of the PC build guides here on the site! Prebuilt PCs have come a long way and they make complete sense with the current pricing of most GPUs right now.
You should also take a look at the other Amazon reviews as well, there have been plenty of folks who have rated this one pretty high!
So, are you going to be getting Skytech's mini Chronos PC?
What is your favorite part about this PC?
What would you change up about this rig?
Let me know in the comments below! 😀
Skytech Chronos Mini Gaming PC
Around $1,000
Pros
Incredible mini build quality
Compatible with higher performing 3rd gen Ryzen CPUs
Optimized cooling
Cons
Much cheaper to build your own once market is back to normal
Only comes with 500GB of storage
A320 motherboard probably isn't compatible with 4th gen Ryzen CPUs
Hey there! 👋 I'm Colton, founder of PC Builds On A Budget.
Whether you need help putting your PC together, finding a great pre-built rig, or want some help finding awesome peripherals – I've got you covered!
I share my experiences of anything and everything related to gaming PCs with you here. 👍